An easy Caciotta-style Vegan cheese that is firm and sliceable, perfect for a Vegan charcuterie board!
This authentic looking, nut-free, low-fat Vegan cheese is also quick and easy to make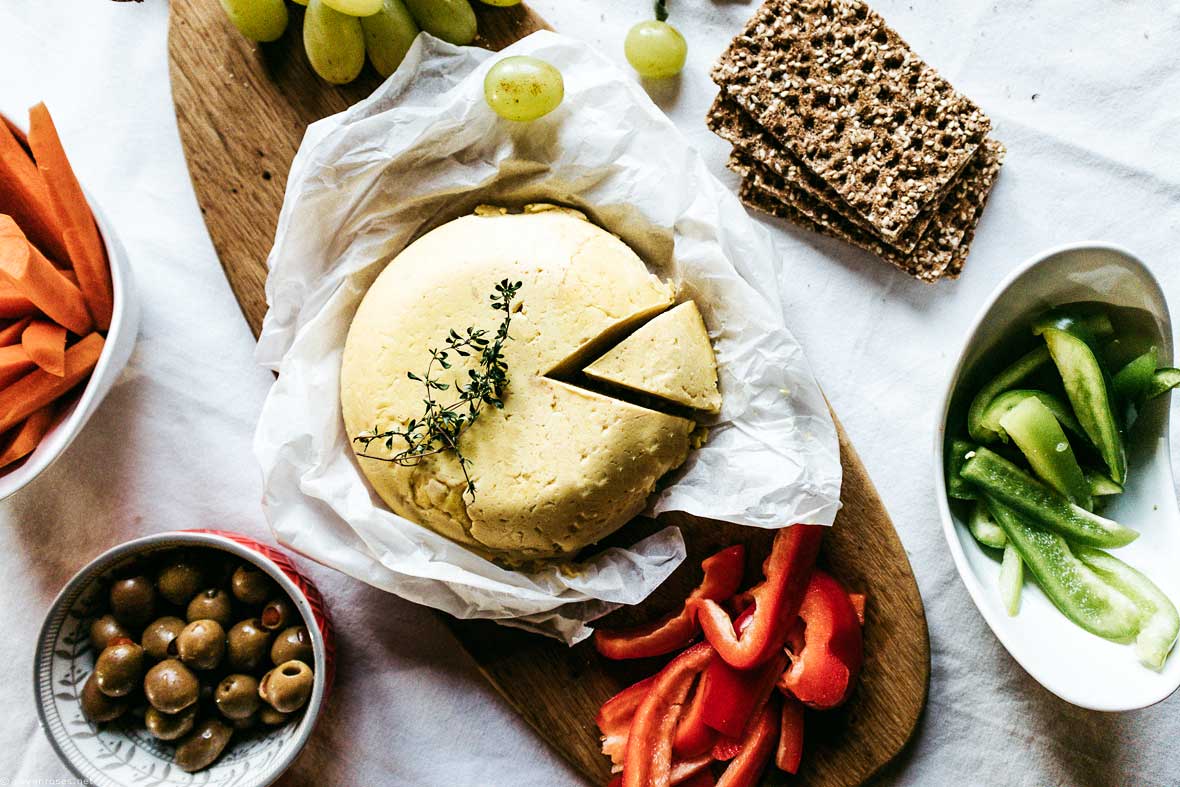 This one is for all all those that say "I would want to go Vegan, but I'd miss cheese too much".
I hear this all the time, and it's understandable as casein is a known addictive.
And if spreadable cheese or a cheezy sauce are easy to make, sometimes what people wants is the type of cheese you can slice and eat with a piece of bread (or bite into when no one's looking).
What they need is a Vegan cheese that has the consistency of … well, cheese. Like this Vegan Caciotta!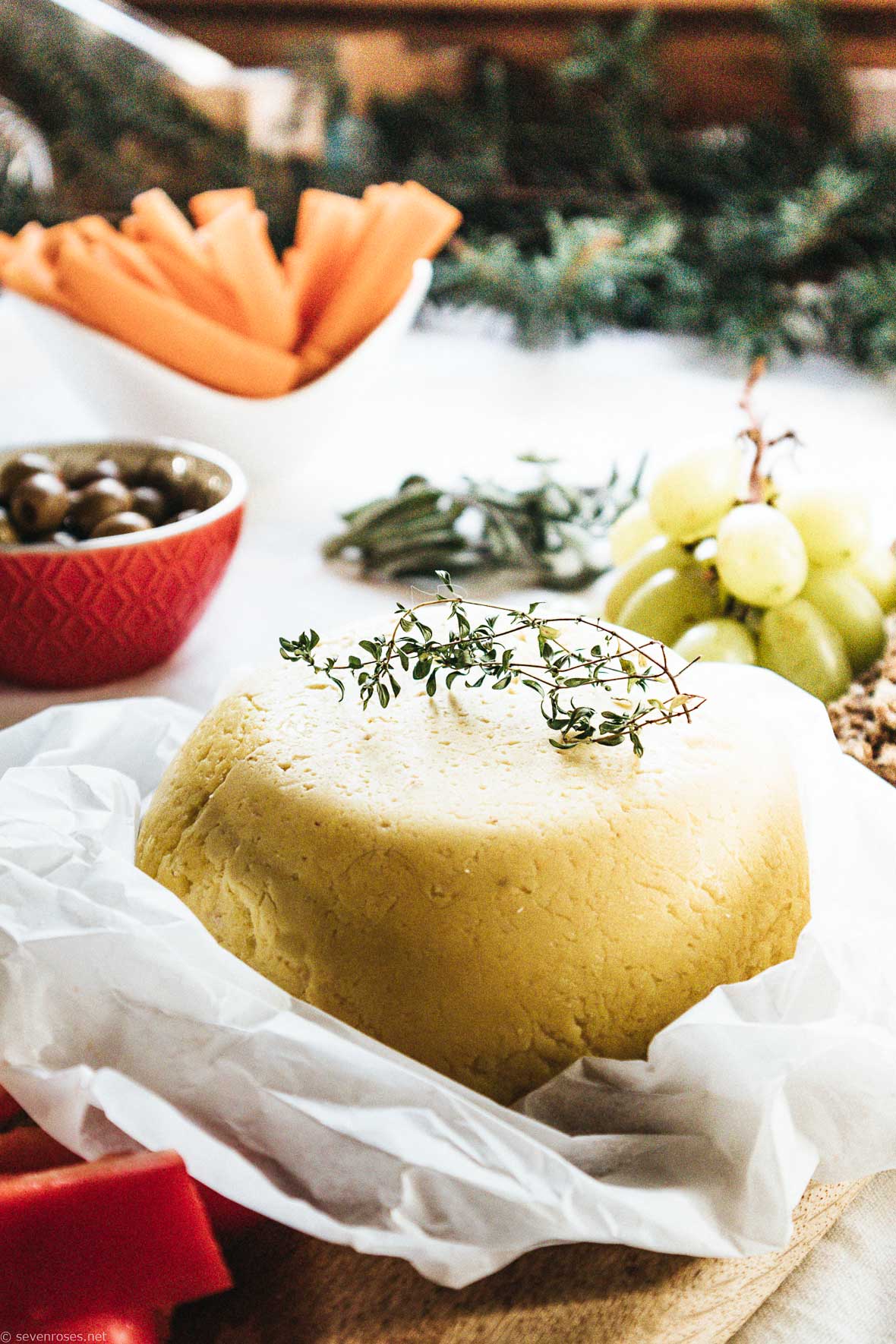 There's plenty of recipes out there that either call for a crazy amount of cashews (which are very expensive and full of fats) or canned coconut milk (more affordable but again, full of fats).
Instead I present you what has now been elected the best Vegan cheese in this household. And believe me, between a Frenchman and and Italian, we do know something about cheese from our pre-Vegan days.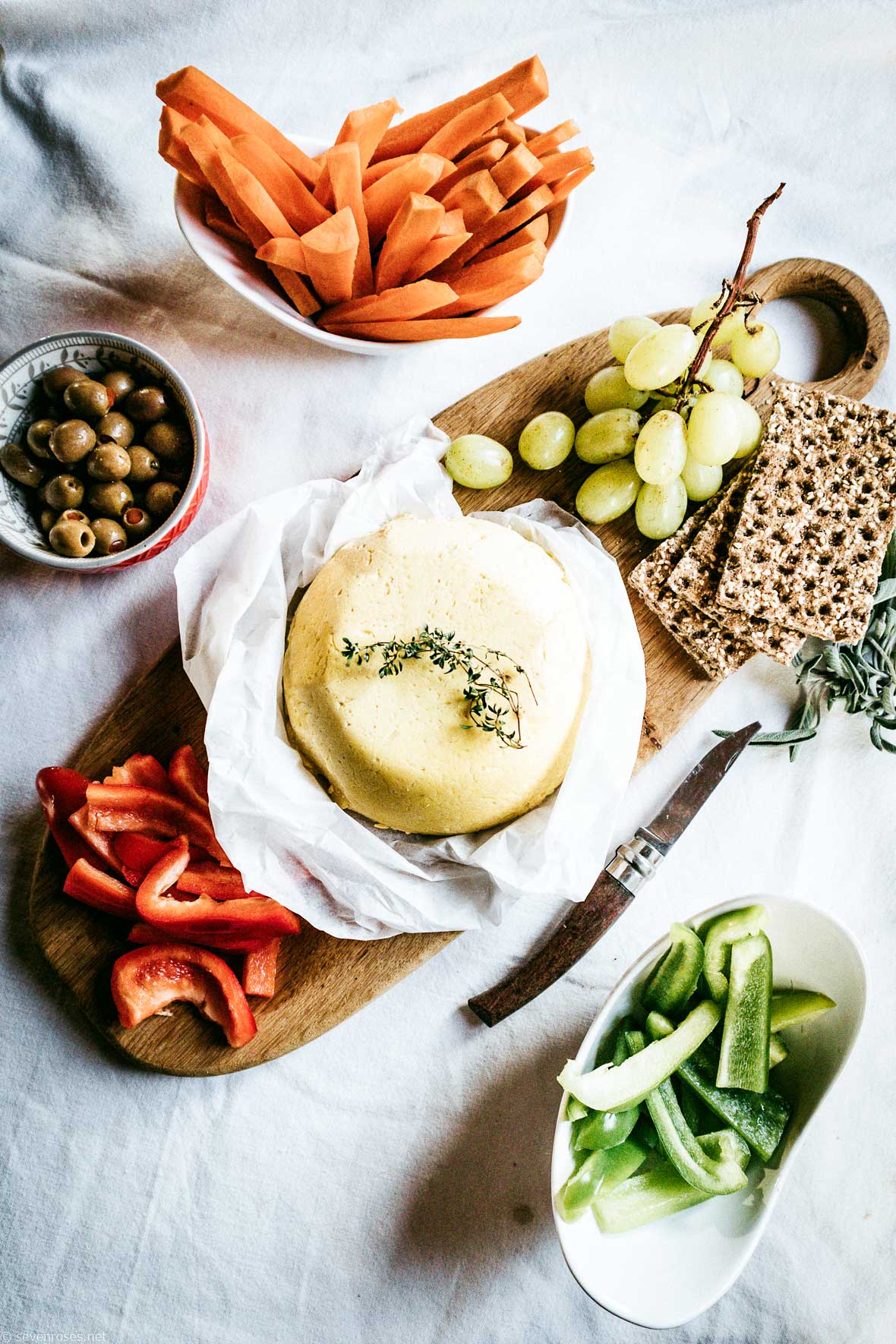 This nut-free, dairy-free cheese relies on chickpea flour & soy yogurt. That's a good start there, no fats and actually, look ma, proteins!
Then a teeny tiny bit of coconut oil, lemon juice and spices. There you go, your firm, easy Vegan cheese is just a few ingredients away.
How can Vegan cheese be made with just these simple ingredients, you wonder?
Well Vegan cooking IS magic, I've been telling you for years :)
You won't need any crazy equipment either. Just a stovetop, a small sauce pan, a whisk, a spatula and a glass/ceramic container where you'll "cure" your cheese for 24 hours.
Once you've learned how to make your Vegan cheese, you won't have to spend a fortune to enjoy fresh, cruelty-free, dairy-free delicious cheese. You can also control the amount of fats, salt and other ingredients you put in, and avoid additives altogether.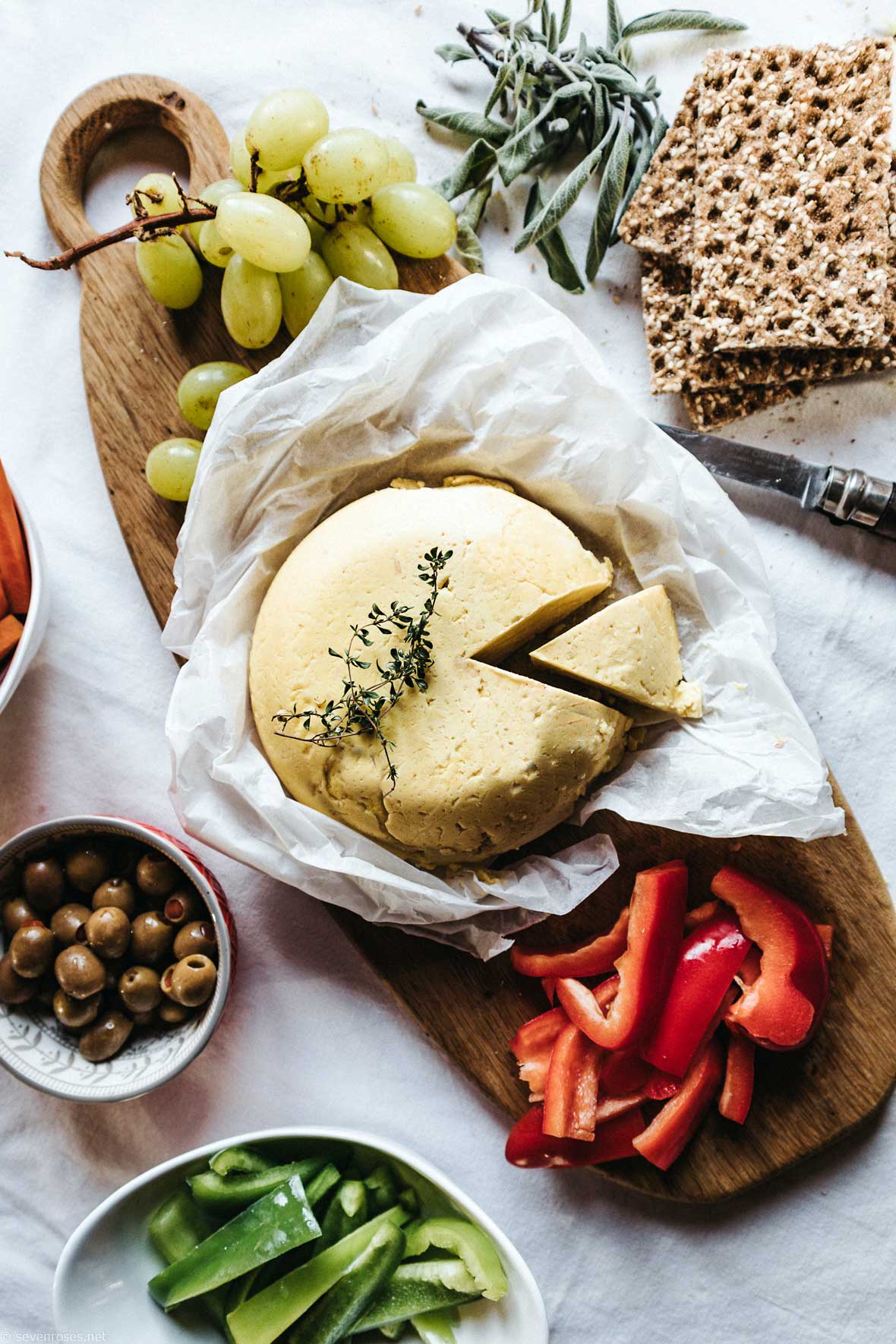 I still love to support Vegan brands but sometimes the cost of Vegan cheese is prohibitive. Not to mention that in the mountain/rural region of France where we live, we don't find any in stores, so we have to order it online and it happens rarely. Furthermore, most of them rely heavily on oils and/or nuts as the main ingredients.
This recipe can be the perfect main piece on your Vegan cheese board! Surround it with crudité, crackers, fruits, olives and you have a festive option for your informal gatherings or your movie night.
This could also be a perfect, heartfelt DIY holiday gift, just wrap it nicely and enjoy it together.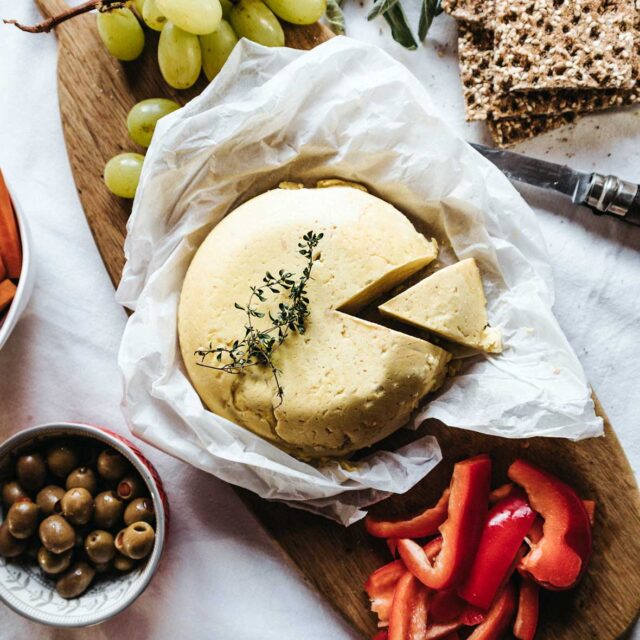 Easy Caciotta Vegan cheese with chickpea flour
An easy Caciotta-style Vegan cheese that is firm and sliceable, perfect for a
Vegan cheese board
! This authentic looking, nut-free, low-fat Vegan cheese is also quick and easy to make.
Ingredients
450

grams

soy yogurt

plain

100

grams

chickpea flour

80

grams

cornstarch

50

grams

arrowroot

50

grams

coconut oil

1

tbsp

nutritional yeast

1

tbsp

garlic powder

optional

10

grams

salt
Instructions
Gather the ingredients and add them one by one into a sauce pot. Start with the powders, and whisk the liquids.

Slowly heat the mixture while stirring. Gentle bubbles should be forming and the surface will look foamy. Keep on stirring.

After a couple of minutes the mixture will be dense and compact. So instead of stirring the mixture, swirl and shake the pot so that the solid mixture gets a smooth shape and a thin outer layer. Keep on the stove for 3 minutes.

Transfer the cheese to a glass or ceramic container. Let cool down, then keep in the fridge for 24 hours before slicing it up - this time allows the flavors and texture to develop nicely. Waiting is indeed the hardest part of this recipe :)
Notes
This fresh Vegan cheese has a limited shelf life and should be kept refrigerated.
Keep stored in a container and eat within 2 weeks (but I bet it won't last that long!).
Variations
Herb Variation: mix in fresh herbs like chives and thyme to further enhance the taste.
Nut/seed Variation: mix in chopped toasted nuts like walnuts or sesame seeds
Did you enjoy this recipe or did you make it? Then don't hesitate to leave me a message down below.
Also don't forget to pin this post to share the love! ♥
I wish you a love-filled day xoxo
Styling:
❥ Oak Wood serving platter by Brad Quarless Furniture