If you're looking for a really easy and fun entertaining idea, learn how to make a Vegan antipasto platter that everybody will enjoy!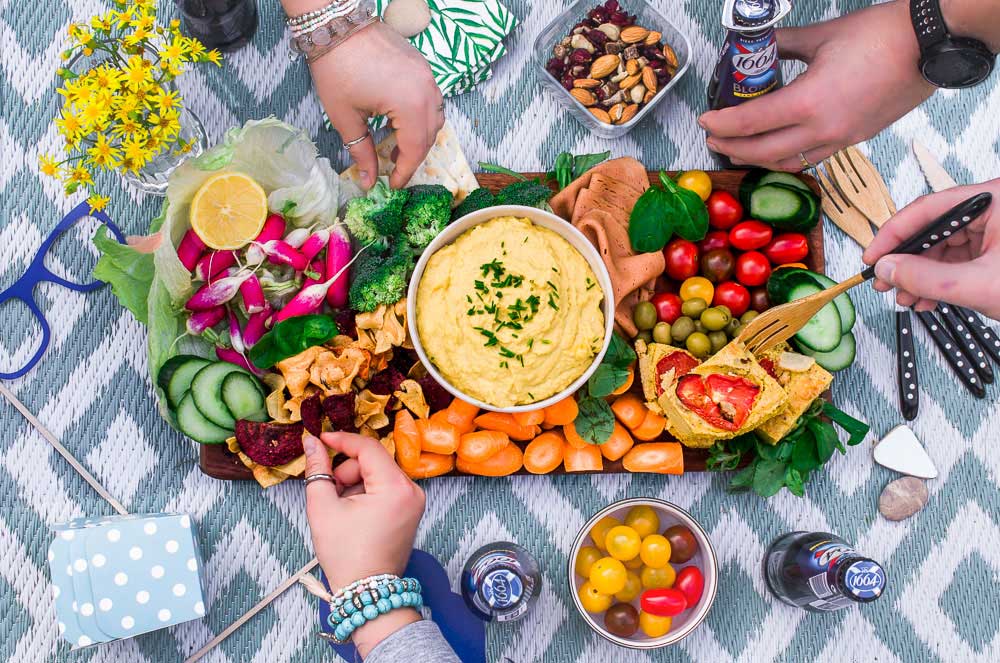 Hello my beautiful friends, the sweet long summer nights are finally here, and so is entertaining and dining al fresco season.
If you're looking for a really easy and fun entertaining idea, why not try what we call "apéro dinatoire" in France , a particularly informal and lovely type of gathering which consists of so many antipasti, bruschette, appetizers, dips and mezze (plus drinks) that you make a whole dinner out of it – no need for entrée or main course – just many wonderful little bites of goodness. Isn't it a lovely idea for a perfect, fuss-free summer dinner?
Many of you asked me how to go about making a Vegan antipasto platter when all they can think about is a traditional cheese and charcuterie platter. Well, there are so many amazing Vegan options to make a Vegan antipasto platter and I thought that I should tell you about them.
But the first element of an apéro dinatoire it to set the mood, otherwise, it might look "cheap" and like you didn't put any thought into it. This is why I think it's capital to make an effort and present your Vegan antipasto platter the best way possible. What I chose for this particular evening, is a handmade wood board from a fellow Vegan expat, who also chose France as his home.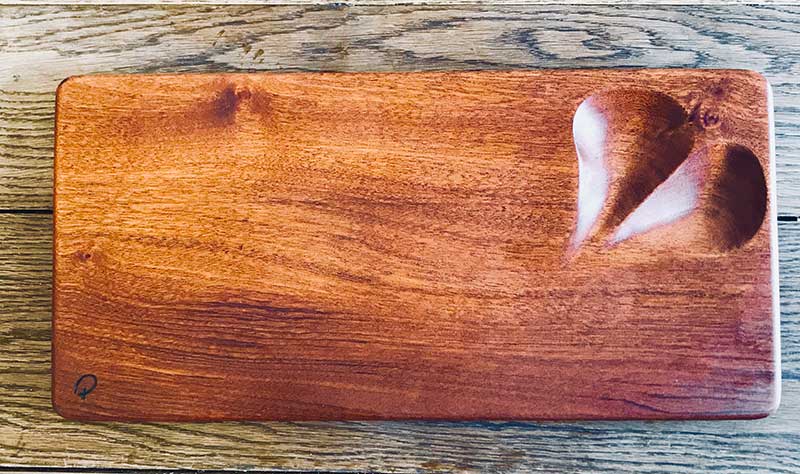 Brad is an artist inspired by nature: he only collects local and reclaimed wood around the seasons like driftwood that washed up on a beach, roots that have invaded a wall, or naturally fallen timber.
He then infuses his own sensibility into the pieces of wood that take onto a new life in his hands, thus real works of art are born – wood serving trays like this but also furniture, accessories, home decor and sculptures. You've also already seen another piece from Brad in my Summer Essentials post.
What I particularly love about this  Sapele wood serving platter is, you guessed it, the carved heart bowl ♥ how irresistible is that? You can either fill it with a dip, or with a solid element that will keep that shape.
But really, I've fallen in love with the craftsmanship behind each and every one of Brad's works, and the fact that he makes all his pieces Vegan-friendly thanks to the completely natural, food safe hand-rubbed oil finish (yes, be aware that more often than not, wood glazes and varnishes are not Vegan-friendly) ensures heirloom quality to each of his handcrafted pieces.
In this way, simple everyday objects of our daily lives are filled with emotions: they are not only functional but also spiritually alive – and impart our homes and kitchens are a timeless charm.
If you're curious and want to see more of Brad's work, you can visit his site: https://www.bradquarless.com/
But now, it's time to assembly your Vegan antipasto platter…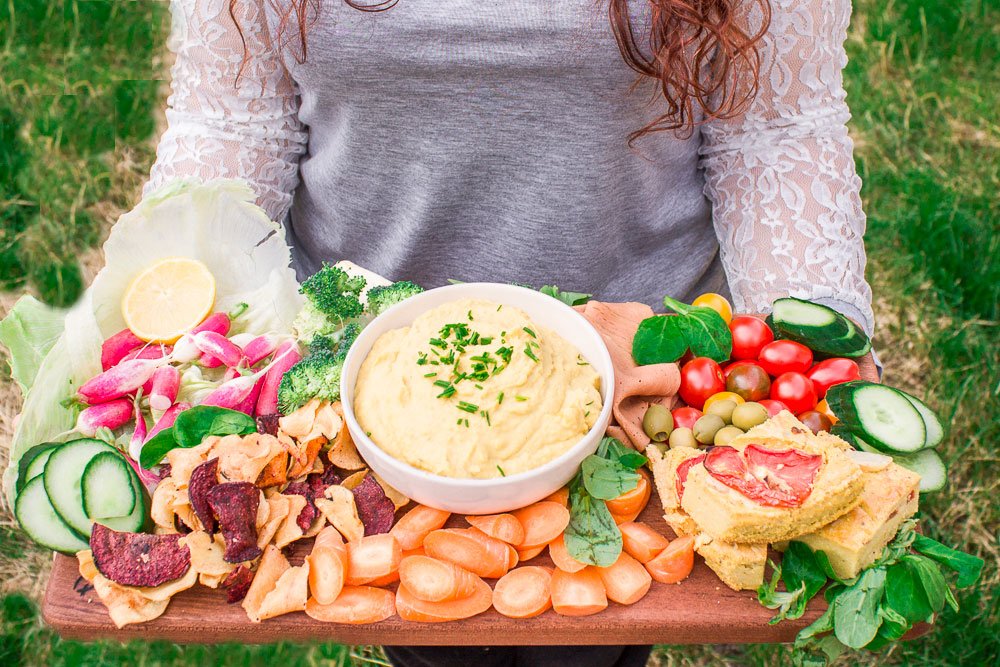 How to make a Vegan antipasto platter
Start by prepping all of your ingredients, and think it terms of taste, color and texture. You want to make sure you have elements that are both rich and fresh, creamy and crunchy, light and hearty, and possibly very colorful! Reds, oranges, yellows and lots of greens :)


Choose the dip (or dips) that will be the main protagonist of your platter. I went for a simple, evergreen home-made hummus that makes everybody happy, but another great choice would be this amazing Vegan Mushroom Pâté by Emily over at Simply Healthy Vegan, my Green Goddess Spinach Pesto Dip or this Yummy White Bean and Garlic Dip with lemon and chives. Place that in a bowl at the center of your serving tray. If you choose to serve more than one dip, have one in a big bowl, and place the other(s) asymmetrically in smaller bowls at towards the edges of the tray .


Now gather all your veggies and the other elements. Fill your heart-shaped carved bowl – I filled it with cherry tomatoes. Spread your veggie deli slices and next to that, some different color and texture. The key to create an attractive Vegan antipasto platter is to spread your items artistically and to alternate colors and textures – forget about circles or straight lines. Let your guests feel free to mix and match, hopping from one ingredient to another, creating new food combinations.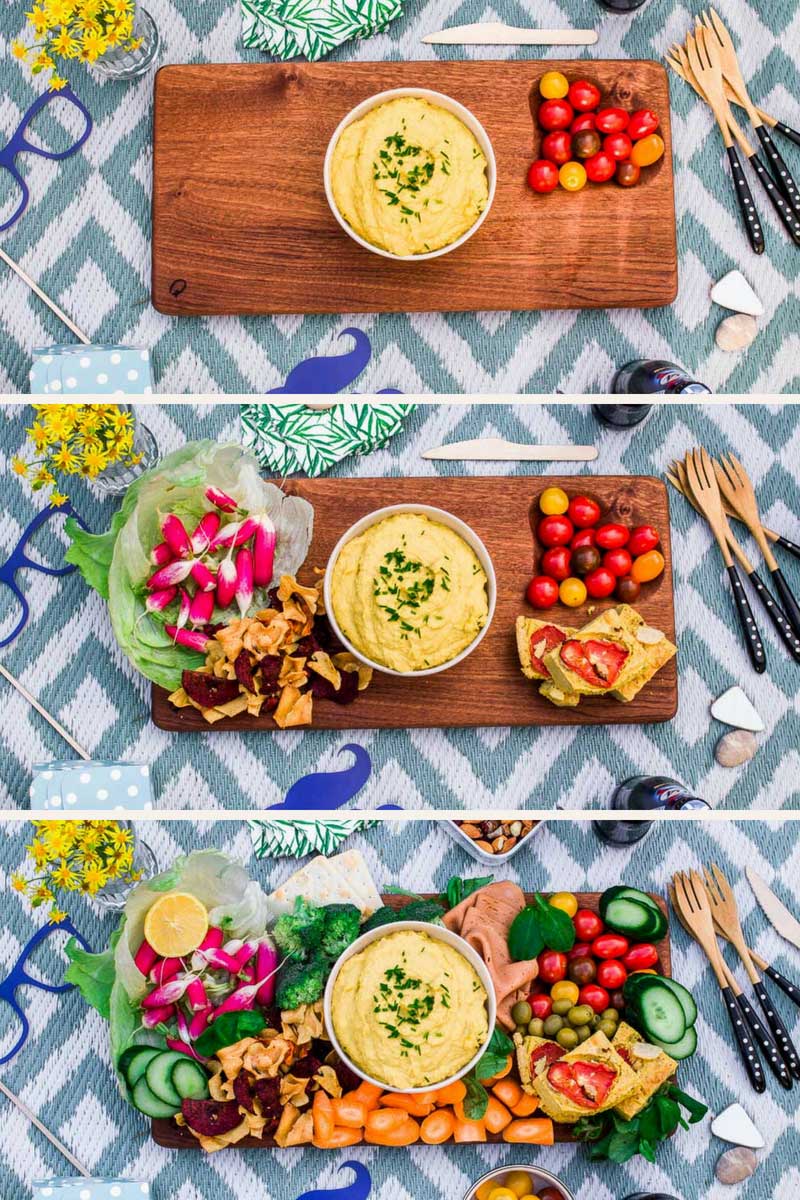 To give you some ideas, the ingredients I've included this time in my Vegan antipasto platter were:
❥ hummus, red, yellow, orange and black cherry tomatoes, olives, veggie deli slices, slices of cucumber, sliced of carrots, a few squares of a chickpea & tomato tortilla (in the lower right corner), veggie chips (beets, carrot and parsnip), raw broccoli florets, crackers, radishes, iceberg and lamb's lettuce leaves to line some parts of the platter, fresh lemon halves. On the side we had mixed dry fruits and baguette.
Other ingredients you could add (there's no limit, really!) Think of
❥ fire roasted tomatoes
❥ artichoke hearts
❥ melon slices
❥ seedless grapes
❥ raw mushrooms
❥ almond or cashew cheese
❥ celery stalks
❥ thinly sliced red onions
❥ falafels
❥ pickels
❥ raw broccoli florets
❥ figs
❥ radicchio leaves
❥ cured black olives …. and more :)
Be sure to have more of the same items waiting in the fridge, so you can replenish your serving platter when something is running out.I think this is such a beautiful and fun way to have an informal dinner party, and everybody is going to enjoy it! Not to mention this is so, so easy to assemble, you won't have to spend hours in front of the stove, you can actually enjoy the party for once :)Are you going to give this Vegan antipasto platter a try? Do you enjoy Summer entertaining? Don't hesitate to leave me comment and to pin this post to share the love ♥
and don't forget to visit Brad
I wish you a love-filled day xoxo