Learn how to make your very own safe, homemade DIY Vegan Natural Deodorant stick with just a few simple ingredients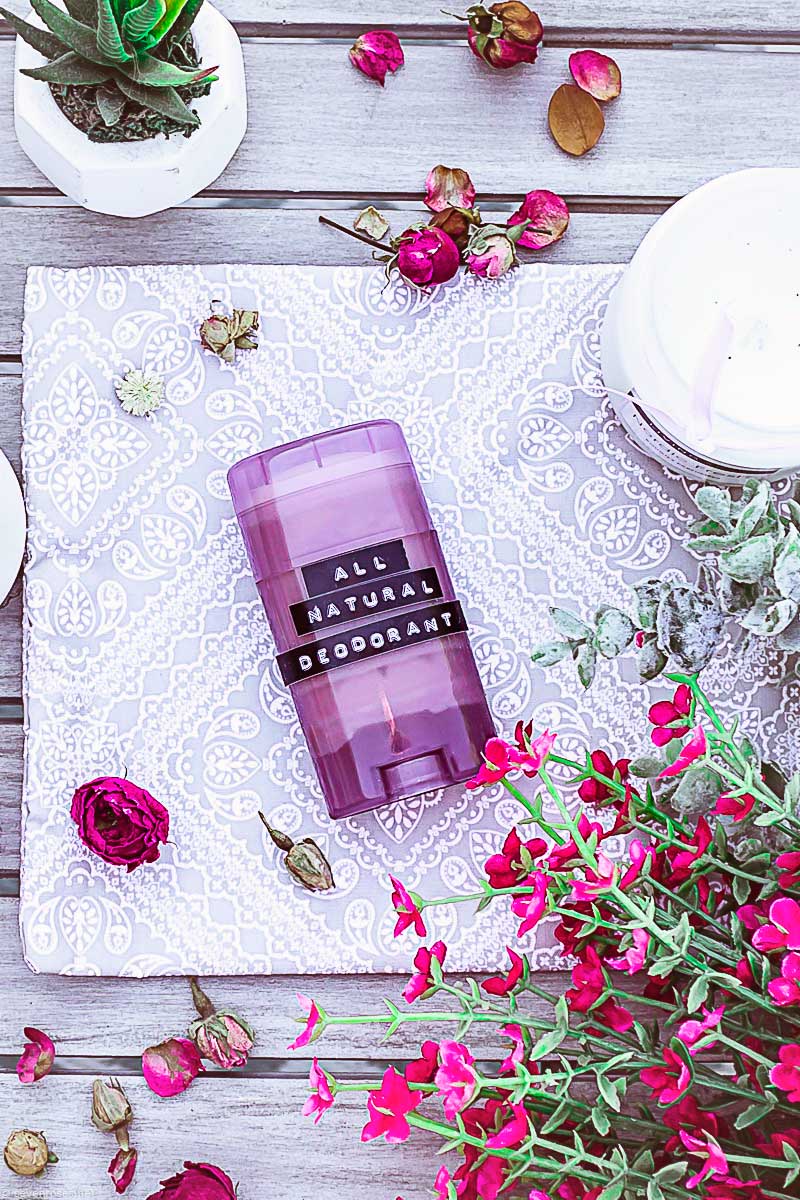 Hello my beautiful friends!
As the weather becomes warmer, I get many requests about which Vegan deodorant I use or better yet, DIY recipes to make your own, zero-waste homemade deodorant stick. So today, I'm going to share with you my recipe to make a DIY Vegan Natural Deodorant stick and which are the best essential oils to use.
[tweetshare tweet="Make your very own safe, homemade DIY #Vegan Natural Deodorant stick with just a few simple ingredients 🐰😍" username="sevenrosesblog"]
This is actually a very serious topic, because of all the tons of beauty and skincare products we all use on a daily basis, deodorant is the most controversial. The really, really bad ones are antiperspirant deodorants, and to make a long story short: an antiperspirant deodorant's role is to tighten the pores of the skin in order to prevent sweat from passing through and therefore blocking the body's sweat glands.
So whatever you choose to use, please make sure it *does not* say antiperspirant on the label. Chances are, you don't really need something that blocks sweat from actually getting out of the pores. All you want is to combat the bacteria that might make the sweat smell funny – hence, some natural ingredients is all you need.
I've bought some great natural deodorants before, but to tell the truth I never loved those that come in a pot, that you need to dig into and spread with your fingers. It just makes the whole process longer and messier (not to mention my husband simply stopped using them at a certain point, stating they were not user-friendly).
What I want from my DIY Vegan Natural Deodorant homemade recipe:
I want it to be effective, natural, gentle on the skin, harmless, without nasty ingredients, with only a few ingredients.
A simple, homemade DIY Vegan Natural Deodorant stick is not only easy to make, but also as good as the natural brands out there, so why not making your own?
A word about baking soda – I know many people actually look for homemade deodorant without baking soda because it can cause irritation, and I suffered from it too with a Vegan brand I once used and couldn't recommend.
BUT if you pay attention and purchase *fine* baking soda, especially made for health & beauty and not the one you would use to do laundry or clean stubborn spots on your rug, then this particular, more delicate formula should not cause any irritations: the particles are smaller and less harsh on your delicate underarm skin.
On another note: I've tried an alternate recipe, and you can omit the baking soda completely by adding the same amount of cornstarch or tapioca flour.

What you need to make your DIY Vegan Natural Deodorant stick
❥ 30g of very fine, aluminum-free baking soda: it neutralizes body odor and absorbs excess moisture (if you really want to make a homemade deodorant without baking soda, you can omit it completely by adding 30 more grams of cornstarch or tapioca flour)
❥ 20g cornstarch: it absorbs excess moisture and thickens the deodorant
❥ 30g of raw, organic shea butter: hydrates and protects the delicate underarm skin
❥ 5g of Candelilla wax: this Vegan alternative to beeswax helps stabilizing the stick during temperature changes, it thickens the deodorant and absorbs excess moisture
❥ 20g of extra-virign coconut oil: it moisturizes your skin and also kills fungi, bacteria and yeast (it becomes liquid above 25 ° C)
❥ 10/15 drops of your fave essential oils among:
– palmarosa for its antibacterial properties
– tea tree oil eliminates body odor & heals the skin
– lavender for its antibacterial properties and antiseptic qualities
– patchouli to keep odor at bay and to make him happy if a man is going to use this, too.
❥ an empty deodorant container (either recycle and old one like I did this time, or get a pack of reusable and biodegradable Cardboard Deodorant Containers like these that's what I'll get the next time around)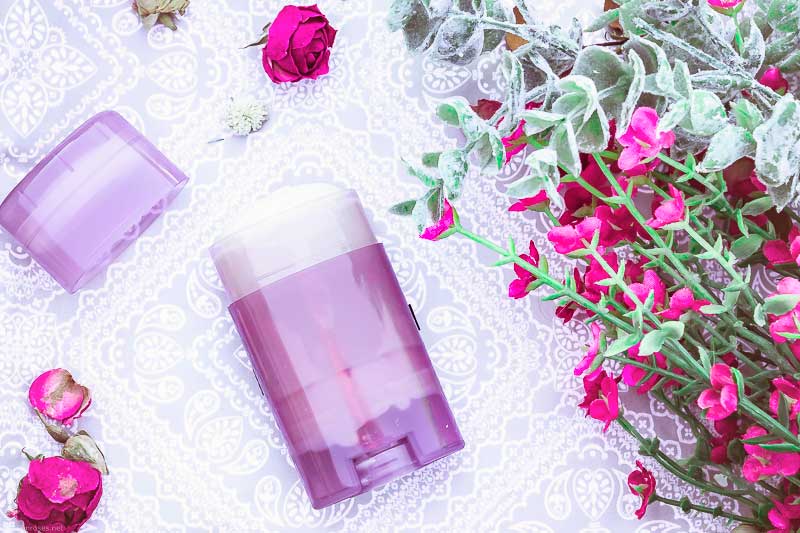 How to make your DIY Vegan Natural Deodorant stick
1. Melt the coconut oil with the shea butter and the candelilla wax in a bain-marie (or microwave if you prefer, but be cautious).
2. Next, in a bigger bowl, mix the dry ingredients well.
3. To this bowl, add the liquids (coconut oil / shea butter / candelilla wax) and mix well
4. Once the mixture has cooled down just a bit, add your essential oils – don't add them to a warm mixture as they are volatile they will just go to waste.
5. At this point, carefully pour your preparation into your dedorant container that it firms up.  One hour in the fridge is enough. After that, you can start using it :)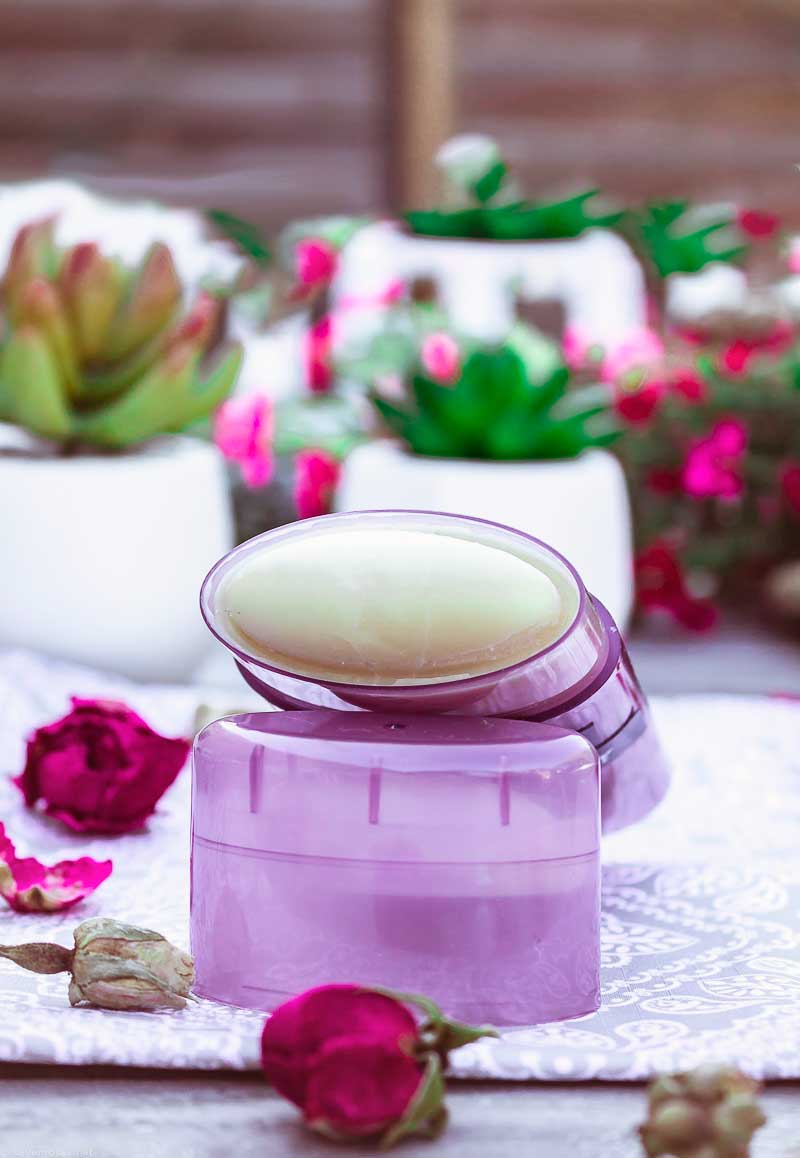 You can then keep your DIY Vegan Natural Deodorant in the bathroom, no need to put it in the fridge, and its shelf life is at least one year (just make sure not to apply it onto wet armpits, water drops could alter it).
I am very satisfied with the efficacy of this recipe: it's very absorbent and effective.
Depending on where you get your ingredients (health food store VS. Amazon for example) your homemade Natural Deodorant will cost you between 2$ and 5$.

Let me know in the comments' section below what is your favorite homemade deodorant recipe. I'd love to try it out!
And don't forget to pin this post to share the love ♥
I wish you a love-filled day xoxo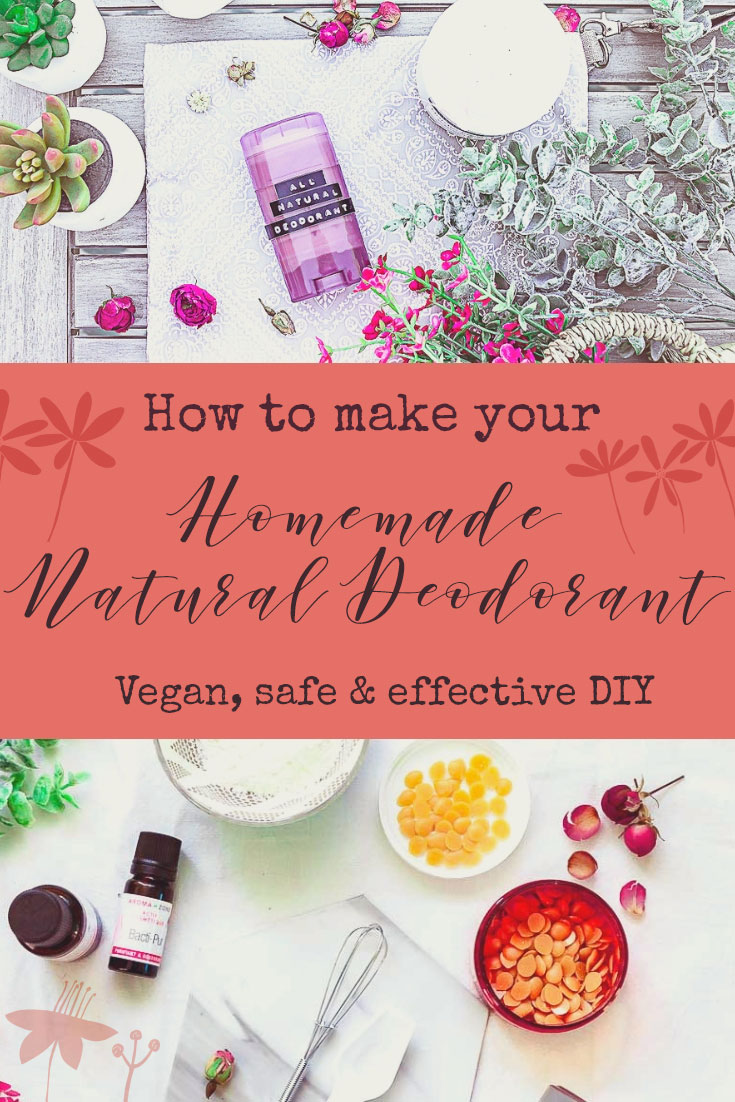 Disclaimer: I've been fortunate enough to receive some of the above mentioned products for free to try, but opinions and the choice to review are 100% my own. This post contains affiliate links.