This DIY natural toothpaste gently polishes, whitens and refreshes your teeth and mouth for optimum dental health, and it's Vegan and zero waste. Let's make it together!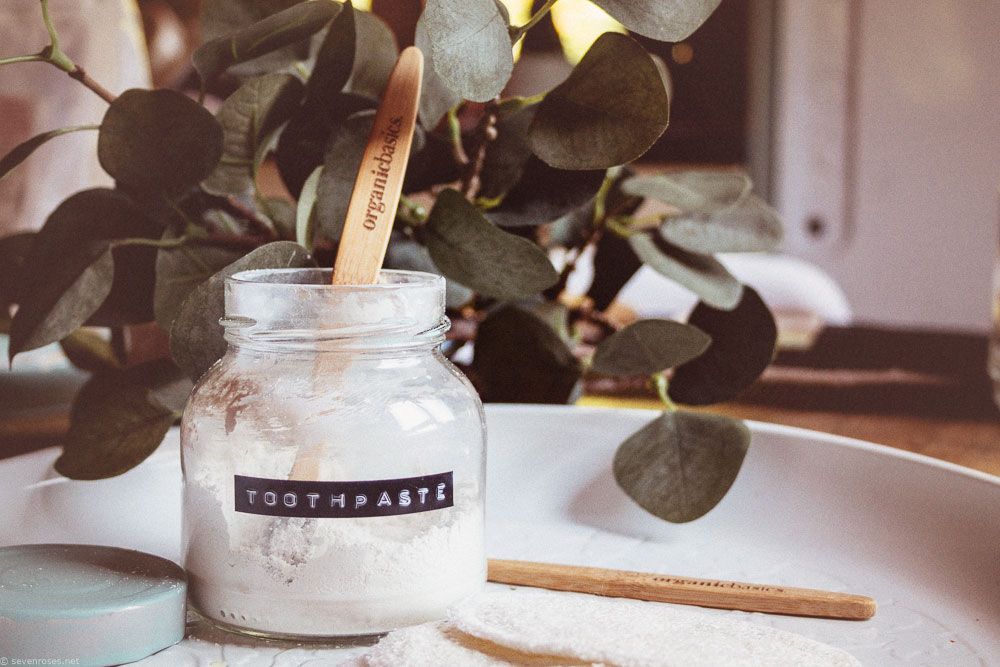 Hello my beautiful friends!
I'm so excited to share this post with you today :) I've received tons of requests to share more minimalist and zero-waste health & beauty essentials, and just like you, it's been a few years since I've started looking for alternatives to commercial toothpaste for 2 main reasons: getting rid of the dubious ingredients that don't belong in our mouths, and reducing plastic waste at the same time.
The first option that comes to mind is the famous bicarbonate + baking soda paste, but I wanted to venture further into toothpaste alternatives and now I've got a fantastic Vegan and zero-waste tooth powder recipe that you absolutely have to try.
[tweetshare tweet=" Make your very own DIY natural toothpaste with just a few simple ingredients #vegan & #zerowaste 🌱😄" username="sevenrosesblog"]
It's practical, economical, and ecological. It's also delicate yet it makes your teeth feel cleaner and look whiter.
And it contains a super ingredient which I just love: bentonite clay, known to be helpful for absorbing metals, impurities and toxins. Isn't that a magical superpower?
And in case you don't already have it in your bathroom cabinet, you can buy it in bulk thus making it really economical – I've linked to it in the ingredients' lists.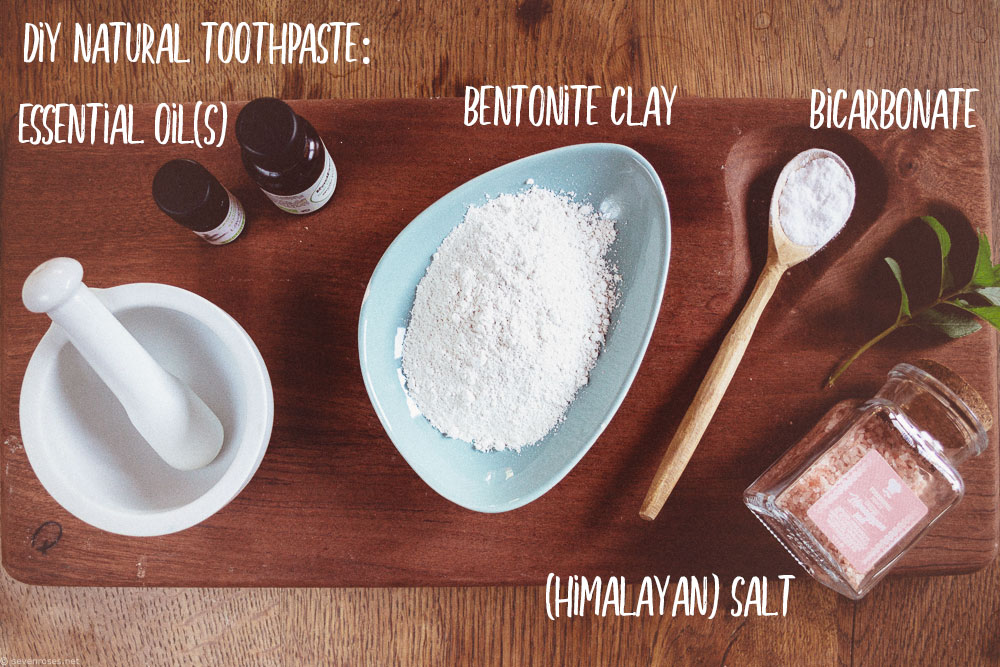 This DIY natural toothpaste is antibacterial, it promotes the remineralization of the enamel, repairs micro-lesions, relieves tooth sensitivity and restores the whiteness of your teeth.
…Since I'm about to run out of the toothpaste that I'm currently testing (the innovative "Dentifrice solide à la menthe poivrée" from French brand Lamazuna) it's the perfect opportunity to make a new batch of my own tooth powder and take pictures to show you how easy it is.
So let's just hop right in!
Here are the 4 ingredients you're going to need for this zero-waste, Vegan tooth powder:
❥ Bentonite Clay (food grade) : 6 tsp (I used Cosmic Element Bentonite Clay Powder 100% Pure & Unrefined)
❥ Baking soda (aluminum free) : 1 tsp
❥ Table salt : 0.5 tsp (I used Himalayan pink salt for added minerals & benefits)
❥ Peppermint essential oil (or your favorite one when it comes to dental hygiene) : 20 drops
❥ You will also need a recycled glass jar to store your homemade natural toothpaste
Please make sure not to use any metal tools (spoons and whatnot) because metal could deactivate your bentonite clay and all its magical powers. So opt for wooden, glass and ceramic tools.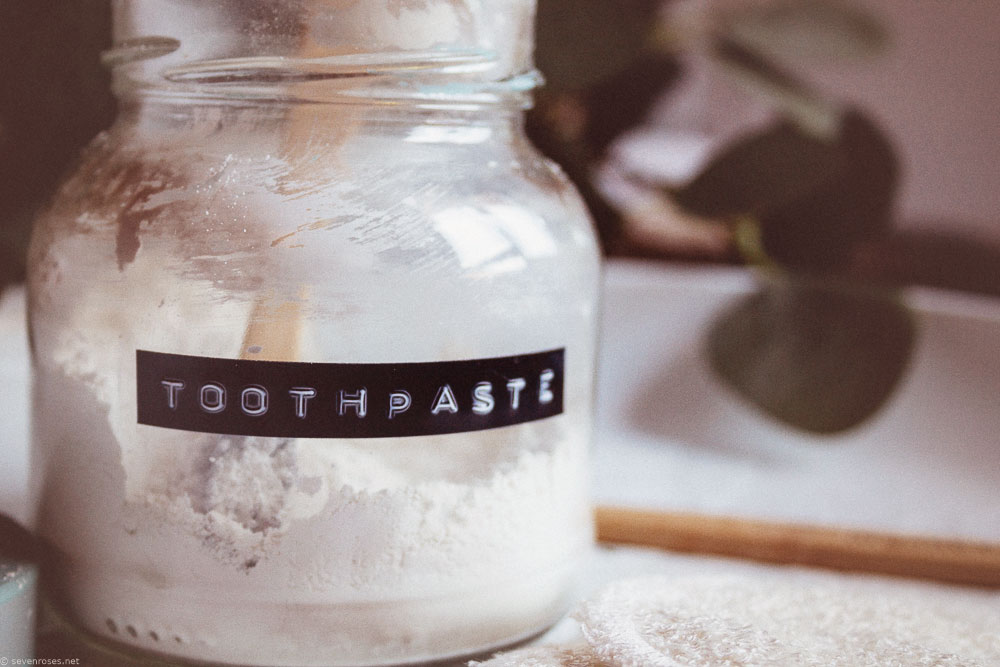 How to make your own DIY natural toothpaste – Zero Waste & Vegan
1. Boil your glass jar and its lid for 5 minutes.
2. In the meantime, put all the ingredients minus the essential oil(s) in a mortar.
2. Mix with a pestle to obtain a homogeneous powder.
3. Transfer the mixture to the boiled and dried glass jar, and add your essential oils. Stir once more and close the lid.
Store your tooth powder jar away from direct sunlight and heat.
If well preserved and made under optimal hygiene conditions, your tooth powder can be kept at least 6 months.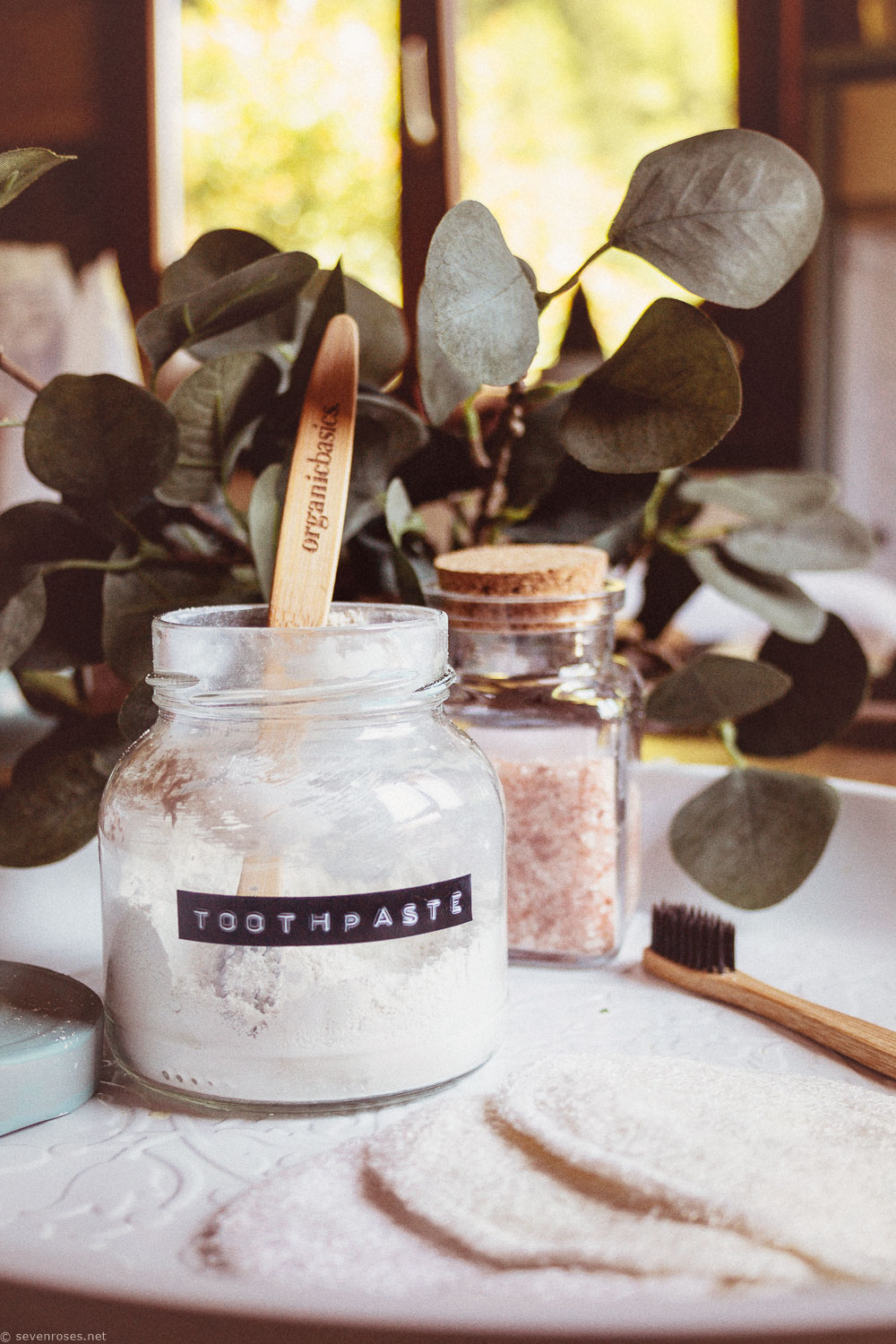 How to use this DIY natural toothpaste:
Dip your slightly dampened toothbrush into the powder so that a thin layer of toothpaste adheres, then brush your teeth as usual.
What's so great about this DIY natural toothpaste:
This homemade toothpaste combines salt with bicarbonate to guarantee a whiteness effect by facilitating the elimination of stains. Remineralizing, it protects and strengthens the enamel, thus preventing the formation of cavities.
And I love that there's no water added to this recipe, which elongates the shelf-life considerably.
Also, you can totally personalize this DIY natural toothpaste by choosing your favorite essential oil, or omit it all together if you don't like them (well, you know I love essential oils!). You can also add a pinch of Menthol Crystals if you want.
As for my toothbrush, some of you already asked me what I use after seeing it in my Instagram stories: I use the wonderful, 100% recycled & biodegradable bamboo toothbrush from Organic Basics, one of my favorite online stores for sustainable, green and environmentally-friendly essentials.
These bamboo toothbrushes (they come in a pack of 2) have activated charcoal infused bristles! How cool is that: the toothbrushes alone already work towards absorbing plaque, harmful toxins, and micro bacteria, whilst reducing teeth stains and eliminating bad breath by killing bad bacteria and germs.
If you pair them with my all-natural DIY toothpaste, your dental life is about to drastically change for the better :D
Low-waste bathroom swaps to make (but not right now!)
But I don't want you to feel pressured to "throw away all your plastic items" to replace them,  as someone told me they did. That's a scary thought… going plastic-free also means reducing waste, so by throwing out all your plastic bottles, containers, toothbrushes at once, you're creating a lot of waste and spending loads of money to replace all those items with "eco-friendly" items (mistake no.1 when people want to go green).
Instead, wait for the right moment to *replace* an item, use what you have as much as I can (that's why for example, I created a DIY deodorant in a stick, repurposing an old BPA-free deodorant container). Only when you really need a new shampoo, toothpaste or food container, that's when you should throw away (aka donate/recycle as much as possible) and find a new, greener replacement for that item.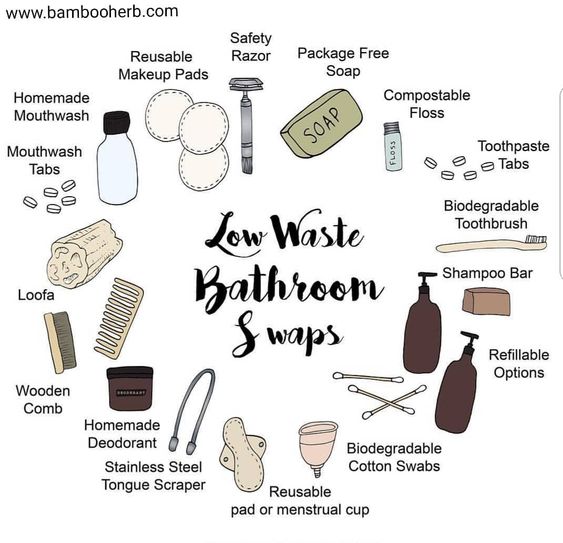 So when that time comes, head on over to Organic Basics and browse all their sustainable options (ps: worldwide shipping is free AND they are now carbon-balanced by partnering with Chooose, an organization that makes businesses and individuals carbon balanced by investing in UN verified or Gold Standard CO2 reducing projects in developing countries – like solar power in India and wind power in Turkey. So for every order placed with them, they offset one hundred kilos of CO2 – which is actually a lot more than they need to! Offsetting is performed through funding the Koru Wind Farm in Canakkale, Turkey)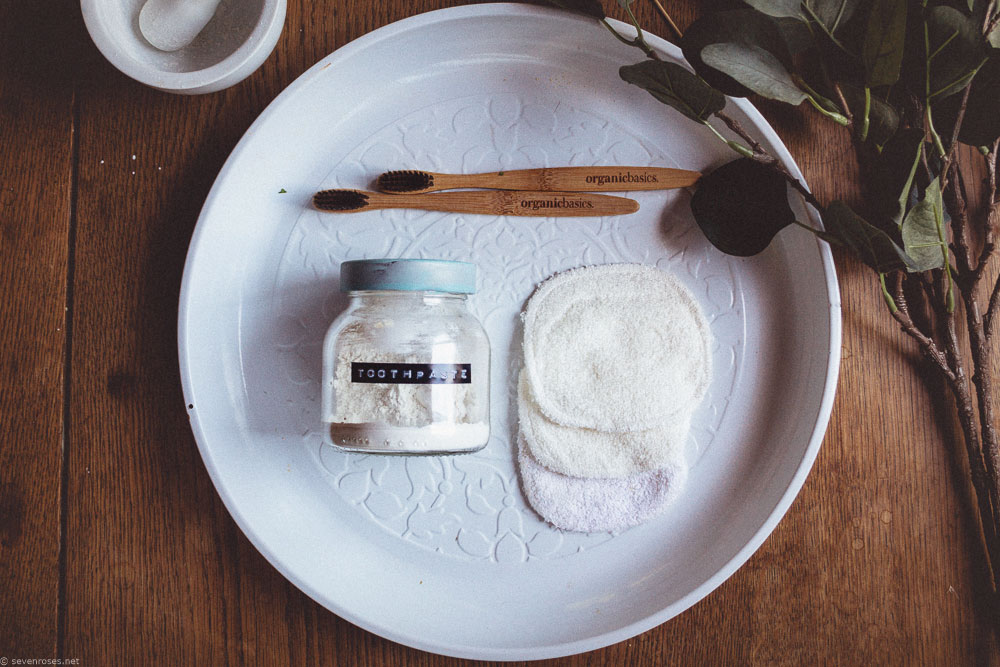 Thank you for making this toothpaste recipe along with me. If you make it, please let me know on Instagram, Twitter or Facebook because I would love to see how you make it, maybe if you used a different ingredient, or the cute little low-waste jars that you put it in… :)
Also, if you have tips, a favorite natural toothpaste recipe or a favorite essential oil, or if you're planning to make this recipe, let me know down in the comments.
And don't forget to pin this post to share the love ♥
I wish you a love-filled day xoxo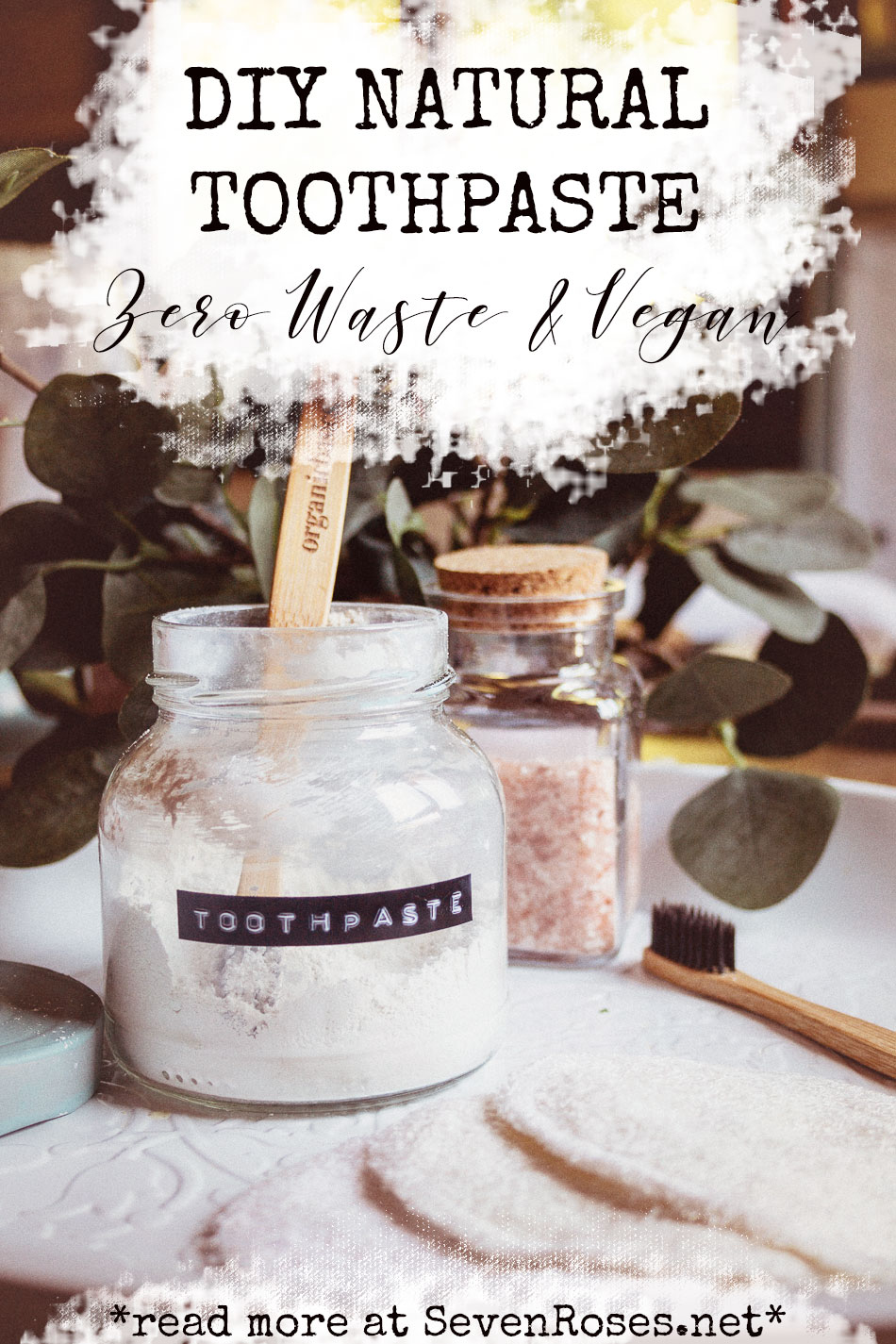 Disclaimer: I've been fortunate enough to receive some of the above mentioned products for free to try, but opinions and the choice to review are 100% my own. This post contains affiliate links.