In France, not far from the famous Lac de Gerardmer in the Vosges region, le Jardin de Berchigranges with its 4000 species of plants and flowers awaits you – to take you on a poetic stroll where nature is forged by human sensibility.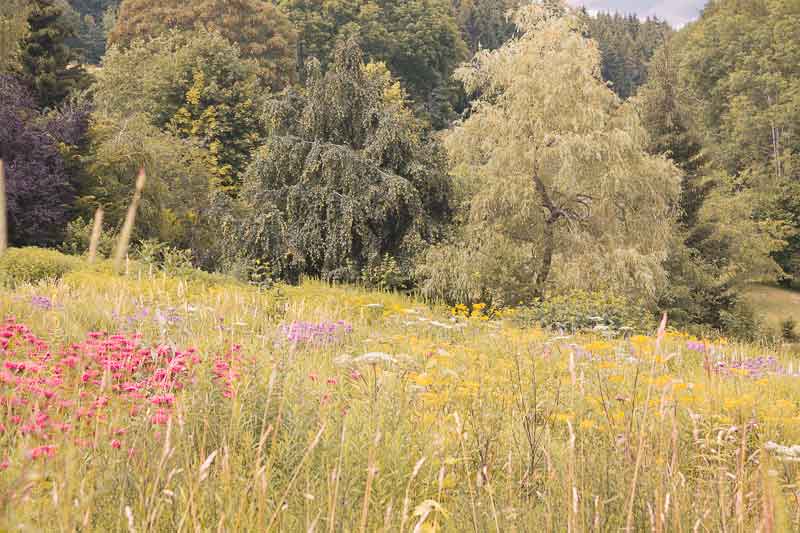 Hello my beautiful friends!
Some time ago Fabien and I created VisitVosges (follow us on Instagram!), in order to showcase some of the best places to visit in Vosges and today I take you along with us to visit one of those places, the beautiful Jardin de Berchigranges.
If you love nature, parks, botanical gardens and fairy-tale atmospheres, this is the place you must visit next time you're in France.
The Jardin de Berchigranges was born from the meeting of a couple with a magical place and 30 years of hard work in total harmony with nature. The personality of this garden can be discovered in its curves, its multiple levels, its "variable geometry" that surprises and captivates you at once, but also the omnipresence of water that soothes you and animates all the corners of the gardens.
You are invited not only to "visit" Berchigranges, but to go there and let your emotions come to the surface.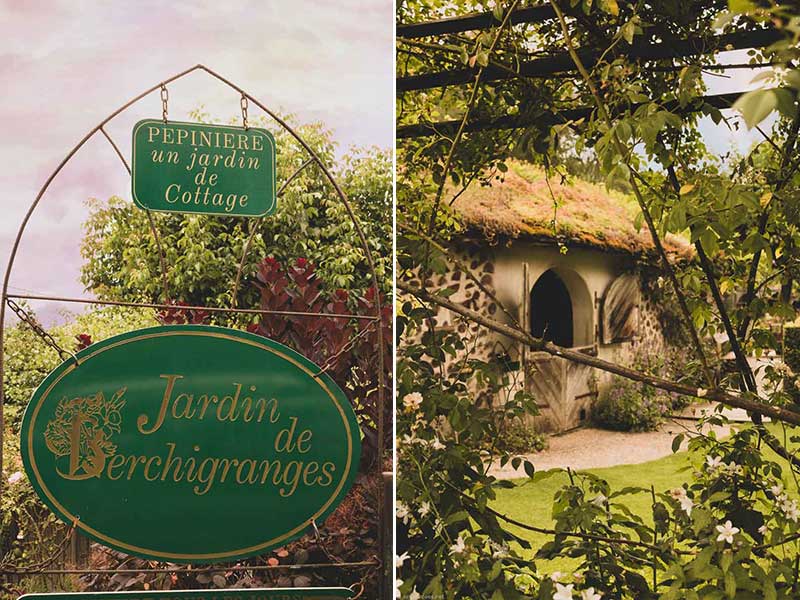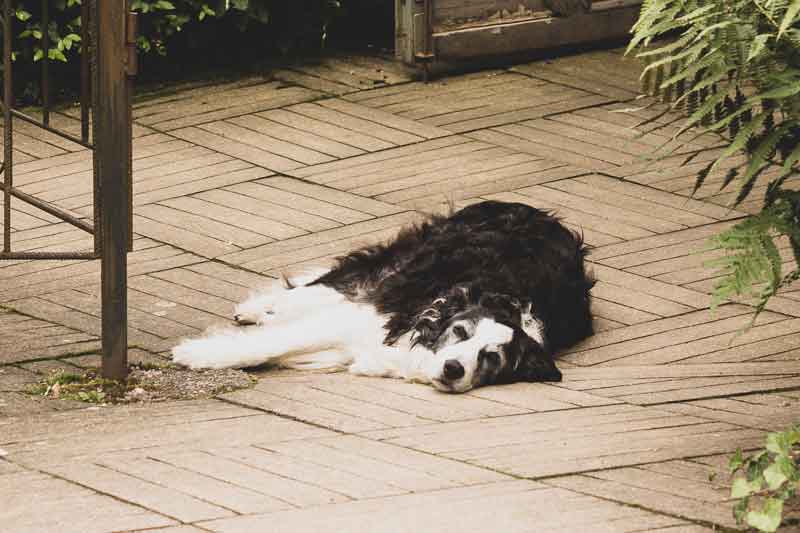 More than 30 years ago, this special garden was carved out of nature just below the "blue line" of the Vosges mountains, in the Grand Est region of France. It was envisioned and created by Thierry and Monique, a charming couple deeply in love with nature.
When you arrive at the entrance of Berchigranges, the first thing you see is actually their sweet dog who welcomes you ♥ and after that, you step into a fairy-tale atmosphere punctuated with hobbit-inspired buildings, flowers and plants of any perfume, color, shape and texture imaginable, giant trees and little shrubs, galleries made of branches, bridges, and hundreds of handmade different seats, chairs and benches hidden away in all the special corners of the gardens, so that you can sit and relax, and take in the beautiful views, soothing sounds and bewitching smells.
You are also invited to remove your shoes and experience the softest grass you'll ever find, and many other different types of natural soils.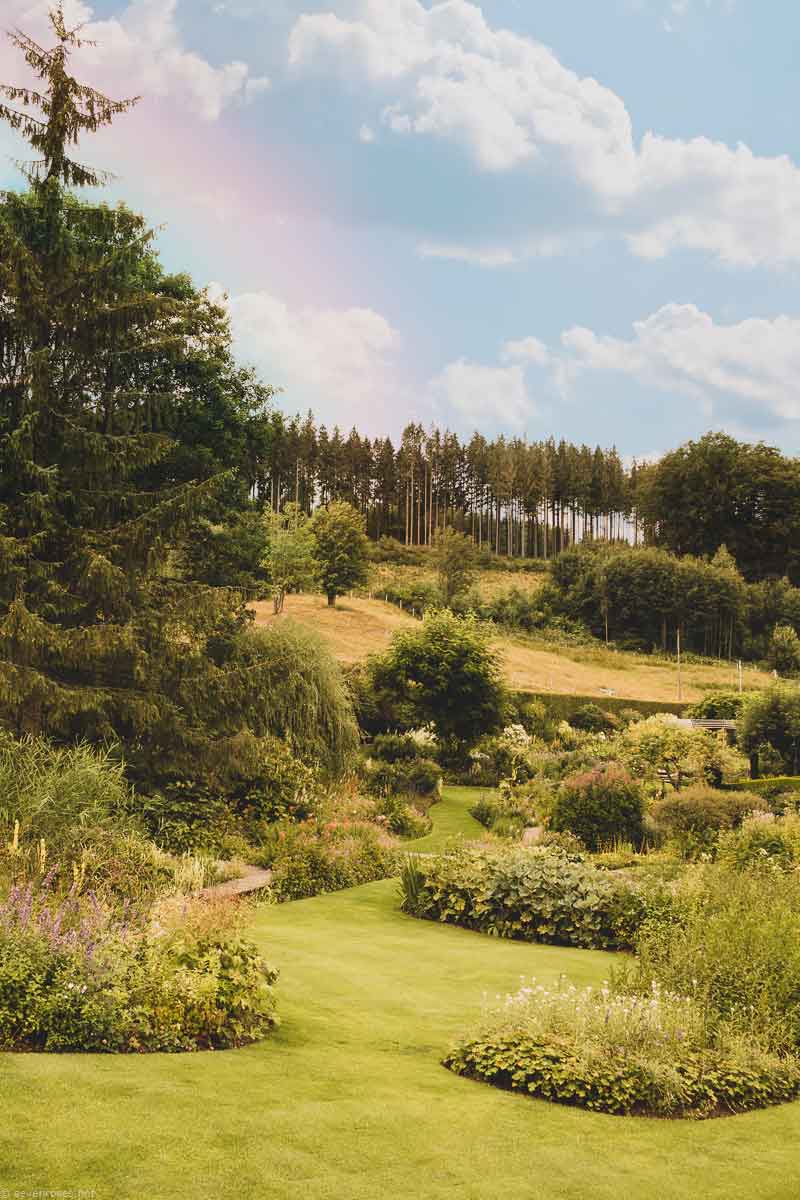 The succession of dedicated areas and spaces that compose the garden, invite you for a poetic stroll thanks to the unique imagination, ideas and visions of it creators.
Nowadays, the garden is composed of a dozen of different areas comprising trees, shrubs, perennials, bulbs, primroses, daffodils, both local and foreign flora. From all of these a unique garden is born, where nature meets the human sensibility to create poetry, a delight for the senses, an ode to nature.
Read on to discover my favorite spots in the gardens – but just like talking feels superfluous when you are walking among such beauty, the written word won't be able to express much, so I will leave more space to images ♥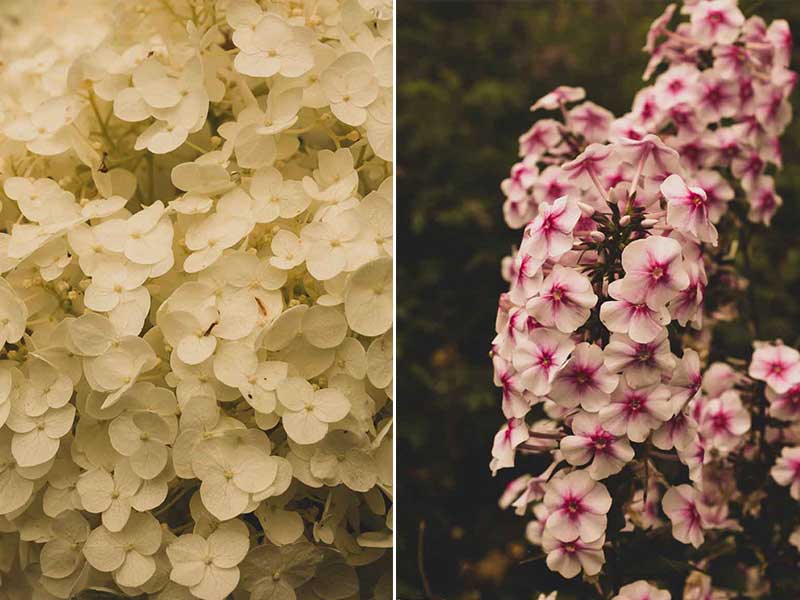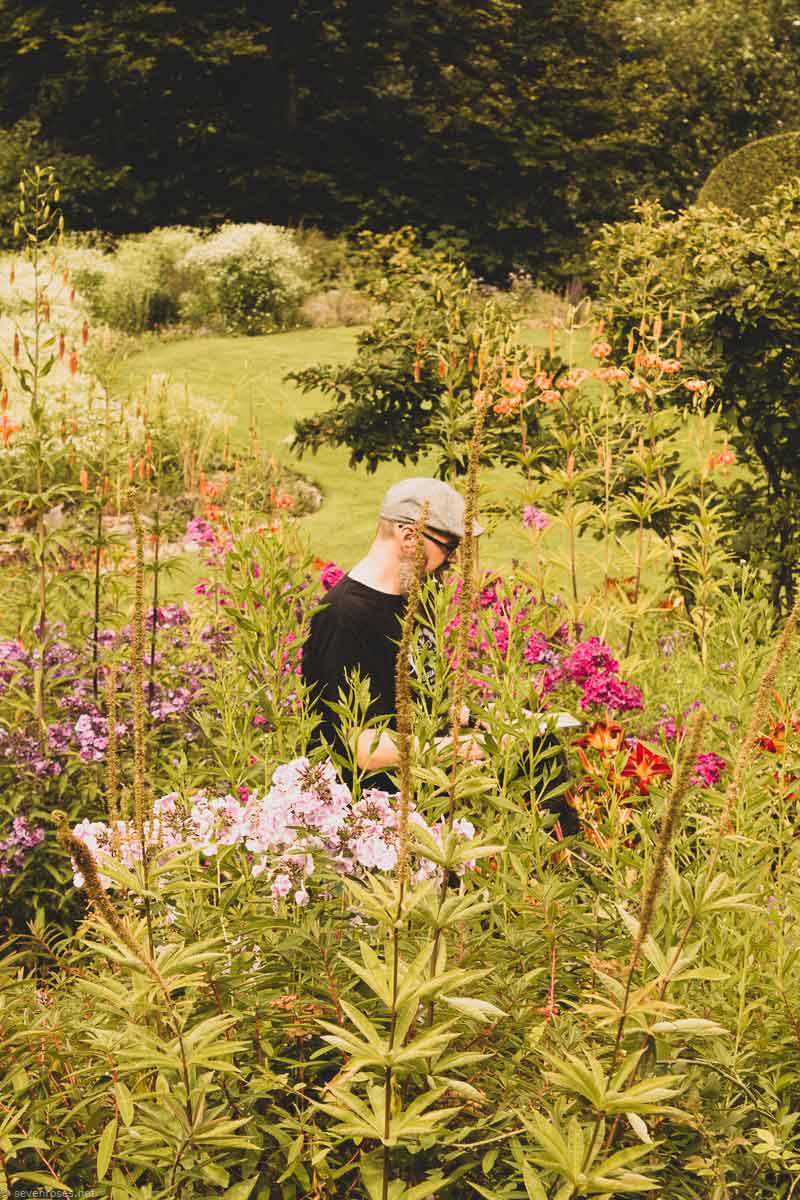 Le Jardin de Cottage
Inspired by British cottage gardens, here you will find an informal but charming mix of ancient varieties of roses, wooden patios, a vegetable patch, ancient and wild varieties of both ornamental and edible plants and flowers in a poetic contrast with the green velvety grass and the tall mountains just behind.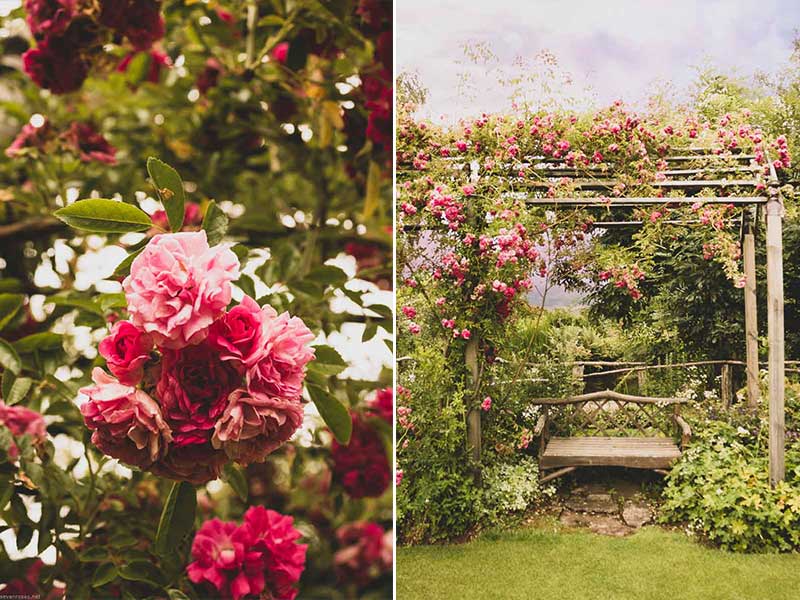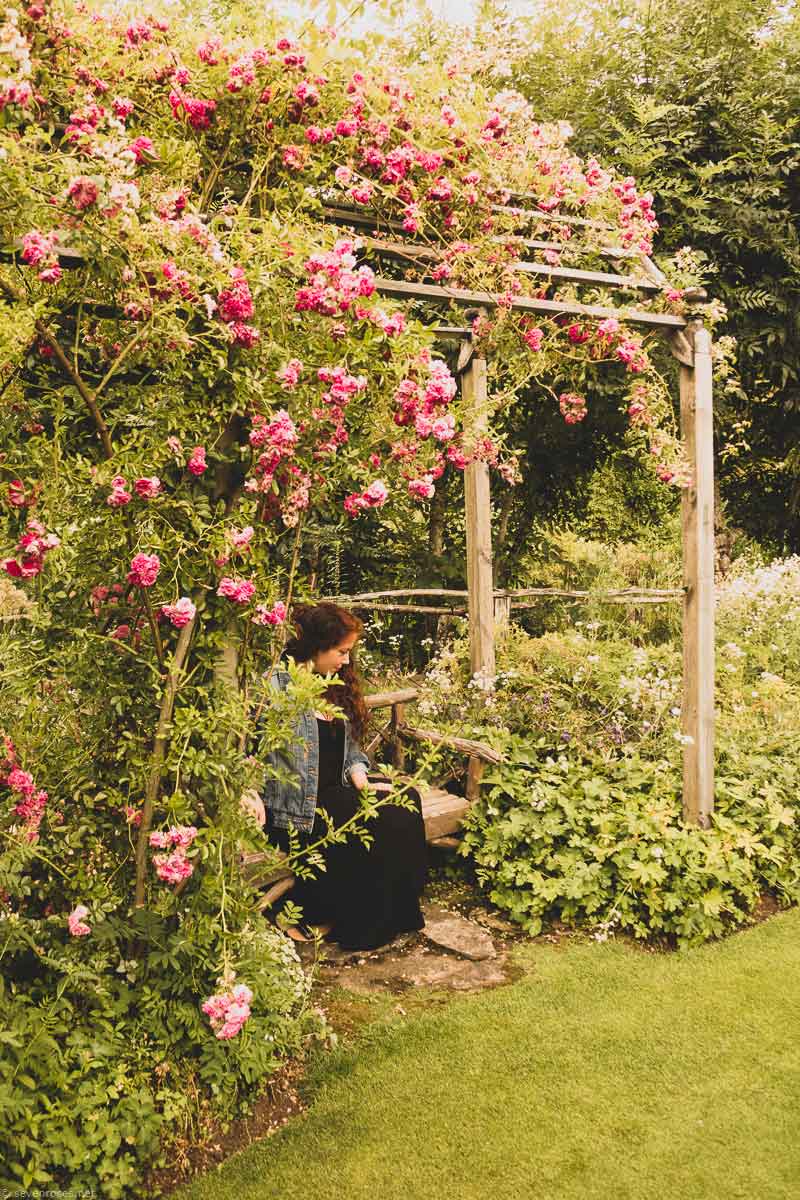 Les étangs (The ponds)
Like delicate mirrors that duplicate the sky, the passing clouds and the trees around them, the ponds give shelter to a multitude of insects and little animals like dragonfly, tadpoles, small frogs, trouts and even herons and wild ducks.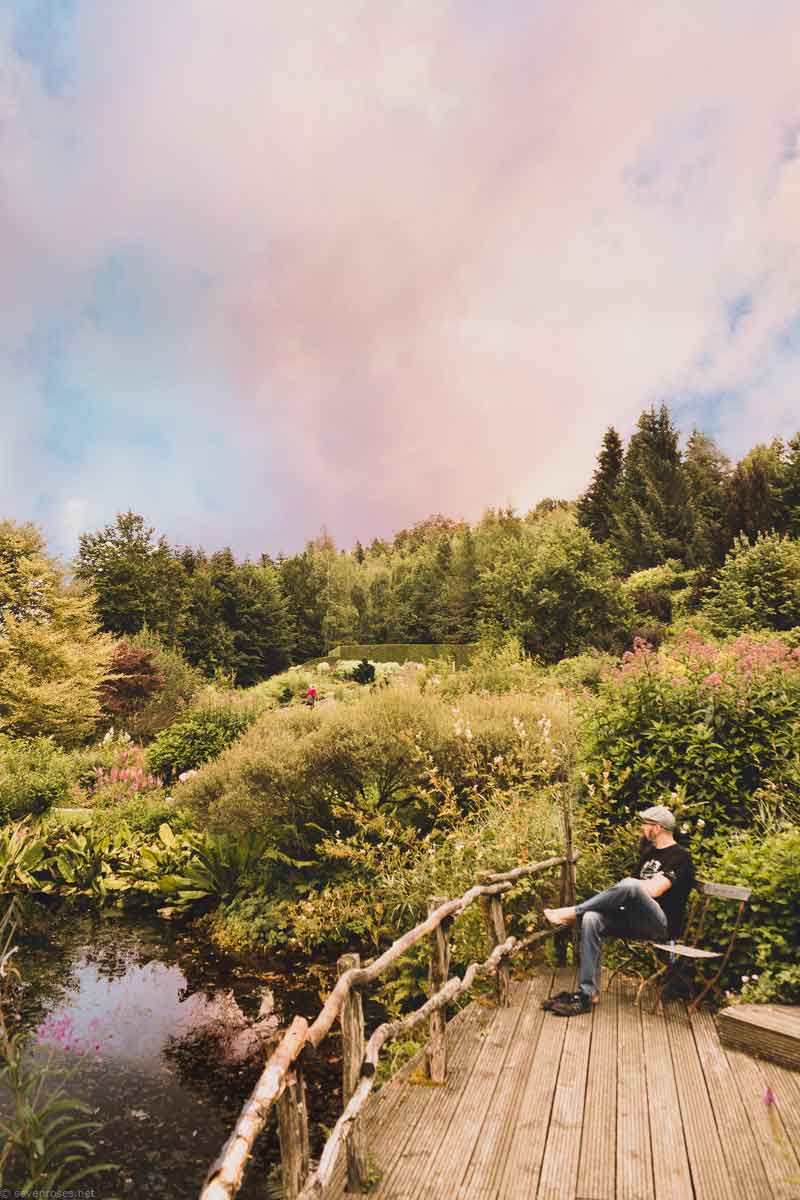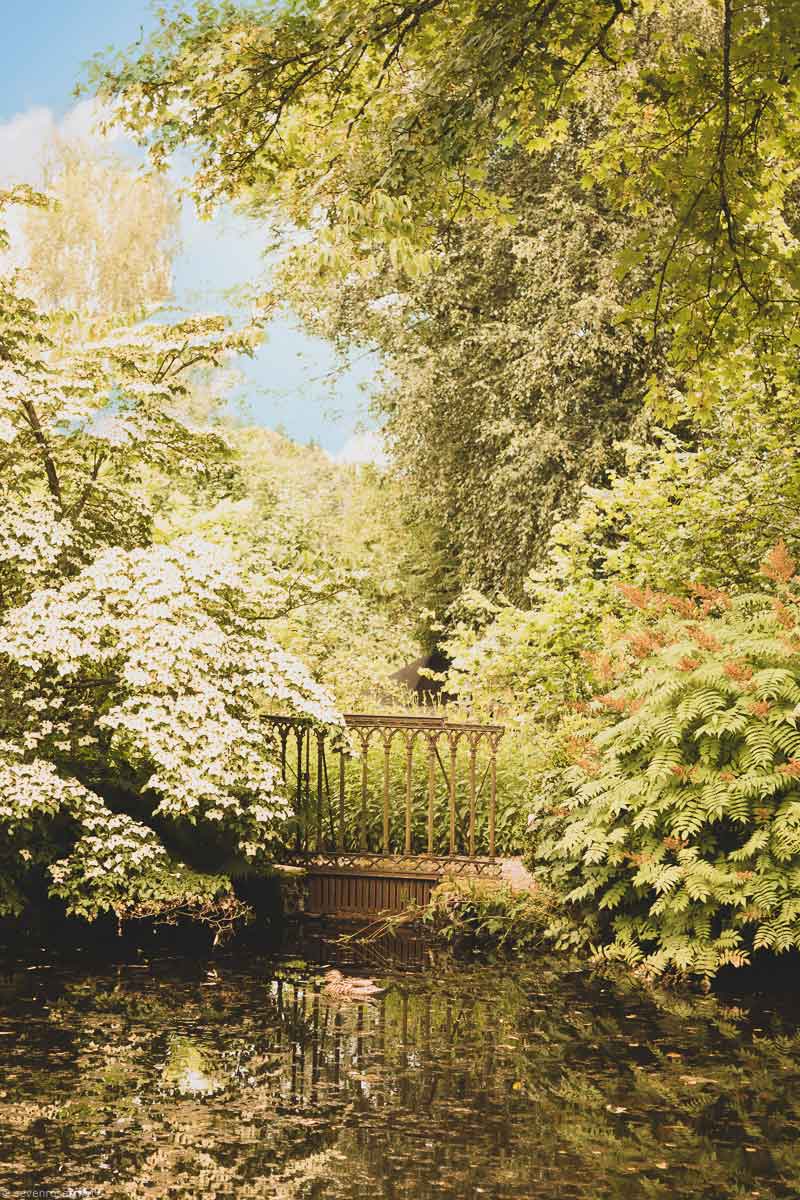 Le Jardin Bohémien (The bohemian garden)
This garden, more than any other part, will plunge you into a bohemian dream, as if you were in a painting. Here, wild flowers dominate and are not tamed nor judged. You will want to stop, sit, listen, dream away and spend time looking around you to reconcile yourself with nature.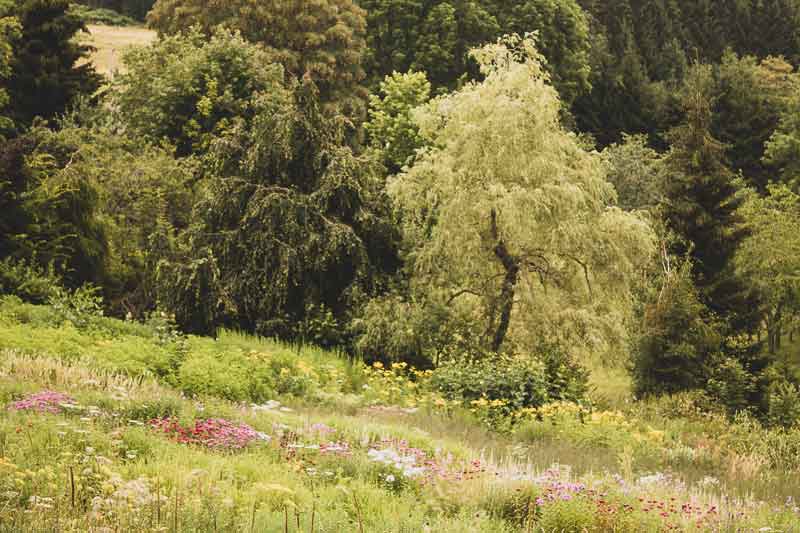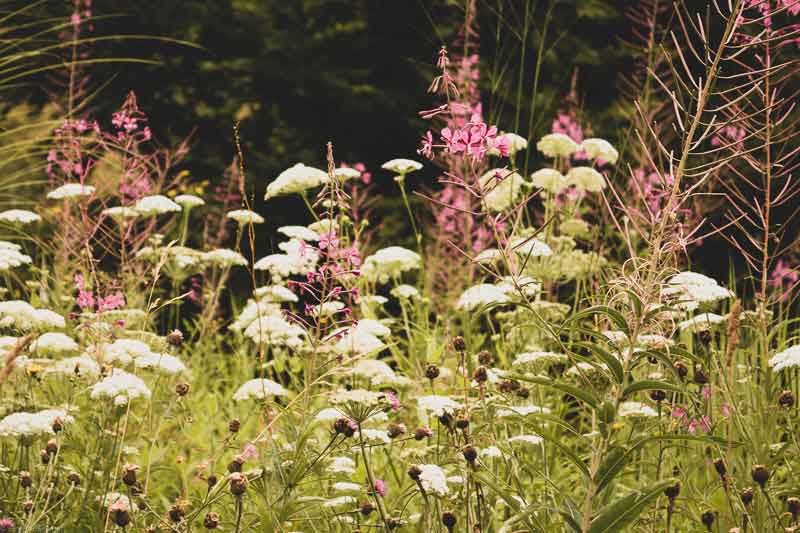 La Cabane de Lecture (The reading shack)
"If you have a garden and a library, you have everything you need."
― Cicero
The garden even has its own little library, a lovely hut filled with vintage books and magazines, prints, armchairs and cushions.
You can sit and relax with a botanical-themed book, or you can just look outside onto the beautiful gardens.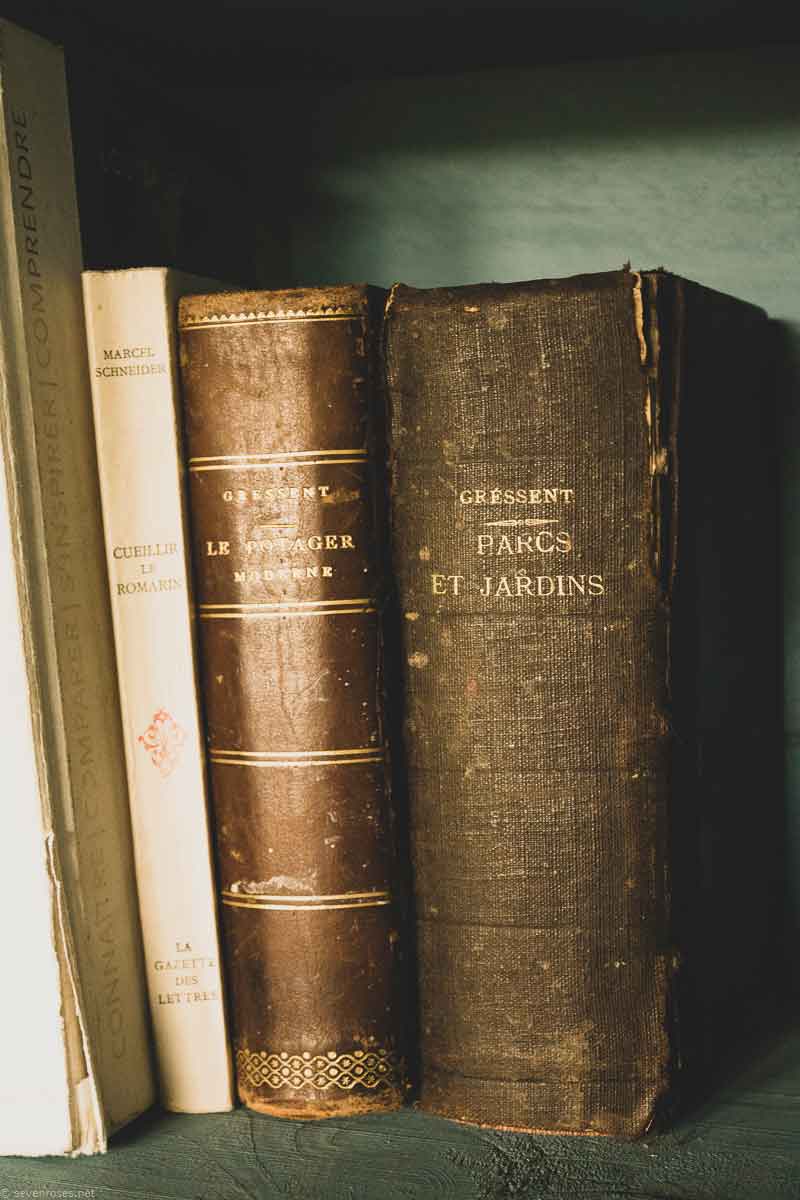 Le Jardin Flipper/La Chambre de Dames
This is the part of the garden where you most clearly see the human intervention. The straight lines of a labyrinthic garden bring you to a circular hall  where plants have been selected for their particular smell: you will smell sugary, aniseed, menthol, spicy and even chocolatey blooms.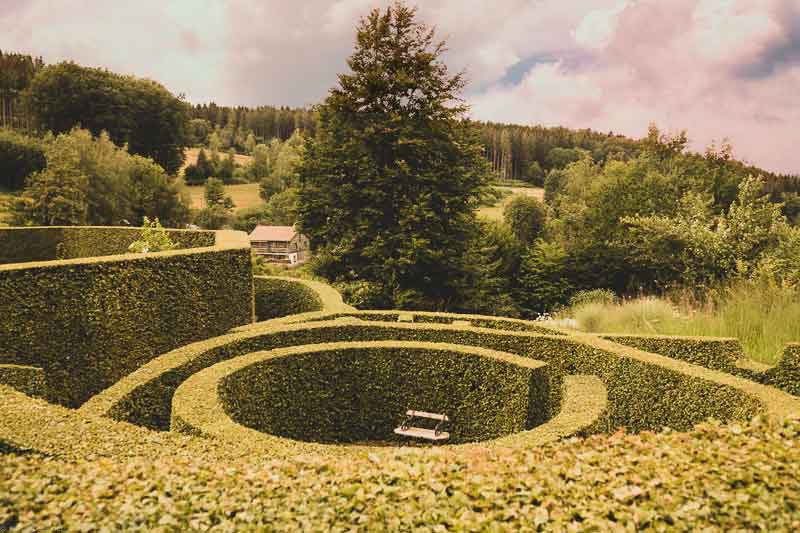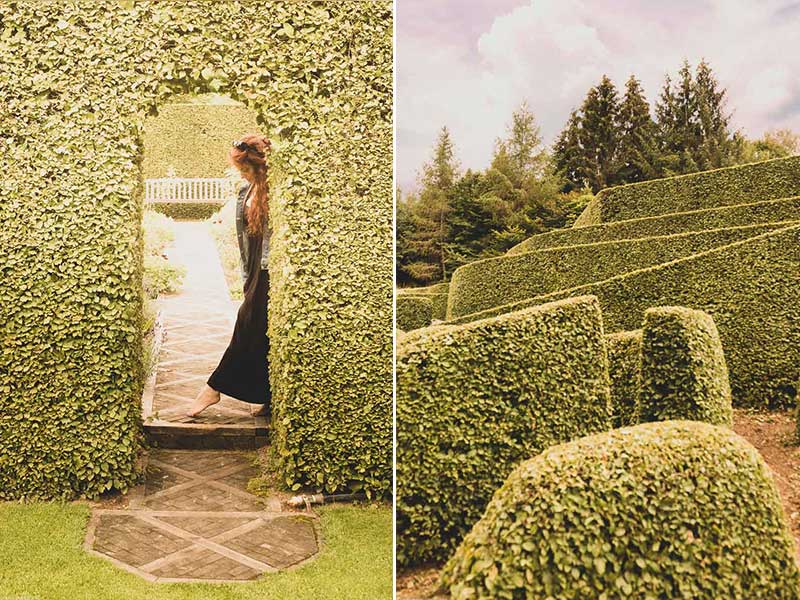 Le Jardin de Mousse (The Moss Garden)
This part of the garden took around 10 years to be ready, and only opened this year. We were among the first lucky visitors to be able to plunge into this dreamy universe where moss, instead of being removed and killed, is taken care of like a precious plant. You can sit among these trees and by simply being there, you will feel soothed and relaxed. This is shinrin yoku at its best. For me, 10 minutes spent in this moss garden listening to the whispers of the wind correspond to 10 minutes of meditation.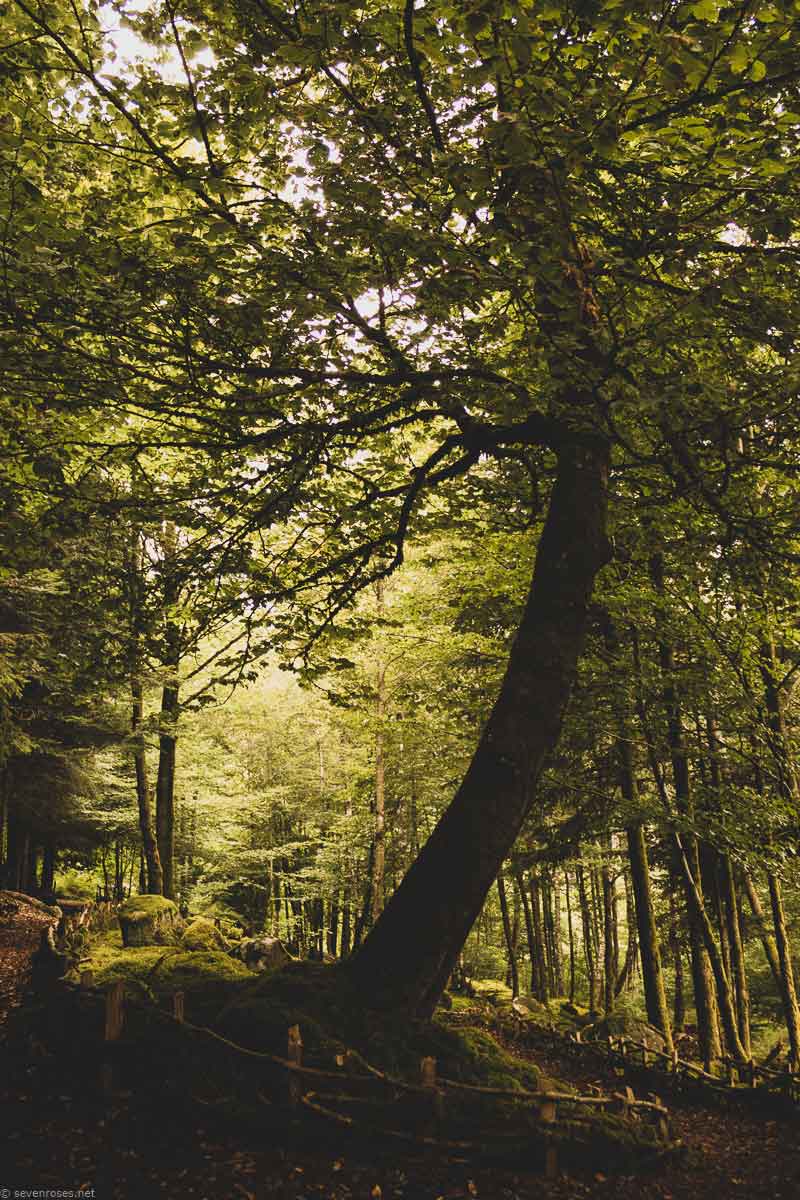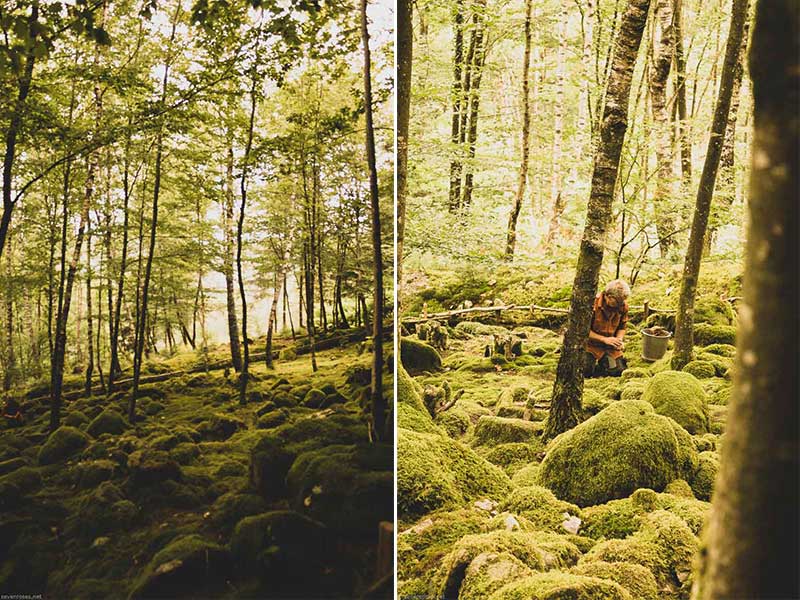 More views of le Jardin de Berchigranges
Here are some more views from out visit. Flowers, benches, buildings… everything was so enchanting!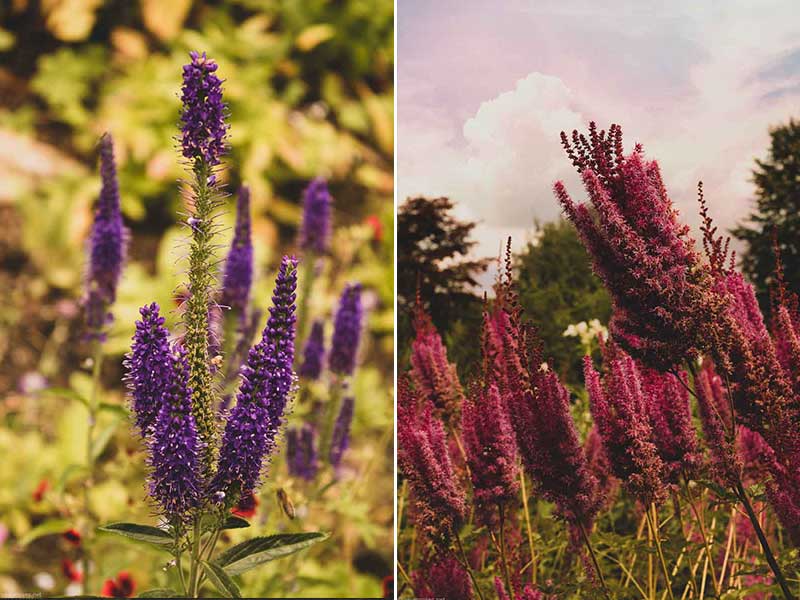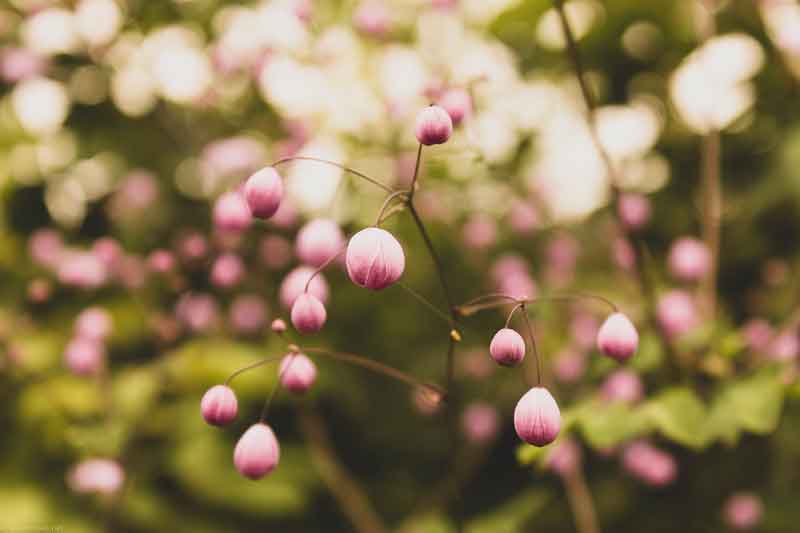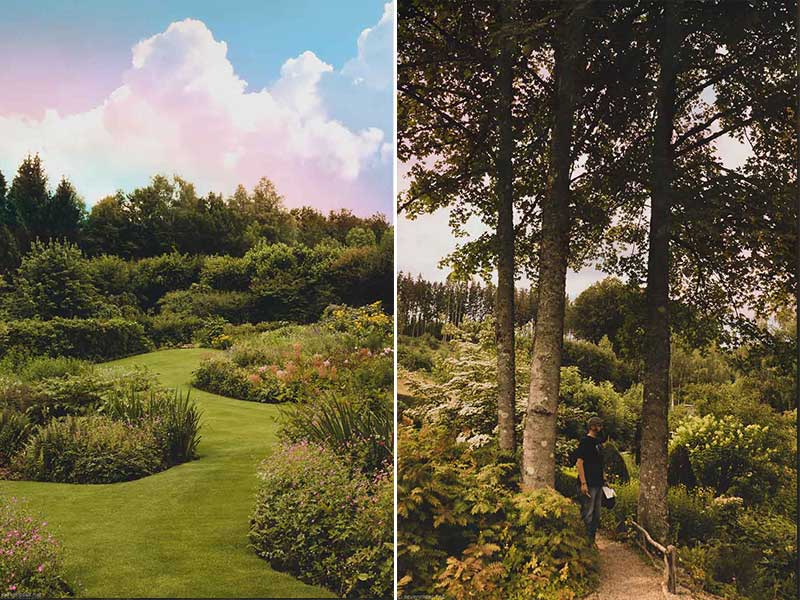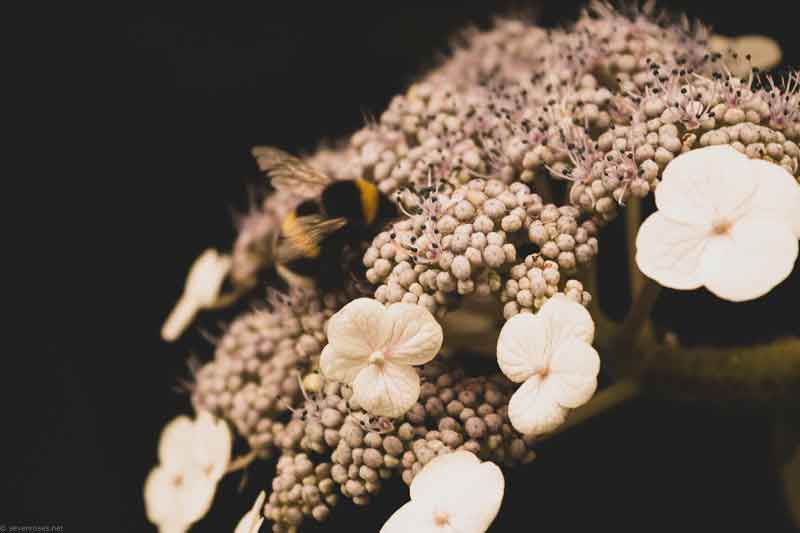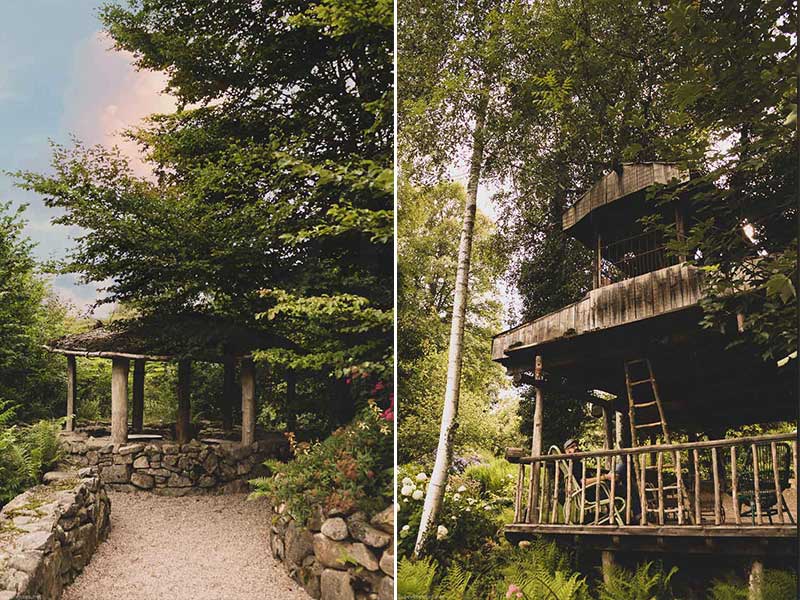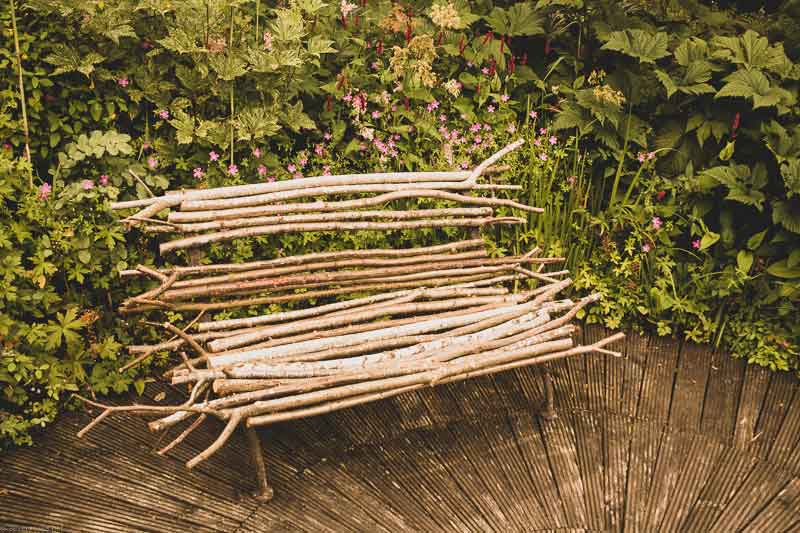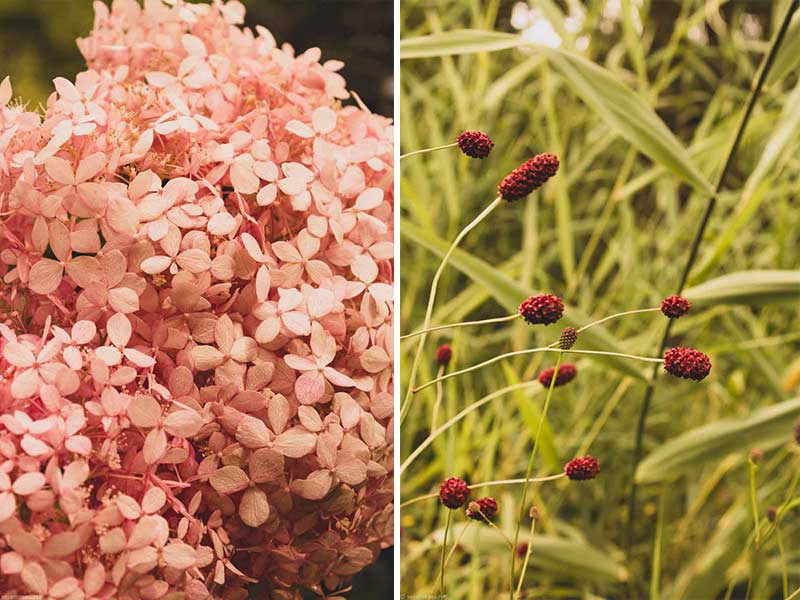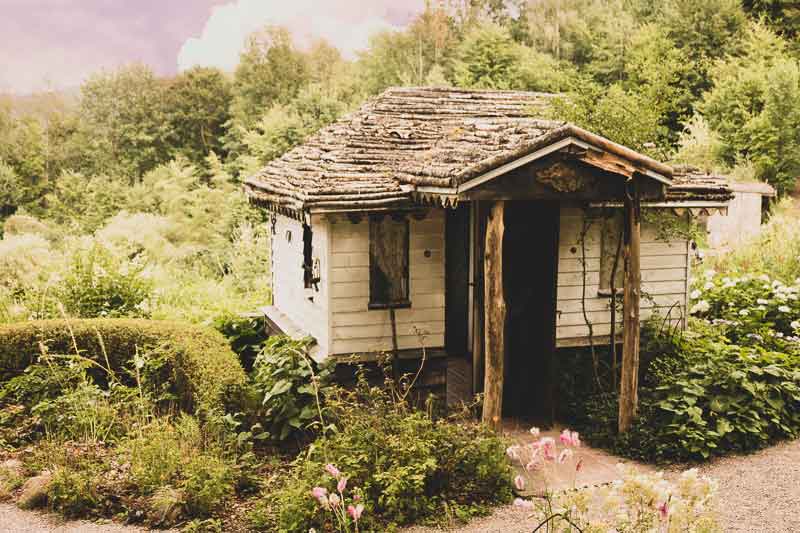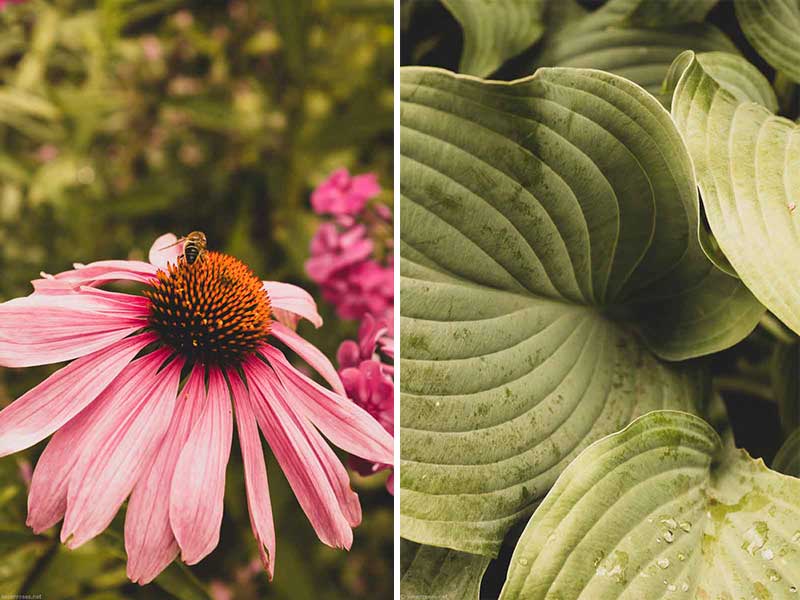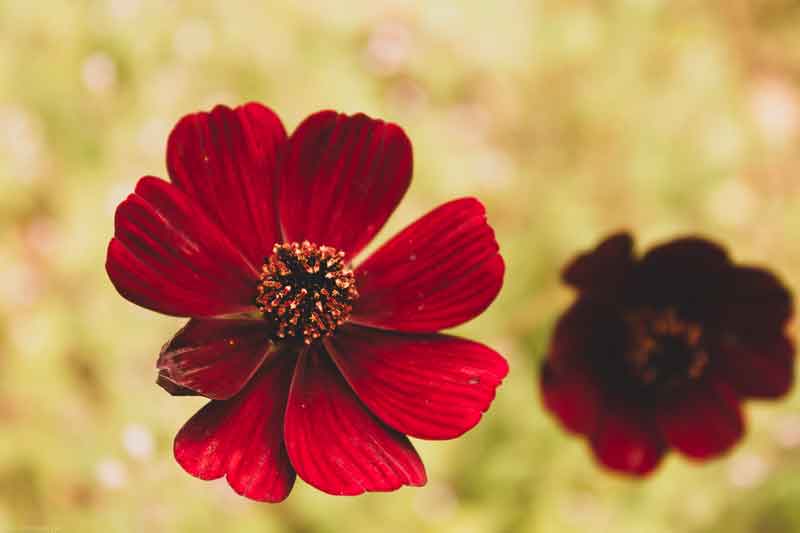 To know more about le Jardin de Berchigranges, you can visit their site by clicking here.
I hope you all enjoyed this little journey at Le Jardin de Berchigranges with us. Do you like to visit botanical gardens and parks? Let me know in the comments' section below!
And don't forget to pin this post to spread the love ♥
I wish you a love-filled day xoxo