Hello beautiful rose buds! I hope you've been having an amazing day. We've just wrapped up May so I decided to post some of my May Favorites, from beauty to books to TV stuff & more…
Without further rambling, let's get started on some May Favorites ^.^
I'm loving…
During May I've made my second order on the lovely website Natural Forme, to get some more original Savon d'Alep for my husband (it's the only product he wants in the shower lately) and since I was already on the site, I got some of the products that turned out to be my faves for the month of May, namely: the sublime Monoï Fleur de Tiaré bio Huile Corps & Cheveux from the Laboratoire Biarritz, which smells like heaven on earth – such a treat after the shower on both body and hair! The only downside is that it's one of those oils that stays in solid form at colder temperatures, like Coconut Oil, therefore it's impossible to get it out of the bottle unless you bring in the bathtub with you to let it melt.
The pink clay Argile rose ultra ventilée from Argiletz (which I'm using to make a wonderful DIY mask, more on this coming soon) and finally some Tea Tree Oil by Pranarom which is just always very handy for so many occasions. All products are of an extremely high quality, cruelty-free, not tested and 100% Vegan of course :-) I've adopted them all right away in my Spring/Summer beauty routine.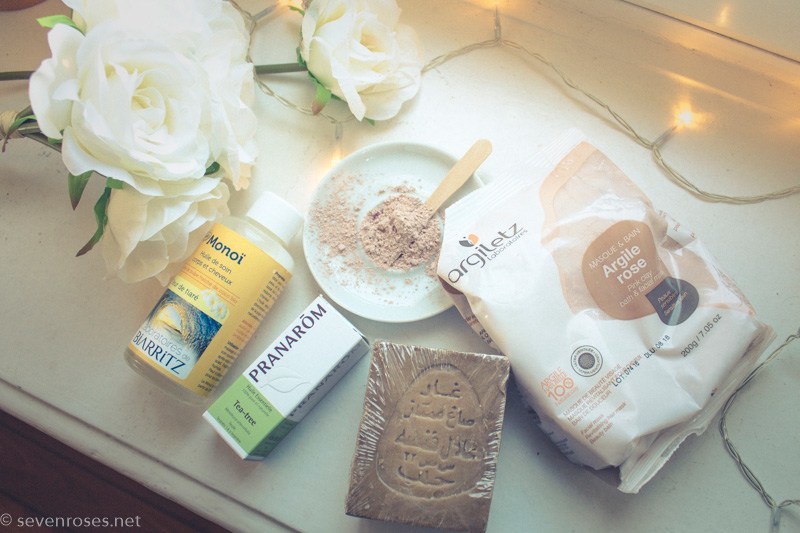 I'm enjoying….
May in Vosges is a wonderful, wonderful time. It's my second time experiencing this period here, and I was waiting for it ardently. This is the time when you can really feel and see Spring exploding around in thousands of wild flowers and emerald green leaves, you wake up to the sound of birds chirping and you go to bed with the sky still tinted of lilac in the distance, to the comforting sound of crickets singing in the garden. Sunny days are not too warm, rainy days are fresh and soothing.
We've also been more consistent with a fitness routine and added to that we have brand new ♥ bikes ♥
A typical weekend view in May looks like the walk we had at Lac des Corbeaux, an enchanting little lake embraced by mountains all around: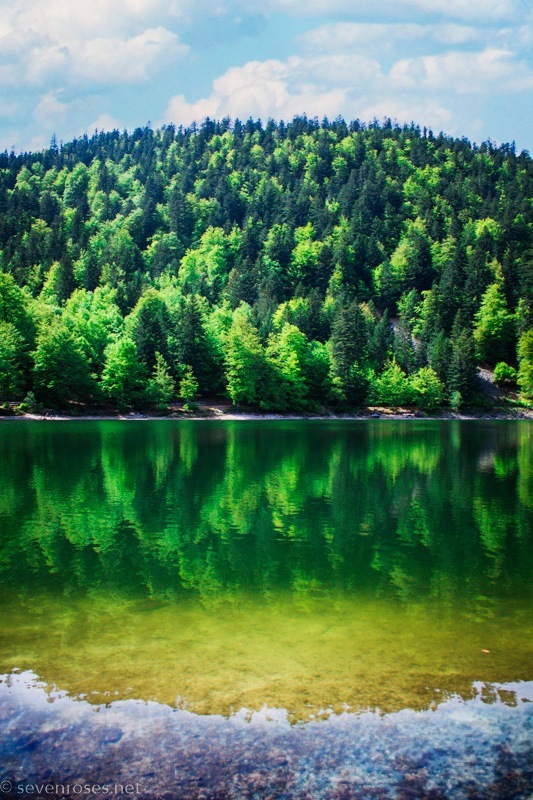 I'm reading…
The Starch Solution by John A. McDougall
Finally I have it! I love when doctors and physicians that have no Vegan or ethical background, backed up by years and years of studies, come up to the conclusion that a Vegan (plant based) diet IS the healthiest for the human body. Just like in The China Study, some (all) of the data is mind-blowing. The correlation between what we eat and the diseases we suffer from is so obvious and yet so ignored… This is a very interesting book, I highly recommend it. And it has lots of recipes, too, and that makes the recipe-addict in me very happy :-)
La vie rêvée des plantes by Lee Seung-U
I'm not sure why, the French title is so much more enchanting than the English translation (The private life of plants). Anyhow, this novel by South Korean author Lee Seung-U has an enigmatic, seductive, penetrating atmosphere that combines a mixture of infinite softness and extreme violence, which happens to be a classic in many Asian cultures. I might write a full a review soon, so I will not say more about this, but if you're into Korean writers, or if you've never read a novel written on that side of the world, do pick this book up, you're in for a treat.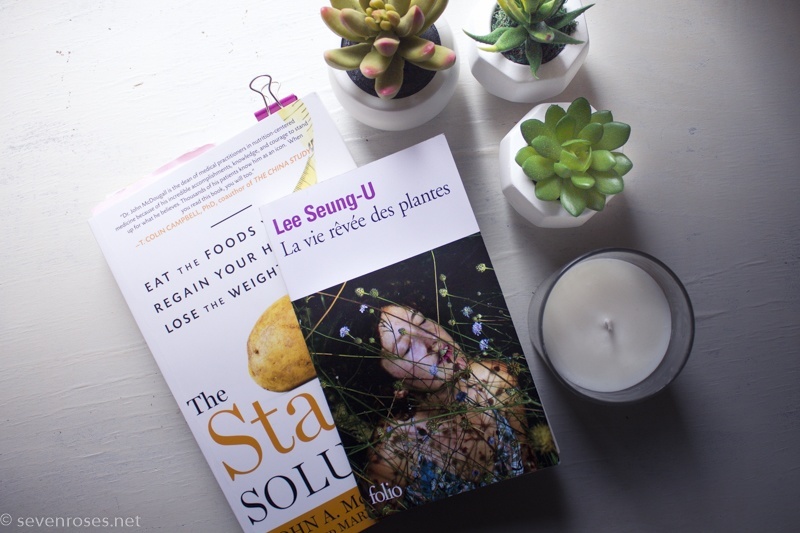 I'm watching…
Hinterland (Y Gwyll) – just like for the book above, this is another occasion in which I don't understand why the original Welsh title, Y Gwyll, that means The Dusk in English, is changed into "Hinterland". Especially after watching the series, I find The Dusk to be much more fitting!
Anyhow… This is an amazing noir thriller that grows on you. At the first episode I wasn't too sure about it, but it grew to the point that I can't wait for season 3 to be aired.
By seeing the screenshot I'm putting, you'll think I only like/watch series where people are all along in nature, and you wouldn't be far from the truth. The more we discover beautifully made (mostly European) series, the more I realize that on top of interesting stories, deep characters and clever dialogues, I need shootings made in real environment, beautiful landscapes, big skies, nature all around. I can't stand anymore to watch a series with fake tress in the background, fake or CGI recreated landscapes, pretty perfect cardboard houses.
see it on BBC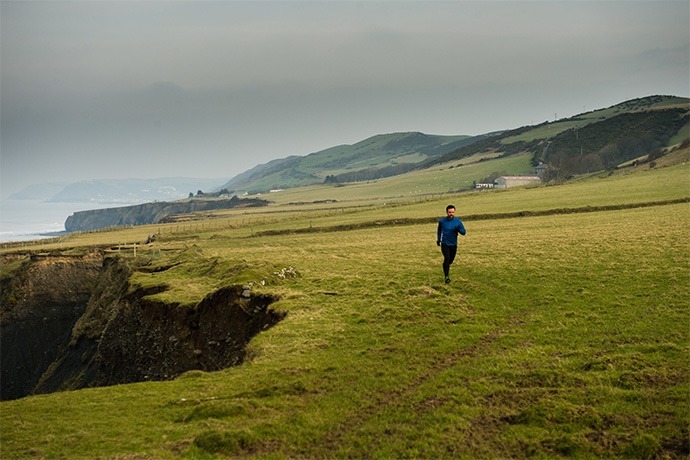 I'm eating…
Recently we had Vegan Alfredo with hemp seeds and tomatoes that you can find here on SevenRoses; green split peas soup; lots of rice & veggies for lunch; big veggie & tofu stir "fries" for dinners and chocolate cake for dessert, afternoon snack, midnight snack etc. (any occasion is good for chocolate cake) so a recipe is coming soon, promised.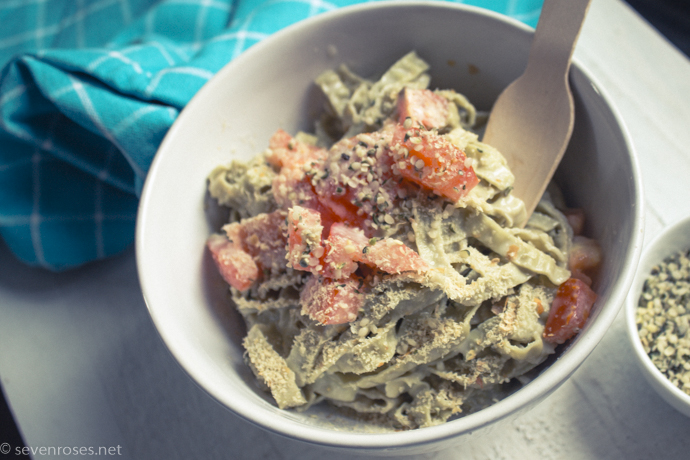 This wraps up my month of May. June has began with a lot of rain and stormy weather, let's see what the rest of the month will bring :)
And what about you? What have been some of the highlights of your month? Let me know in the comments
XOX