This summer salad with tofu feta, golden kiwis and edible flowers is perfect for a lighter meal on sunny days or a work-from-home lunch.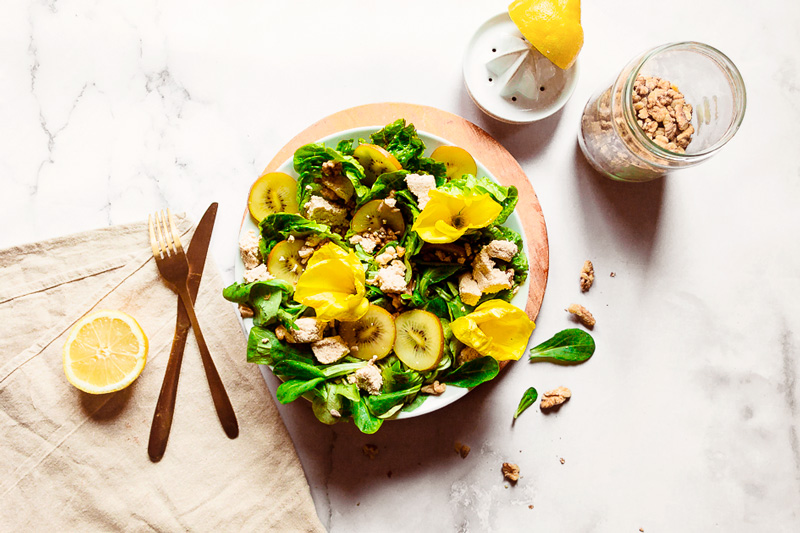 Hello my beautiful friends, as Summer is upon us I can't help myself but share with you more fresh, crispy, thirst-quenching salads…
Like most of you – I guess – during a heatwave I mostly crave light, healthy, and quick meals. I don't have the desire to spend half an hour or more sweating behind the stove, and I prefer to have easy but satisfying meals like these Easy Vegan Summer lunch ideas in under 10 minutes.
And at the end of a day with temperatures above 25°C/77°F there's nothing quite as refreshing as a Summer Salad to replenish your body. This colorful Summer Salad with Tofu Feta holds some of the season's best offerings including crispy lettuce, sun-drenched golden kiwis, edible flowers, protein-packed tofu feta, freshly squeezed lemon juice and more.
And if you're looking for more meal ideas, foods to eat, shopping list, etc. check out Katie's Vegan for beginners complete guide.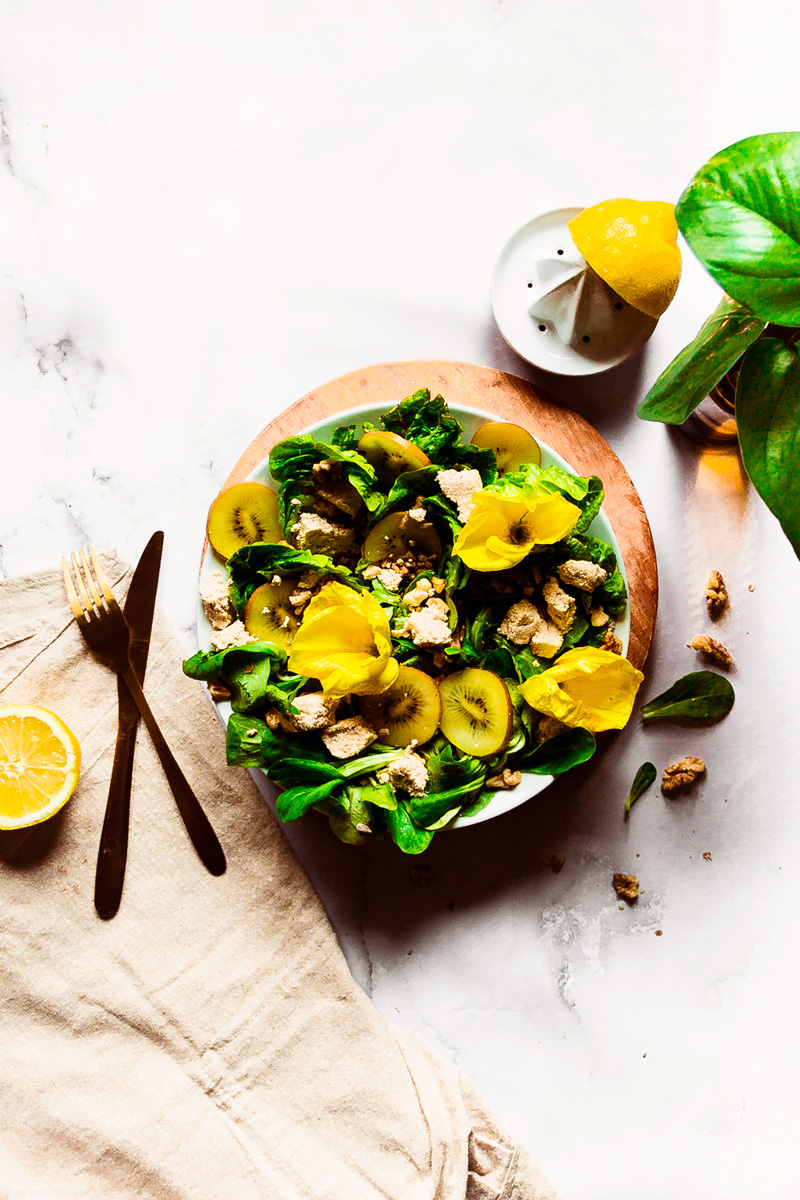 It's perfect for days when you want to add a healthy dish to your Vegan charcuterie board, or for an easy meal when you can't get food on the table fast enough. The keywords here are: simple, fast, nutritious, colorful, and yummy. And if you want more exotic flavors, try this Thai-inspired Vegan Papaya Salad in 15 minutes from Vegan Punks.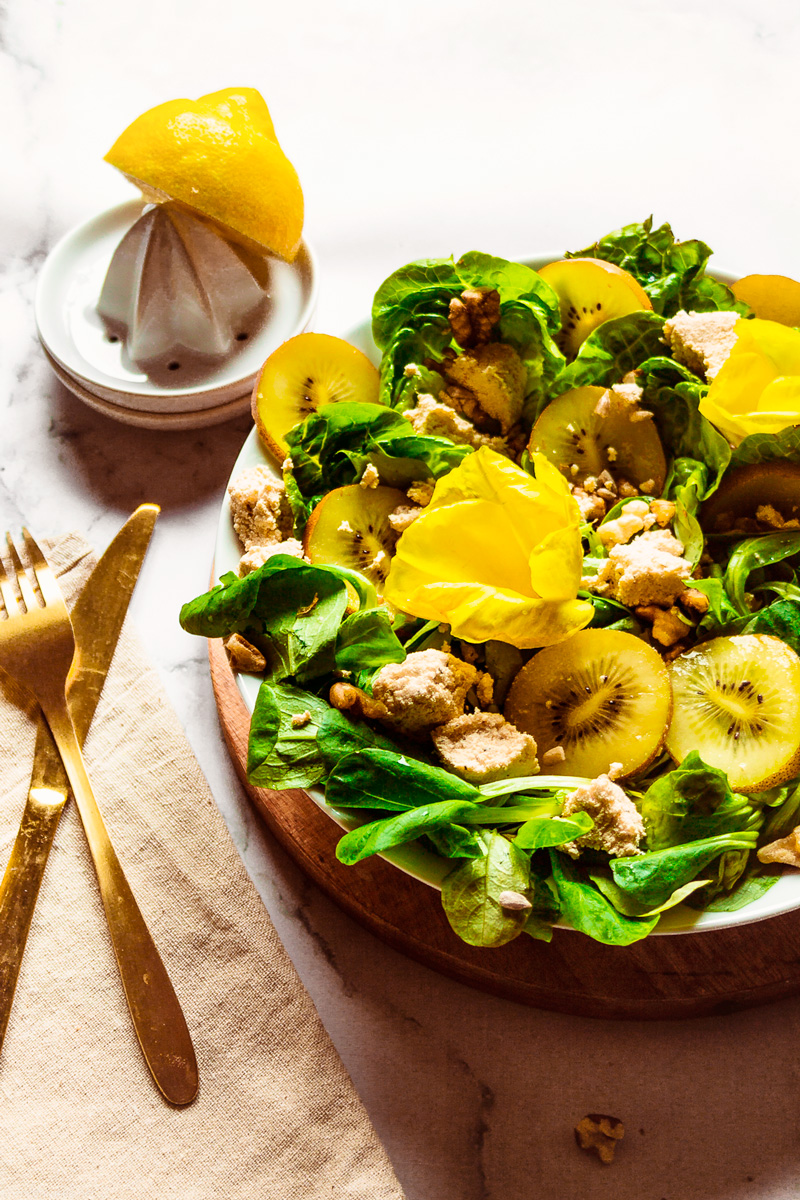 The advantage with this summer salad is that you can prepare your tofu feta in advance (it will keep up to a week in the fridge) and add the fresh ingredients at the very last moment. Quite practical, wouldn't you agree?
I chose to decorate it with edible flowers because it's the right season to do so, and I have plenty in the garden, but these are optional! Click here to read this post for even more edible flower recipes.
But if you don't have an abundance of wild flowers at your place, don't worry! You can either grow your own culinary edible flowers with a kit like these:
❀ Nature's Blossom Edible Flowers Seed Starter Kit – Grow 4 Culinary Flowers from Seeds. A Complete Indoor Gardening Set for Beginner Gardeners
❀ Nature's Blossom Edible Flowers Garden Kit – Complete Gardening with 4 Types of Culinary Flower Seeds, Soil, Pots, Labels & Guide
❀ Plant Theatre Gourmet Flower Seed Kit Gift Box – 6 Edible Flower Varieties to Grow, Includes BATCHELORS Button Blue BOY, Calendula, Dianthus, Marigold Sparky, Nasturtium & Johnny Jump UP Pansy Seeds
or you can opt for food-grade dried flowers like these:
❀ Food Grade-Pink Rose, Lily,Lavender,Roseleaf,Jasmine Flower,9 Bags
❀ Dried Lavender, Rose Petals, Jasmine Flower, Gomphrena Globosa and More
❀ Jasmine, Rosebuds, Lavender, Marigold, Chamomile, Pink Rose Petals
This salad has everything you need to really fill you up (tofu/protein, raw greens/fibers and vitamins, nuts and seeds/healthy fats, fresh fruit and citrus for even more nutrients).
This summer salad is already bursting with flavors, so no need for a fancy vinaigrette.  Enjoy it with a simple squeeze of fresh lemon.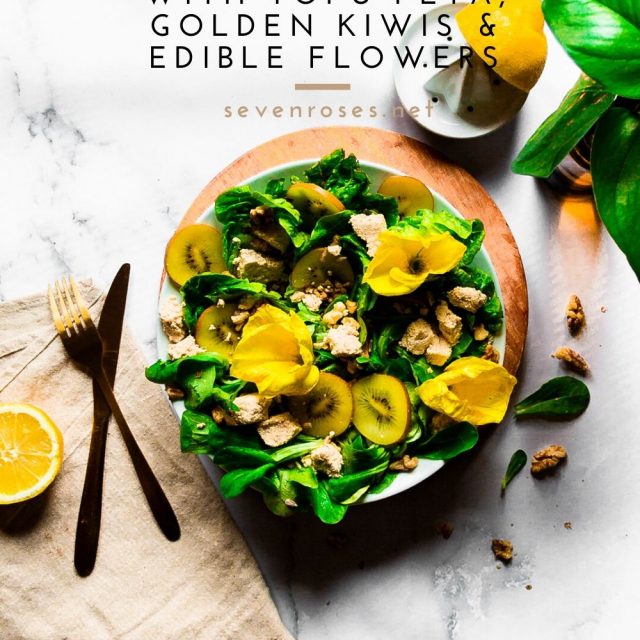 Summer salad with tofu feta, golden kiwis and edible flowers
For a lighter meal on sunny days, a work-from-home lunch or an al fresco dinner side dish, bite into this dreamy summer salad with tofu feta, fork-fulls of fresh golden kiwis, inviting
edible flowers
, crispy lettuce, and crunchy walnuts. So refreshing and full of good-for-you ingredients.
Ingredients
For the summer salad:
2

heads

Sucrine salad

also known as Butter Lettuce

1

lbs

Lamb's Lettuce

2

golden kiwis

use green if golden not available

1

handful

edible flowers

optional- I used evening primrose from my garden

1

handful

walnuts

2

tsp

sunflower seeds

optional

1

lemon
For the tofu feta:
1

block

tofu

I used extra-firm

2

tbsp

apple cider vinegar

2

tbsp

fresh lemon juice

2

tbsp

garlic powder

2

tbsp

onion powder

1

tsp

dill

fresh or dry

1

pinch

salt
Instructions
Let's start by making the tofu feta: in a bowl cut the extra firm tofu in small cubes, add all the other ingredients and mash with a fork. You should be left with a paté consistency. You can taste to check for saltiness, but keep in mind that after resting, the flavors will be much more pronounced. Put in a sealed container and keep in the fridge for a couple of hours.

When it's time to prepare the salad, start by laying the bigger leaves on the bottom of your big bowl: the sucrine and lamb's lettuce on top.

Slice the (golden) kiwis and place them on top of the lettuce leaves.

Scatter some walnuts and sunflower seeds (if using) on the bowl.

Pick and carefully was your

edible flowers

. Place them delicately around your salad.

Take the tofu feta out of the fridge, at this point you should be able to cut into it/crumble it. Put some big and small pieces all around.

Juice half a lemon all over, and bring the other half to the table to add some.
I hope you all enjoyed this Summer Salad with tofu feta, and if you did, don't forget to pin it and spread the love ♥
I wish you a love-filled day xoxo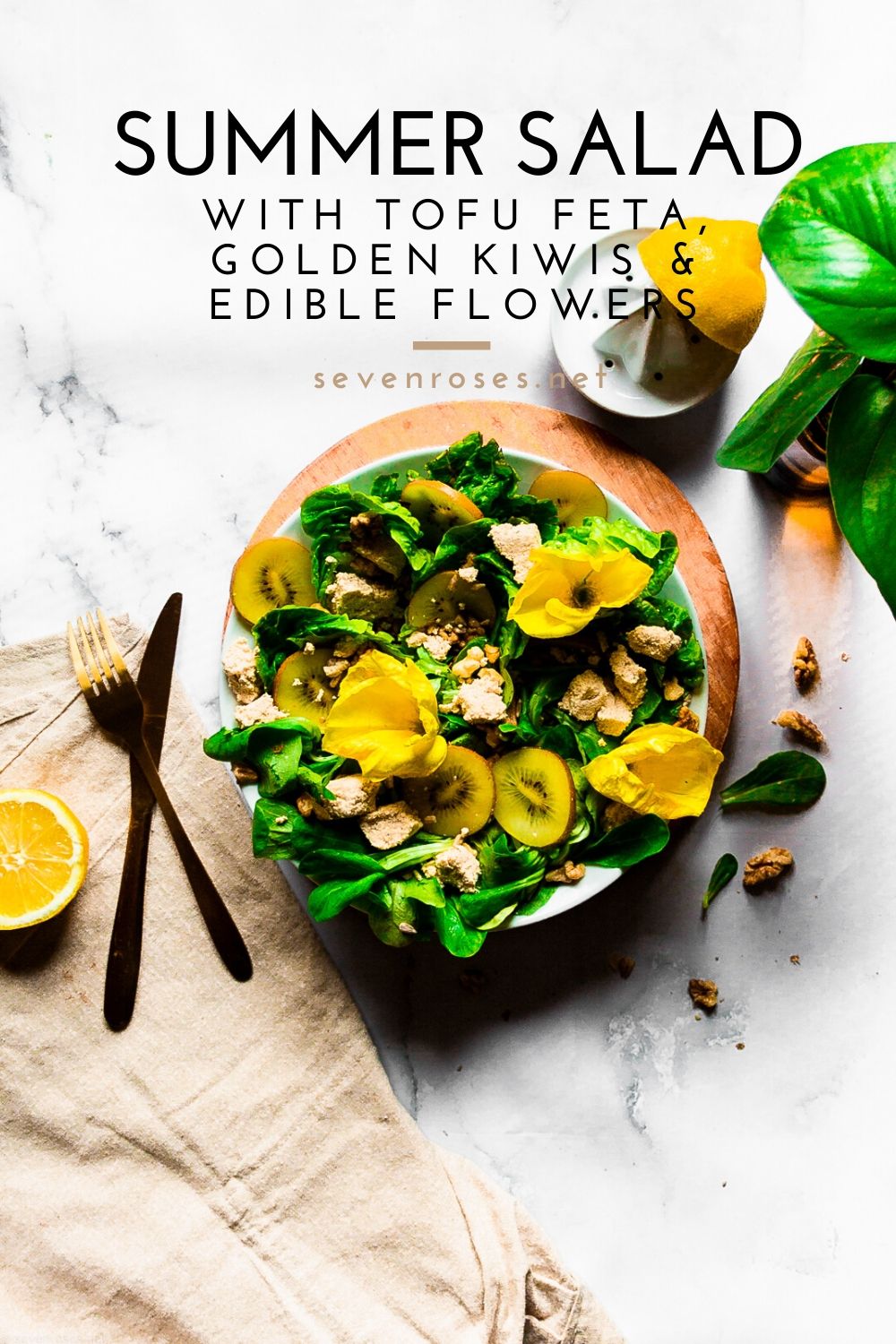 Disclaimer: This post contains affiliate links.