Simple, budget-friendly, protein-packed pantry staple chickpea and beet burgers which only require 6 ingredients, and that taste amazing :)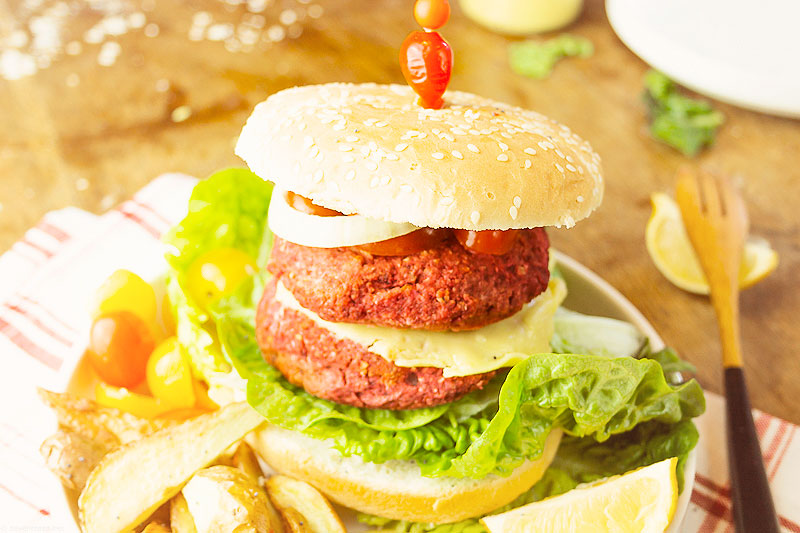 Hello my beautiful friends,
I had this recipe ready for quite some time already, and I just could never find the time to bring it to you. It's not a fancy recipe, it tastes amazing – that I can assure you of – but the ingredients are so basic (all pantry staples) that I thought it would look a bit underwhelming in the culinary blogging world.
But then the Coronavirus outbreak arrived like a tornado in our lives, and now all the requests I get from you guys, are actually simple, cheap recipes that can feed a whole family with basic pantry staples. So this might actually be the perfect recipe in this moment.
And to fancy it up, a little addition like The Best Vegan Burger Sauce Recipe over at Yum Vegan Blog will do the trick!
This simple recipe is…
❥ protein-packed, thanks to the chickpeas (cook dried from scratch or use canned);
❥ has fibers, folate and vitamin C thanks to the versatile beets (don't we all have one packet of those long life pre-boiled beets in the fridge? that we don't really know what do with? now's their chance to shine);
❥ it also has minerals and antioxidants thanks to the oats;
❥ can be cooked in a pan, in the oven or in the air-fryer (like I did here, we love the Instant Pot Air Fryer!);
❥ finally, it can be served with or without a bun, with a salad, fries or any other canned/frozen veggies you might have at hand – to make a complete meal.
This means making a fun burger-night dinner for you and your kids to endure the Coronavirus outbreak!
We've been having these burgers on repeat. They are so easy to make, they require only 6 ingredients, 5 minutes to prep and a food processor, and they can be pan fried or air-fried for two different but equally palatable culinary experiences.
For a 100% homemade Vegan burger night, make sure to prepare your very own Vegan Brioche Burger Buns following this unique recipe from Six Hungry Feet :)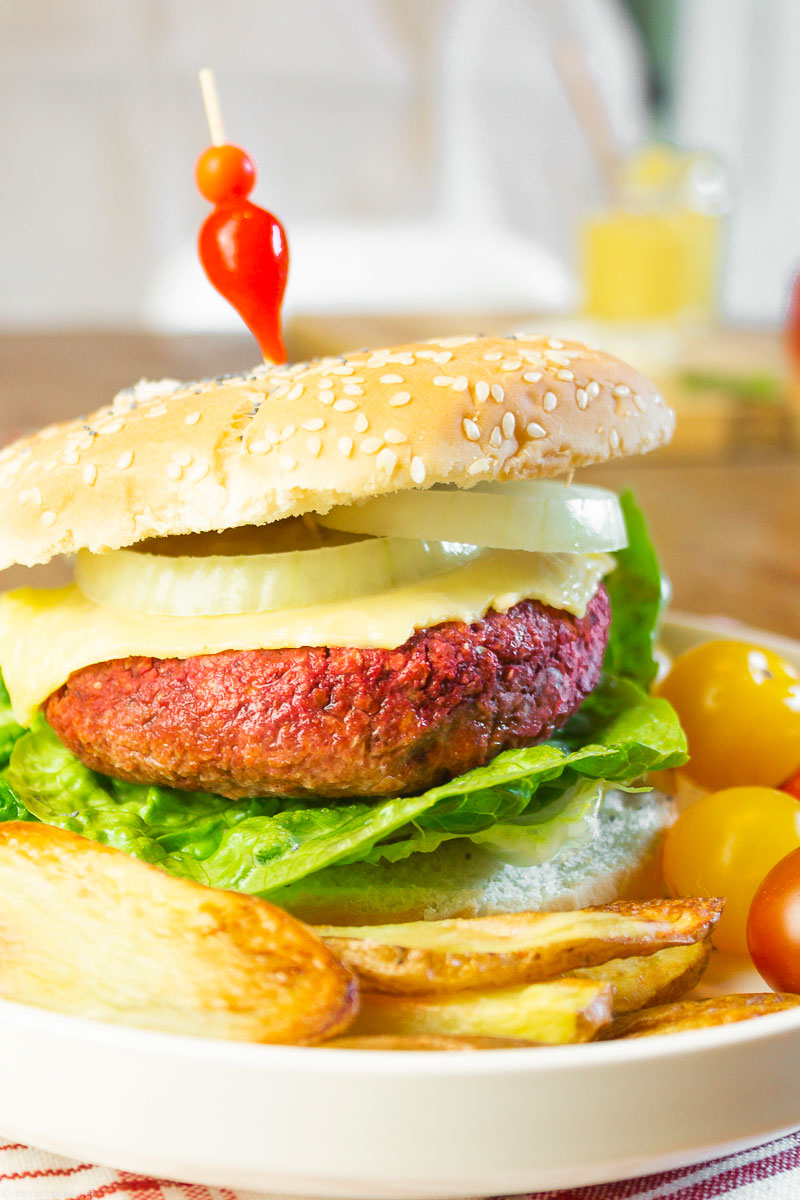 Have I awakened your curiosity? Then read on…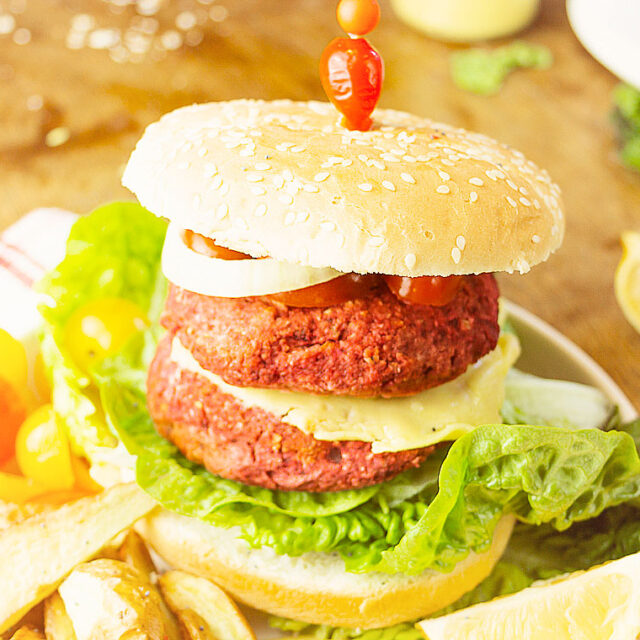 Pantry staple chickpea and beet burgers
Simple, budget-friendly, protein-packed pantry staple chickpea and beet burgers which only require 6 ingredients, and that taste amazing :)
Ingredients
1 ¼

cups

chickpeas

cooked from scratch or drained and rinsed from a canned

1 2/3

cups

red beets

pre-boiled

2

onion

(small)

1

cup

oats

2

cloves

garlic

1

tsp

paprika powder

optional
Instructions
Cut the beets in cubes, slice the onions, then add all the ingredients to a food processor. You can also add salt and pepper at this point.

Process alll of the ingredients in a food processor until well blended. Do not overprocess. It's nice to leave a few chunks here and there for some texture.

Form the dough into 4 big patties or 8 small ones, depending how you want to serve these (as single or double burgers). Should the dough stick to your hand, wet them a little bit before handling each patty.

For the patties then decide how to cook them: 5 minutes in a non-stick pan with a tsp of oil, flipping once; 15 minutes in the air-fryer at 200°C, flipping once.

Serve with or without a sesame seed bun with lettuce, tomato, avocado, fries, baked potatoes and your favorite sauce, or simply on top of a green salad. Enjoy your Protein-packed pantry staple chickpea and beet burgers!

I hope you enjoyed this pantry staple chickpea and beet burgers recipe to endure the Coronavirus outbreak… but now, I'd love to know which are some of your pantry staples, so make sure to leave them down below, I look forward to reading your comments.
And by the way, if you're looking for frugal, fun or productive things to do during this lock down, I have an extensive list of 101 things to do at home ;)
And don't forget to pin this post to share the love ♥
I wish you a love-filled day, stay safe xoxo