Disclosure: This post may contain affiliate links. As an Amazon Associate I earn from qualifying purchases. Thank you for your support!
Peanut Butter Snack Squares: an easy, protein-packed and delicious snack to eat any time of the day – for a dose of nutritious energy.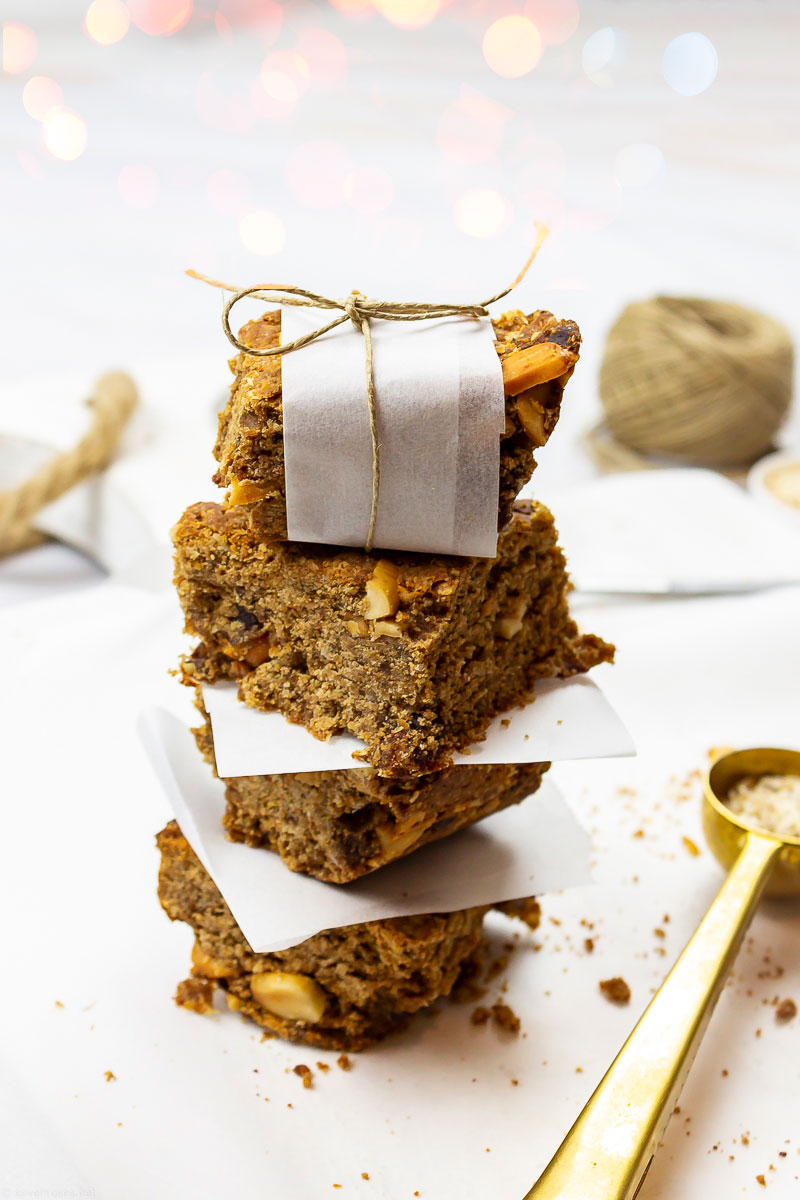 Hello my beautiful friends! If I were to ask you who doesn't love peanut butter, I'm pretty sure most of you would tell me they love it. Peanut butter is not only utterly delicious, but also nutrient-dense, which makes it the perfect base for healthy snacks that also taste amazing.
You can imagine then, why I'm so happy today to share with you a recipe from the brand new must-have cookbook by Ginny Kay McMeans called "The High-Protein Vegan Cookbook: 125+ Hearty Plant-Based Recipes".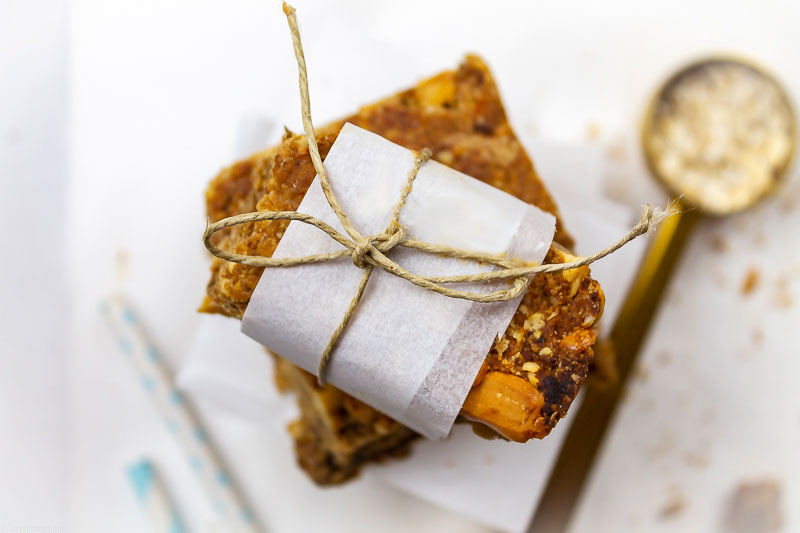 The title of the book says it all, here you will find more than 125 recipes that are high in protein and completely plant-based. The perfect answer to all those "But where do you get your protein?" questions that linger out there when you tell people you are Vegan.
Did you know that nuts, grains, vegetables, fruits, and seeds all provide healthy fuel for the body, and in combination they make complete protein powerhouses that easily deliver this essential nutrient and much more? You can find out more about this in this amazing book: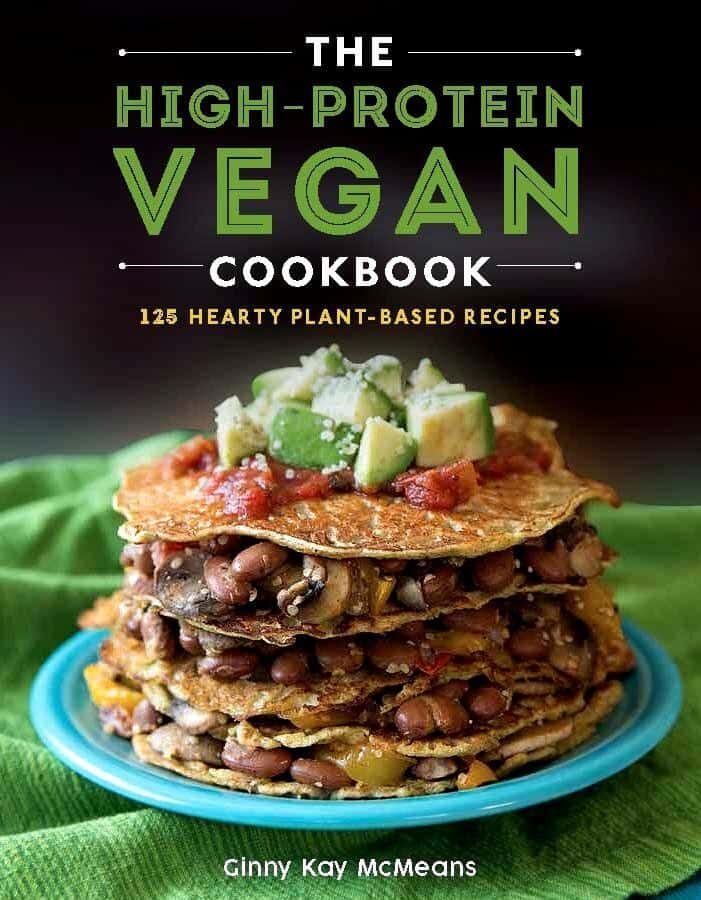 Ginny's food philosophy is about cooking healthy, amazing dishes that can be frozen and prepare when you're in a pinch. Rather than reaching for unhealthy foods then, her fool-proof recipes make sure you always have healthy meals and snacks ready to go.
Her new book helps you prepare meals that are a good source of protein, as well as vitamins and minerals. You totally should check it out if you want to implement more nutrient-rich, healthy, clean and delicious meals for your family and loved ones.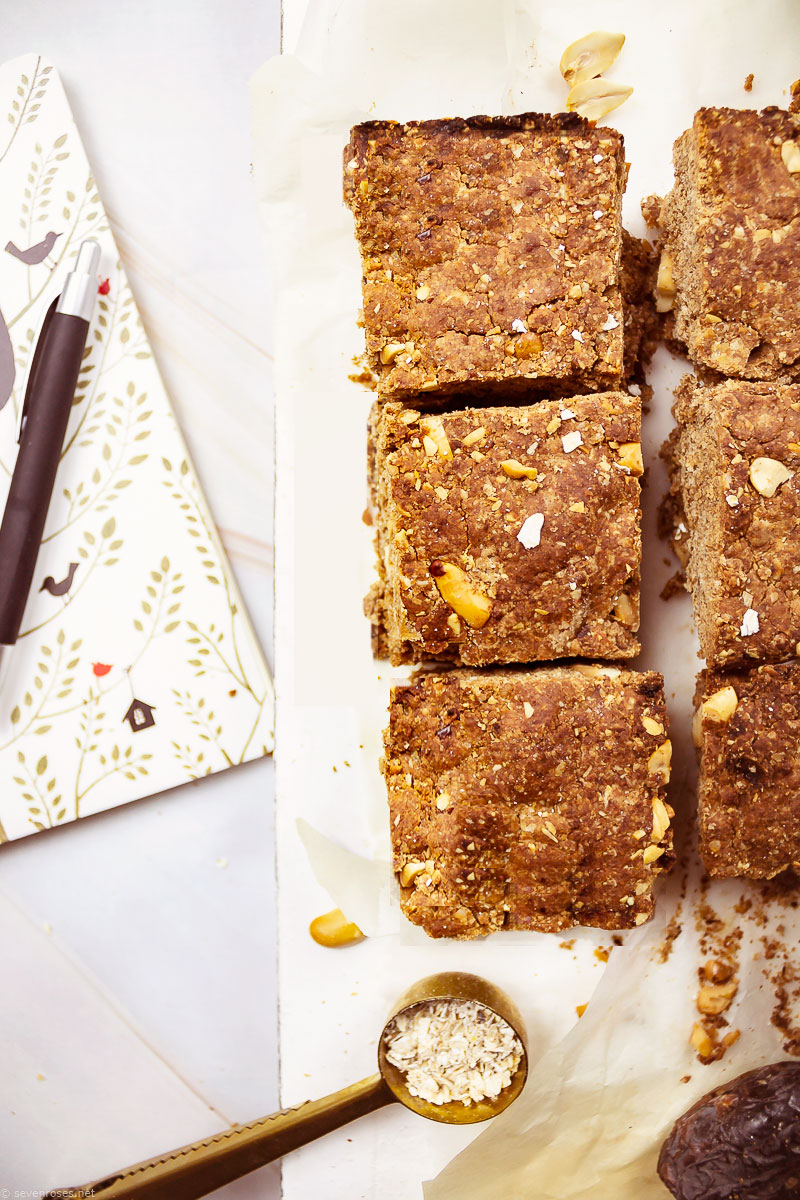 Some of my favorite recipes from the book are:
❥ Amazing Lentil Energy Balls
❥ Broccoli Veggie Dippers
❥ Chickpea Salad Crostini
❥ Lemon Strawberry Protein Muffins
❥ Pesto and Crispy Tofu Flatbread Sandwich
If these titles alone didn't make you hungry already, I don't know what will :D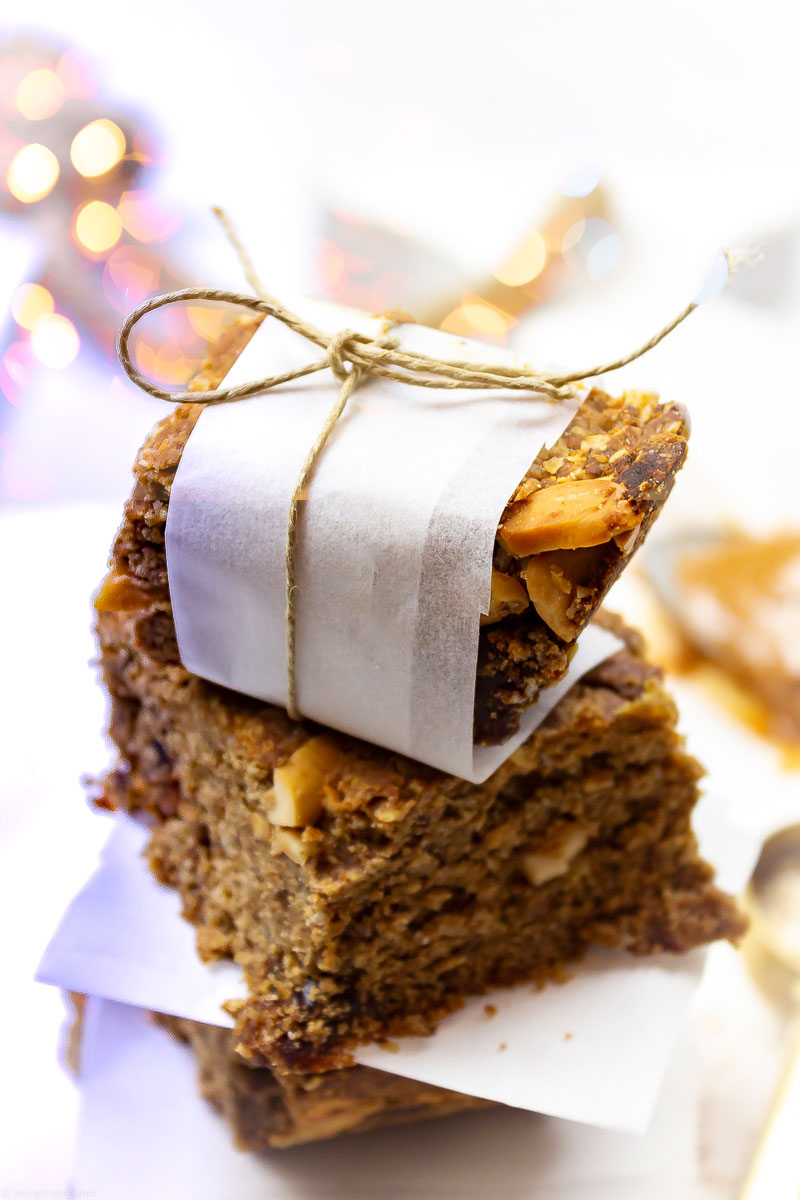 But out of the whole book, Ginny's Peanut Butter Snack Squares really conquered us. I say us, because Fabien as well fell in love with them and adopted them as a pre/post-run, super handy, on-the-go snack. While me, I mostly enjoyed them cozied up on the sofa, as a night-time treat. You see? These Peanut Butter Snack Squares are a healthier option for on-the-go lunches, road trips, sports outings and for when you simply crave something chewy, peanut-y and delicious.
The thing is, peanut butter is comprised of about 25% protein, making it an excellent plant-based protein source.  Peanuts also "contain an array of minerals including magnesium, iron and zinc, as well as the B vitamins and vitamin E" (source). The recipe calls for a few other pantry staples such as dates, oats and flour which make this such an easy recipe to prepare. You'll be baking in no time, and your kitchen will be filled with the magic scent of peanut butter.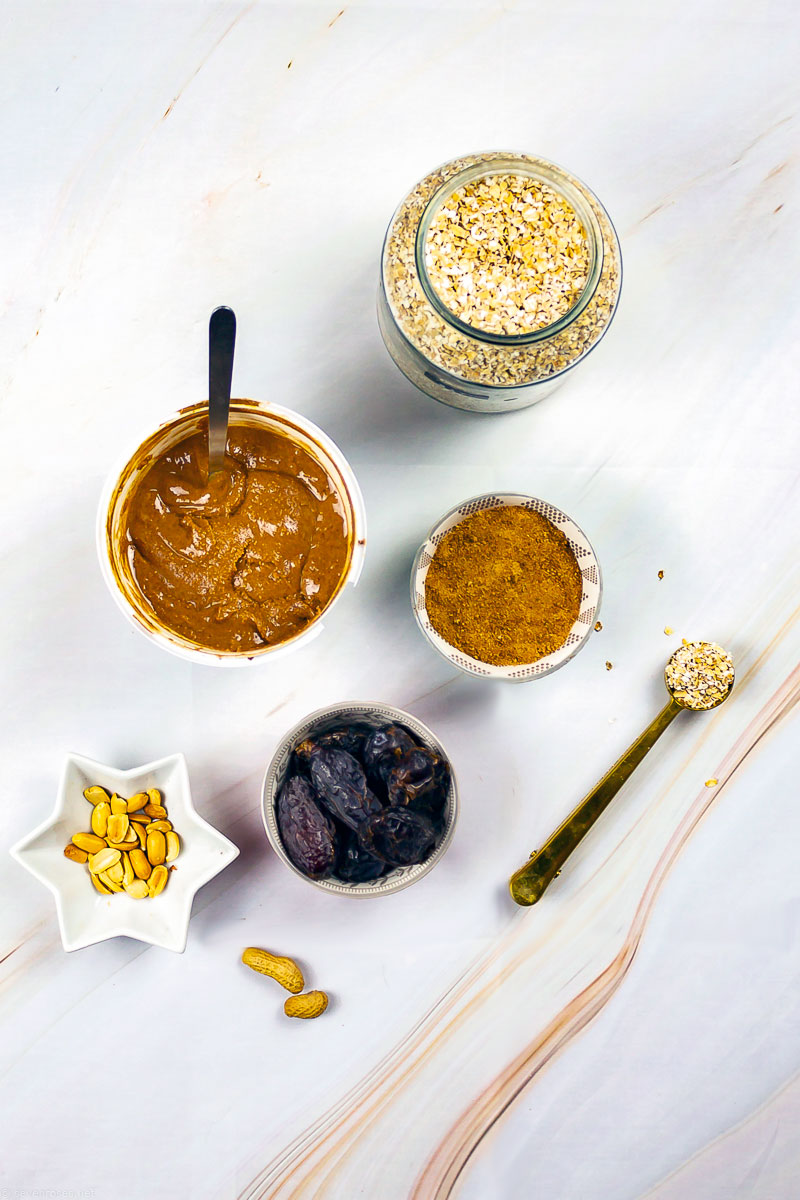 But now it's time to dive into the recipe, don't you think?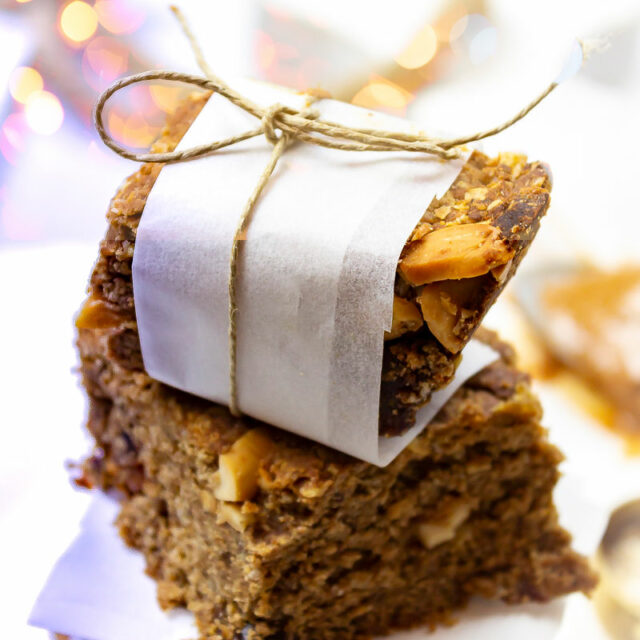 Peanut Butter Snack Squares
A double peanut whammy is served up in this recipe. All is sweetened with whipped coconut sugar and dates.
Ingredients
1/2

cup

coconut sugar

1

cup

peanut butter

creamy

1

tsp

vanilla extract

3/4

cup

whole wheat flour

3/4

cup

garbanzo flour

1

tsp

baking soda

1/2

tsp

baking powder

1

cup

oats

old-fashioned

1/2

cup

dairy-free milk

1/2

cup

peanuts

1/2

cup

dates

pitted and chopped small
Instructions
Preheat the oven to 350°F. Lightly grease an 8-inch square baking dish.

Mix the sugar and peanut butter with a hand or stand mixer on medium speed for 5 minutes. Mix in the vanilla. Add the flours, baking soda, and baking powder and mix on medium speed. Add the oats and mix for a few seconds. This will be stiff. Add the milk and mix on medium until just combined.

Fold in the peanuts and dates and make sure everything is well incorporated.

You can use your hands to press the dough lightly into the prepared dish. Bake for 15 to 20 minutes or until lightly golden brown.

Place on a wire rack to cool. Cut into sixteen squares and store in the refrigerator.
Notes
Protein: 14 grams per serving (2 squares)
This recipe is from

The High Protein Vegan Cookbook

: 125+ Hearty Plant-Based Recipes

by Ginny Kay McMeans

. Reprinted with permission.
ps: the first couple of times, I made this recipe as is, then made a third batch adding a dark chocolate drizzle on top. Try it!

>> Get Ginny's book on Amazon:
The High-Protein Vegan Cookbook: 125+ Hearty Plant-Based Recipes <<
Did you enjoy this recipe? Then don't hesitate to leave a message down below or visit Ginny's website to discover how a healthy meal or snack is just one step away :)
Also don't forget to pin this post to share the love! ♥
I wish you a love-filled day xoxo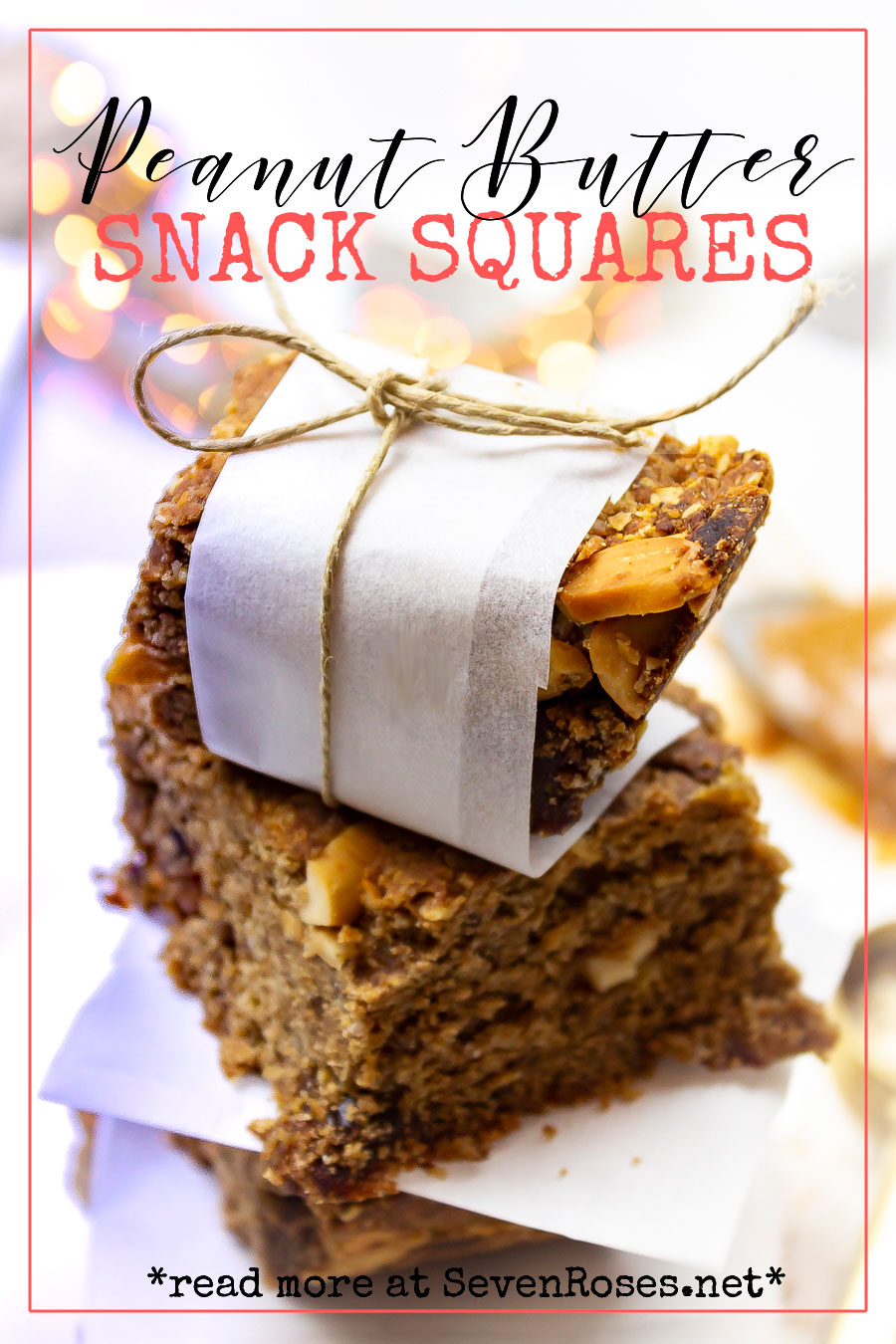 Disclaimer: I got a free copy of the book to be reviewed, but all opinions are my own. Some of the above links may be affiliate links