Guest post by Charles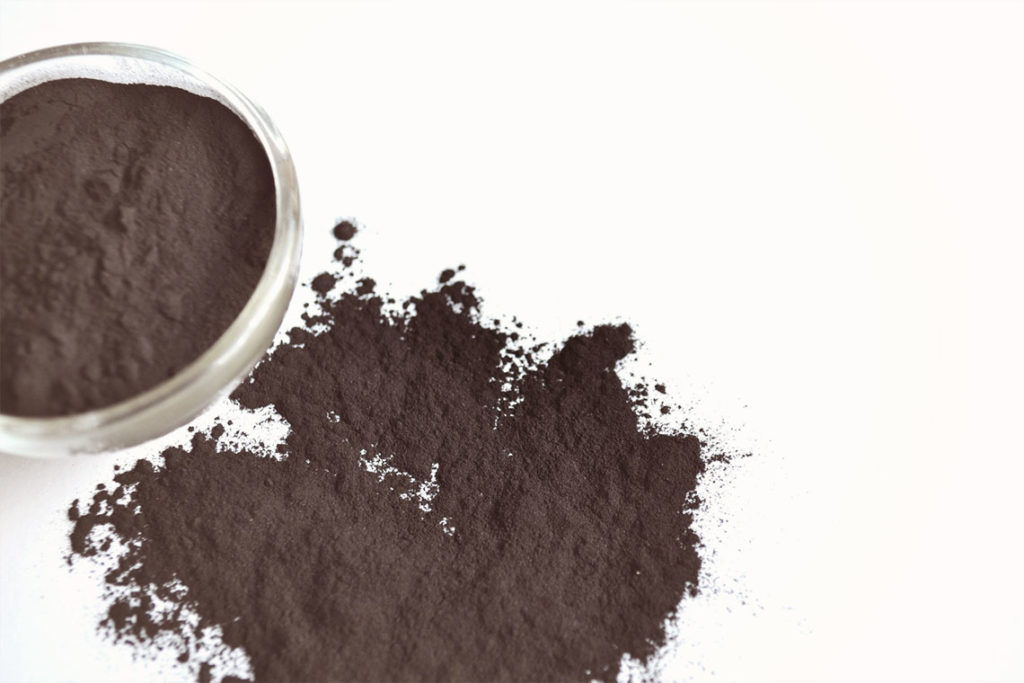 Activated charcoal is one the hottest health trends nowadays. From bloggers to divas to models, activated charcoal has made a special place in everyone's routine. There are plenty of reasons that make activated charcoal a magical substance. It is a natural product that carries a science of eliminating toxins from any surface on which it is applied. There are many health benefits of activated charcoal, such as to eliminate gas and bloating, teeth whitening, skin surface cleaning and many more.
No matter whether it's applied to your hair, skin or teeth, activated charcoal works very effectively in adsorbing and removing harmful particles from your body. It also has antioxidant properties which remove acne-causing bacteria. It can also be mixed with other products like toothpaste.
You must be wondering what is the difference between ordinary charcoal and activated charcoal. Activated charcoal is also known as activated carbon. It is a material produced from different sources of carbon. These carbon resources include coconuts, woods, and coal. The benefits derived from activated charcoal are nothing but the consequences of some magical chemical reactions.
How is charcoal activated?
Charcoal is activated by processing it at a very high temperature. The rise in temperature changes its internal structure. As a result, the size of its pores gets reduced, and the surface area gets increased.
Types of activated charcoal
Activated charcoal is readily available in the market in various forms:
Powder
Tablets
Pills
Capsules
Liquids suspensions
How does Activated charcoal work?
Activated charcoal operates by catching all the toxic materials and chemicals in its millions of pores. It uses the process of adsorption to operate. In this process, the chemicals bind to a surface. The covering of the activated charcoal has a negative charge which makes positive charged toxins bond with it.
Now read on if you want to find out about the Top uses of activated charcoal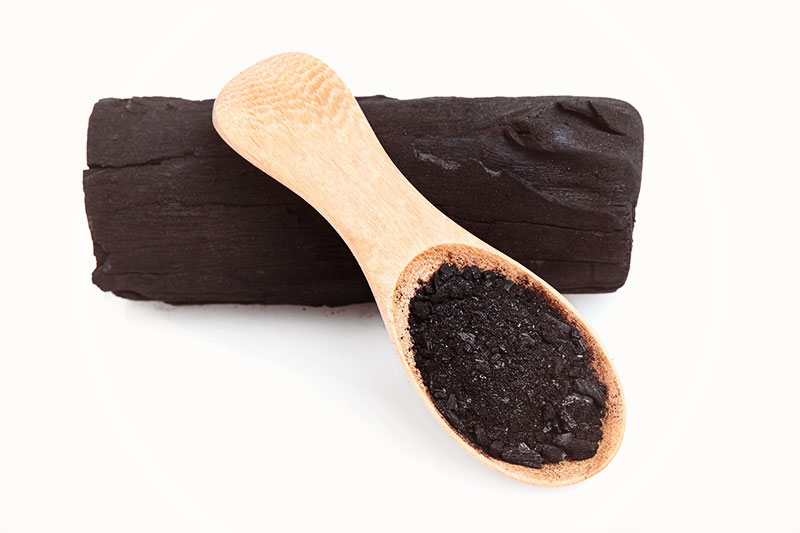 Top uses of activated charcoal: Whiten your teeth
The most popular use of activated charcoal is teeth whitening. If your teeth are covered with plaque and cavities, activated charcoal promotes good oral health and maintains the pH balance in the mouth.
It works by adsorbing micro-particles and plaque that cause cavities. Activated charcoal is not only a natural solution for your dental issues but also very cost effective.
The procedure for whitening your teeth using activated charcoal is also simple. Just wet your toothbrush and dip it into the powdered activated charcoal. Brush your teeth regularly and focus on the stain affected areas. Leave it for an about 2-3 minutes and swish water through mouth until all the charcoal clears out.
Repeat this process about 2-3 times per week to get a perfect white smile.
Top uses of activated charcoal: Alleviate gas and bloating
Activated charcoal works the best in preventing intestinal gas. It traps the toxins and allows them to get removed from the body, hence relieving the body from gas and bloat. This use of activated charcoal is quite underrated and not known by many people. It works amazingly by binding the byproducts from the food that causes gas and discomfort.
To ease bloating and gas, take 500 mg of the tablet before consuming any gas producing food with a glass of water. Drink an additional class of water immediately to get the charcoal into the system.
Top uses of activated charcoal: Detoxify skin
Charcoal detox is every beauty-conscious persons favorite use of activated charcoal. Most of the beauty and fashion bloggers use activated charcoal to upgrade their beauty routine naturally. The activated charcoal mask is excellent for blasting away that stubborn acne and clearing all the blemishes from the face.
It also acts as an anti-aging ingredient by trapping all the impurities that cause aging of the skin. Use activated charcoal as an ingredient in face wash or mask to make your skin look young and beautiful.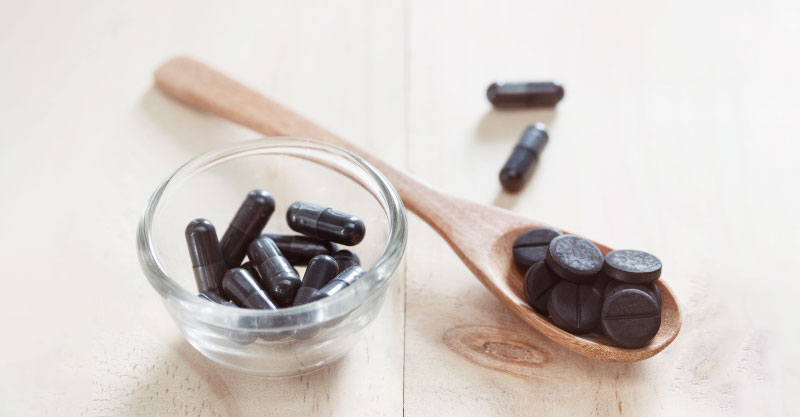 Top uses of activated charcoal: Treats chemical and food poisoning
Activated charcoal is often used for a variety of its medical benefits. All thanks to its toxin-binding properties that help to alleviate poisoning caused by food or chemicals. This charcoal is quick enough to absorb the poison before it enters the bloodstream or gets digested.
Not only this, but activated charcoal is so powerful that it can remove the toxins even after it enters the bloodstream whiteout causing a fatal loss.
Top uses of activated charcoal: Digestive Aid
Activated charcoal promotes a healthy digestive system by removing the allergic reaction causing toxins from the body. By eliminating the toxins, it improves the weak immune system and can also reduce joint pain. Digestive cleanse is also very useful to increase energy and mental function.
To complete a digestive cleansing using activated charcoal, take 90 grams before every meal for 2 days. During these 2 days of cleansing eat organic food and vegetables.
If you feel constipated in the meantime, have a glass of warm water with lemon and honey until you get relieved from constipation.
Other uses of activated charcoal
The list of various applications of activated carbon in very long.
Reduces high cholesterol
Water filtration
Mold cleansing
Treats alcohol poisoning
Using activated charcoal is a very successful approach towards better health and care. It is considered a universal antidote and promotes natural treatment. However, one should take the advice of a health care professional about any concern regarding its internal usage. The use of activated charcoal does not carry any noticeable side effects but, it must be used in a recommended dosage to avoid any unwanted health discomforts. Use it wisely and you will surely get a lot of positive effects on your health.

My top 5 Activated Charcoal Products I use in my daily routine:

Thank you so much for these great tips Charles!
I hope you all enjoyed these Top uses for activated charcoal as much as I did.
What are some of your favorite uses for AC? Let us know in the comments' section below!
And don't forget to pin this post to spread the love ♥
I wish you a love-filled day xoxo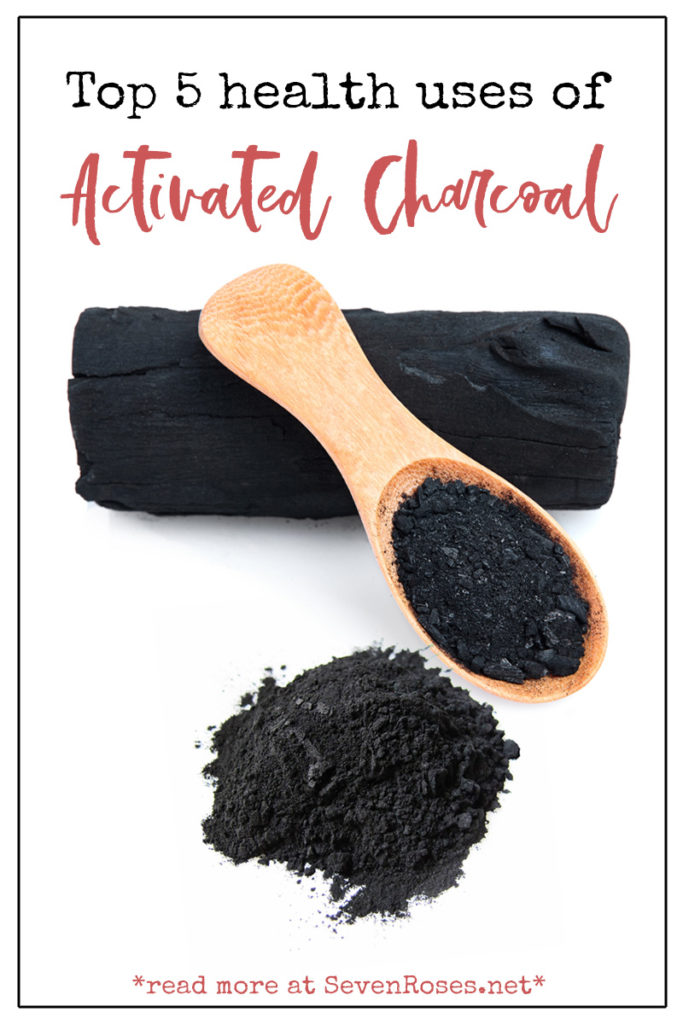 Disclaimer: This post contains affiliate links.