This Vegan Gluten-Free Caprese Chocolate Cake is an egg-free, dairy-free, 1-bowl chocolate lover's dream come true, And it only requires 7 ingredients, so easy to make! This cake is perfect to be eaten on a Spring afternoon with a cup of coffee or tea.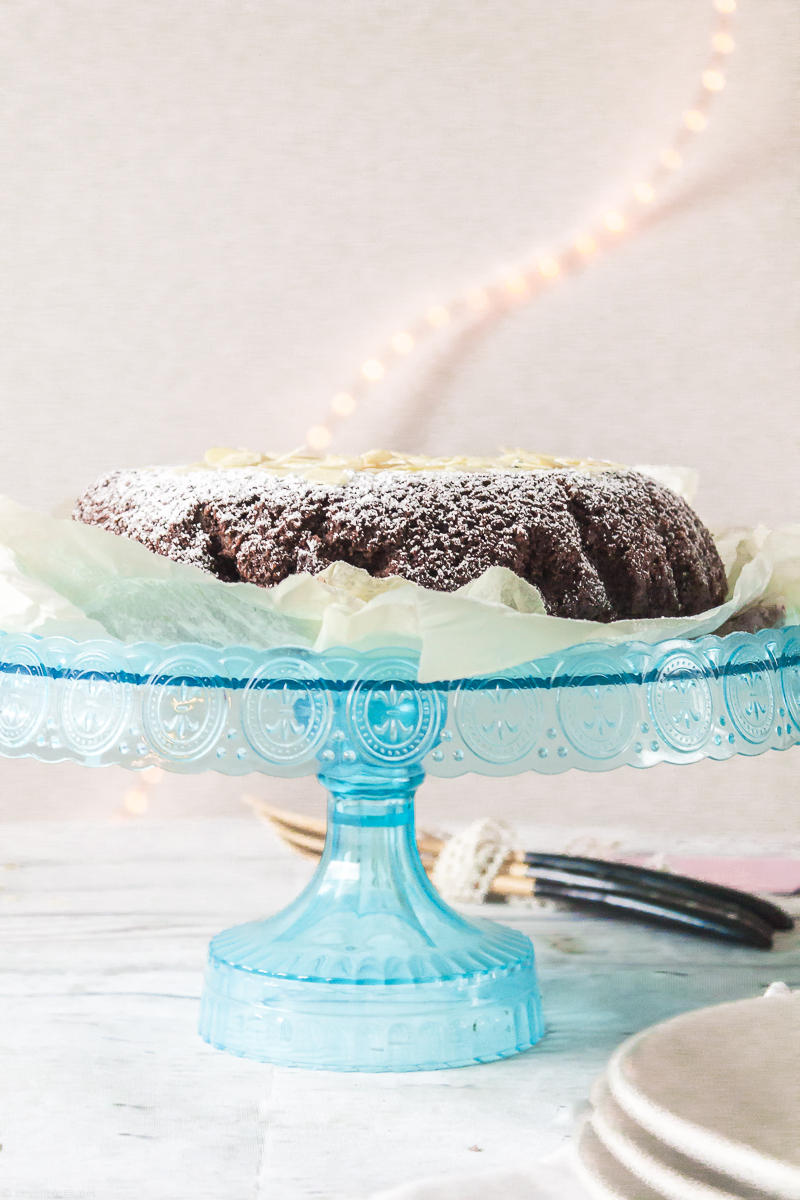 Hello my beautiful friends! Today I present you with a super easy, gluten-free Vegan chocolate cake that is proabably my favorite dessert, ever.
The first time I had this traditional Italian cake, I was at a nice place along the beach in Ostia, not far from Rome, on the first warm day of the year when you can sit on a terrace looking out at the sea, listening to the waves and the seagulls. Perhaps that's why I associate it with Spring ♥
That day, I thought I just ordered a slice of a chocolate cake (and I didn't even like almonds much at the time, I know, shame on me) and boy was I in for a surprise! That was no ordinary chocolate cake… The Torta Caprese is a rich, dense, moist type of cake that feels fresh when you bite into it, almost fudgy.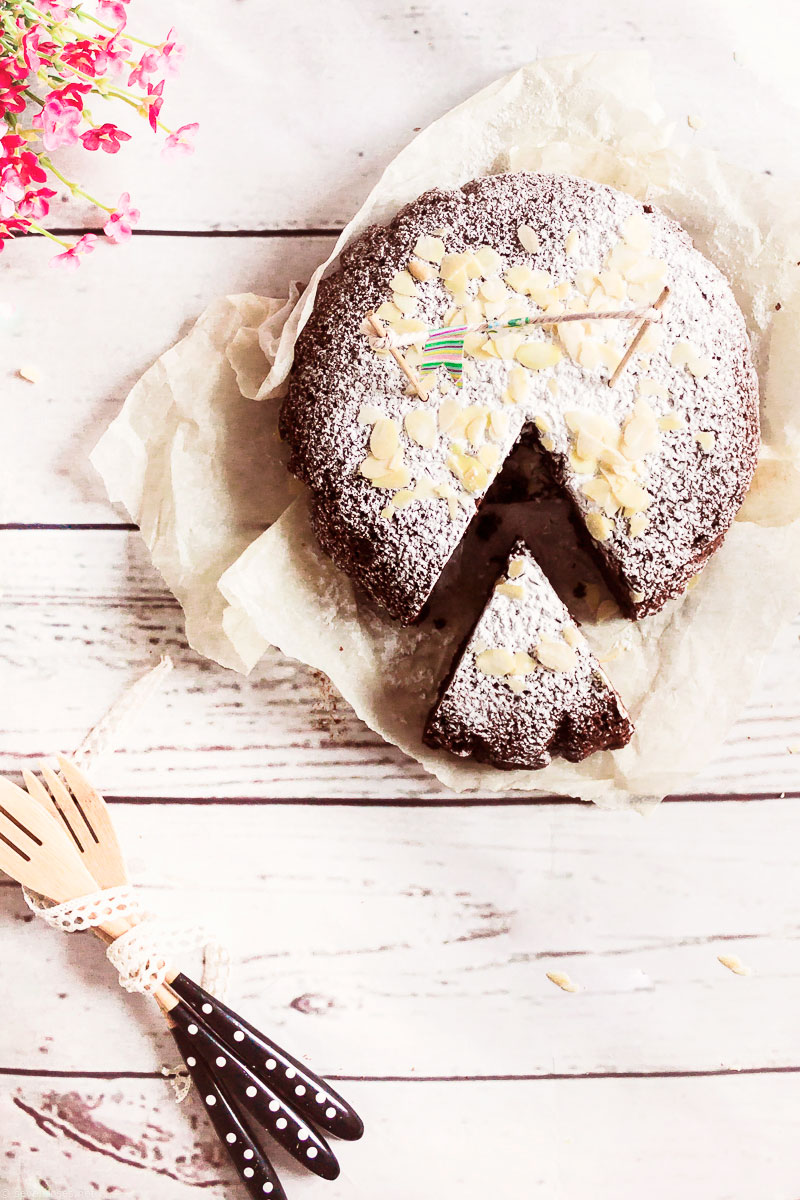 There are a few legends about how this authentic Italian cake first appeared, but the one I prefer is about a baker in tea-room in Capri that, during the 1920's , once simply forgot to add flour to his chocolate batter… the result was so amazing that he then adopted the recipe. The Torta Caprese has since been referred to as "uno dei pasticci più fortunati della storia" (one of history's most fortunate mistakes). [source]
Therefore, this flourless cake is naturally gluten-free as you use almond meal and not flour, and my Gluten-Free Caprese Chocolate Cake's Vegan version is so simple! It only requires 7 ingredients – also perfect for Valentine's Day or for little hands to bake on Mother's Day ;-)
The only problem is: it tastes even better (and makes better slices too) the dreaded "following day". But how to resist? I typically bake it at night, try to forget about it, and will serve it the next day. Will you be able to resist? I dare you :-)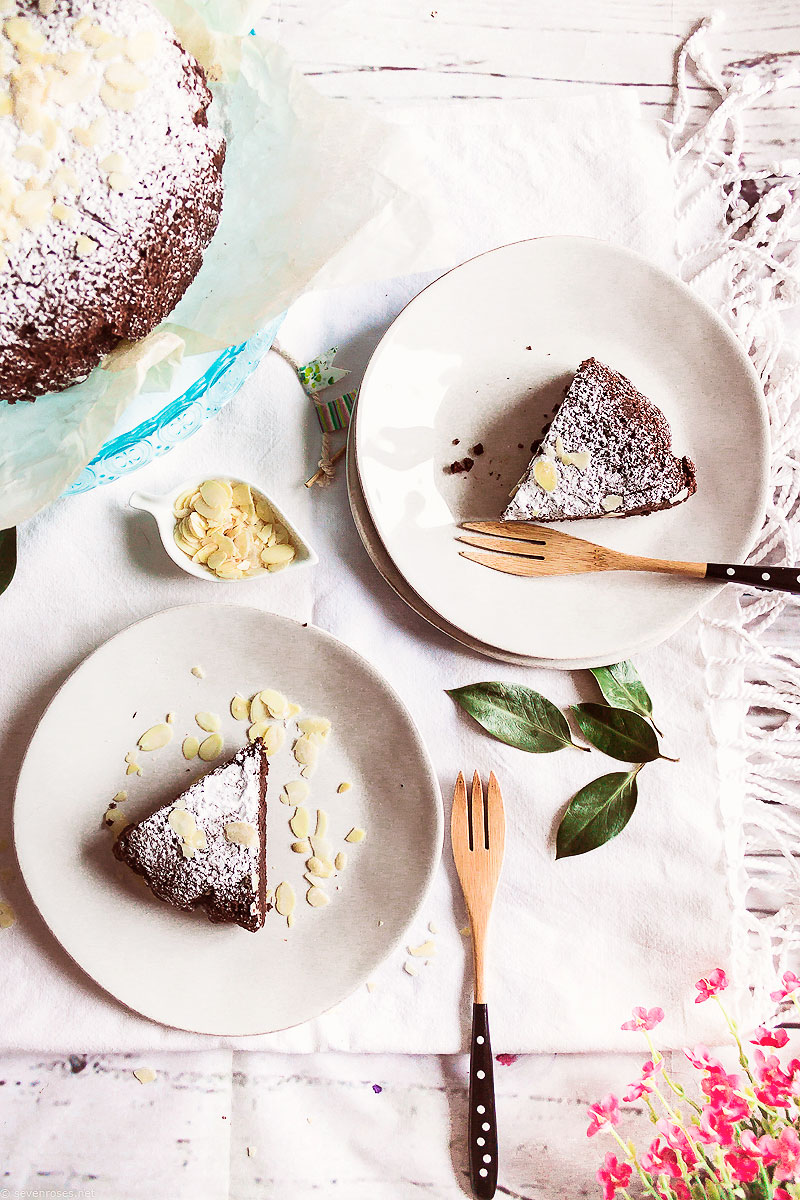 The texture of this Vegan Gluten-Free Caprese Chocolate Cake is so rich, the only garnish you need is a dusting of powdered sugar. But let your creativity flow, and add Vegan ice cream, coconut cream or fresh raspberries or strawberries. At the end of the day, this is my favorite treats ever, and once you taste it, you'll know why. It's simply utterly delicious.
And did I mention it's a 1-bowl cake too? Mix all your ingredients in a Pyrex bowl, then pour the batter in a cake tin. No electric mixers, no fancy equipment. This is a really easy cake to make!
But enough talking, let's get baking!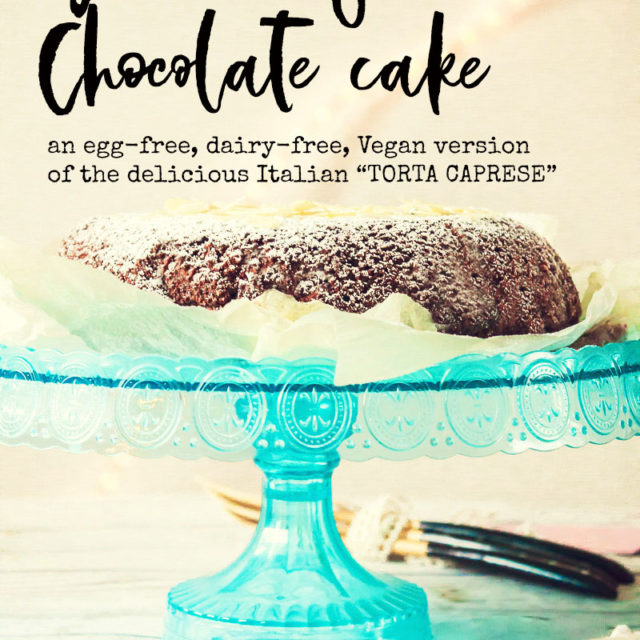 Gluten-Free Caprese Chocolate Cake
This flourless, egg-free, dairy-free, 1-bowl Vegan Gluten-Free Caprese Chocolate Cake recipe is moist, rich, delicious and simply the ultimate Vegan chocolate treat! This traditional Italian cake has such a rich texture, it's almost fudgy. Chocolate lovers our there, this one's for you :-)
Ingredients
Dry Ingredients
400

gr

almond flour

or 4 cups

400

gr

dark chocolate

or 3 cups (unsweetened)

10

tbsp

brown sugar

2

tbsp

cornstarch

4

tsp

baking powder

2

tbsp

powdered sugar

optional, as garnish
Wet Ingredients
400

gr

plant-based milk

or 0.8 cups (I used almond but soy or oats would work)

10

tbps

vegetable oil

opt for a mild one
Instructions
Preheat oven at 180°C / 350°F. Start by breaking apart and melting the dark chocolate in a bain-marie - or in the microwave if you prefer - in a big pyrex bowl (to keep this a one-bowl cake). As soon as the chocolate starts to melt, add the almond milk, stirring gently until it creates a chocolate cream. Don't eat it all, set it aside ;-P

Add the almond meal, the vegetable olive oil, the brown sugar and the cornstarch to the chocolate. Finally add the baking powder. Mix very well until you get a homogeneous batter.

Cover a cake tin with baking paper, pour in the mixture and bake at 180°C / 350°F degrees for about 40 minutes (start checking around the 35 minute mark). Bake just until the outside edges are fully baked, and a toothpick inserted in the center comes out moist, but not wet. It might seem under-baked by cake baking standards. Don't overcook!

Once cooled, the cake will sink quite a bit in the center, No fear! Turn the cake upside down onto a serving platter (so the bottom of the cake is now the top) and remove parchment paper.

I suggest waiting until the next day for an even better tasting experience. At that point, sprinkle lightly with confectioners' sugar and serve in thin slices. Enjoy!
Notes
While the metric recipe is pretty simple, for the cups conversion I've used http://onlineconversion.com/weight_volume_cooking.htm as ingredients such as ground almonds and squares of dark chocolate have a different density. Therefore, 400gr of almond meal and 400gr of dark chocolate don't convert to the same amount of cups. Hope this helps!
If you (want to) give this Vegan Gluten-Free Caprese Chocolate Cake recipe a try, please let me know in the comments' section below!
You can also find me on social media. Be sure to tag @francesca_sevenroses on Instagram or @sevenrosesblog on Twitter and Facebook, and use #sevenroses so I'm sure to see it. I love when you guys share with me!
Also, make sure to pin this and share the love ♥