Guest post by Heather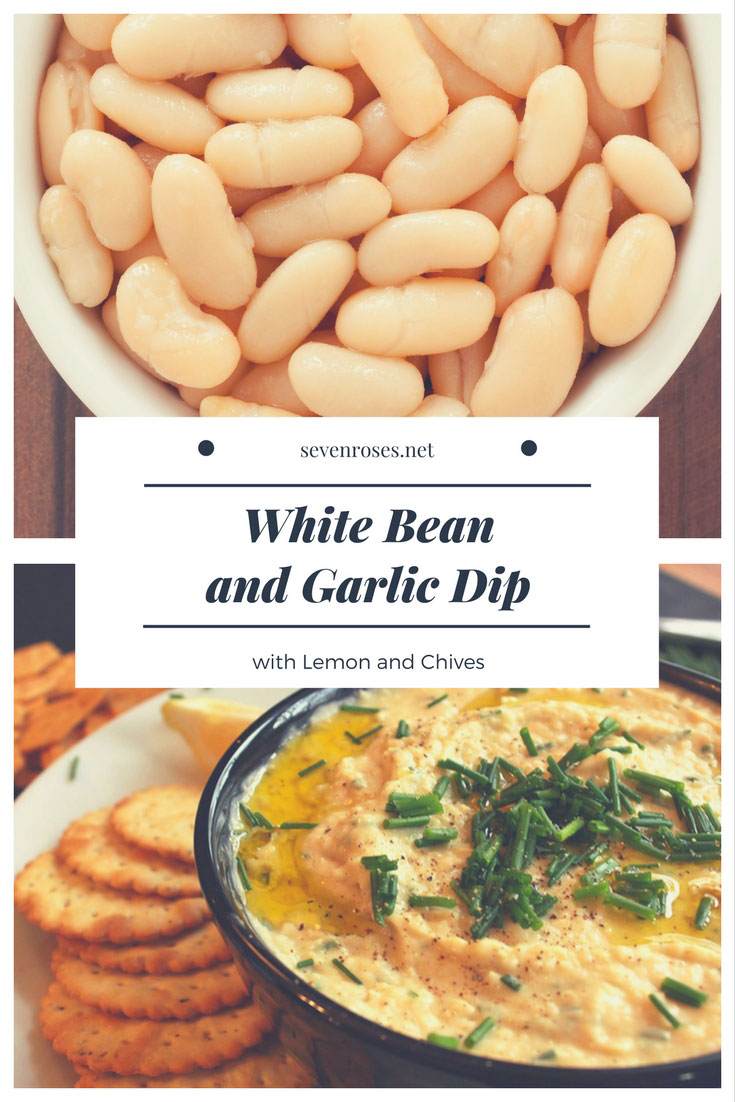 Hey there, Seven Roses readers!
My name is Heather and I'm the author of ThePennywisePlaybook.com, a frugal living blog for budget-savvy Millennial women. One of my passions is affordable vegan cooking, so you'll find loads of vegan recipes on my blog!
That's the main reason I'm guest blogging here on Seven Roses today; the lovely Francesca had asked whether I would be interested in contributing an original recipe to her blog in the lead-up to the holidays, and I jumped at the chance!
So I've got what I think is a pretty darn good dip recipe for you, my vegan darlings…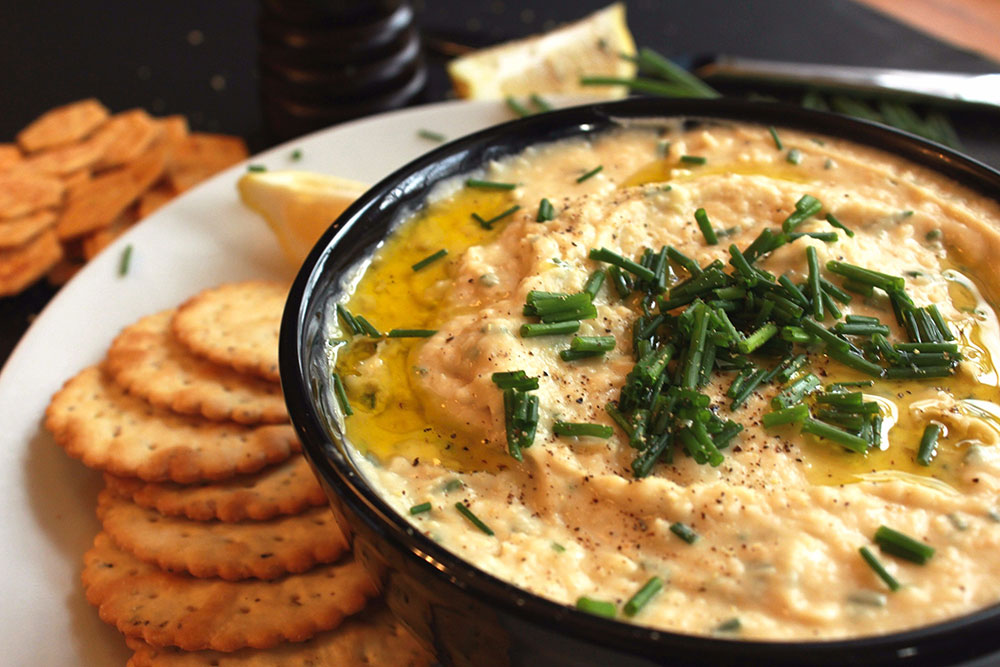 After tasting a white bean soup at a restaurant a while back, I got it into my head that white beans, garlic and lemon would make a killer flavour combo for a dip. So I spent a Sunday afternoon making this Vegan White Bean and Garlic Dip with Lemon and Chives that I'm about to share with you today. I loooove doing my recipe creations on Sunday afternoons when I'm not rushed to get dinner on the table. It gives me time to really play around with ingredients and flavours until I get just the right blend to make your tastebuds sing!
This dip is packed with lean vegan protein from the beans, and is loaded with fresh garlic (as many of my dishes are!) to keep those arteries a-flowin' nicely. Extra virgin olive oil adds a healthy fat and creamy texture to the dip, and fresh lemon juice and chives finish it off with a burst of flavour. It's light, tasty, and oh-so-addictive! I had my husband taste test it for me because I thought I was being ridiculously biased in my opinion of how awesome it was. It seemed like a good idea to ask for his input until I had to fight to get the bowl back from him to make sure I would have some dip left for the photos… 😉
I highly recommend serving this vegan white bean dip with seasoned crackers, and it also pairs beautifully with sliced fresh cucumber, too! It's a great addition to your recipe arsenal in the lead-up to the holidays when you'll be entertaining more than usual. This dip can be thrown together in 10 minutes (no joke!), and it's super easy to prepare.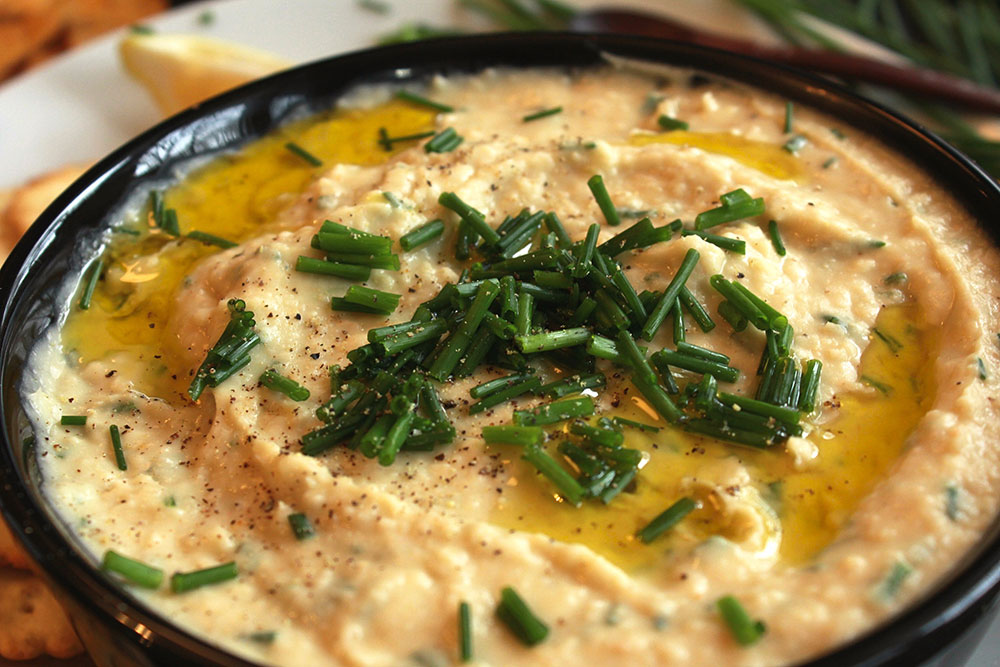 On The Pennywise Playbook, my focus is getting the most bang for your buck with any meal or project, so I always provide a full cost breakdown. That way, my readers can know exactly how much a particular recipe is going to cost them to make. And this beauty of a vegan white bean dip comes in at a total of $4.36 for the entire recipe. It yields about 3 cups of dip, which works out to .73 cents per serving (a reasonable serving of dip is ½ cup).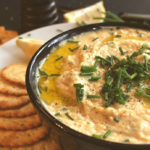 You will need: - Food processor (preferred) or blender - Spatula Cost per serving: .73 cents
Servings

Prep Time

6

servings

10

minutes
Servings

Prep Time

6

servings

10

minutes
You will need: - Food processor (preferred) or blender - Spatula Cost per serving: .73 cents

Servings

Prep Time

6

servings

10

minutes

Servings

Prep Time

6

servings

10

minutes
Add the drained and rinsed white beans, olive oil, garlic, and lemon juice to a food processor or blender. Blend on high until very smooth, stopping once to scrape down the sides with a spatula.

Add the nutritional yeast, salt, ground celery, and fresh pepper, and blend thoroughly on high.

Add the chopped fresh chives and blend on high again for a few seconds, just until the chives are mixed into the dip. Don't over-do it on this blending step or the dip may start to take on a green tinge! You want the chives to be intact, just mixed well within the dip.

Serve immediately, drizzled with a little olive oil, or refrigerate for up to 10 days.
P.S.: If you liked this recipe, I would LOVE for you to come check out my other recipes, budget tips and tricks, and low-cost DIYs over at The Pennywise Playbook. When you subscribe, you'll get a FREE copy of my 12 Strategy Playbook to Save Money on Groceries!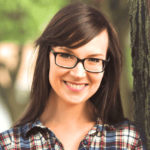 Heather is a frugal lifestyle and vegan food blogger who specializes in helping Millennial women live a fab lifestyle on a limited budget! In her spare time she enjoys running, reading, and cuddling her golden retriever puppy. Check out Heather's recipes, DIYs, and budgeting tips and tricks at The Pennywise Playbook.
Loved this recipe? Then you may want to try Heather's other dip and hummus recipes! Check them out at here: Sides, Dips, Apps & Snacks
You can also follow her on Facebook and Pinterest