Disclosure: this post may contain affiliate links, which means we may receive a commission if you click a link and purchase something that we have loved & recommended. While clicking these links won't cost you any extra money, they will help us keep this site up and running! Please check out our disclosure policy for more details. Thank you for your support!
The best Vegan, cruelty-free, bio-degradable & sustainable candles to surround yourself with a delicate glow this fall.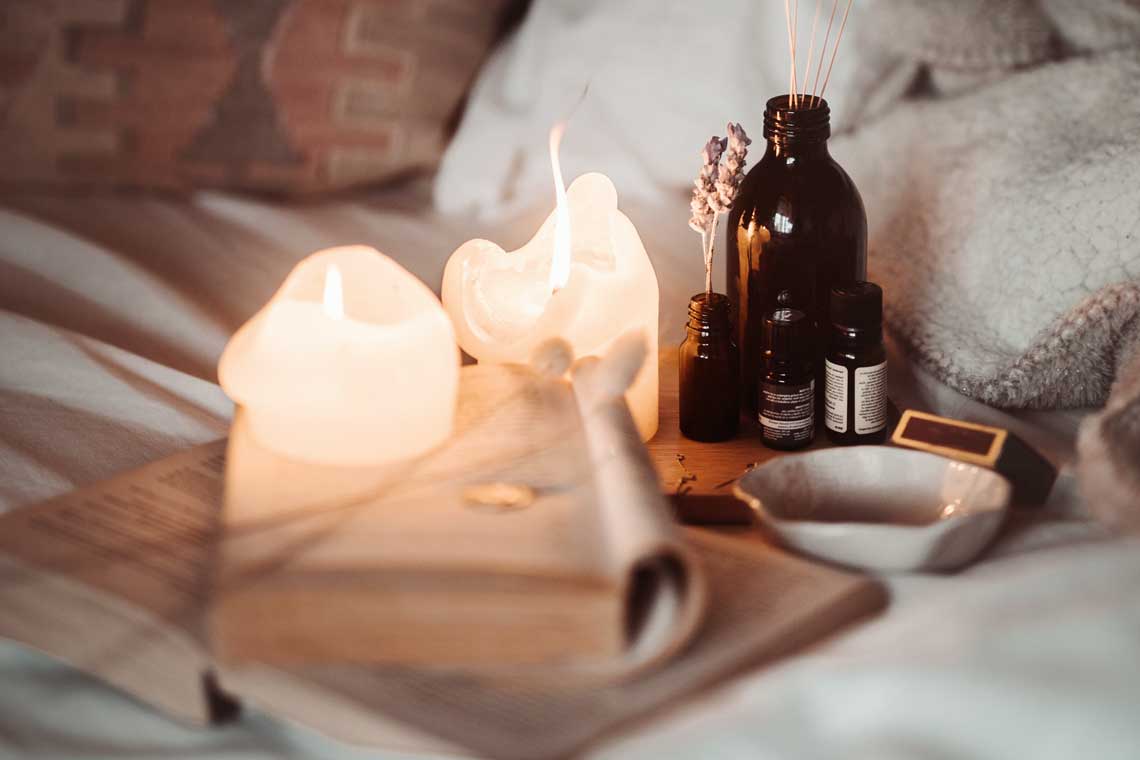 Hello my beautiful friends!
As the days start getting shorter and the need for Hygge moments grows bigger, there's no doubt that one of the best things about fall is surrounding yourself with the delicate glow and inebriating smell of fall-themed candles. If you've been here before you know that other than Vegan food, skincare and fashion, my other big love is home decor & candles in particular.
So, I went through a plethora of candles to find the best Vegan fall candles for you and I narrowed it down to 10 delicious ones. And I thought it'd be fun to share with you those I really, really enjoy. I'm kind of picky when it comes to scents, and I'm also sensitive to fragrances (the wrong one can trigger an immediate headache/nausea, but the right one can make me feel in heaven – only me?)
[tweetshare tweet="Once you're finished burning your candle, freeze the jar overnight to remove wax. Now you can reuse/upcycle the container around your home :)" username="sevenrosesblog"]
These are the best fall candles in my opinion because not only they are Vegan & cruelty-free, bio-degradable and sustainable – but they are also  non-toxic and non GMO. Perfect to fill your home with subtle aromas to cozy up to, with a good book or your favorite movie, under a soft blanket.
Trust me when I say these are goooood.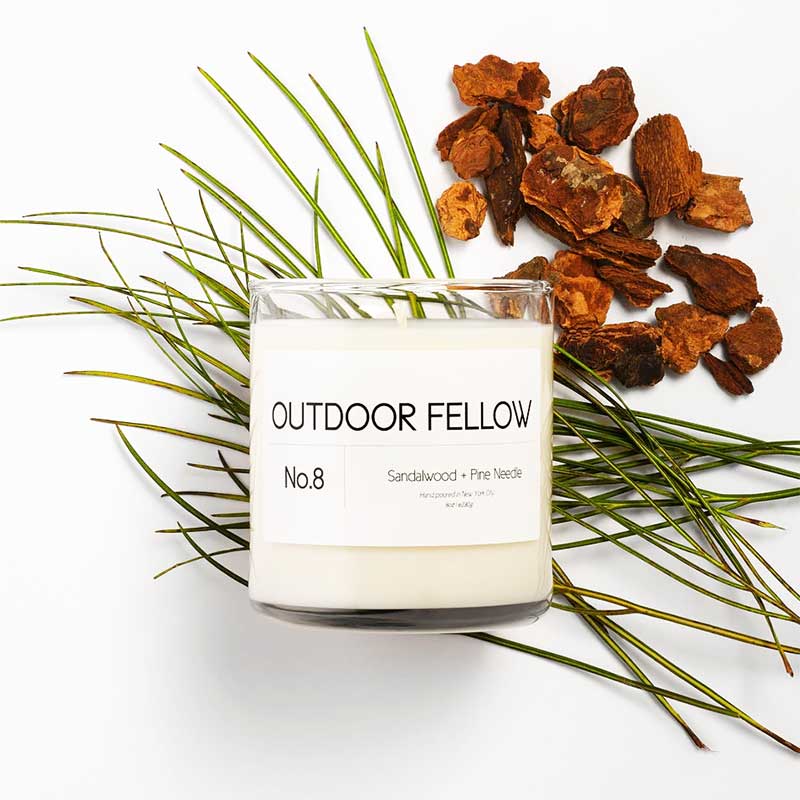 No.8 Sandalwood and Pine Needle by Outdoor Fellow – $36.00
Free shipping on orders over $40
Pine Needle, Sandalwood, Juniper Berry
Enjoy nature at its best right in your home. Pine Trees tower overhead giving off a fresh, clean scent that transports you to the tranquil forest. Sandalwood gives it a warm, woody base while Juniper Berry finishes it off to give the perfect outdoor forest scent.
Product Details
Sign up and receive 25% off your first Outdoor Fellow order here!
8oz/230g
Hand poured in New York City
Made with a natural coconut wax blend
Burn Time: 40-50 hours
5% of proceeds support The Trust for Public Land – an amazing organization that fights to protect public land for generations to come.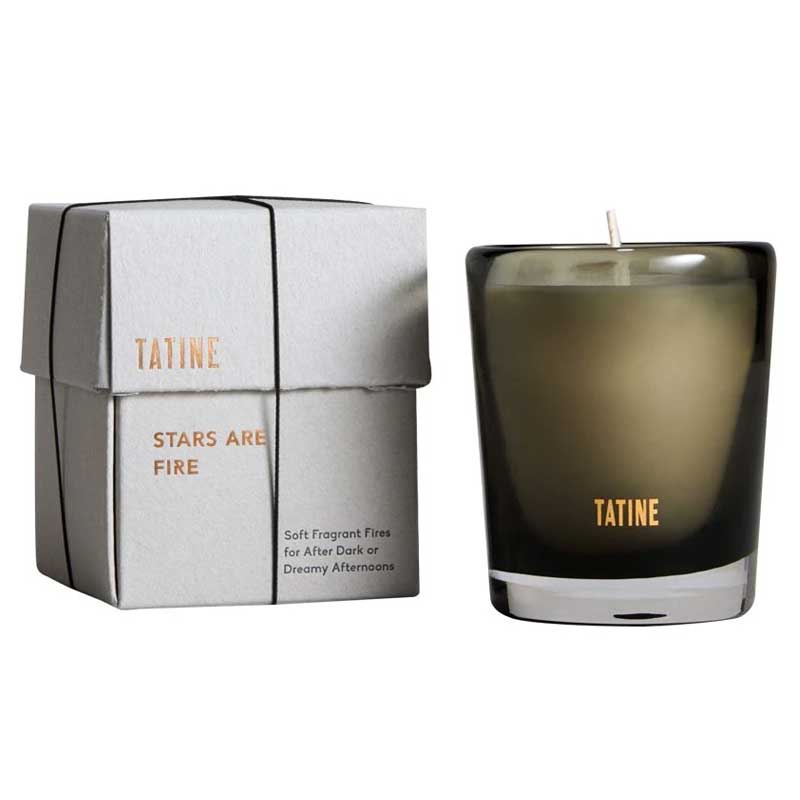 Stars are Fire Forest Floor Candle by Tatine – $43.00
Free Shipping on $75+ Orders and Free Samples with Every Order
Dappled sunlight in wild places where smells move through space and curl like smoke. An earth perfume with mushroom nuances, mists of rain soaked ferns, and the earthen smell of dark green moss covering the cool, damp dirt of the forest floor. A dreamlike atmosphere emulating the forest and all its beauty.
Product Details
Approx. 60 hour burn time.
8 oz. soy wax candle in artisan mouth-blown smoke grey glass.
This smoke grey glass was handmade and mouth-blown by skillful artisans and was created to be beautifully repurposed. Each piece is unique unto itself, imbued with the spirit of the maker.
Tested to be drink-safe. Gently hand wash glass for use at your next celebration and let it live uniquely on.
The candle is held within a small vintage parcel made from 100% post-consumer soft cotton paper and lovingly secured with black cord. Each parcel is unique from the next and slight flaws in recycled paper is considered part of the charm.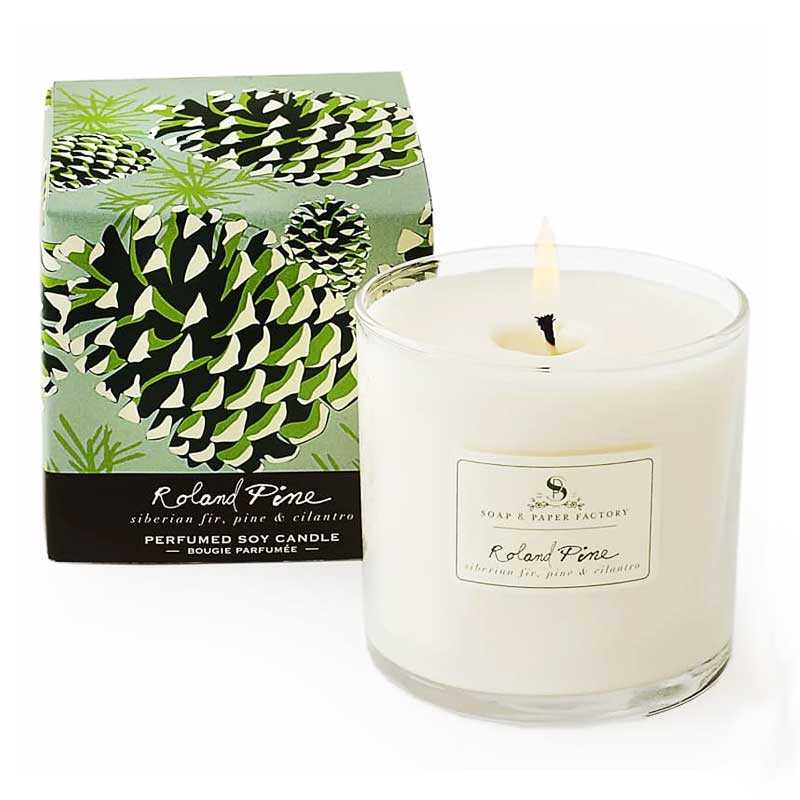 Roland Pine Soy Candle by THE SOAP & PAPER FACTORY – $28.00
Free Shipping on $75+ Orders and Free Samples with Every Order
These pure soy candles burn clean and bright, bringing warmth, love and twinkling light to your environment.
Product Details
These candles are made in the USA, are free from phthalates, and are made with 100% pure soy wax.
Beautiful notes of Siberian Fir, Cilantro and Citrus will uplift the spirit, while filling your room with twinkling light, and the fresh cut scent of pine boughs.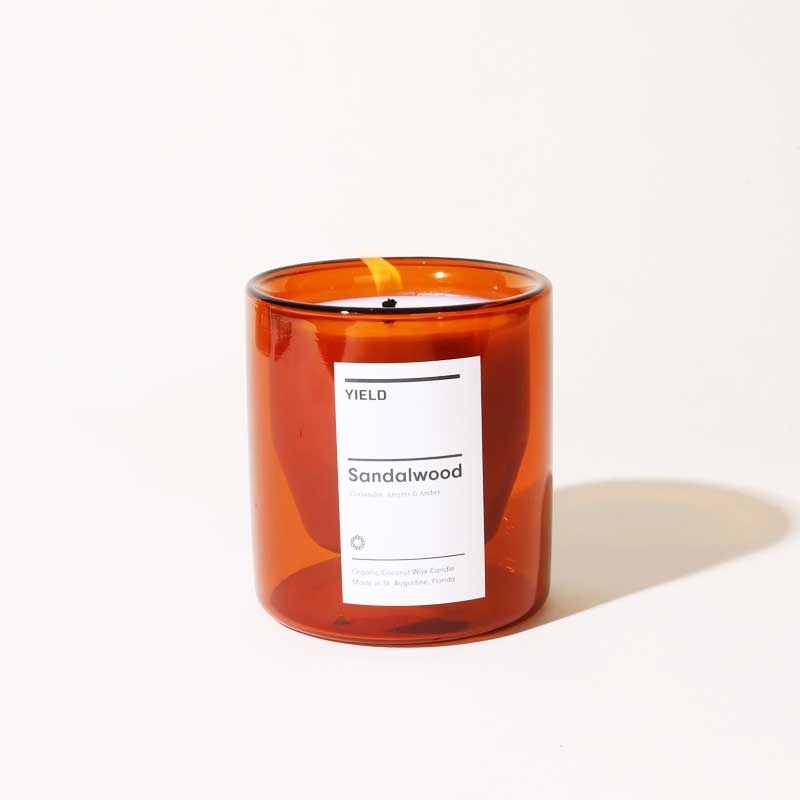 Sandalwood Candle – CBD by Yeld – $38.00
$5 FLAT RATE SHIPPING ON ALL US ORDERS OVER $75
Notes of Amyris, Coriander, & Amber
150mg Organic CBD – CBD vaporizes while burning for aromatherapeutic benefits. All Black Dahlia candles are poured with organic, broad spectrum CBD isolate. The CBD is derived from hemp cultivated in the USA and contains no THC.
Reusable Vessel – Each candle is poured in a double-wall glassware that can be reused as a drinking vessel.
Product Details
Clean Ingredients
Organic Coconut wax.
150mg organic CBD.
Essential oil and fragrance oil blend.
Cotton wick for clean burning.
Reusable Double-Wall Glass Vessel.
SLS Free, Paraben Free, Sulfate Free, Paraffin Free, BPA Free, Pthalate Free, Gluten Free, Vegan & Cruelty Free.
Dimensions
3″ D x 3.5" H
Burn Time
40-45hrs
The Black Dahlia x YIELD backstory:
In collaboration with the Sowden House Foundation, YIELD created the Black Dahlia CBD Collection with a focus on wellness and the promotion of balanced, clean living. The Sowden House, located in Los Angeles, is a historic architectural landmark designed by Frank Lloyd Wright, Jr. The landmark has become more widely known for something much darker: a presumed location of the unsolved Black Dahlia mystery. Today, through the Black Dahlia x YIELD Collaboration, we aim to reclaim the home's character by giving back to diverse charities and promoting a lifestyle of wellness and intention.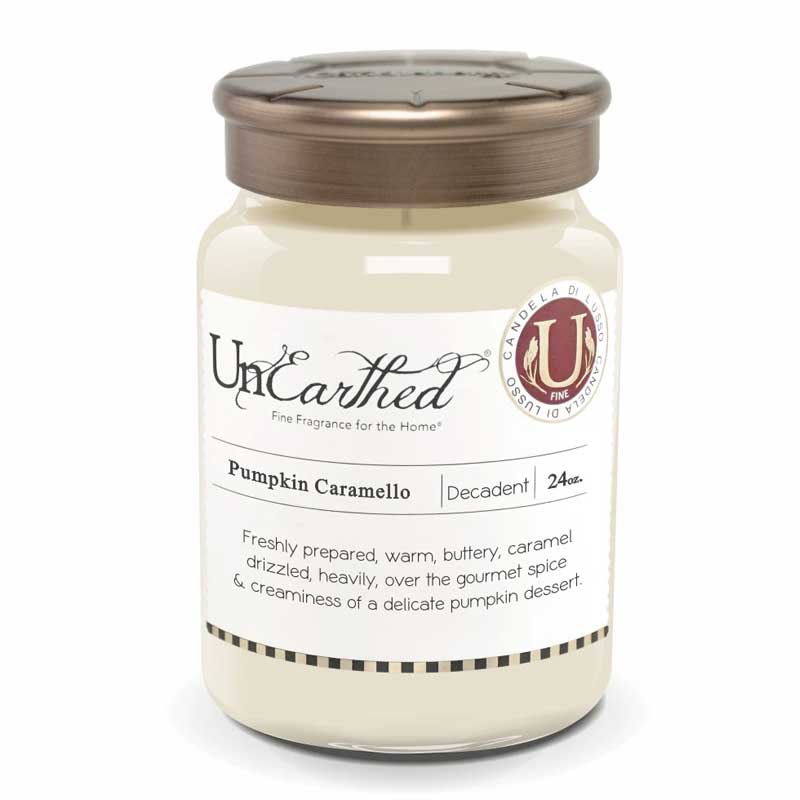 PUMPKIN CARAMELLO™ 22 OZ. HIGH PERFORMANCE SCENTED CANDLE by UnEarthed® Luxury Candles – $26.99
$7 FLAT RATE SHIPPING / FREE FOR ORERS >$80 (continental US only
Top Notes: lemon zest, pumpkin puree, ginger
Middle Notes: red nutmeg, cinnamon, golden caramel
Base Notes: buttercream, dutch chocolate, vanilla sugar
Product Details
Made with essential oils.
No sweet morsel compares with freshly prepared caramel, except, possibly, when drizzled, heavily, over a graham-crusted pumpkin delicacy. This fragrance has all the gourmet spice and creaminess of a delicate pumpkin dessert and all of the warm, buttery goodness of caramel, perfectly balanced into an unearthed power-fragrance.
Placement suggestions: kitchen, living room, dining room
The UnEarthed®, Luminare Vitrum™, Premium, High Performance Candle is filled with 22 ounces of a natural-based, proprietary blend, silky wax perfection with maximum fragrance load. The Luminare Vitrum™ wick is a high-performance, zinc-core wick that will deliver the ultimate clean burn, with little to no soot (keep wicks trimmed please). Your candle will burn clean down the sides of the jar, without wax-"hang-up". All Luminare Vitrum® candles are developed to completely fill your space with fragrance.
You can read my Fall Candle Haul with UnEarthed Luxury Candles here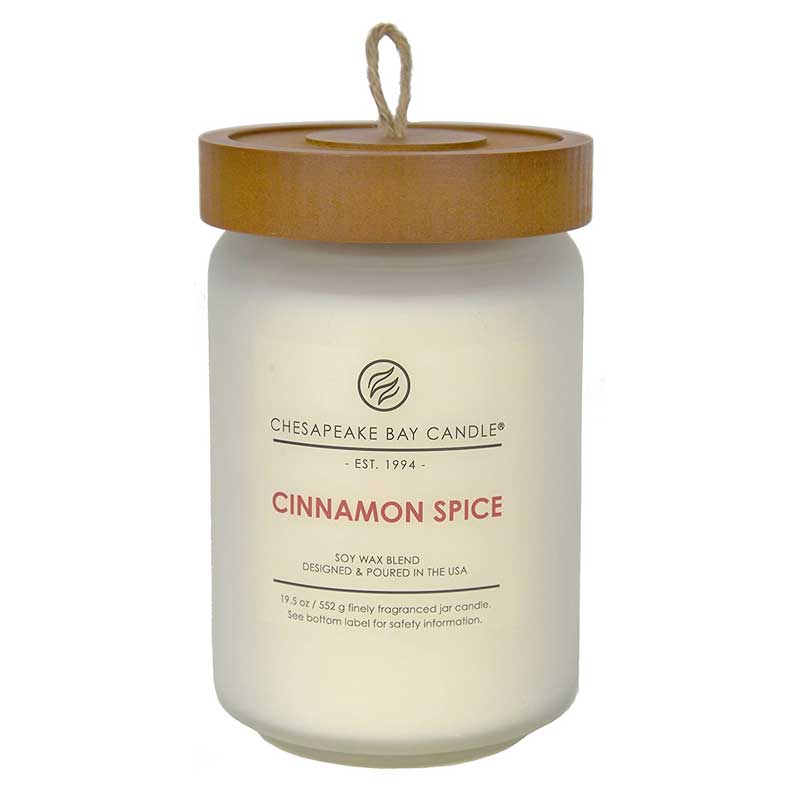 Cinnamon Spice Large Scented Candle by Chesapeake Bay Candle – currently $19.99 (price may vary slightly)
Top notes: Cinnamon Spice, Eucalyptus
Middle notes: Vanilla, Bay Leaf, Nutmeg
Bottom notes: Sugared Clove, Cinnamon Bark
Essential Oils: Clove Leaf, Eucalyptus, Lime, Patchouli
Enjoy the nostalgic scent of rich cinnamon spice intertwined with fresh notes of eucalyptus. Distinctive vanilla, bay leaf, and warm nutmeg mingle with sugar clove and cinnamon bark in a heartwarming aroma as indoor activities begin for the season.
Product Details
Soy wax blend candle, delivering a clean burn
Lead-free wick
Frosted glass jar, coordinating with your own personal style
Wood lid with twine embellishment
Measures 5.8-inches x 3.8-inches and weighs 2.5-pounds
Approximate burn time of 80 hours
Available in a variety of other fragrances
Perfect gift idea for any special occasion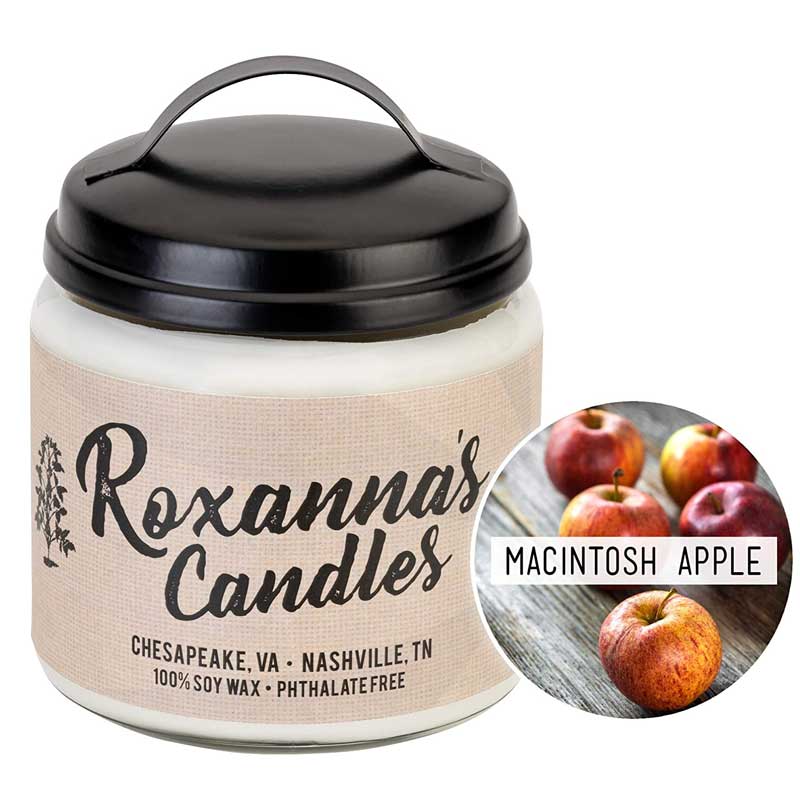 Macintosh Apple Clean Burning Soy Wax Wooden Wick Glass Jar Candle by Roxanna's Candles – $25.00 (price may vary slightly)
Top: Green Leaves, Pear, Mandarin
Middle: Macintosh Apple, Plum, Apple Blossom
Base: Musk, Apple Wood, Vanilla Bean
As a small, family-owned & operated business, we care deeply about the products we make and the people we serve. Roxy started making candles at home several years ago out of a desire to create the cleanest, healthiest, and most fragrant candles possible.
The result of Roxy's labor we now offer to others: clean-burning, 100% soy wax, wooden wick candles that are free of chemical binders, dyes, and phthalates.
Soy wax candles burn cleaner and more slowly than paraffin wax candles, offering perfectly balanced scents that can be enjoyed up to 50% longer. Our decision to keep unnecessary chemicals out of our products means you can breathe easily and without concern over what you're putting in the air.
Product Details
All Natural Soy Wax | Clean Burning & Chemical Free | 120+ Hours Burn Time

Wood & Vine, Large Glass Candle by Dirt Rich – $47.00
Cedar wood
Tomato vine
… are the strongest notes and evoke feelings of magical quests and dreamy gardens.
Like walking through a misty forest looking for unicorns! This candle is reminiscent of the richest soil.
Product Details
A coconut-derived non-toxic, non GMO, bio-degradable, vegan, sustainable 100% vegetable wax blend. No petro-chemicals.
This wax burns at a low temperature making it a soothing body butter when warm and solid perfume when cool.
Artisan, small batch hand poured in an independent family studio in California.
100% made in the USA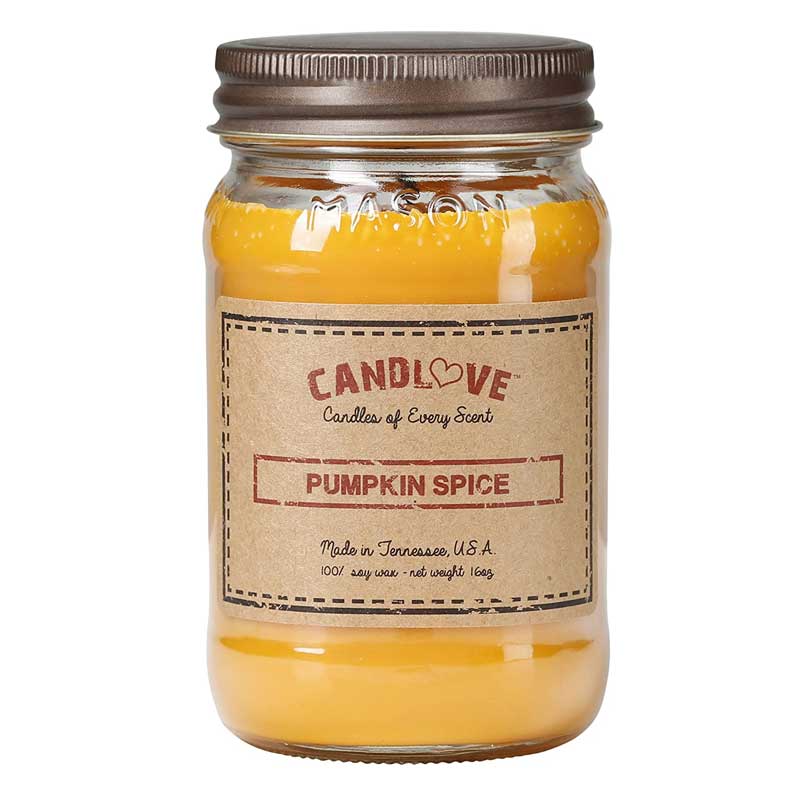 Pumpkin Spice by CANDLOVE – $18.95 (price may vary slightly)
Create the comfort of the holidays in your home all year round with the warm scent of pumpkin spice that is sure to bring happy memories alive.
ECO-FRIENDLY, SOY PRODUCT. Completely renewable, these candles are made using 100% soy wax – a vegetable wax made from the oil of soybeans. In addition to sustainability, these eco-friendly soy candles will burn cleanly and slowly. Made in USA.
HUGE VARIETY OF SCENTS. To accommodate everyone's needs, Candllove Candles are made in almost every scent imaginable. With so many options to choose from – floral, food, aromatic, novelty, fruity and funny scents – you're sure to find just the right one.
LEAD-FREE WICKS. Each wick in these candles is made using 100% lead- free cotton to ensure they do not emit any toxins into the air and are not harmful to your health. Before relighting, the wick must be trimmed down to ¼ inch to ensure a longer-lasting burn time.
LONG-LASTING SCENT. Each 16-ounce candle boasts a 70-hour burn time with the pleasant aroma lasting right to the very end. Allow the candle to burn up to 45 minutes for the room to fill up with the scent and to ensure the candle will burn down evenly.VERSATILE USE. Candles are suitable for use at the home or office, perfect for aromatherapy, eliminating odors and more! They also make ideal gifts for birthdays, holidays and anniversaries, and are great for use in grab bags and as party favors.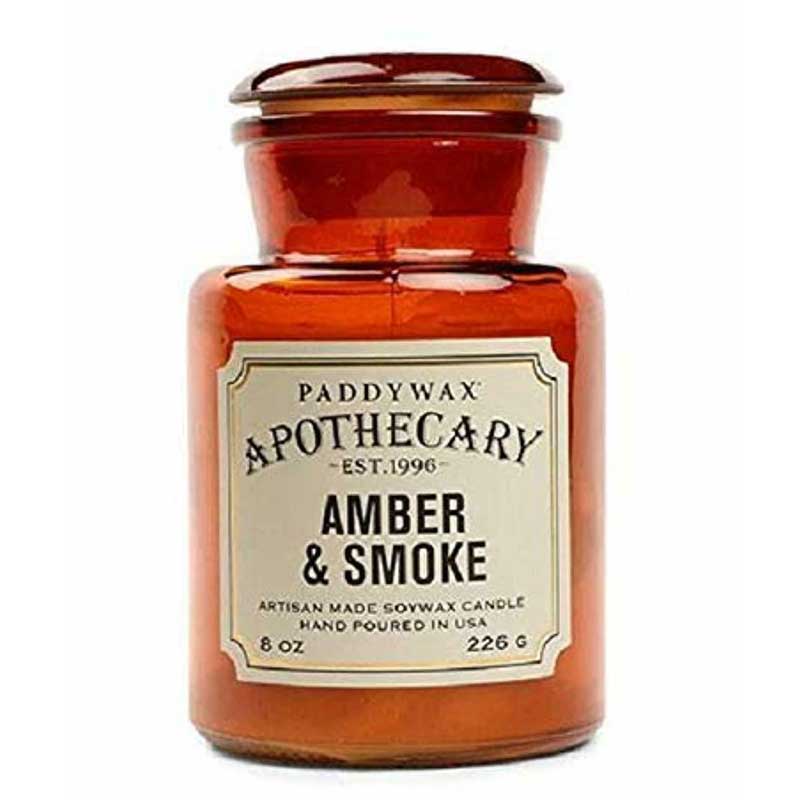 Amber & Smoke by Paddywax Apothecary – $20.00 (price may vary slightly)
SPICY FRAGRANCE: Notes of amber, cinnamon, and sandalwood lend to the spiciness of this candle's aroma; we work with perfumers to source nature's finest ingredients, creating high-quality candles that tell a special fragrance story to fit your mood
OLD MEETS NEW: Old-world apothecary bottles are filled with the perfect remedy of fragrance in this vintage-inspired collection
CLEAN BURN: Carefully hand poured at our Nashville factory, this 8-ounce amber glass vessel is filled with our Amber + Smoke scent; soy-blend wax and cotton wick helps your candle burn beautifully; trim wick before a new burn for a contained flame and even burn
UPCYCLED BEAUTY: Vessel is designed with upcycling in mind – after burning the candle, freeze jars overnight to cleanly remove the wax and wick; great for storing beauty items, holding Knick knacks, or as a planter
ARTFULLY CRAFTED: Paddy wax is an artisan company specializing in candles and diffusers that that are made with quality materials, inspiring color palettes, and intriguing fragrances to set the tone in your home

I hope you enjoyed discovering my Top 10 Best Vegan Fall Candles. Are you a candle-lover as well? Which are your favorite scents for Fall?
Let me know in the comments below.
And don't forget to pin this post to share the love ♥
I wish you a love-filled day xoxo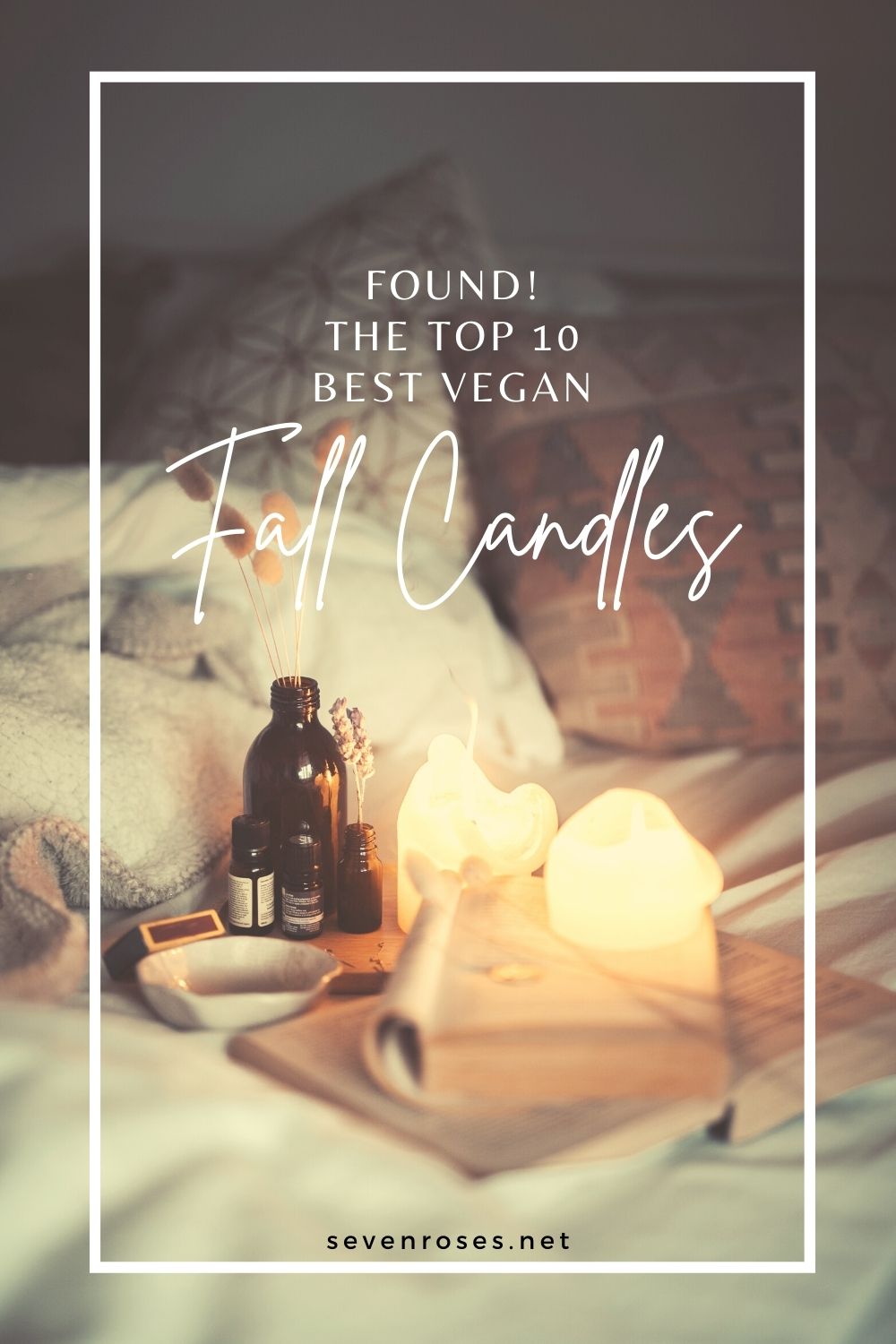 Disclaimer: I've been fortunate enough to receive some of the above mentioned products for free to try, but opinions and the choice to review are 100% my own. This post contains affiliate links.