This hearty Vegan Stew recipe is perfect for the cold weather. Make it on the stove top or in a slow cooker for chilly nights: it's comfort food heaven! It's also ideal for the Starch Solution.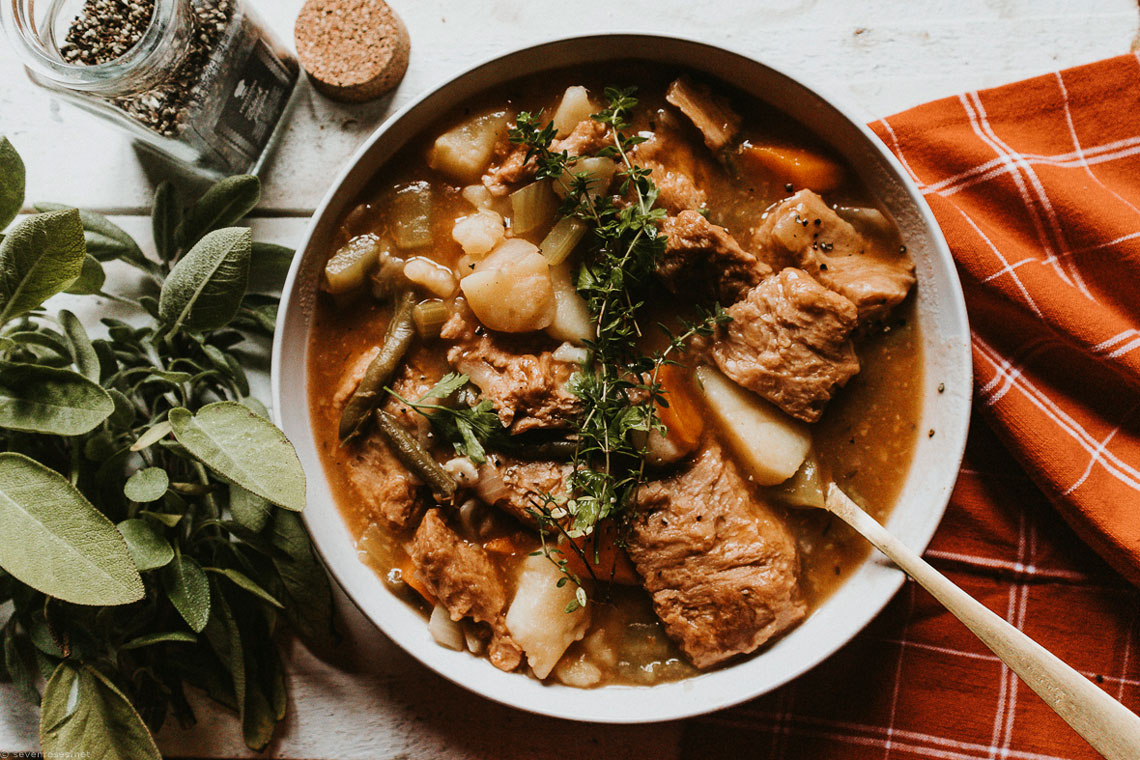 Hello my beautiful friends!
I have to admit that ever since the cold season has arrived (and more lockdown/self-quarantine craziness around the wold as well) I have found myself absolutely craving rich and hearty comfort foods.
Which is why today i'm super excited to be sharing with you the ultimate hearty Vegan stew recipe – this tastes just like the stew my mom used to make me as a kid – only it's completely meatless and fat-free. Which makes it both Vegan/plant-based and Starch Solution complaint.
So as November is here, it's really time to prepare this hearty Vegan stew, the ultimate cold weather comfort food.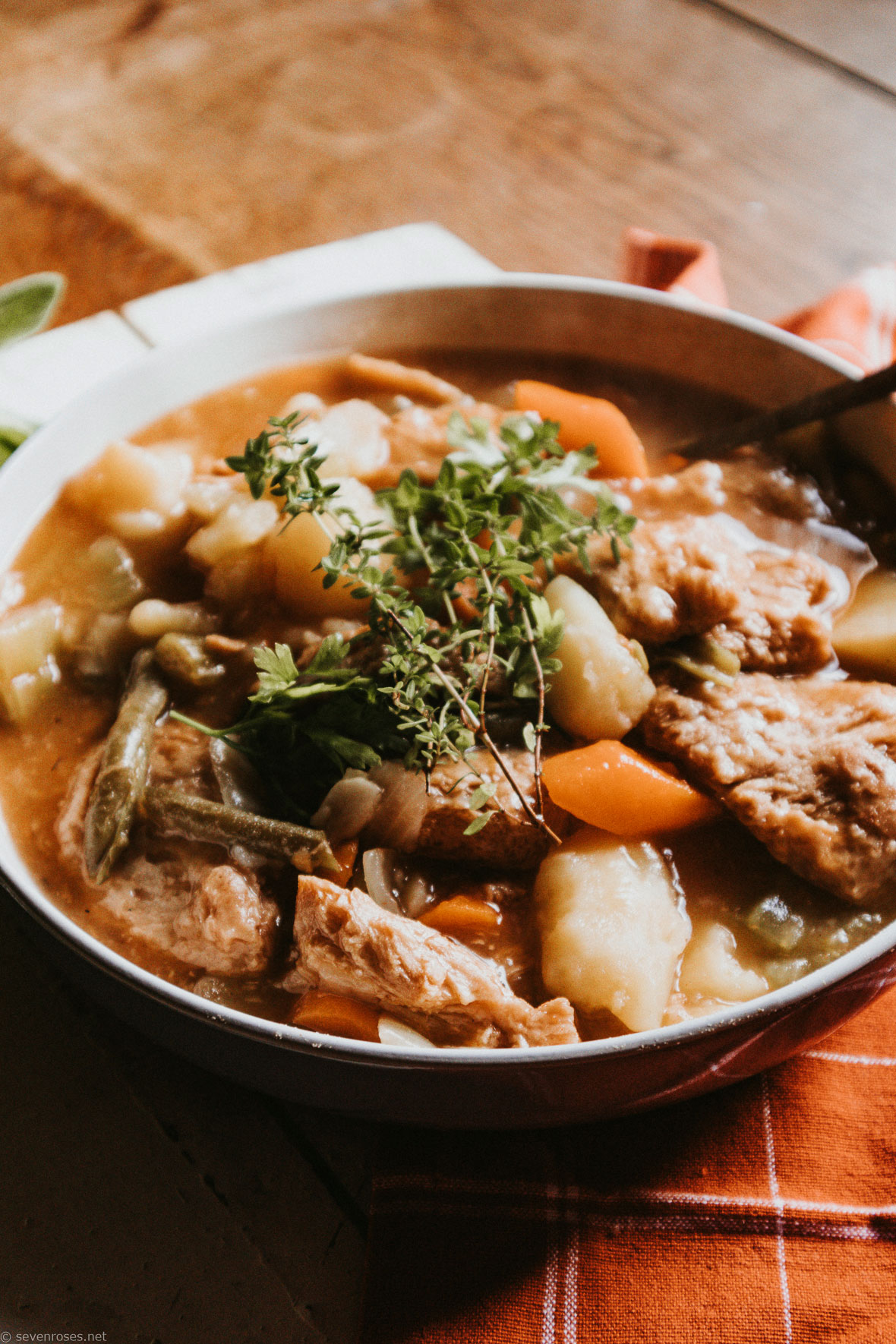 It's actually really easy to prepare! When it comes to a recipe like this often the hardest part is doing the chopping, because after that you'll just dump one ingredient after the other in the pot and let them make their magic.
You can make this as a one-pot meal on the stove top to have dinner ready in 30 minutes, or let it cook slowly in your crockpot. Doesn't matter which way you chose, the result will be a warm bowl of comfort food heaven for your chilly nights.
And since it's filled with loads of non-starchy veggies and it contains no oil/fats, this is also the perfect Starch Solution dinner.
You can chose what type of protein / meat substitute to use:
❥ mushrooms,
❥ seitan (like I did in these photos),
❥ TVP (texturized vegetable protein),
❥ TSP (texturized soy protein),
❥ tofu,
❥ tempeh,
❥ red or white beans.
As you can see, the choice is pretty wide, depending on your preferences, what you have available at home and health-related restrictions.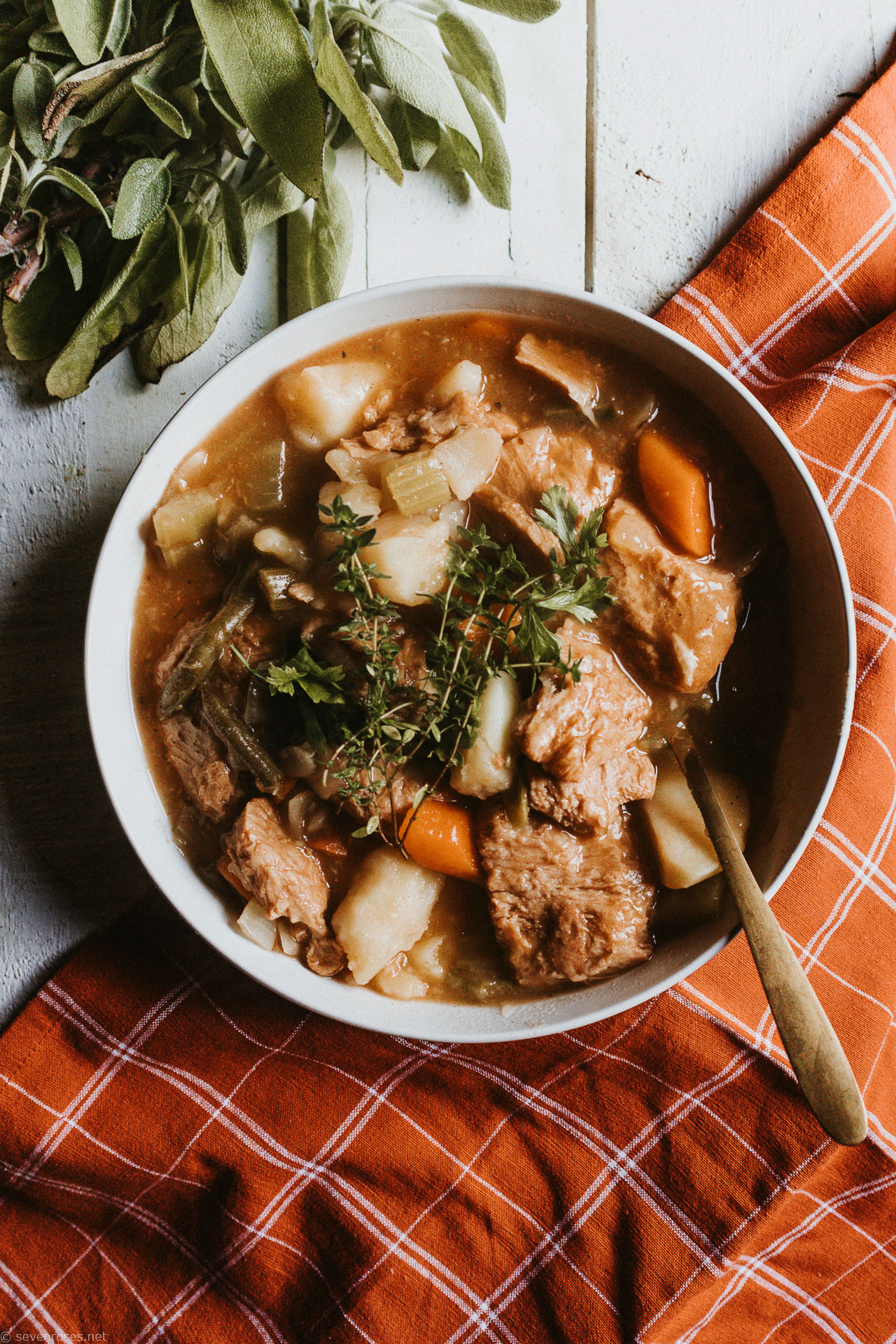 You will also need a classic combination of vegetables – nothing too extravagant as we're making this as simple and homey as possible.
Potatoes, onions, carrots, celery stalks, garlic and fresh or dry herbs are the base.
Balsamic vinegar to add richness instead of red wine, and freshly cracked pepper to taste.
But to make this even more Starch Solution-friendly, feel free to add any other non-starchy vegetables you have in your pantry/fridge/freezer. This stew recipe is actually the perfect way to cook up any vegetables you might need to use up. Just throw them in!
Peas would do really well, but on this particular day I had some leftover green beans, and I added them during the last 5 minutes of cooking to mix the flavors.
Other elements that develop the unique and hearty flavors of this veggie stew are soy sauce and tomato paste. The two together heighten this dish with a good dose of Umami.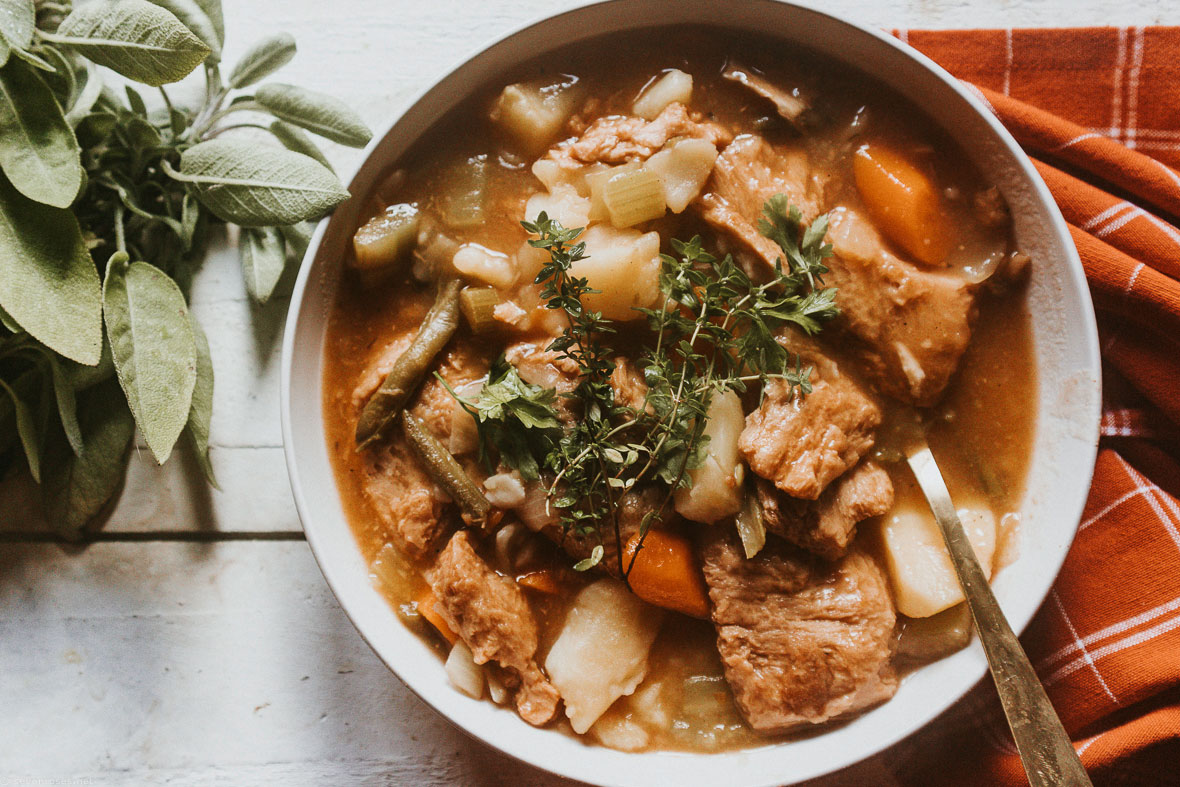 How to thicken a Vegan stew?
Any stew that contains potatoes will thicken quite a bit naturally thanks to the starches contained in them.
That's also one of the reasons why I love to cube my potatoes in different sizes. The smaller ones will almost melt away and give a velvety texture to the broth, while the bigger chunks will be lovely to bite into.
You can also take a few tablespoons of the veggies and mash them, but the easiest and most effective way to thicken the sauce and turn this stew into the ultimate Vegan stew, my suggestion is to try the "water & cornstarch slurry" trick.
Combine equal parts cornstarch and cold water. Add to your pot and stir in, allowing to boil for a couple of minutes.  That's all you need to give the cooking broth a creamy, velvety consistency. I told you it was easy!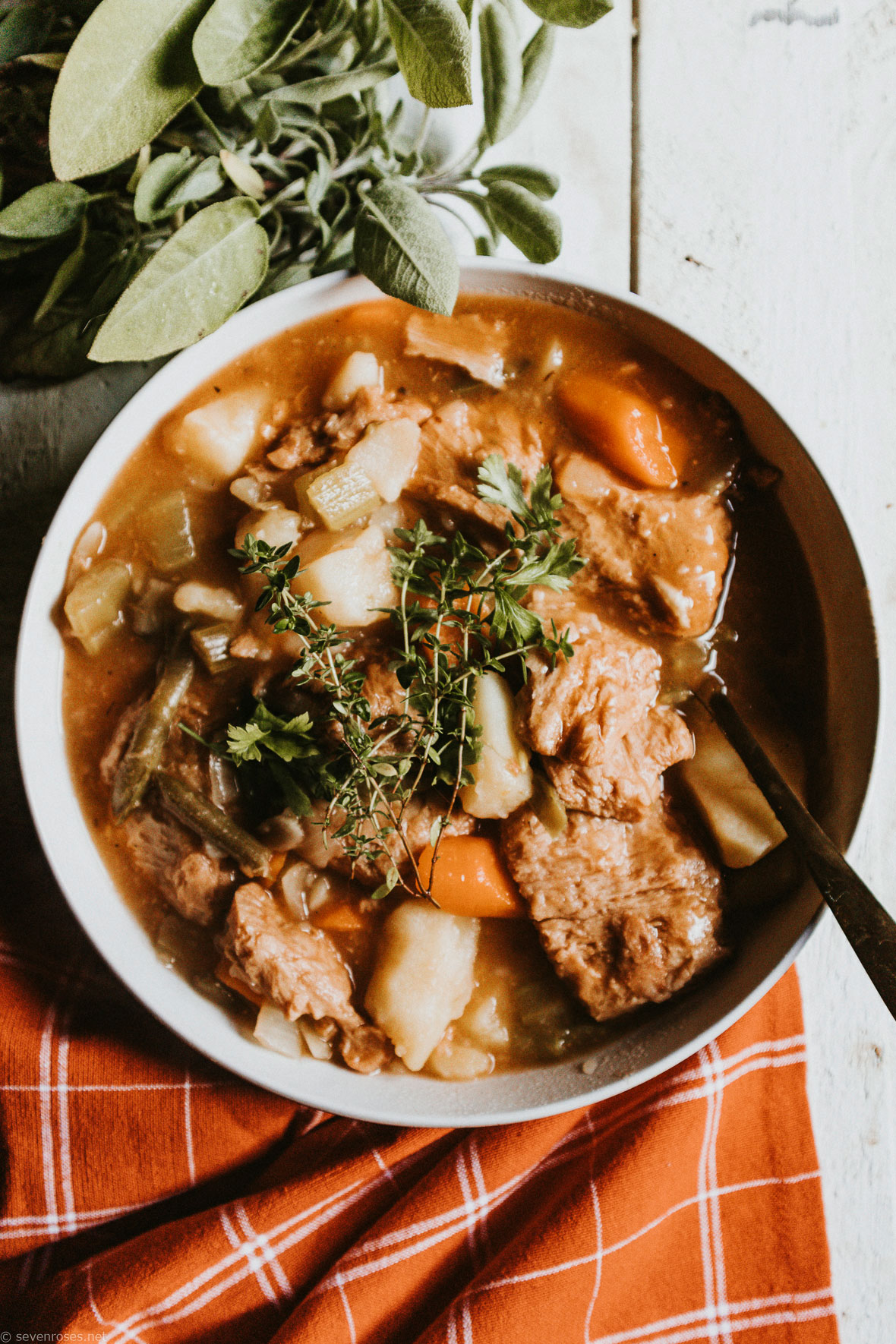 What to serve with this Hearty Vegan Stew?
You can obviously eat it alone in a big warming bowl – this is such a complete and satisfying meal by itself! – or you can pair it with white or brown rice, polenta, quinoa, steamed veggies or mashed cauliflower for even MORE veggies :)
Or even a simple fresh mixed salad on the side will close the deal, perhaps with a teaspoon of apple cider vinegar or a squeeze of fresh lemon juice.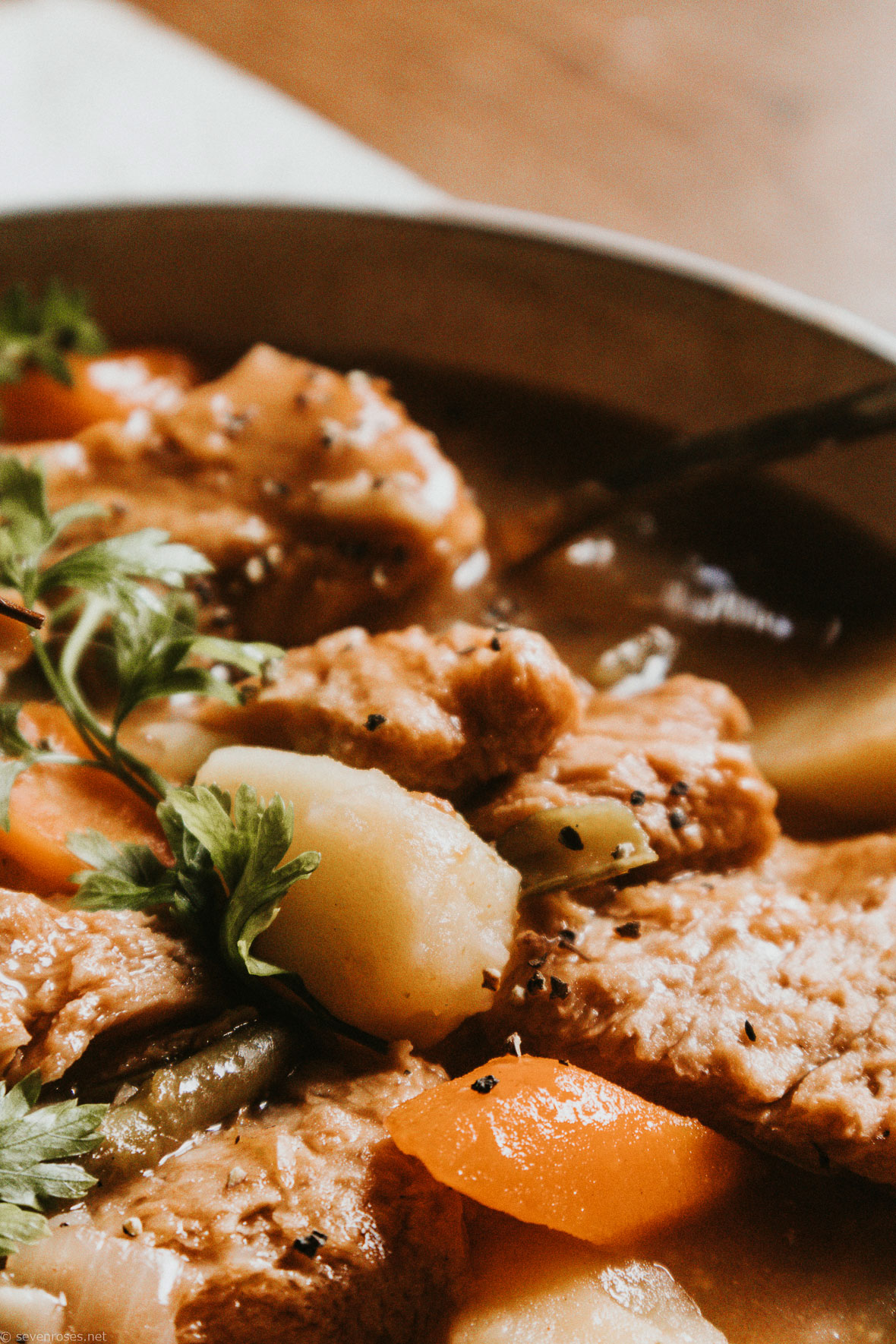 If you're making this Vegan stew, consider making a double or even a triple batch as it freezes beautifully!
It's one of those really incredible make-ahead dishes that not only you can enjoy through the week if you're craving a bowl of hearty, nutritious, filling, comfort food and looking for an easy way to stay on the Starch Solution easily, even if you come home late in the day and need to have some yummy and delicious food ready asap, but you can easily freeze it and enjoy at a later time.
Whats's not to love about that?
More chilly nights Vegan comfort food you'll love: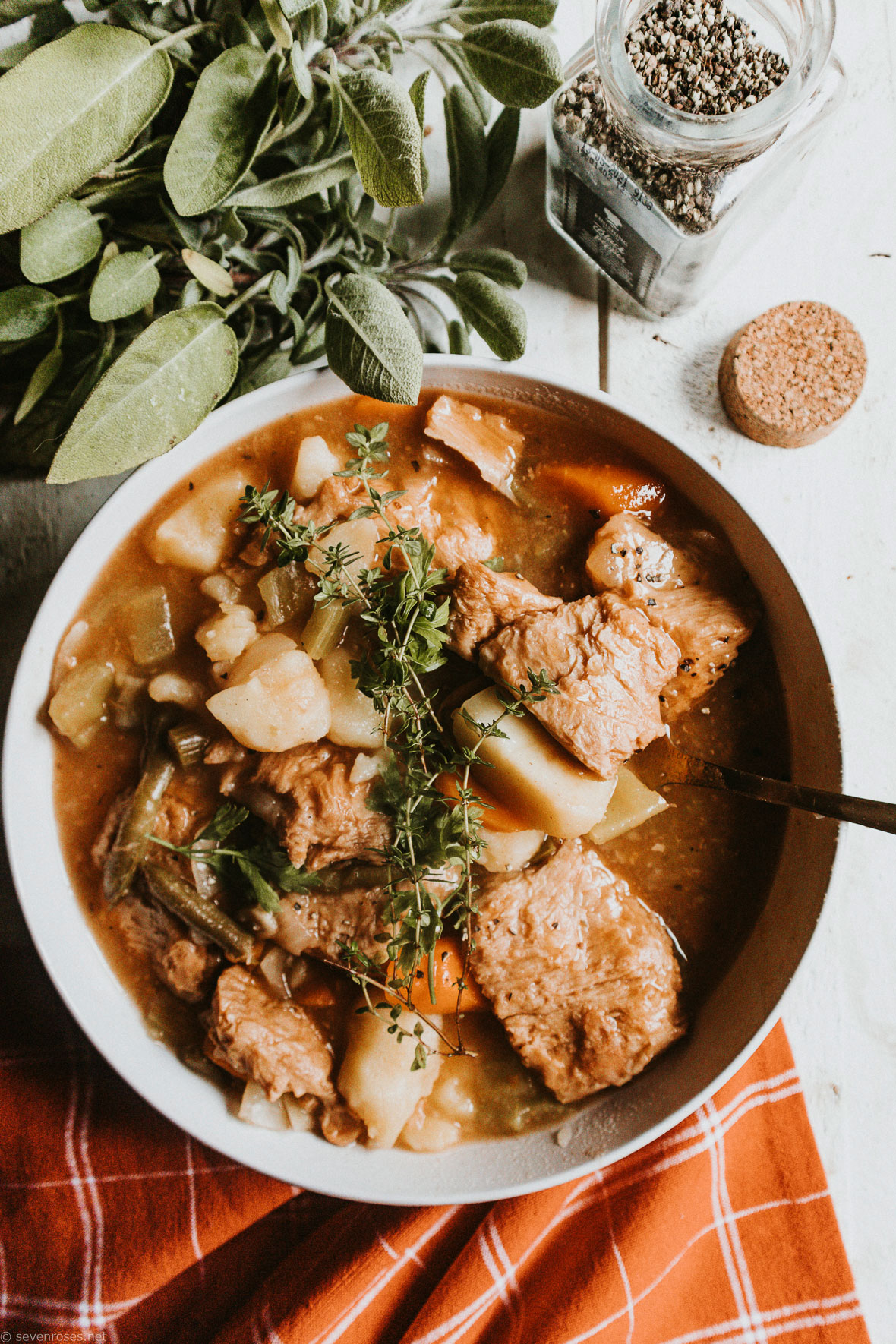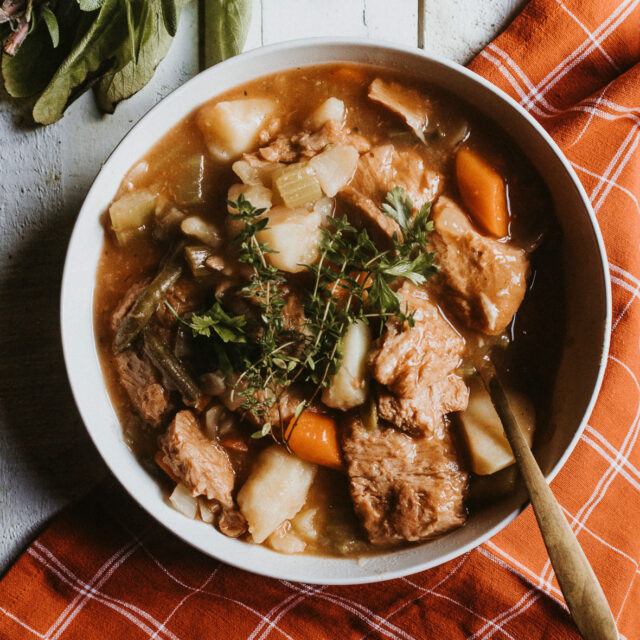 Hearty Vegan stew - one-pot, no oil, Starch Solution
This hearty Vegan Stew recipe is perfect for the cold weather. Make it on the stove top or in a slow cooker for chilly nights: it's
comfort food
heaven! As it's no-fat and loaded with veggies, this recipe is also ideal for the Starch Solution.
Ingredients
Stew
1

pound

seitan

or mushrooms, tofu, tempeh, TVP/TSP

1

big

yellow onion

finely chopped

3

stalks

celery

4

cloves

garlic

4

large potatoes

white or yellow, cubed in different sizes

1

bunch

fresh herbs

thyme, sage, parsley, bay leaf

1

tbsp

balsamic vinegar

1

bouillon cube

2

tbsp

soy sauce

2

tbsp

tomato paste

1

tsp

turmeric

1

dash

garlic powder

optional

1

dash

onion powder

optional
Sauce thickener
2

tbsp

cornstarch

4

tbsp

cold water
Instructions
In a large pot or crockpot, heat 2 tbsp of water over medium-high heat. You can add a splash of soy sauce if you want, as we won't be using any oil in this recipe and it helps to caramelize/brown the veggies.

Arrange the mushrooms, seitan or your choice of Vegan protein in the pot, in a single layer. Season with pepper to taste. Cook, stirring occasionally, until the seitan begins to brown at the edges, about 4 to 5 minutes.

Add the onion, celery, and carrots, and continue to cook, stirring occasionally, until they begin to soften, about 4 to 5 minutes. Add the garlic and cook until it becomes fragrant, about 30 seconds. Add the balsamic vinegar and cook, stirring, until almost all of it has combined with the veggies and/or evaporated.

Add the potatoes, vegetable stock bouillon, the soy sauce, tomato paste, turmeric powder and the fresh/dry herbs. Cover with water. Bring the mixture to a boil then cover the pot with a lid and reduce the heat to medium. Continue to cook, stirring occasionally, until all the veggies are tender, about 20 minutes. *If you're making this in the slow cooker, cook on low 7 to 9 hours*

Remove the herbs. In a small bowl, whisk together the cornstarch and water. Pour the cornstarch slurry into the stew and mix well. Continue to cook, stirring, until the liquid has thickened, about 1 minute. Season with salt and pepper to taste. Serve immediately or store in the refrigerator for up to 4 days - or in the freezer for up to 3 months.
---
If you give this hearty Vegan stew recipe a try, please let me know in the comments' section below!
You can also find me on social media. Be sure to tag @francesca_sevenroses on Instagram or @sevenrosesblog on Twitter and Facebook, and use #sevenroses so I'm sure to see it.
…And don't forget to pin this recipe to spread the love ♥
I wish you a love-filled day xoxo