Guest post by Jennifer
If you're looking for natural DIY Scalp Scrubs to clarify your hair and scalp, these easy 4 Vegan DIY Scalp Scrub recipes cure & prevent dry, flaky scalp, improve scalp health and overall hair health. Give them a try!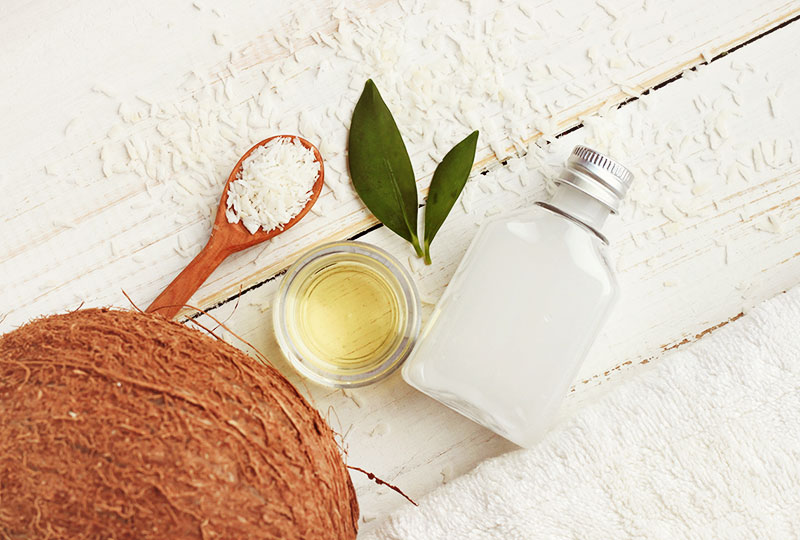 For many, both women and men, extra dry scalps and flaky dandruff can be a huge problem. And, unfortunately, there doesn't seem to be many products on the market that specialize in rejuvenating products for unhealthy scalps.
Even if a product that claims to transform an unhealthy scalp is on the market, it most likely isn't natural. Vegan scalp scrubs are the most ideal product known to improve scalp health, and ultimately hair health. But don't forget to also pamper your hair with a moisturizing DIY Glycerin hair spray with Aloe Vera and Rose Water afterwards :)
Scalp Health ultimately affects the hair's health as well. When hair follicles are clogged, they are unhealthy. This causes the hair to not be able to grow properly, causing dry, unbalanced hair as a result. And for easy, at-home access, there are many scalp scrubs that are great replacements for expensive store bought scalp products.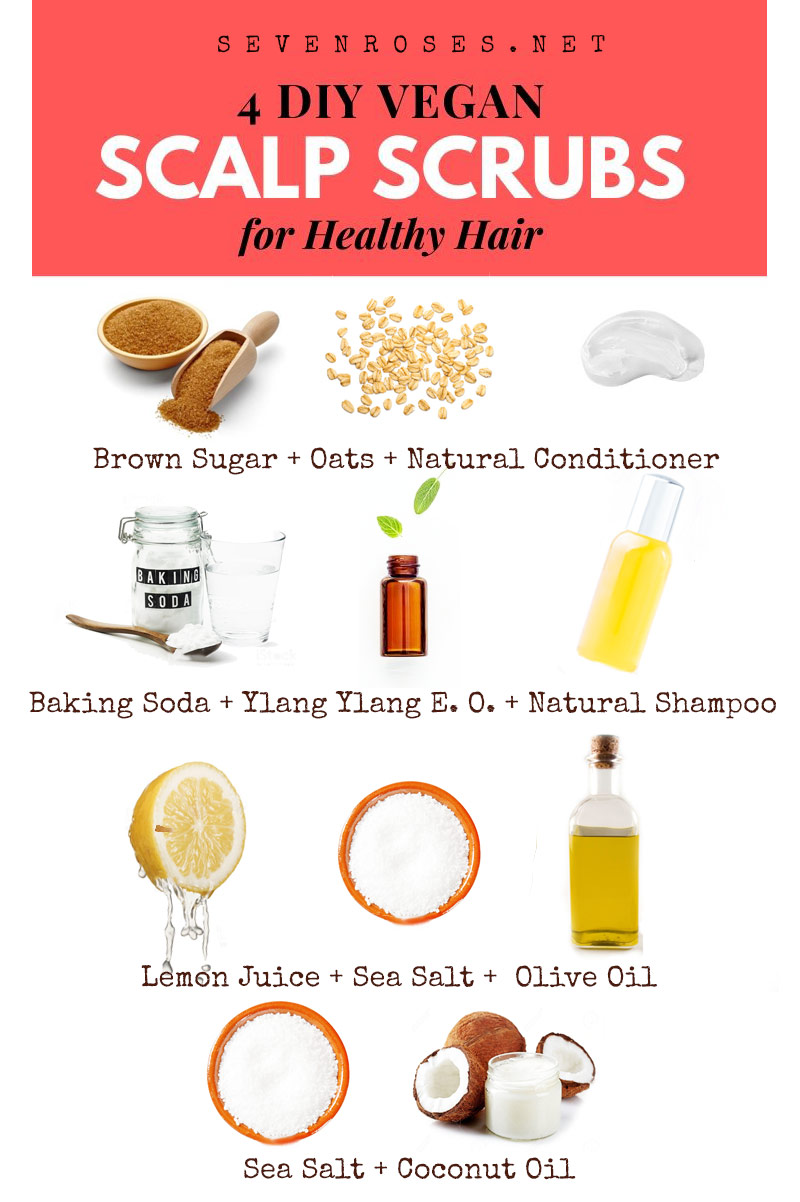 DIY Vegan Scalp Scrubs recipes for healthy hair:
Brown Sugar + Oats + Natural Conditioner
The combination of brown sugar, conditioner, and oatmeal is an especially great scalp mask for deep skin exfoliation. Simply mix together 3 tablespoons of conditioner, ⅛ cup of fine ground oats, and 1.5 tablespoons of brown sugar.
Gently rub in to the scalp for several minutes, and let the mask sit for a few minutes.
Just make sure that the conditioner used is Vegan, and fortunately there are many great, affordable options on the market (we love Moroccan Argan Oil Conditioner SLS Sulfate Free Organic Conditioner for frizzy dry hair)

Baking Soda + Ylang Ylang Essential Oil + Natural Shampoo
Another option for a scalp mask is one that clarifies the scalp. A clarifying mask will successfully rid the scalp of any irritating matter. Simply combine 1 teaspoon baking soda with 10 drops of ylang ylang oil and 1 tablespoon  of your favorite natural shampoo.
⤁ read: 51 Ylang Ylang essential oil benefits & uses: the essential guide
Just like the conditioner, make sure the shampoo is Vegan! Then massage your scrub into the scalp and wash out with warm water. Repeat this once a week for a noticeably cleaner, healthier scalp!

Lemon Juice + Sea Salt +  Olive Oil
A scalp mask that specifically targets the scalp for cleansing will do wonders for unhealthy hair. Combine 1 tablespoon of olive oil with 2 teaspoons of lemon juice, and then add 1 teaspoon of sea salt. Rub this combination into the scalp and let it sit for 15 minutes. Wash the cleanser out of the hair with warm water.
Repeat this once a week to keep scalp and hair health at its best!

Sea Salt + Coconut Oil
One option for a super cleansing scalp scrub for healthy hair is one made from sea salt and coconut oil. Add 1 teaspoon sea salt to 1 teaspoon coconut oil, mix together well, and then exfoliate the scalp with. The sea salt will detoxify and purify the scalp, while also giving more volume to the hair, which is just an added bonus. Plus, the coconut oil will do a great job of moisturizing the scalp. Another option would be to only rub the sea salt onto the hair by itself, and then, after allowing the salt to sit for a few minutes, moisturize the scalp with the coconut oil. The coconut oil will not only help with the scalp health, but also with allowing the hair to be nourished, stimulating growth.


Now, if you would prefer to just buy a vegan scalp scrub product on your own, there are many great options on the market!

Here are some vegan scalp scrubs that receive great reviews:

– Organic Root Stimulator Scalp Scrub– This scalp scrub is described as an "intensive aerobic workout for hair follicles and scalp"… now this might sound confusing, but it basically means that this scrub stimulates the amount of oxygen that flows to the scalp. This allows good circulation within the scalp, creating less dandruff and flaky skin patches, and more nourished hair!
– Apple Cider Vinegar Scalp Scrub with Pink Himalayan Sea Salt– Another scalp scrub that can be found at multiple different beauty stores and online is the dpHUE Apple Cider Vinegar scalp scrub. This scalp scrub does a great job of exfoliating dead skin on the scalp, and with removal of buildup from other hair products.

About Jennifer:
Jennifer is the beauty and brains behind Beautifully Alive! She loves eating healthy and trying new recipes.The self-proclaimed Zumba Queen has a passion for beauty products and loves reading new books. She's always down for a DIY project!

Thank you so much Jennifer for this guest post!

I hope you'll give these DIY Scalp Scrubs a try! Don't hesitate to leave Jennifer a comment and to pin this post to share the love ♥

I wish you all a love-filled day xoxo