October has always just been "the month before my favorite month" but this year things have changed. Since moving to Vosges, Autumn has taken a whole new aspect. It has always been my favorite season, but mostly because of childhood memories of life in the Prealps region. The past couple of years we've skipped Autumn altogether, moving from a warm to a deadly warm area. This time around, October has been a blessing, with leaves changing color everyday from green to red to yellow, cold nights, starry skies, a mix of melancholic and poignant beauty. We even had a couple of days with snow!
I don't know what November will bring more, but as it stands now, I couldn't be happier. Autumn, I've missed you so!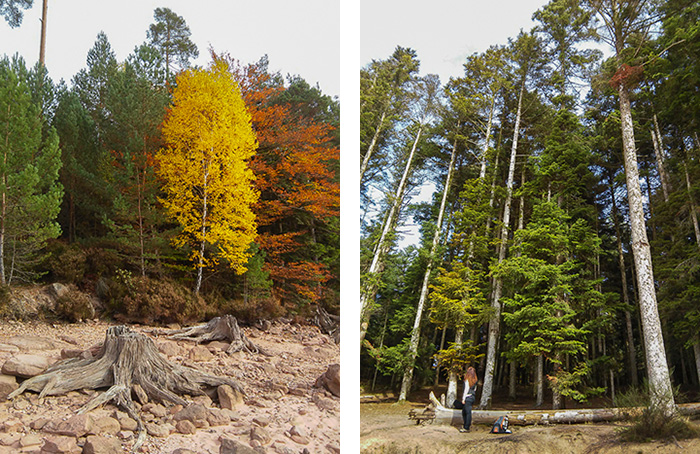 Now let's dive into the happy little things that made it to my October favorites' list:
I'm loving….
the MiYASKIN sonic face brush, a little treasure I got from the lovely site Doux-Good. I love to use it especially at night, after removing my makeup (if I'm wearing any that day) as it helps to get rid of all makeup residues, while massaging your facial muscles with a high frequency pulsation of up to 6000 pulses per minute, using thousands of extra delicate silicone microfingers. The result: it boosts blood circulation and therefore stimulates collagen production for a healthy and glowing skin texture. Oh, one last thing: it recharges via USB, which makes it super practical even when traveling!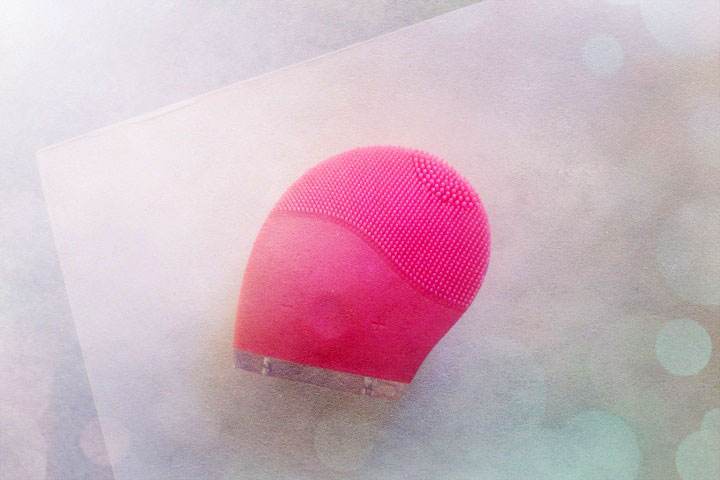 I'm drinking…
Each afternoon when my husband comes back home from work, if we stay home and work at our laptops, we like to sip our new favorite drink, a spiced hot-cocoa milk.
To make it simply heat up:
1 cup of soy or rice milk (per person)
add 2/3 tablespoons of cocoa powder
1 teaspoon of cinnamon
a dash of ginger powder.
Warm up between 1 and 3 minutes, stir and enjoy. So autumnal and warming! And did you see that adorable toast-shaped wooden coaster? It comes from the uber-cute Kawaii-box, a subscription box I had the chance to try back in August.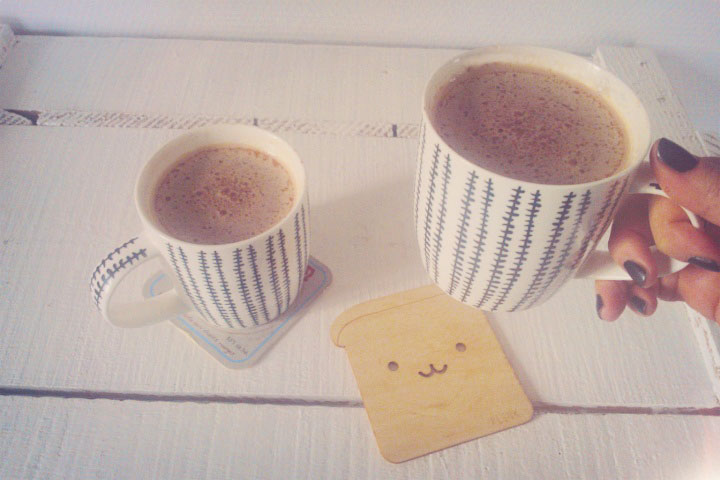 I'm reading…
The Buddha in the Attic by Julie Otsuka
– actually I'm reading the French translation entitled "Certaines n'avaient jamais vu la mer". It's a symphonic, empathic novel like I've never read before. There is not one single subject, the novel is told from the point(s) of view of a large group of immigrant women who leave their country, Japan, between the first and second world wars, hoping for a better life in the States. They do not speak English, they do not exactly know what awaits them on the other side of the ocean, they have vague ideas and dreams of a perfect life, perfect husbands waiting for them. Books about real stories, forgotten lives, lost voices always fascinate me.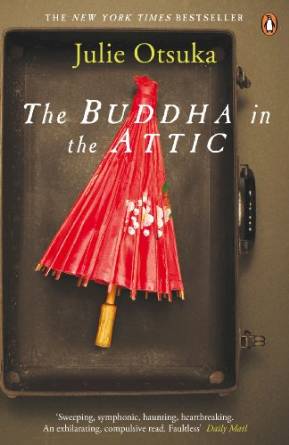 I'm watching…
We're a bit late on The Walking Dead wagon, but now that we've started, we've been binge-watching all the series back-to-back… We're quickly catching up with the actual season and I'm getting a bit worried: I already know I will suffer from withdrawal symptoms. I love zombies and I truly dig such "end of the world", survival atmospheres! On a side note, it made the news 1 year ago that some members of the cast were so grossed out by the flesh-eating zombies that they were actually eating a vegetarian menu on set. Norman Reedus, who plays Daryl Dixon even went so far as telling the Daily Mail that he was one of the actors who actually changed their diet, saying: 'I've become a vegetarian and I'm kind of bummed about it.' I wonder if they kept such a commitment one year after… I hope so :) I mean, a TV show about zombies with a vegetarian cast, it doesn't get any better than this – well yes it would be better if they were actually Vegan ;-)
One lesson to get out of this series: all the real monsters are always humans!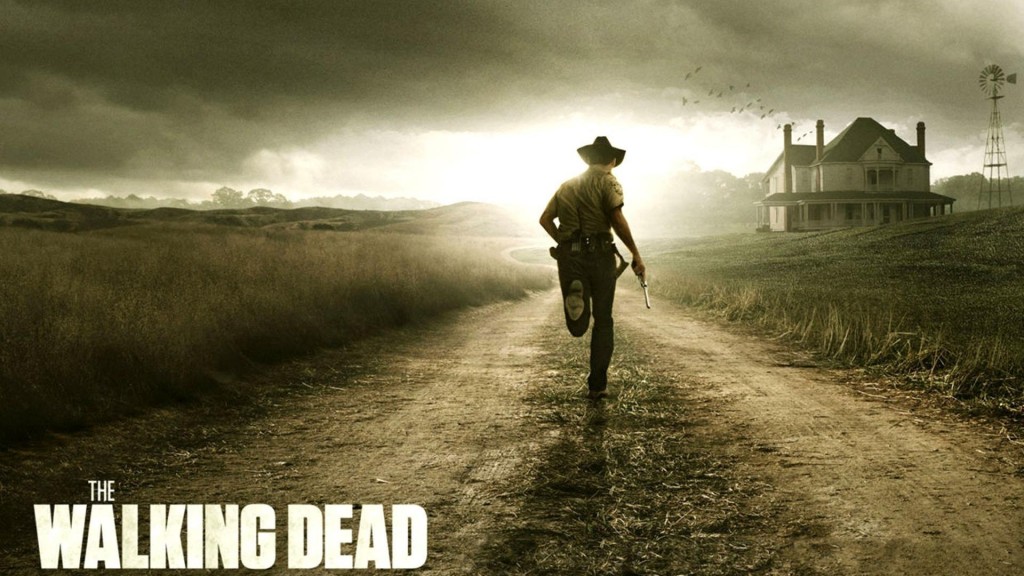 I'm wearing…
For months, no wait, for years, I've opted for big tote bags, but lately I've been having this desire to downsize my daily-use handbag. Tote bags are great for carrying a lot of stuff but now that I work from home, I don't need to pack my whole world to bring along with me for 12+ hours a day. It took me some time to realize this, and last September I started looking for the perfect bag, just like I had in mind: it had to be black, with some cool fringes (hello 70s! my all-time fave decade of the past century), I wanted a Vegan material ça va sans dire, but I also wanted a reasonable price and a cross-body model… Too many requests? (my husband would say: Yes!) I don't think so. Finally I found the perfect match to all my desires on the H&M website – but I must say the French e-commerce platform sucks and they also have very poor customer service. Its original price was €24,99 ($29.99 on the USA website) but I paid it only €18,74 thanks to a little discount code. All's well that ends well, and here's my favorite handbag for this fall: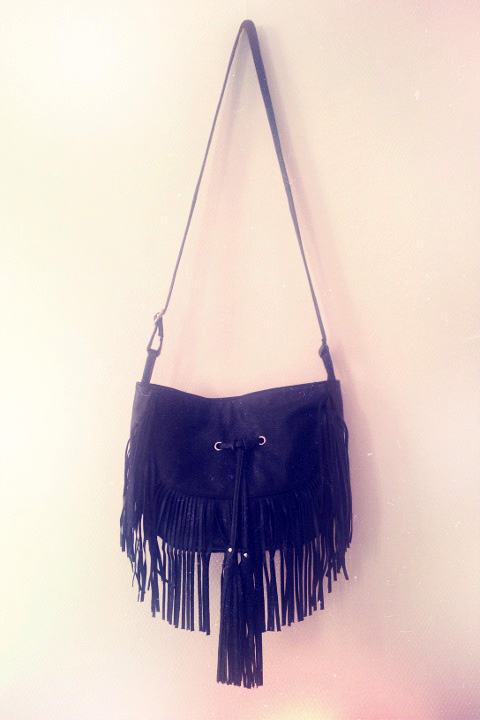 So, that's it for this month.
What about you? What are some of your favorite things this month? Let me know in the comments
Save
Save