These triple-layer cheesecake hearts are delicious, gluten-free, dairy-free desserts perfect for Valentine's Day! Make them for your other half or just go ahead and make one for yourself ♥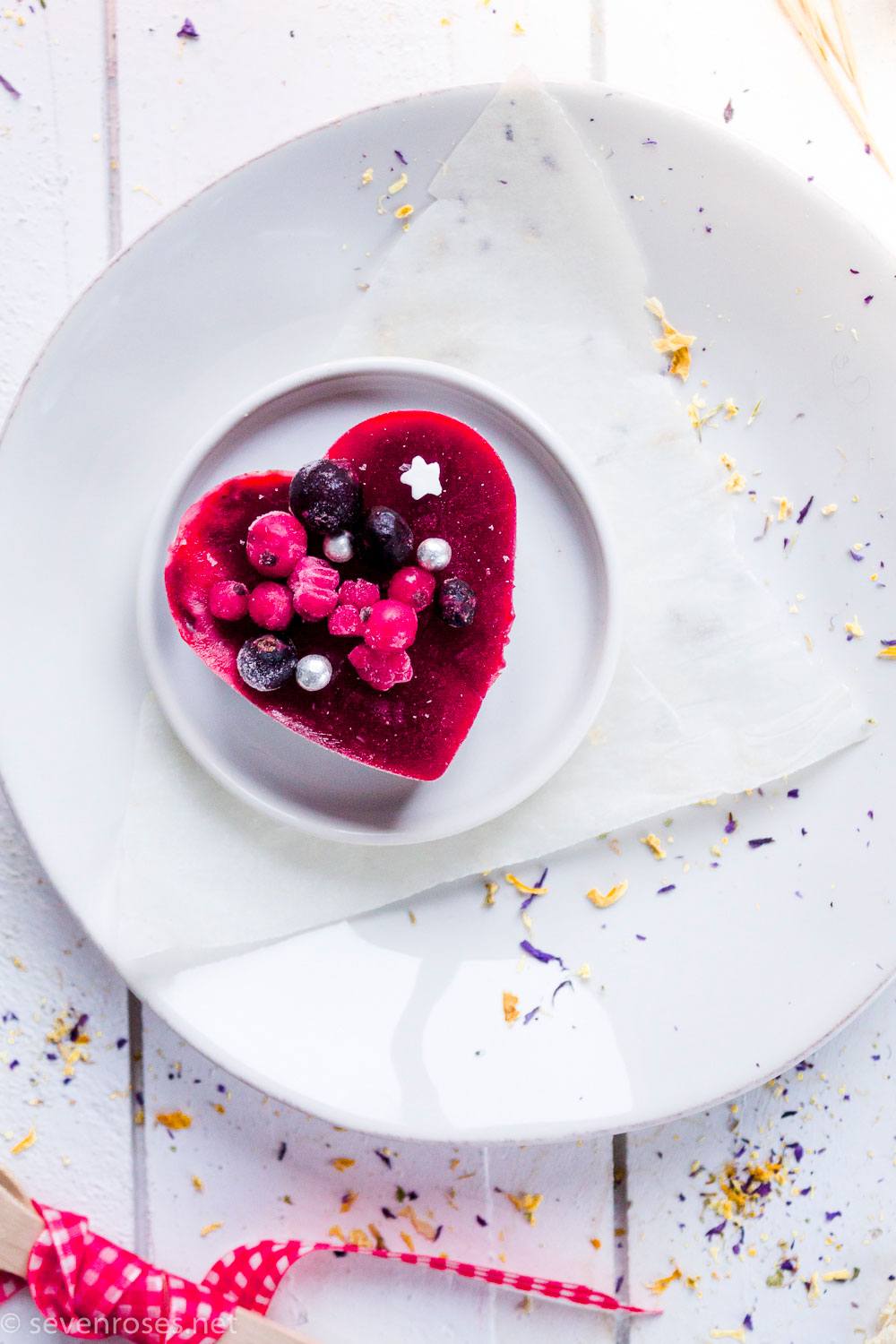 Hello my beautiful friends! I dedicate these sweet treats to all of you, those in love, those looking for love and those that are fed up with love all together ;)
The base for these cheesecakes is an Italian cake called "Caprese" which is not only totally delicious, but also traditionally gluten-free and Vegan: it's made with just a few ingredients and it only needs almond meal as flour. You can now read the precise recipe here! This is also the only step that requires baking (just 15 minutes in the oven).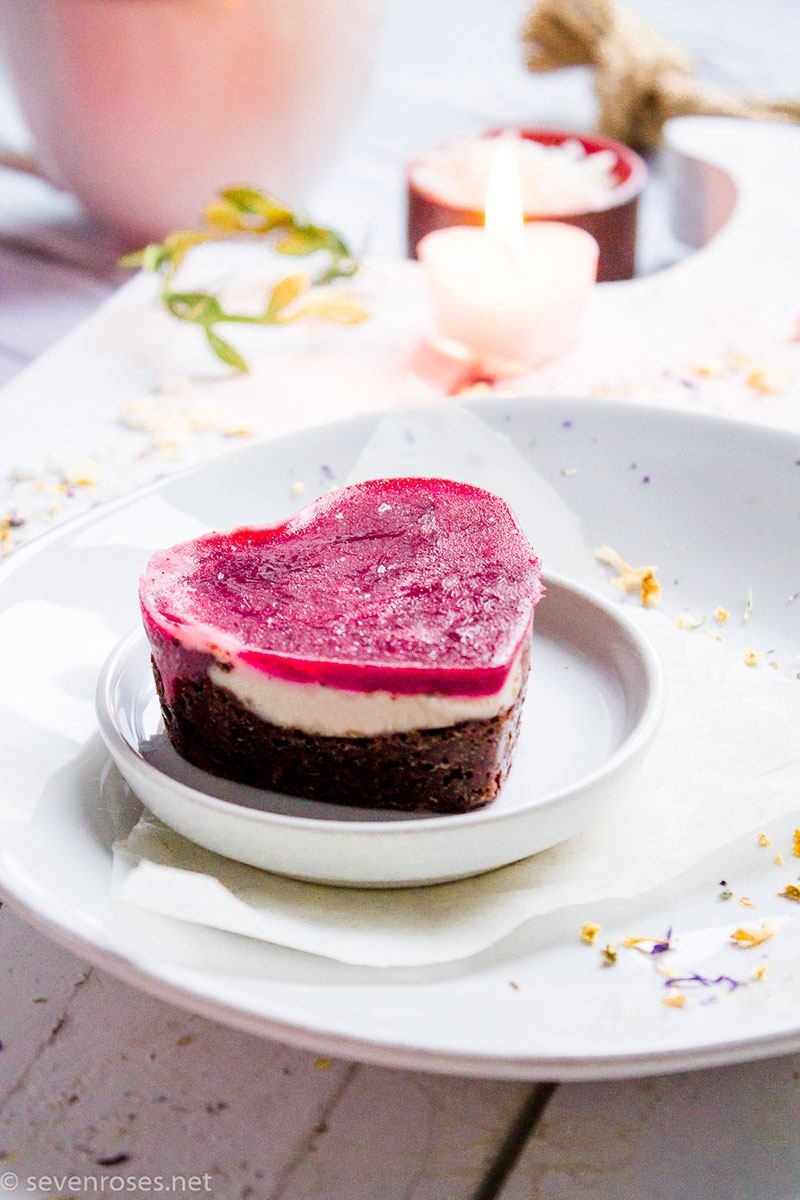 For the cheesecake layer, I was about to go the ever-so-popular cashew route, but I got a surprise package from my parents that included some Valsoia Vegan cream cheese (that I don't find in stores in France) and this was the perfect opportunity to use it.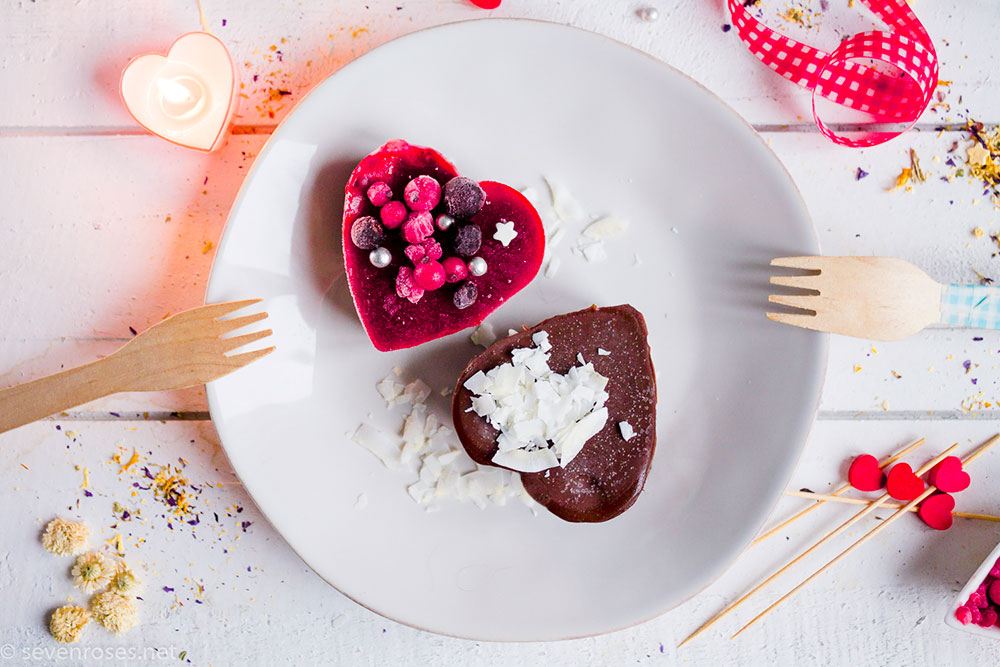 Lastly, for the top layer I give you two choices: do you prefer a refreshing, fruity pink berry layer or would you rather end full circle with another chocolate layer? Both are super easy and require only two ingredients, so it all comes down to personal tastes. You can make both for variety – it's also the perfect excuse to taste from each other's plate ;)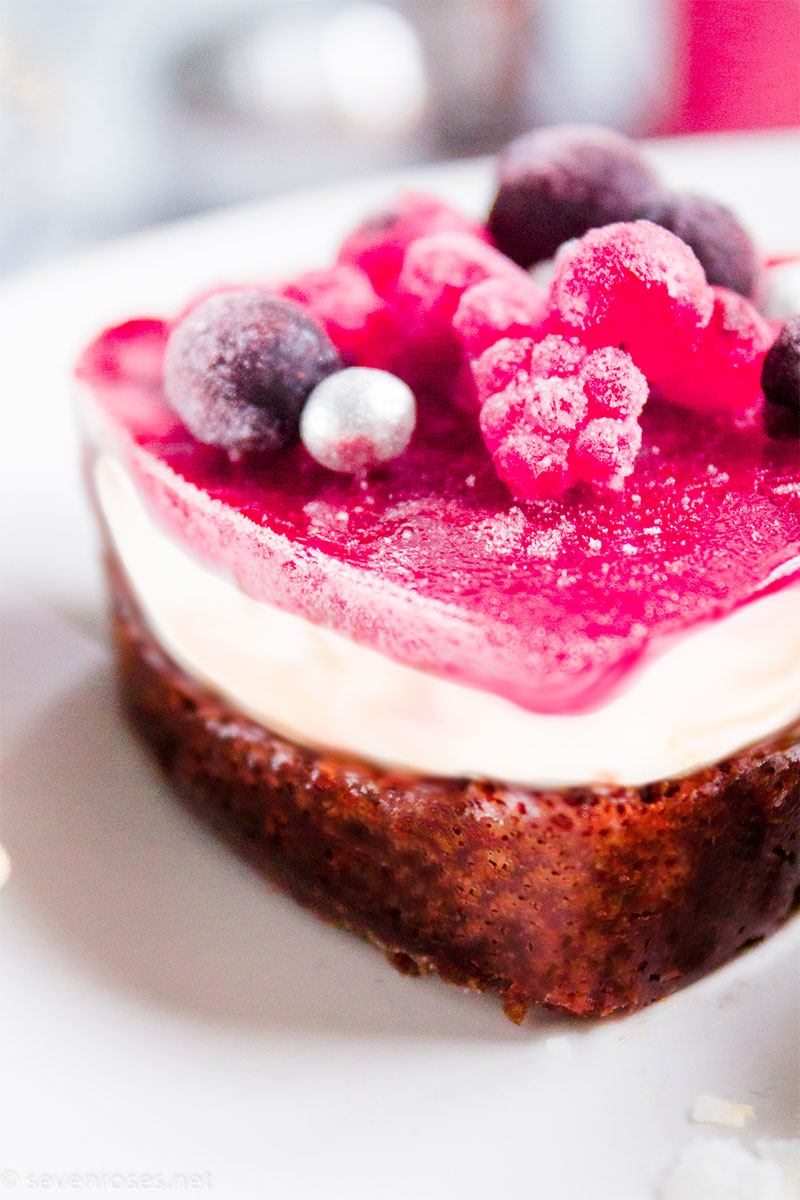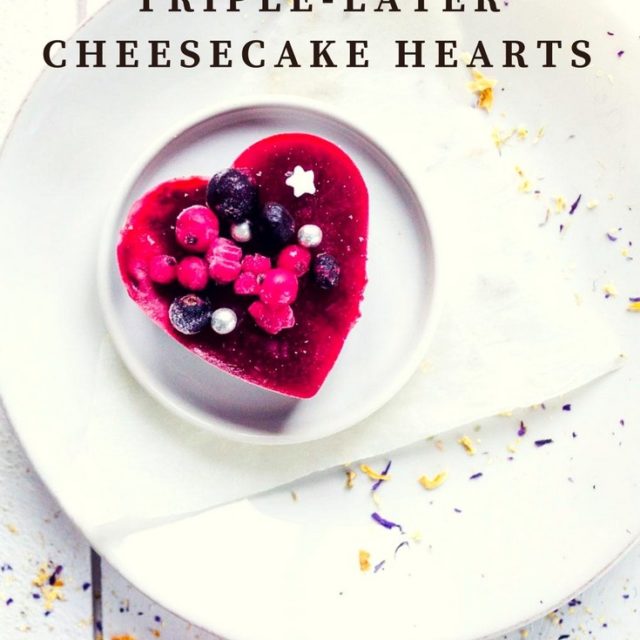 Triple-layer cheesecake hearts (Gluten-free, Vegan)
A chocolate-lover dram base layer, a luxuriously creamy cheesecake layer and finally your choice of berry or chocolate top layer. These romantic Triple-layer Cheesecake Hearts are completely dairy free, vegan, and gluten free! Perfect for Valentine's Day or all year round ♥
Ingredients
For the base layer ( Torta Caprese )
100

gr

almond flour

100

gr

dark chocolate

100

gr

plant-based milk

I used a cashew-chia milk

2,5

tbsp

vegetable oil

2,5

tbsp

brown sugar

1

tsp

baking powder

0,5

tbsp

cornstarch
Cheesecake layer
125

gr

non-dairy cream cheese

roughly 1 cup

100

gr

powdered sugar

1

tsp

vanilla essence
Berry layer
1

cup

frozen berries

4

tbsp

water
Chocolate layer
50

gr

dark chocolate

1

tbsp

coconut oil
Instructions
Vegan Torta Caprese base layer
Start by melting dark chocolate in a water bath (or in the microwave if you prefer). As soon as it starts melting remove from the heat and add the plant-based milk, stirring gently.

Add the almond flour, the oil oil, brown sugar and cornstarch to the chocolate. Finally add the baking powder and vanilla essence. Mix gently until a creamy, smooth mixture is obtained.

Pour the mixture in 4 heart shaped silicon molds (or plain silicon muffin molds) and bake at 180°C/350°F degrees for about 15 minutes. Once baked, let them cool down and put in the freezer, covered.
Cheesecake Layer
Once the cake layer has cooled down, simply combine the plant-based cram cheese, the powdered sugar and the vanilla essence and mix well. Taste and adjust accordingly.

Delicately scoop the cream cheese mixture on top of the heart-shaped mini chocolate cakes, cover and put back in the freezer for the last step.
Berry layer
Mix the frozen berries with a little bit of water, heat up on the stove or in the microwave. The berries should quickly become soft and release all their juice. Strain it and pour it over the cold cheesecakes. Put back in the freezer.
Chocolate layer
Mix the dark chocolate squares with the coconut oil. Heat up for 30 second increments in the microwave until completely melted. Pour on top of the the cold cheesecakes. The chocolate layer will almost immediately become hard (this same technique can also be used for a hard shell chocolate ice cream topping). Put back in the freezer.

♥ And enjoy with the one you love!
Notes
These Triple-layer cheesecake hearts are to be kept in the freezer, but you'll want to let them thaw for 5 minutes before serving. That way, you get a perfectly luscious and creamy heart when you serve it. Slide a knife on the edges to help pop them out of the molds.
If you don't have a silicon heart shaped mold, you can achieve the same triple-layered result with plain silicon muffin molds.
I advice to make these the day before serving them, or at least the cake layer in order to have time to cool it down properly.
If you give this Triple-layer cheesecake hearts recipe a try, please let me know in the comments' section below!
You can also find me on social media. Be sure to tag @francesca_sevenroses on Instagram or @sevenrosesblog on Twitter and Facebook, and use #sevenroses so I'm sure to see it.
…You might also want to pin this recipe now to spread the love ♥