This soothing and moisturizing DIY Glycerin hair spray with aloe vera and rose water will revive your curls and waves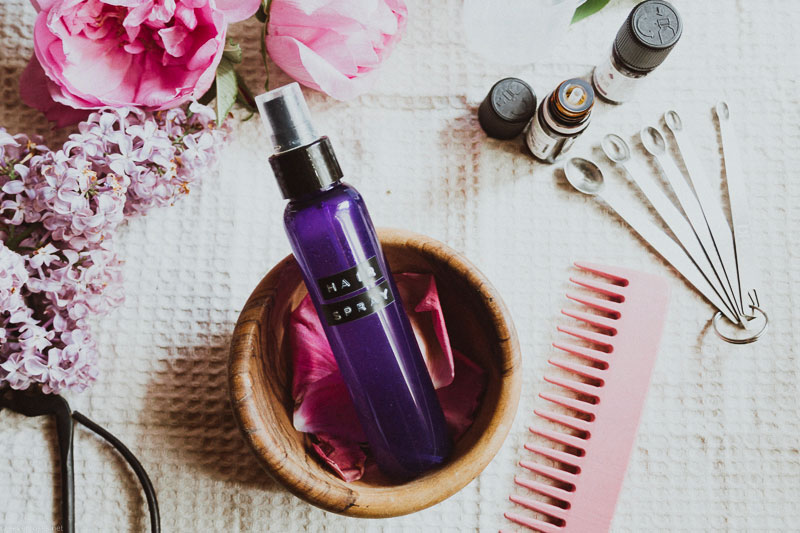 Hello my beautiful friends! Is your hair frizzy, unruly and lacking in hydration? It's time to pamper them!
Our hair suffers as much as our skin. Be it the heat, cold weather, pollution, salt, wind, build-up of hair products or harsh chemicals, so many damaging factors are all around us. And one day we notice our hair is tarnished, damaged and dry.
To avoid or repair this problem, today we are going to make a truly nourishing, DIY moisturizing spray that protects your hair, helps your curls to retain moisture and brings back shine and softness to your locks.
I've chosen Vegetable glycerin as the star ingredient of this DIY because it's a wonderful moisturizing agent for both skin and hair. It's reknown for its humectant, hydrating and hygroscopic properties, as it attracts and absorbs moisture in the air, and therefore it maintains the natural water content of your hair shaft.
You can use this spray on wet or dry hair, just out of the shower, as a quick morning refresh or before going to bed (and putting your hair up in a pineapple or in your satin bonnet for example). In short, this DIY Glycerin hair spray will be a useful and practical companion to restore health and bounce to your mane all through the day.
I'm sure it will become an essential for your daily curl protection like it did for me :)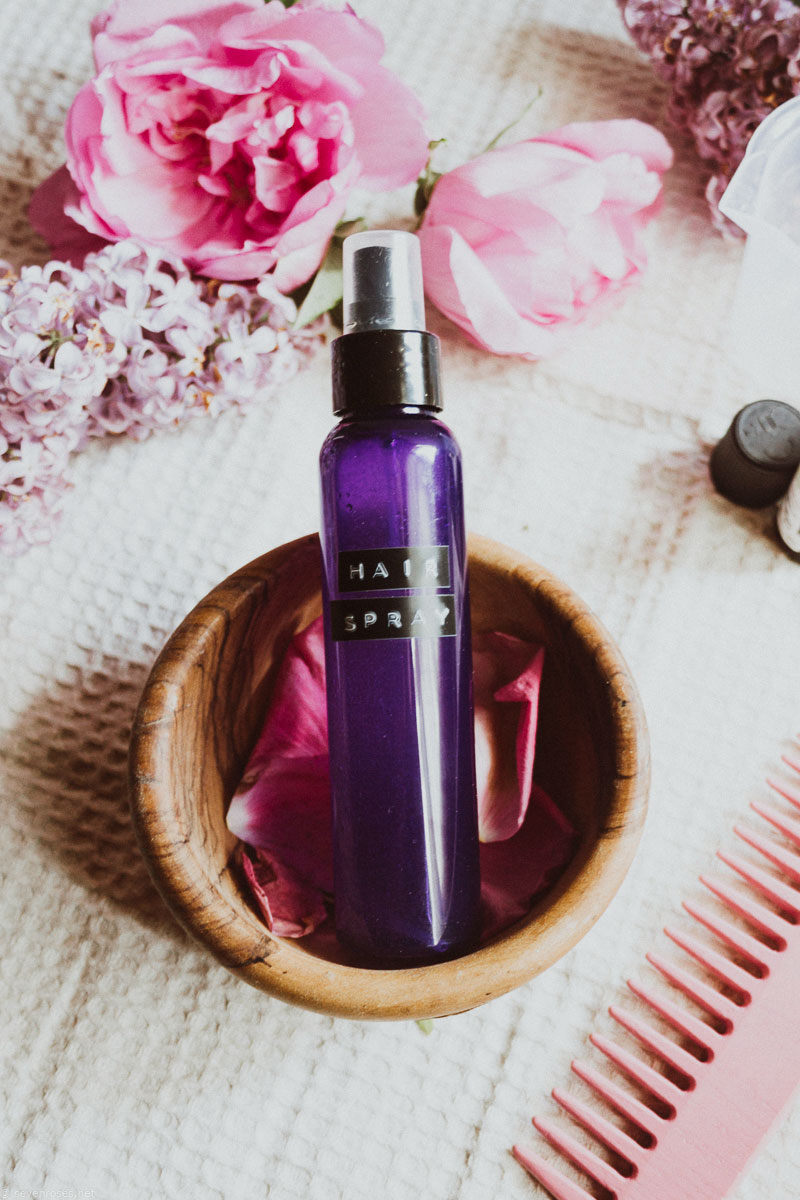 What is Vegetable glycerin?
Vegetable glycerin is a moisturizing agent for both skin and hair. It can be very easily incorporated into your DIY and store-bought emulsions (creams, detergents, etc.), your shower gels, your shampoos, sprays and lotions to which it brings a very soft touch. Obtained from vegetable fats, glycerin is colorless, viscous and most importantly non-toxic. It also has antimicrobial and antiviral properties – that's why it can be used on wounds, burns or irritated scalp/skin.
"The Red Cross reports that an 85% solution of glycerin shows bactericidal and antiviral effects, and wounds treated with glycerin show reduced inflammation after roughly 2 hours" (source) so imagine how beneficial it can be for an itchy scalp!
Indeed this spray has helped me to naturally soothe a dry and itchy scalp. Some people suffer from this condition in cold months, for me it's the opposite, it's the heat, humidity and sweat that makes my scalp itch. Anyone else has this problem?
Did you know? If "vegetable" is not specified, glycerin can be obtained from animal fats like tallow :( So please pay attention and make sure you choose a vegetable glycerin to make sure it's cruelty-free.
What you need to make a moisturizing hair spray
The base of this spray is a light water-based lotion to which we add some moisturizing, humectant or even sanitizing active ingredients.
Rose water helps to gently untangle the curls, to shape them while restoring elasticity to the curls, while the hydrating active ingredients prevents drying of the hair shaft. Vegetable glycerin brings hydration to the hair shafts and  aloe vera tames frizzy hair.
* you can substitute Rose essential oil with Ylang Ylang essential oil.
You might want to check out my post about 51 Ylang Ylang essential oil benefits & uses: the complete guide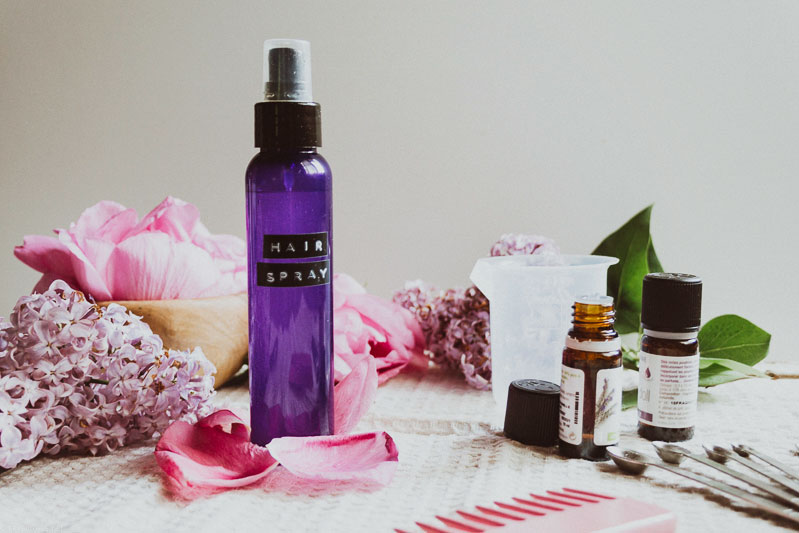 How to make a DIY Glycerin hair spray
For the preparation, it's very simple!
✼ Pour the rose water and aloe vera in your spray bottle and mix very well.
✼  Once well mixed, add the glycerin and finally, add the Rose (or Ylang Ylang) EO (and preservative if using) and mix the solution one last time.
✼ Be sure to use a bottle with a perfectly sterilized spray tip for your preparation!
✼  Your DIY Glycerin hair spray will keep for around 15 days – the essential oil acts as a preservative – or even longer if you add a water-soluble preservative like Linatural. I keep mine in the fridge for good measure.
And there you have it, the perfect multi-tasking formula for dry, dull, and damaged curly hair and scalp.
How to use your moisturizing hair spray to revive your curly and wavy hair
Remember to shake well before each use in order to mix all the ingredients and ensure a smooth delivery of their properties.
This natural moisturizing spray can be applied to all types of hair, but it's especially useful on curly, wavy or frizzy locks.
When spritzing this, I'm very generous with the quantity, especially in the evening before doing my night hairstyle to go to sleep. So the next morning my hair has absorbed everything and it's well hydrated.
And if necessary, I apply a few pschitt of this moisturizing spray in the morning, just to redefine my curls :)
Since it's a completely natural product and oh! so gentle on your hair, don't hesitate to moisturize your hair during the day, as soon as you feel the need. This multi-tasking hair savior can be used as an overnight treatment, a pre-poo treatment, and it also works brilliantly as a frizz taming serum.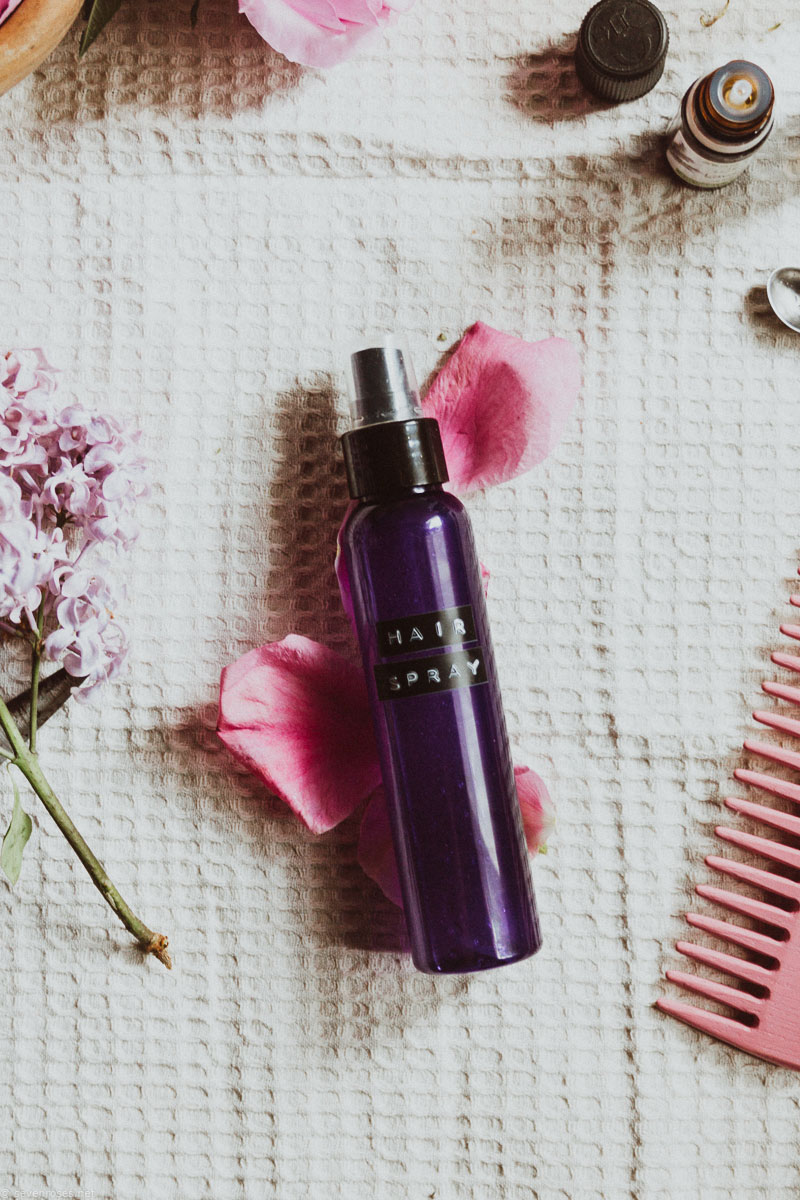 ❥  For use as a leave-in hair care products on dry hair:
on refresh days, mist your hair in the morning to help with untangling knots and styling without having to fully wash your hair (excess washes can weaken and damage the hair) by depositing a protective, softening veil;
you can also use it during the day as a touch up to redefine curls, tame fly-aways and help with the frizzy bits.
❥ For use as a pre-poo hair treatment on dry hair:
to use this DIY hair spray before the shampoo as a conditioning treatment, spritz a generous amount especially to the scalp as it balances and purifies it for optimal hair growth; then spend at least 1 minute giving yourself an upside down Ayurvedic head massage AKA The Inversion Method: simply bend forward and vigorously massage your scalp in circles. The position and the massage together help with blood flow to the follicles and help with hair growth.
Let rest in your hair for up to 30 minutes and wash as usual.
❥ For use as a hair treatment on wet hair:
just after the shower, separate your hair in half, shake the bottle and spritz generously your hair lengthwise, insisting on the roots and the ends. Finger detangle, helping your curls to form clumps, and let air dry (or use a diffuser on low heat).
Remember to clearly label the bottle, just like any other DIY creation. Whether you share your living space with other people, especially children, or you live by yourself, prevent any accidental ingestion or misuse by always labeling your DIY concotions ♥ (I often get asked what I use to make these vintage-looking labels, and it's the most basic "DYMO Embossing Label Maker" which I love and use everywhere around the house!)

And there you have it, a DIY Glycerin hair spray that will help you maintain or achieve a healthy scalp & silky, soft and hydrated curly and wavy hair. I hope you will give this DIY a try.
Do you use a moisturizing hair spray? If so, what is your go-to recipe? Don't hesitate to let me know in the comments below.
And don't forget to pin this post to share the love ♥
I wish you a love-filled day, stay safe xoxo