Disclosure: this post may contain affiliate links, which means we may receive a commission if you click a link and purchase something that we have loved & recommended. While clicking these links won't cost you any extra money, they will help us keep this site up and running! Please check out ourdisclosure policy for more details. Thank you for your support!
How and what to pack for Iceland in a carry-on? Here's a detailed list in order to be prepared for both adventures in the wild and city strolls in Reykjavik.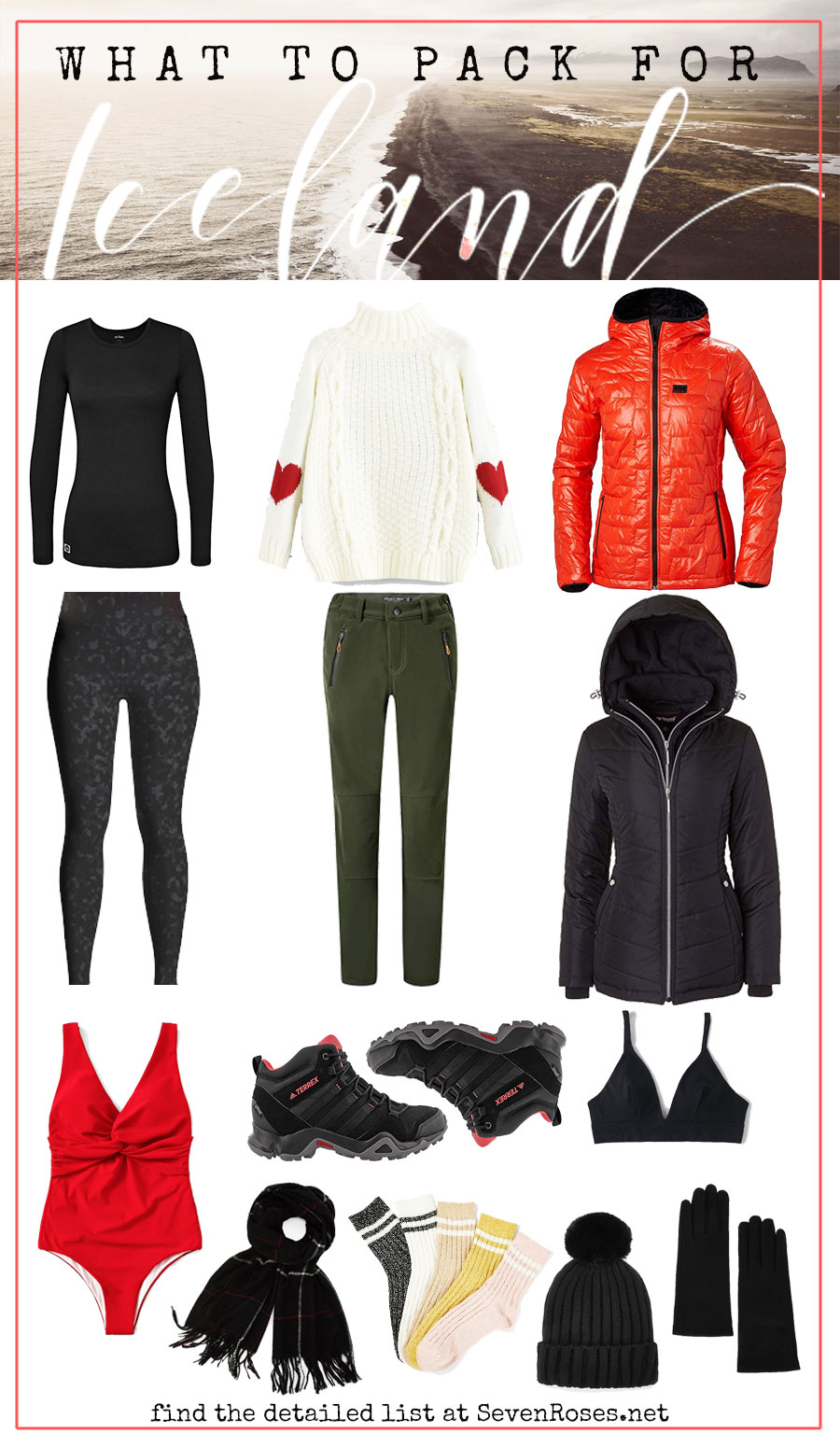 Hello my beautiful friends!
Our much-awaited trip to Iceland is still a few weeks away, but since I'm a list-freak and I love packing almost as much as I love traveling, I'm already getting ready with all my Iceland essentials, and I thought I'd share them with you. Since first mentioning our trip to Iceland on my Instagram stories, I've been flooded with questions such as "What do I need to pack for Iceland?" " what to wear in Iceland in April?" "How to pack for Iceland in a carry on?" …so I'm answering to all your questions here :)
We are going to Iceland at the very beginning of April, but as many people will tell you, in Iceland there's basically 2 seasons: a long Winter and a short Summer. So even though days will be getting longer, temperatures will still be cold and we'll hopefully still have the chance to catch the Northern Lights ♥
What weather conditions we're expecting to find in Iceland in April: lots of different weather changes throughout the day – sunny/rainy/snowy/windy with temperatures from -4°C to 7°C (25°F to 44°F).
So essentially this "what to wear in Iceland in April" packing checklist is for Winter.
I should also mention: I used to be an over packer. Which, when traveling with only a carry-on, is a big no-no. That's why I really want to make a precise, essential list this time, not to do the same mistakes over and over again. I hope you'll find it helpful. Tell me in the comments: are you an overpacker or underpacker?
What to pack for Iceland: the carry-on
Did I mention I'm only traveling with a carry-on? To be specific, I will have the pleasure of traveling with the amazing, responsibly sourced, innovative Pakt One carry-on #keeptravelsimple
What I love about this bag:
– the packaging has NO plastic whatsoever. It comes in a beautiful cardboard box;
– the Pakt One has 35 liter capacity and is accepted by most if not all flight companies, even the strictest one like the one we'll be flying with;
– it includes a comfy padded shoulder strap and a comfortable top handle;
– it has a clam-shell opening for easy access, 2 main compartments and a padded laptop compartment, 4 small mesh pockets for that miscellanea that always seem to float in your luggage, and other clever pockets, hooks & loops and little details that really make you understand this bag was created by people that travel, a lot;
– it even includes a reusable tote bag for shopping or anything, really;
– finally, the smartest, most wonderful detail: the Pakt One has a built-in mesh TSA compartment to store and show your liquids (one less plastic bag to use).
The clever structure of this carry-on shows how this bag has been created by experienced travelers for experienced travelers. It feels the Pakt One might very well be the only bag you will ever need in your life. So if the price scares you ($325 with free shipping in the USA) just know you won't be buying another bag anytime soon.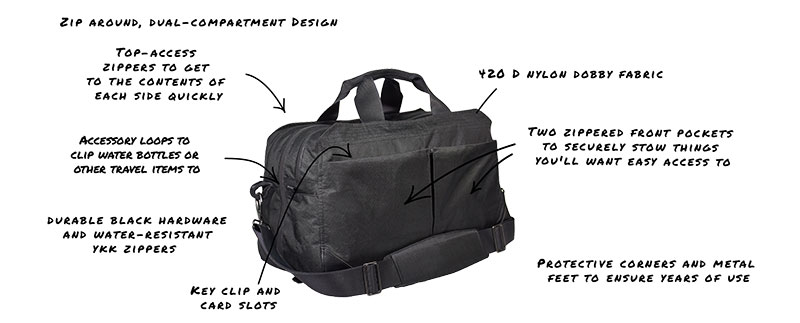 Also, they commit 10% of their profits to SeaHive, an organization they created to help other companies eliminate plastic from their product packaging. I love when companies give back in such a wonderful way.
I've been using the Pakt One for everything; traveling for work, weekend getaways, so it's finally time to use it for the most amazing trip of my life (yet).  You can get so much into this bag, and it's sturdy and durable.  It is robust, beautifully made, and will certainly survive a lot of use.
What to pack for Iceland: Layers
Remember that basically all year long, packing for Iceland means packing layers.
– So to begin: basic undershirts. I like basic black thermals like the Sivvan Women's Comfort Long Sleeve T-Shirt/Underscrub Tee  because it goes under anything.
– Sweaters for cold weather and comfy sweatshirts or hoodies for lounging around back at the hotel. Bring at least 2. I love this comfy High Neck Heart Print Jumper. It keeps you warm, it fits perfectly under jackets and looks so so lovely in photos ;)
– Leggings to layer under your pants/jeans, and for just hanging around back at the hotel. The ones I've been wearing non-stop are the Obsidian Black Camo Leggings: it's the best type of legging I've ever had – extra high-waist for maximum tummy control + antimicrobial moisture wicking fabric and quick-drying for comfort and convenience. These are perfect to take on a trip.
– Pants/jeans: hiking pants for daytrips and exploring/adventure + your fave jeans for sightseeing in Reykjavik.
For your adventures, pants such as Camii Mia Women's Windproof Waterproof Sportswear Outdoor Hiking Fleece Pants are your best bet, they are both incredibly warm and waterproof. They also look really cute if I may add :)

Obsidian Black Camo Leggings
from: Panaprium
What to pack for Iceland: Outwear
– More layers! Start with a packable, warm rain/windproof hiking jacket (that can possibly be worn under another jacket or folded if not used) – pro tip: choose a bright color that will look stunning in your photos, against the glaciers, black beach and cloudy skies ;-) my choice is the Helly Hansen Women's Lifaloft Hooded Insulator Jacket which is a new technical material, totally cruelty-free and extra warm. Yay!
– A weatherproof heavy-duty jacket/parka (preferably with a hood) as an outer layer. I chose this Women's Down Alternative Quilted Midlength Vestee Puffer Jacket with Fleece Hood for extra warmth.
– A casual scarf for city walks and a fleece, warm neck buff for windy/chilly days out in nature.
– Two warm hats/beanies (two in case one gets wet)
– Two pairs of gloves (better than mittens): a thin and a thicker pair so that they can be layered if needed.
What to pack for Iceland: Footwear
– Warm hiking socks (1 pair per day, and keep one extra pair in your day bag in case your feet get wet).
– One pair of slipper socks for lounging back in your hotel room.
– Heavy-duty weatherproof hiking boots:  I love the 100% Vegan Adidas outdoor Womens Terrex AX2R Mid GTX for exploring. They are super lightweight, which is great when you're hiking for a full day; they are waterproof and keep your feet warm and dry. These are my dream hiking boots. Pro tip: make sure you wear your hiking boots before embraking on a trip with them, don't bring brand new shoes/boots that might give your problems.
– Casual but still warm shoes for sightseeing in Reykjavik, going out for dinner or shopping.
– Flip flops for going to the hot springs/lagoons (and for the hotel room as well, never ever walk barefoot in carpeted hotel rooms!)
– Extra: crampons (you can also buy/rent them locally if you really need them).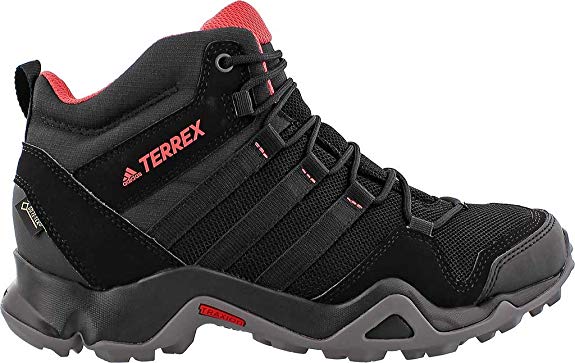 Adidas outdoor Womens Terrex AX2R Mid GTX (Vegan)
What to pack for Iceland: Personal items & accessories
– You will definitely need a swimsuit (or two) if you plan on going to the hot springs. I'm taking this flattering Twist Ruched Low Back One Piece Swimsuit in coral red that, once again, will look stunning in photos at the Blue Lagoon ;)
– Also bring with you a small and a bigger quick drying towels.
– As many undies as the days you're staying + 1 & pjs
– 2 sports/comfy/soft bras. I'm obsessed with Organic Basics' Triangle Bra made with GOTS certified organic cotton for the softest feeling, you actually forget you're wearing it. This triangle bra is a sustainable, ethical choice with the most comfortable and traditional fit. I wear it when hiking, doing yoga or just lounging at home.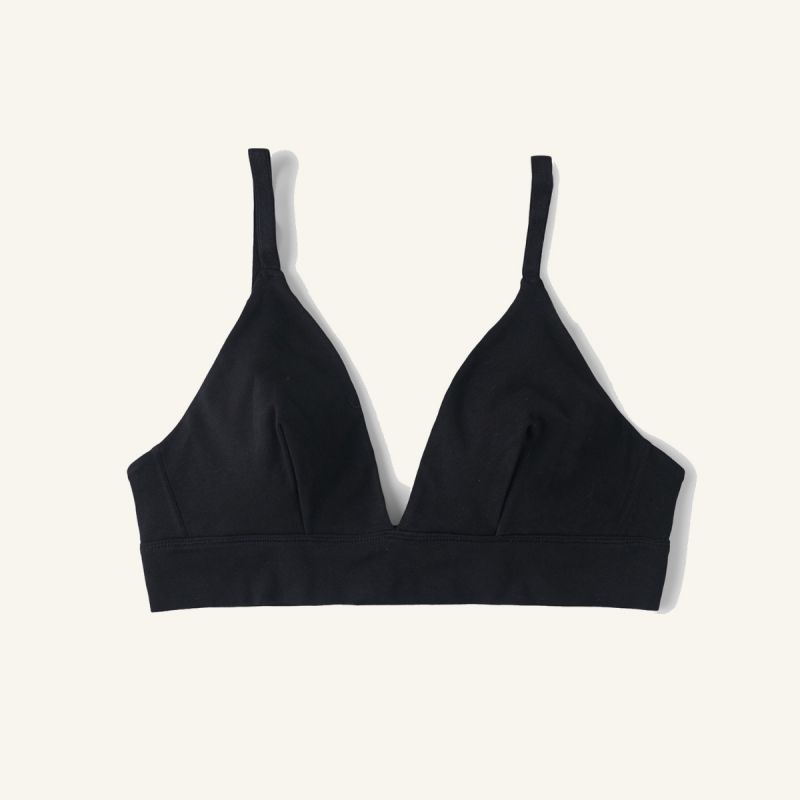 Organic Basics Organic Cotton Triangle Bra (black)
– One or two pairs of sunglasses (a polarized, sporty one for adventure days, a more classic one for quiet strolls in Reykjavik) .
– Pack your own medicines if you're currently taking any.
– Camera gear, extra batteries, memory cards, gorilla pod, chargers etc.
– Maps, guides, books, e-reader, cell phone, earplugs, your travel essentials.
– Reusable/refillable water bottle (tap water is ok to drink all over Iceland).
– Reusable (bamboo?) cutlery set in order to avoid picking up plastic forks/knives when eating on the go.
– Hand-warmers (can also be used as a very discreet warm water bottle for your tummy and as a battery-life saver)
– 1 small backpack or messenger bag for sight-seeing / city walks. I will bring my bestie Gootium Canvas Messenger Bag – Vintage Cross Body Shoulder Satchel, that is a compact, durable, vintage-looking amazing bag. I opted for this rather than the usual backpack also to feel/look a little bit less of a tourist when I'll be café hopping in cool Reykjavik downtown ;-) it has plenty of room to hold my phone, wallet, the refillable water bottle, snacks, scarf + gloves, a city guide, map and my camera. Plus even more space for any mementos and things I'll be buying while out and about.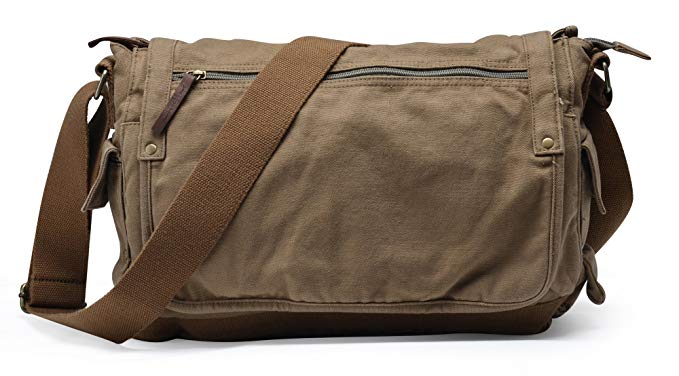 Gootium Canvas Messenger Bag – Vintage Cross Body Shoulder Satchel
from: Gootium "durable and vintage canvas products"
What should you not pack to Iceland?
– Basic sneakers: unless you plan on running/jogging during your trip, sneakers are probably going to be useless. Not warm enough, hardly wind/waterproof.
– Cotton towels: they take too long to dry, and you'd be carrying around soaking wet cotton that weighs a lot.
– Huge sweaters that don't layer well under jackets.
– New footwear that hasn't been tried & tested before on long hikes.
– Umbrella: as many will tell you, an umbrella might be just too flimsy to withstand the rain + wind. You'll be better off with a good rainproof jacket + hood.
– Hair dryer: most if not all hotel rooms have a hair dryer, and the hot springs' facilities as well.
– Don't bring expensive and fancy jewelry. Iceland is the place where you can learn to be more in contact with nature and the elements. Embrace that. Also, most places have a cool vibe and don't require a dress code. Do like the locals.


I hope you all enjoyed my What to pack for Iceland in a carry-on
Have you ever been to Iceland? What are some of your traveling essentials? Let me know in the comments' section below, I'm sure you've got tips for me :)
And don't forget to pin this post to spread the love ♥
I wish you a love-filled day xoxo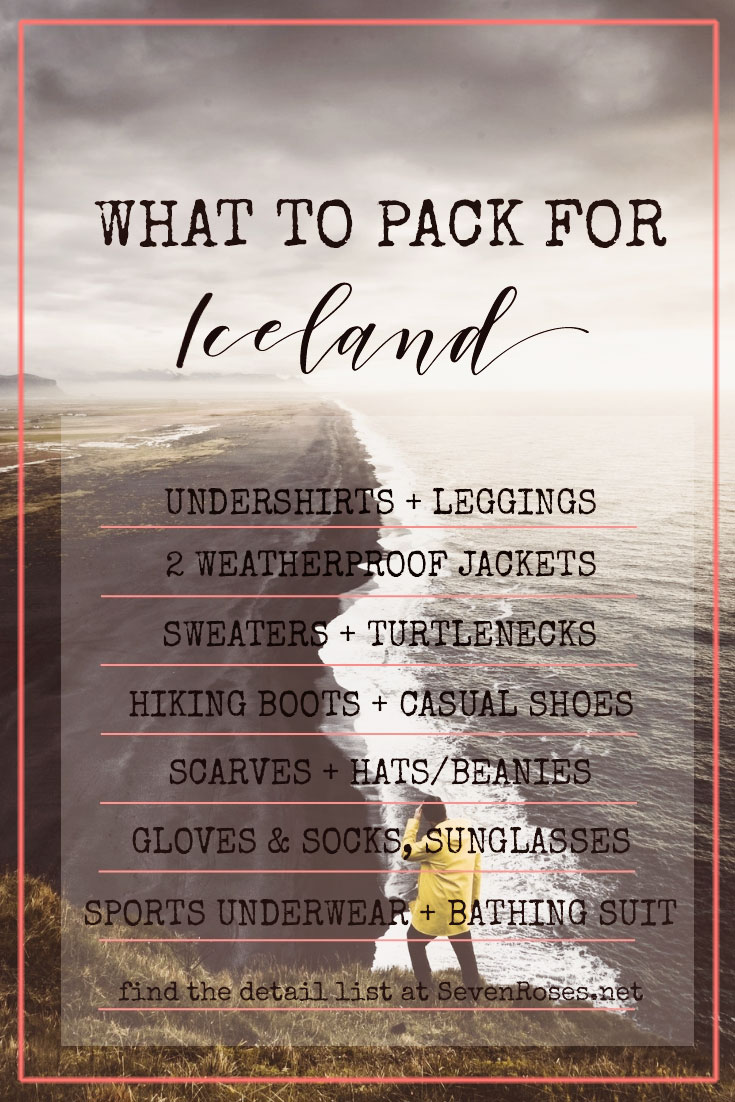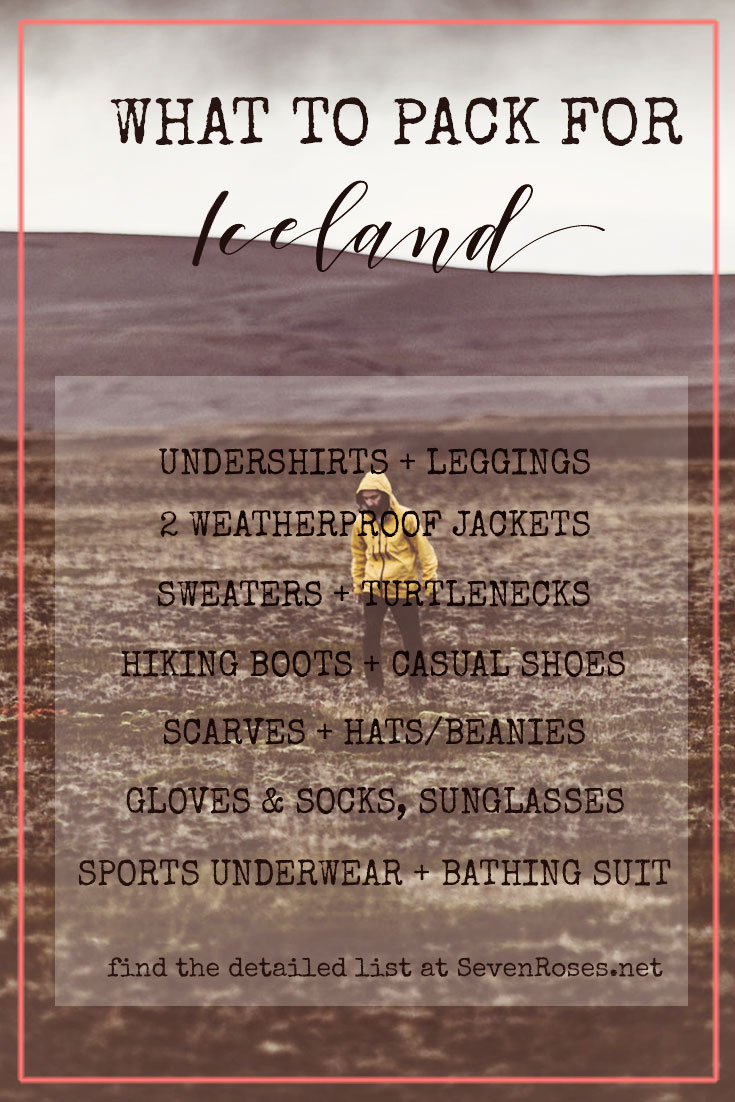 Disclaimer: I've been fortunate enough to receive some of the above mentioned products for free to try, but opinions and the choice to review are 100% my own. This post contains affiliate links.