This summer zucchini soup is a simple, quick and refreshing dish, perfect for hot summer nights.
With its mild, slightly sweet and nutty taste and velvety texture, this creamy soup is packed with vitamins, fibers and minerals to get you through the hottest months of the year.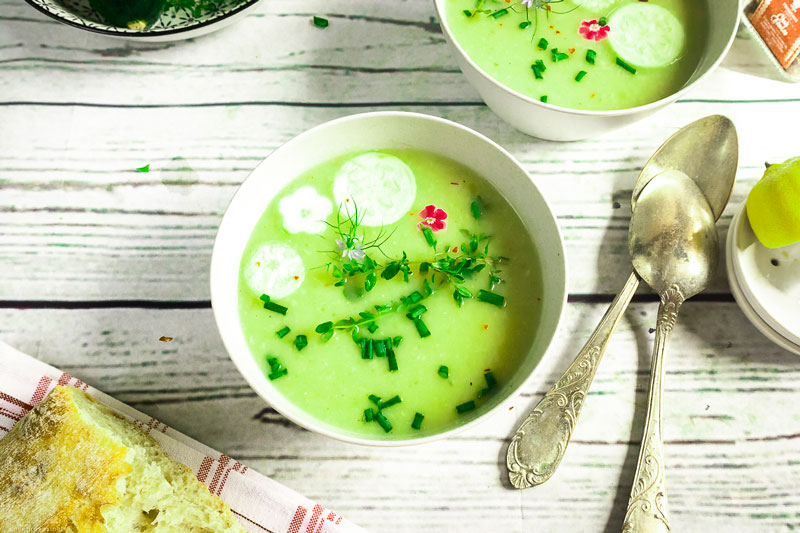 Hello my beautiful friends! Today we're making a courgette/zucchini creamy soup, my current obsession.
It's such a simple and yet satisfying dish, a summer version of your favorite hearty winter / creamy soup, which we love here at the Burrow – the perfect dinner recipe. So in order not to deprive ourselves of these delicious, hearty dishes when the heat strikes and to make the most out of this lovely seasonal vegetable, just make a chilled variant of a delicious vegetable-based creamy soup.
And when I say that this soup it's all you'll want to eat right now (a bold statement, I know) I mean it. Obviously, I'm talking to all my fellow soup lovers, out there. This is SO good, so refreshing and so easy to make – probably the easiest recipe on my blog, and you know I'm all about easy, time-saving recipes.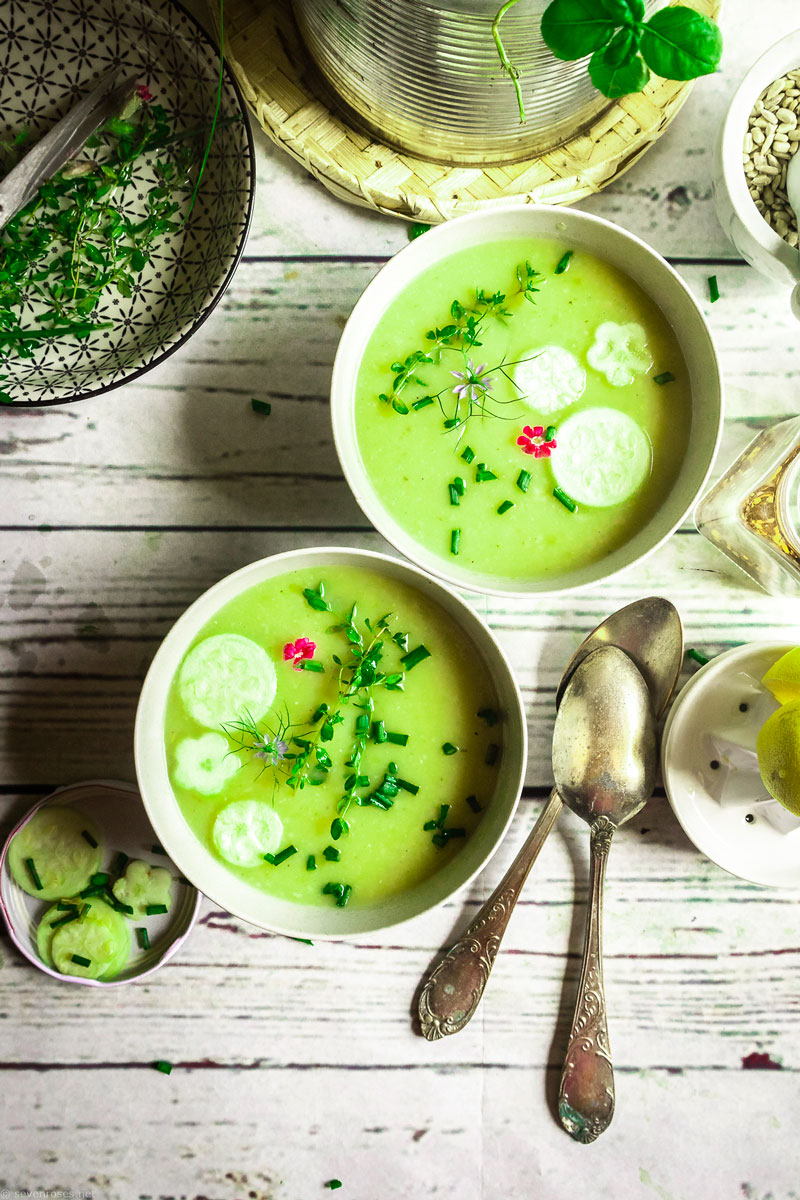 Low in calories, but rich in water, courgettes are very satiating and are therefore a good ally in low-calorie diets. They are packed with vitamins, fibers and minerals, have anti-inflammatory and diuretic virtues, and they contain a lot of potassium, which is precious for fighting fatigue and relaxing the mind.
Another virtue? They are also very easy to digest.
So this cream of zucchini soup is also ideal to take with you for lunch at work or school because it won't weigh you down and it doesn't need to be reheated. Make it the evening before, keep in the fridge, bring it to work in a cute soup mug or in a leak proof soup bento and you're ready to go.
In this recipe I'm using bright, juicy summer courgettes, the most savory ones, (which can actually be eaten raw or cooked) but you can use the same recipe and substitute the zucchini with yellow summer squash, if that's what you have on hand.
Did you know…. while it's typically treated like a vegetable, technically zucchini is a fruit, because it grows from the zucchini flower (which is also edible and tasty). source
This is a light recipe, very nutritious and yet low in calories. Zucchini are so versatile and can be used in so many different ways! Just make sure to choose them firm and bright green (those large overgrown zucchini that were left a tad too long in your vegetable patch are perfect for this!).
Besides zucchini as the main ingredient, you can enhance the flavor of this summer zucchini soup with the addition of fresh aromatic herbs straight from your garden/window sill, including basil, chives, thyme or mint. Or fresh lemon juice, seeds, soy cream or yogurt … Each time you can add something different!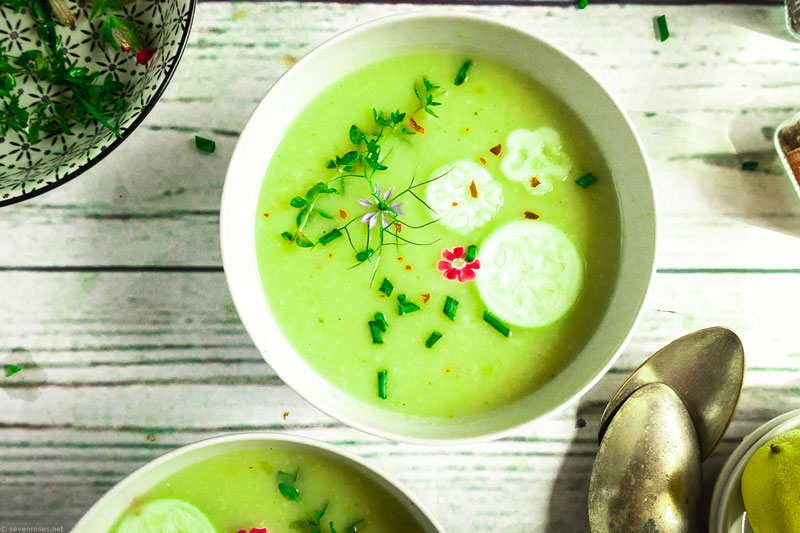 I feel this recipe would be the perfect addition to a summer meal paired with my French rustic tomato tart with puff pastry.
Now that would be my ideal laid-back, tasty, summery meal :)
And by the way, this creamy, velvety, chilled soup is ideal for summer, because it's based on one of the most common seasonal vegetables. But even though this version is intended to be eaten chilled, it can actually be prepared in the same exact way and served hot off the stove during colder months.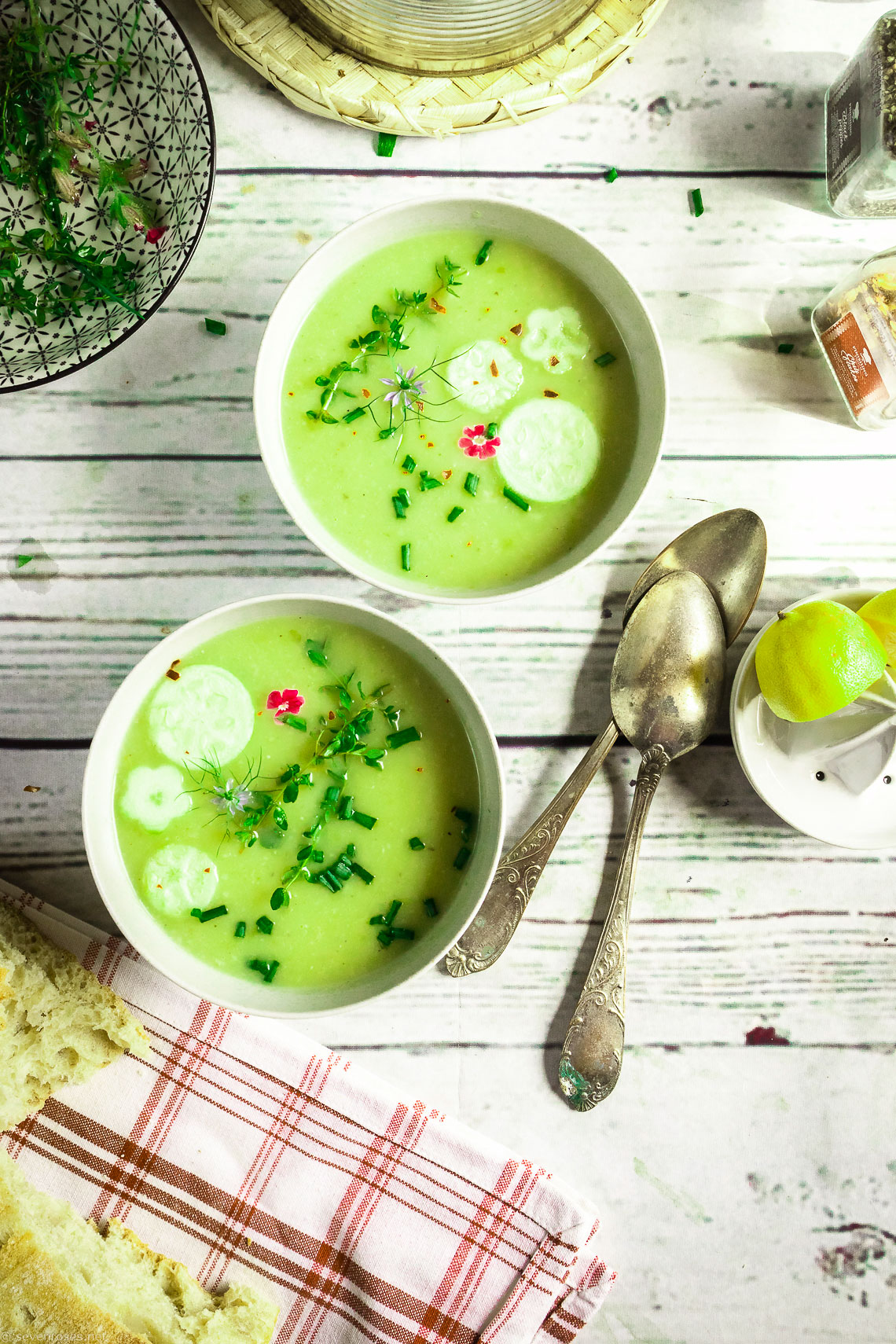 This cream of zucchini can also be served cold in small glasses, as a finger food / appetizer at dinner parties and apéro dinatoire . And if you don't want to skip on pasta, this delicious zucchini cream can be the sauce for any type of pasta dish, both hot and cold ;-)
Now, let's get started….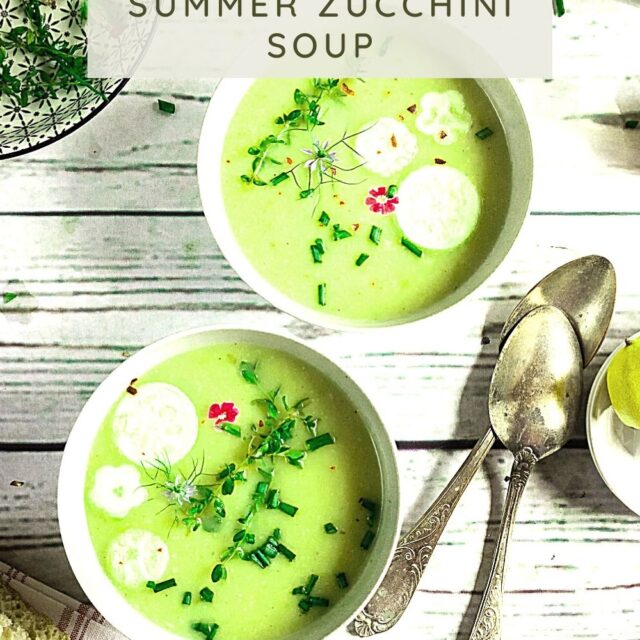 Refreshing Summer Zucchini Soup
This summer zucchini
soup
is a simple, quick and refreshing dish, perfect for hot summer nights. With its mild, slightly sweet and nutty taste and velvety texture, this creamy
soup
is packed with vitamins, fibers and minerals to get you through the hottest months of the year. ....But you can totally eat it hot off the stove during winter months as well!
Ingredients
6

zucchini

(or 1 large overgrown ) or use summer squash

1

large potatoes

1

yellow onion

2

cloves

garlic

1

litre

water

1

bouillon cube

fresh herbs

for garnish

4

tbsp

soy cream

optional, for garnish
Instructions
To make this cold zucchini

soup

, start by slicing the onion and mince the garlic. Put a tablespoon of water (or oil) in a pot on medium-high heat, add the garlic clove and onion. Let cook for 2 minutes.

In the meantime, wash the zucchini, trim the ends and roughly chop them. Wash, peel and cube the potato. You don't have to be too precise when cutting your veggies, because we're going to blend this later anyway. Then add the chopped zucchini & potato to the pot, stir and cook for 5 minutes. Cover with water, add the bouillon cube and bring to a boil, then lower and let simmer for 15 minutes or until the veggies are nice and tender.

Remove the

soup

from the heat, let it cool down a bit before using handheld immersion blender (or transfer to a blender) to turn this into a smooth cream. Cover, let cool and put in the refrigerator for at least 1 hour (even better if overnight, the flavors will develop even more).

When ready to serve, you can add a dollop of soy cream or plant-based yogurt, salt, black pepper or chili flakes. You can also add your favorite fresh herbs (mine being basil, chives, thyme and mint), carrot ribbons and

edible flowers

- both for decoration and taste. ...And a sprinkle of nutritional yeast aka "nooch" is always welcome!
If you give this refreshing summer zucchini soup recipe a try, please let me know in the comments' section below!
You can also find me on social media. Be sure to tag @francesca_sevenroses on Instagram or @sevenrosesblog on Twitter and Facebook, and use #sevenroses so I'm sure to see it.
…And don't forget to pin this recipe to spread the love ♥