From homemade pasta to decadent desserts, with these 3-ingredient recipes you can still prepare amazing food, even with a halft-empty pantry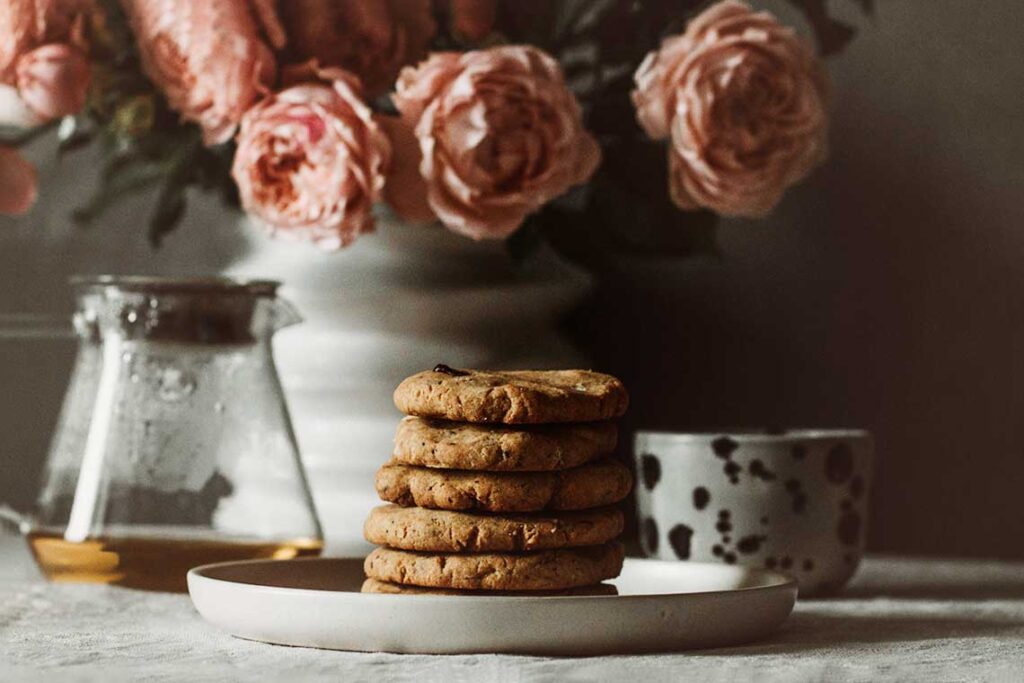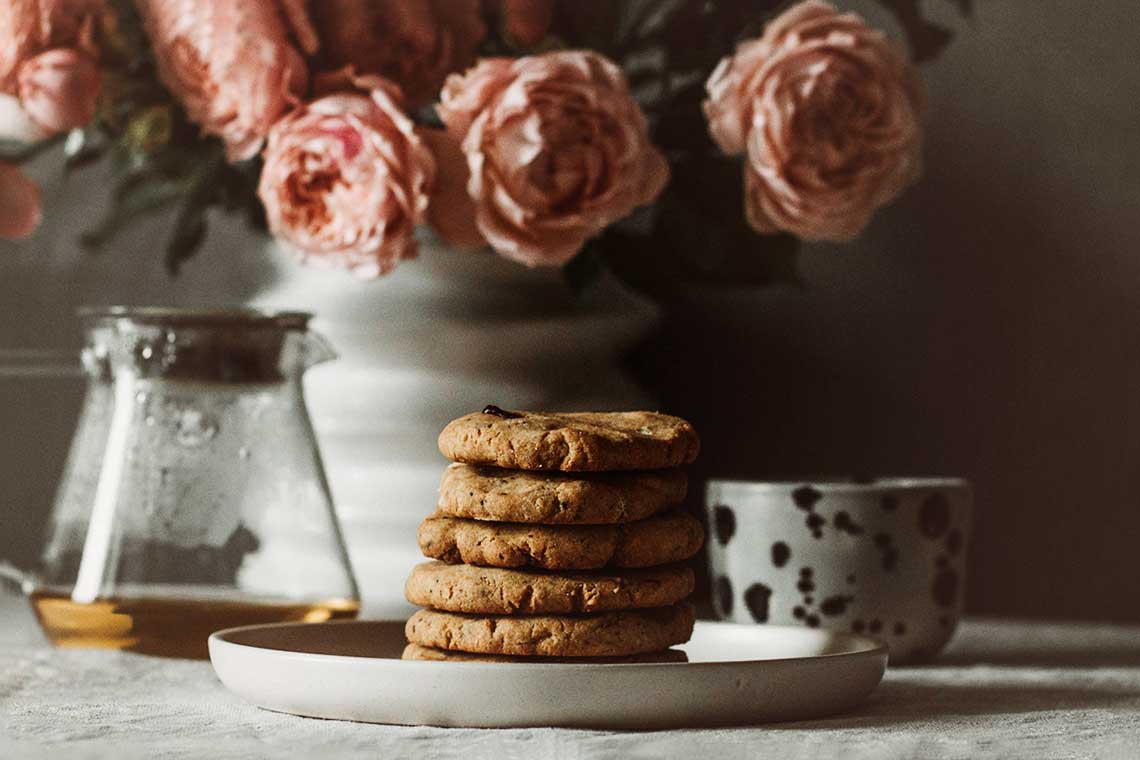 Hello my beautiful friends!
You asked, and I've delivered: more amazing 3-ingredient recipes are coming your way today! Good, comfort food is always an essential, but easy recipes are your real best friend right now. Whether you have a half-empty pantry, a sudden craving or you simply need some easy, effortless food ASAP, finding a way to make great food with as little as 3 ingredients may not seem possible… And yet I've uncovered 20 ways to make Vegan, delicious and simple 3-ingredient recipes.
But how do you make great recipes with such a short list of ingredients? First of all, go back to the basics (as in: ingredients); second, use your pantry staples in a creative way. Some of our favorites? With a variety of flavorful declinations like breads, homemade pasta, comforting soups, filling snacks and decadent desserts, you may actually find a few new favorites among this list, or even one for every season.
Most so-called "easy recipes" are not always that easy. Sometimes easy recipes call for a well-stocked pantry or at least one unheard of star ingredient. But not for these genuinely easy, 3-ingredient Vegan recipes. Some are complete meals, some are a good base to build upon, some are decadent treats.
All of these are Vegan, obviously dairy-free, require no eggs and no meat, some are even gluten-free, and use only three ingredients other than water, salt, pepper and oil. As simple as ready, steady … cook!
As I often do, in order to compile this 30 Vegan, delicious and simple 3-ingredient recipes' selection, I've asked the help of the most talented fellow bloggers out there. Copyright of the images used belongs to their owners and are linked with each recipe: I invite you to visit their sites, leave a comment and give these recipes a try. Be sure to scroll all the way to the end so you don't miss any of the great ideas. And don't forget to pin your favorites as you go!
Let me know which are your favorites from this list, and which ones you'll be trying first.
Savoury 3-ingredient recipes (appetizers, snacks, main dishes, sides etc.)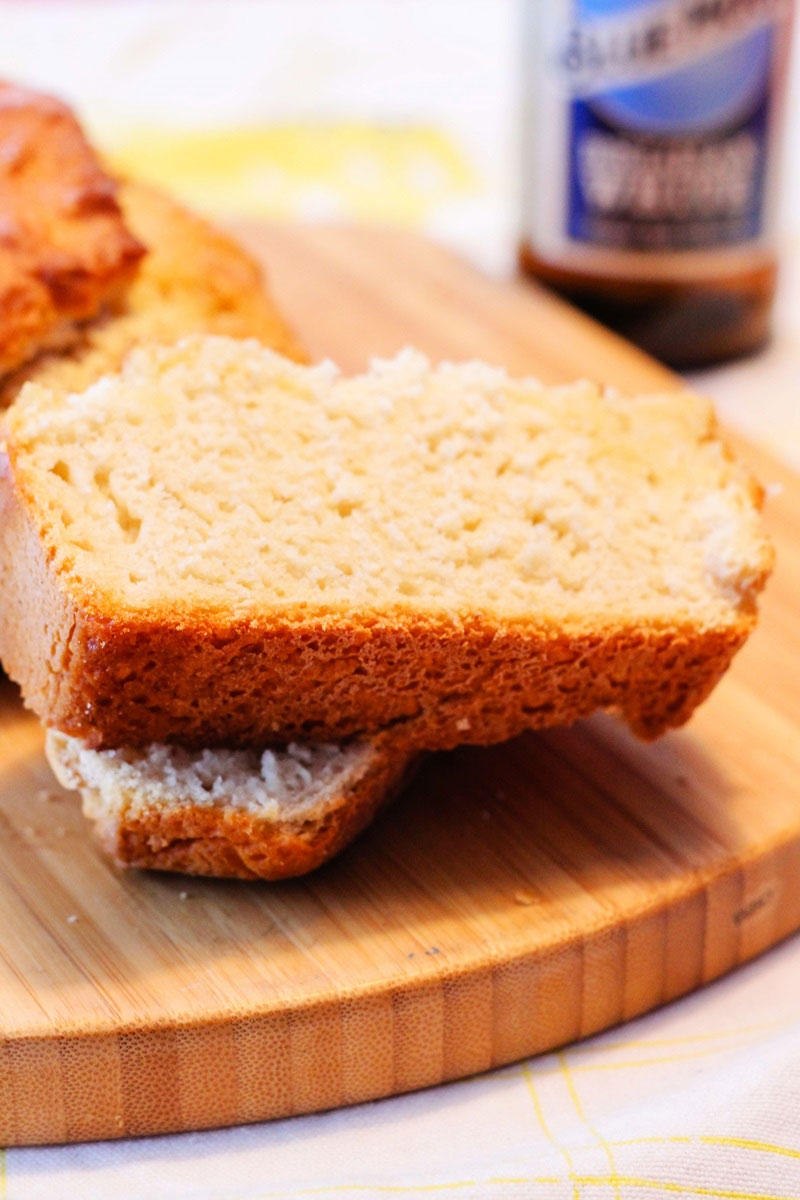 Dairy Free Beer Bread at Go Dairy Free – As if beer bread wasn't easy enough – this vegan recipe uses self-rising flour to make it even quicker.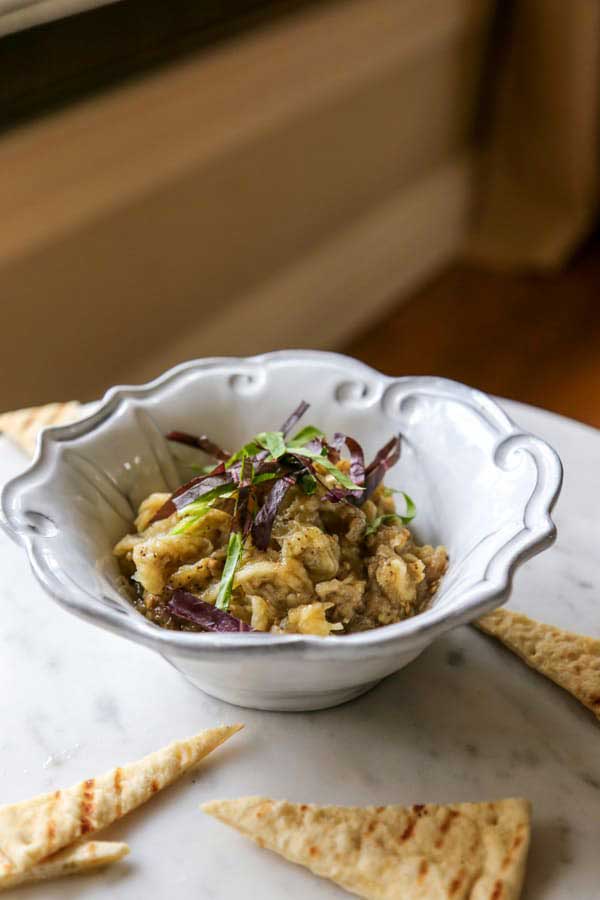 Roasted eggplant paté at Eating Works – This Roasted eggplant pate is easy to make, vegan, low calorie and is full of flavor! It goes well with salads, grilled vegetables, and of course with pita chips!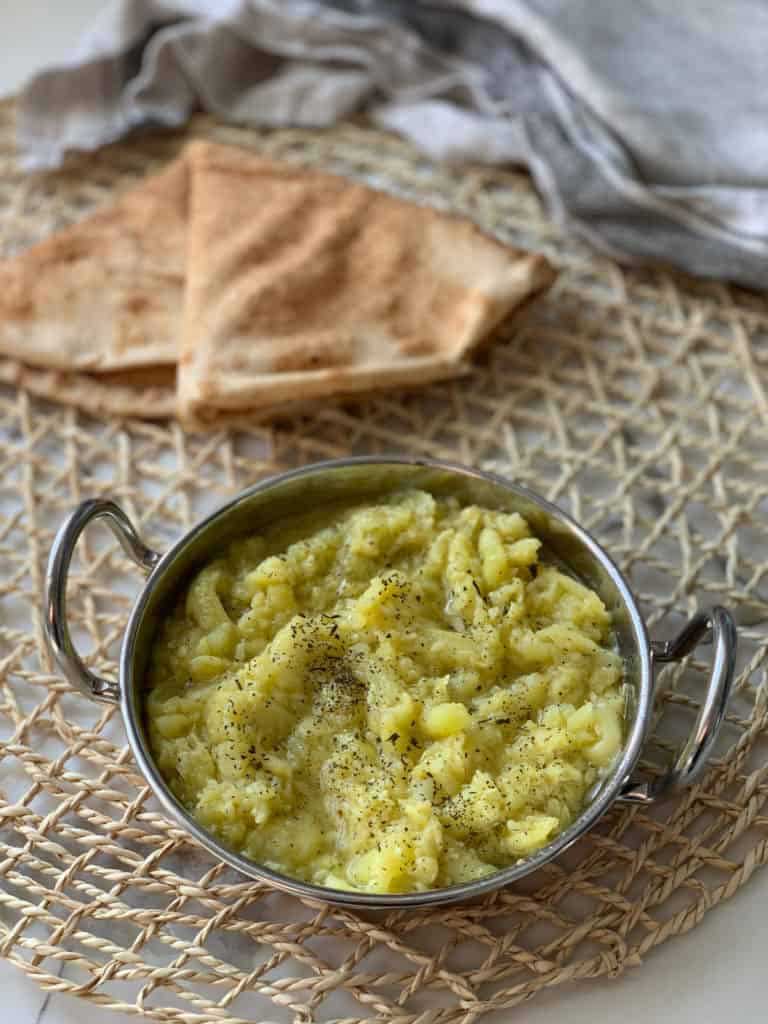 Lib El Kousa at Plant Based Folk – Looking for something a little different, try this tangy side dish made from your leftover zucchini flesh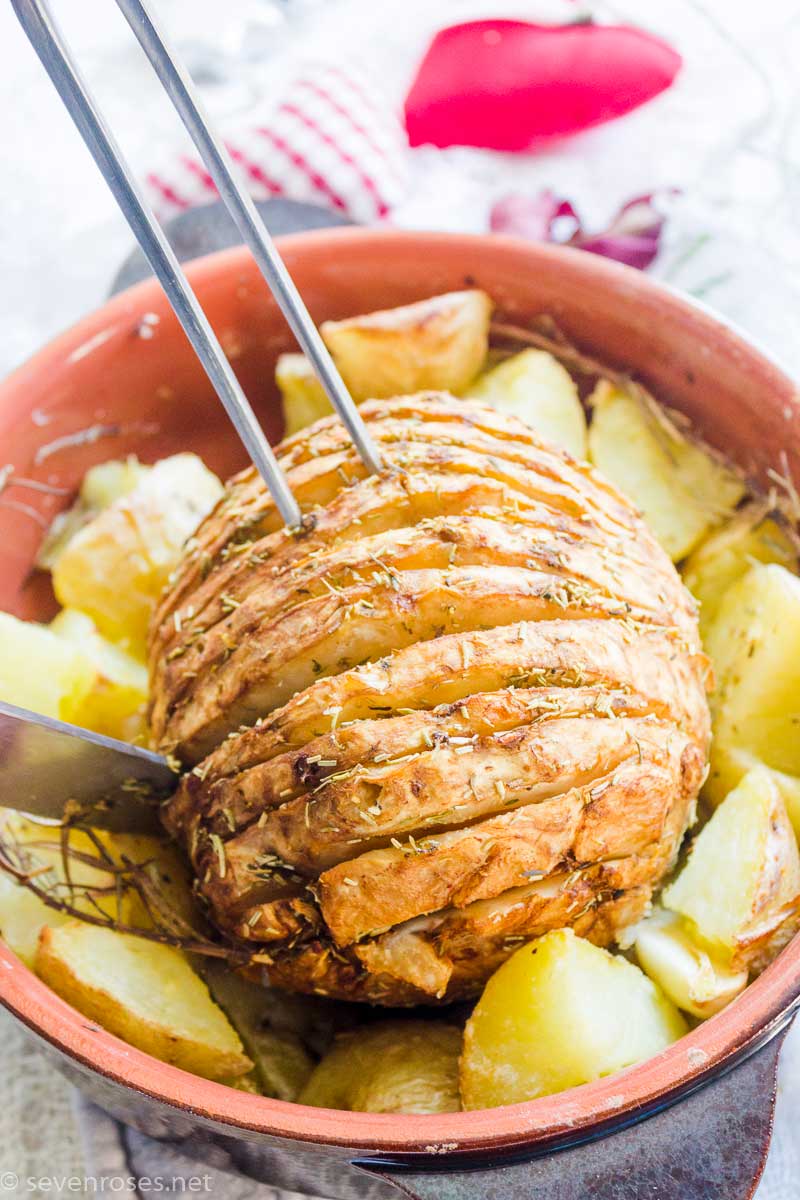 Vegan Holiday Roast by SevenRoses, yours, truly – A 1-inexpensive-ingredient Vegan Holiday Roast that will please Vegans and meat-lovers alike. Just add a little magic blend of herbs and condiments… The smell of this Vegan Holiday Roast will make everybody rush to your table =)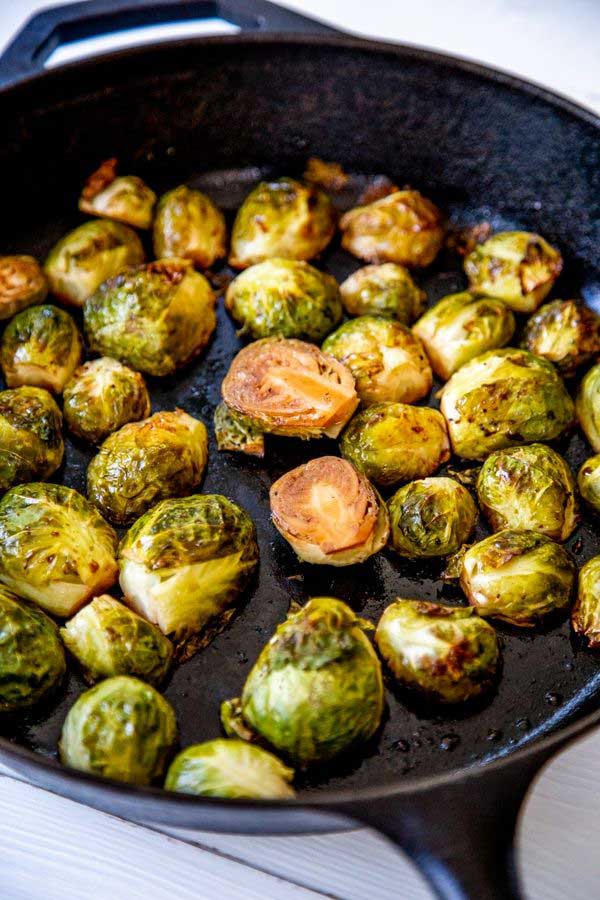 Crispy Roasted Balsamic Brussels Sprouts at Veganosity – These crispy roasted Brussels sprouts are so easy to make and are great as a side dish or a snack.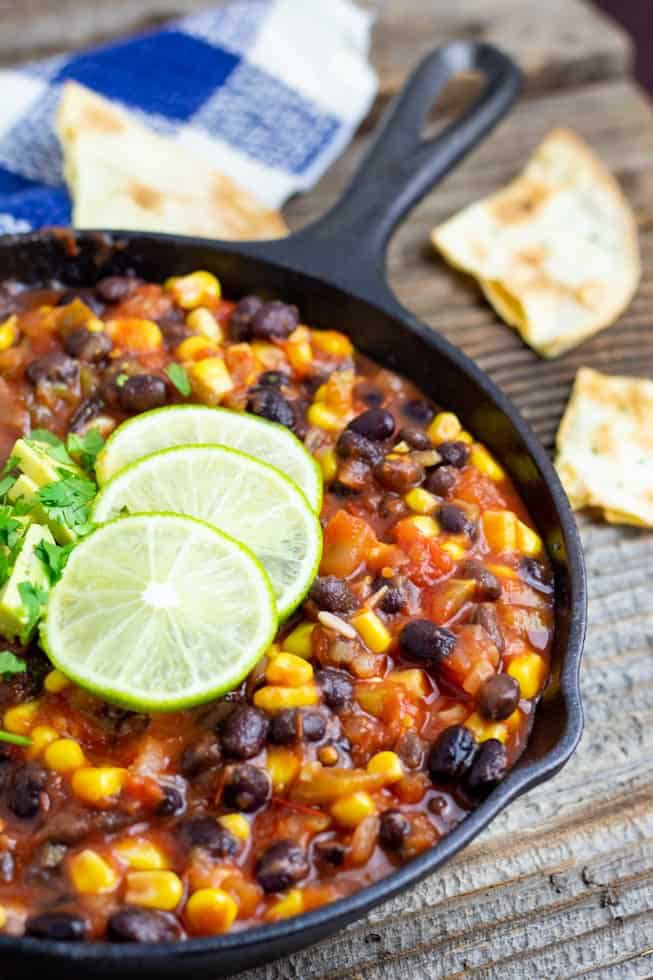 Yes-You-Can Vegan Black Bean Chili at Eat Plant Based – No meat? No problem! This vegan Yes-You-Can Black Bean Chili recipe has all the taste of hearty chili and can be ready to eat in 15-minutes or less. The convenience of a three-ingredient recipe without any greasy pans to clean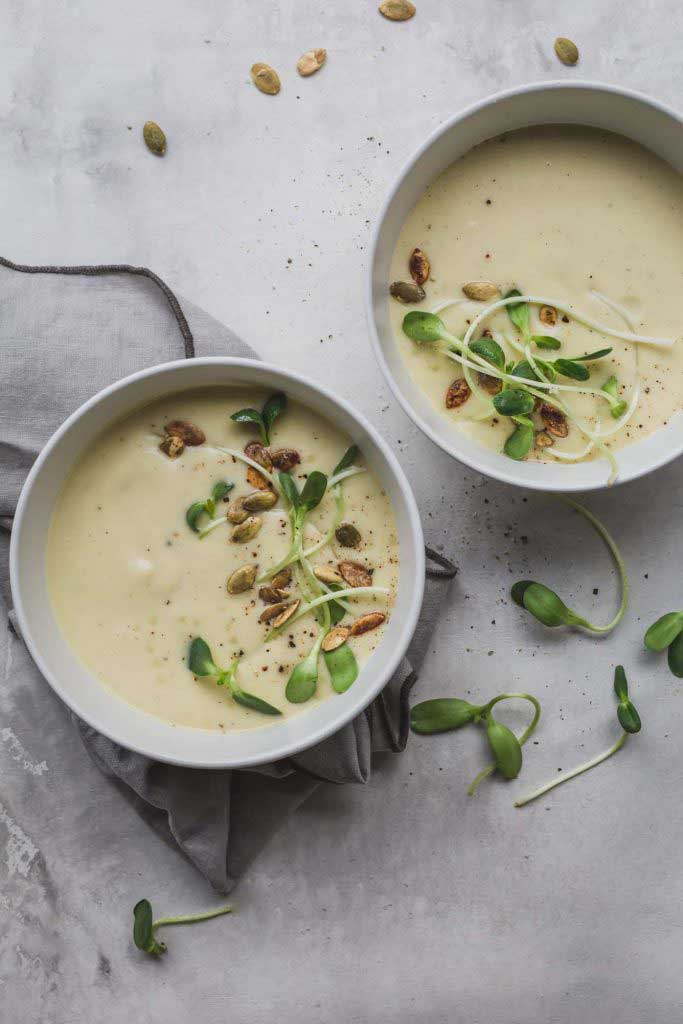 3-Ingredient Vegan Zucchini Soup (Gf) at My Goodness Kitchen – This 3-ingredient vegan zucchini soup is deliciously creamy from the cashews, light from the zucchini and ready in less time that it takes to get a pizza delivered.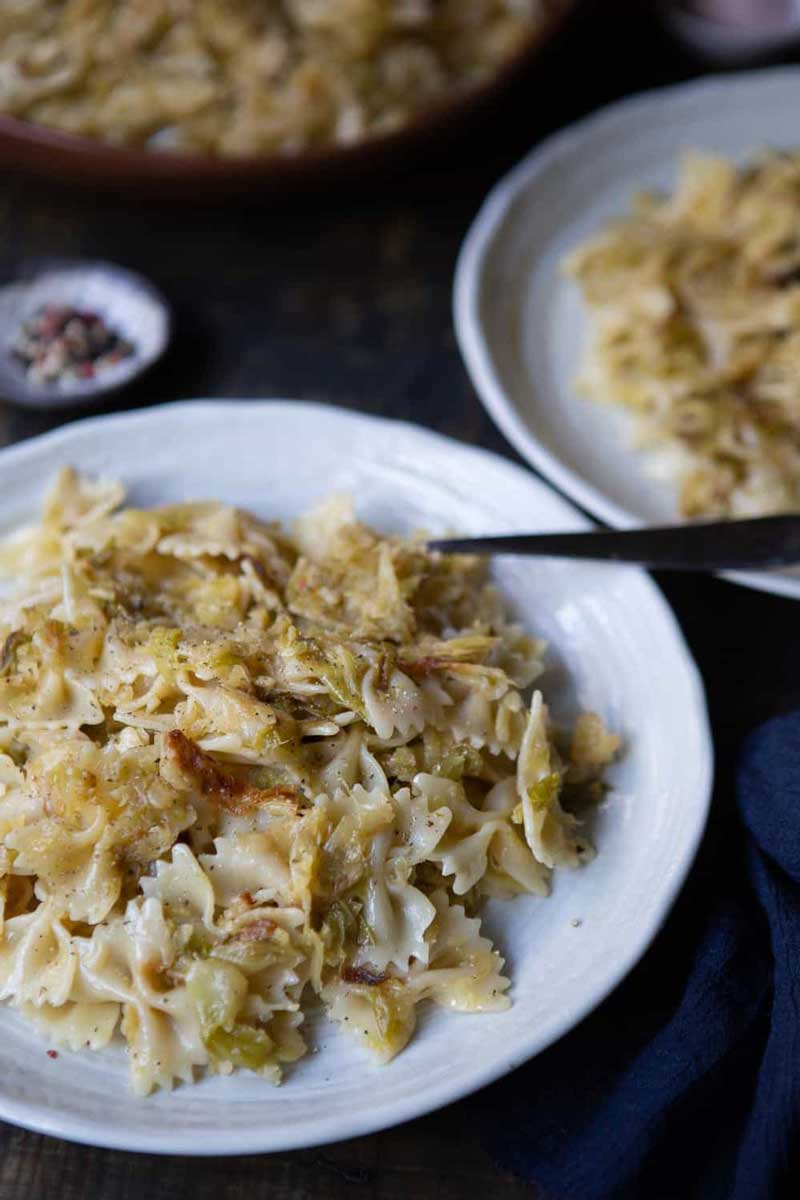 3-ingredient Cabbage Pasta at The Minimalist Vegan – This is such an easy recipe and very delicious! Even the super skeptical people have loved it :)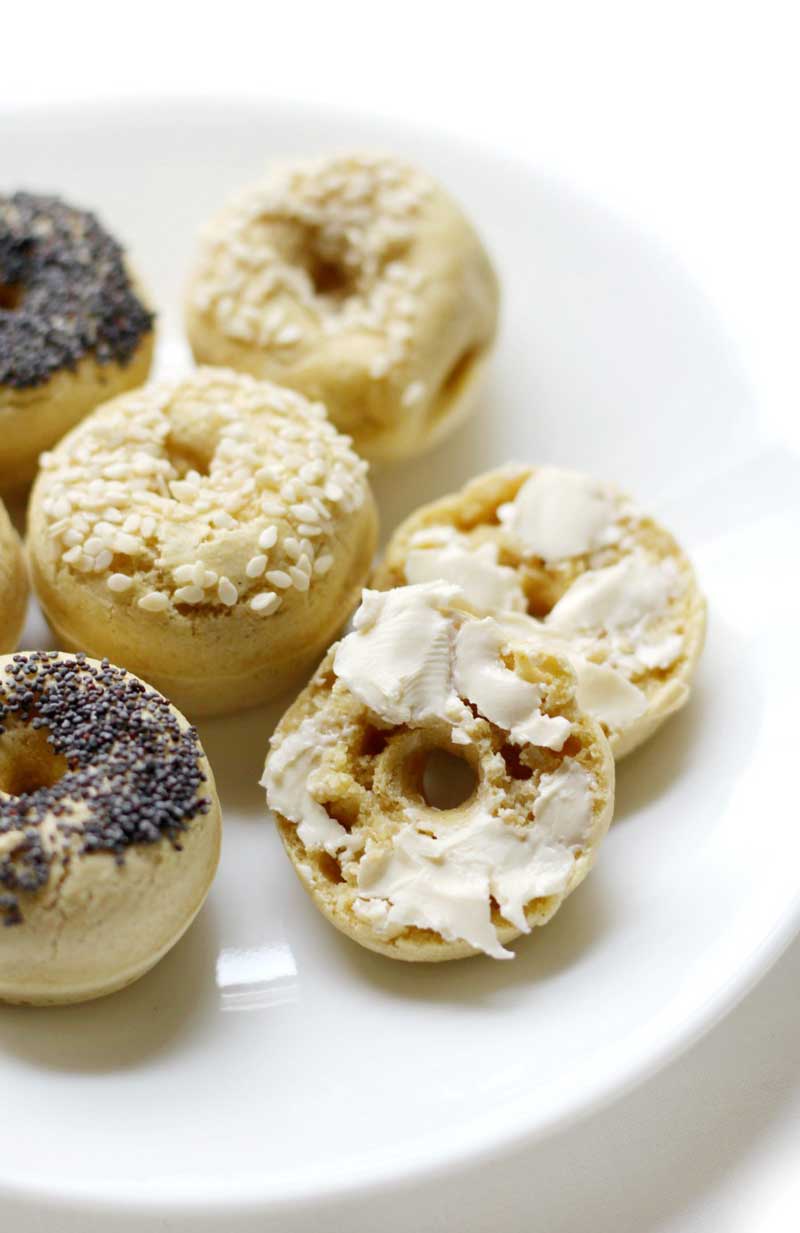 Homemade 3-ingredient gluten-free mini bagels at Strength and Sunshine – What's better than a fresh homemade bagel? How about 3-Ingredient Gluten-Free Mini Bagels! They're vegan, allergy-free, don't require yeast, are freezer-friendly, and so quick and easy to make! Bake up a batch for fun kid-friendly breakfasts or snacks; customize them with toppings and spreads; perfect party food too!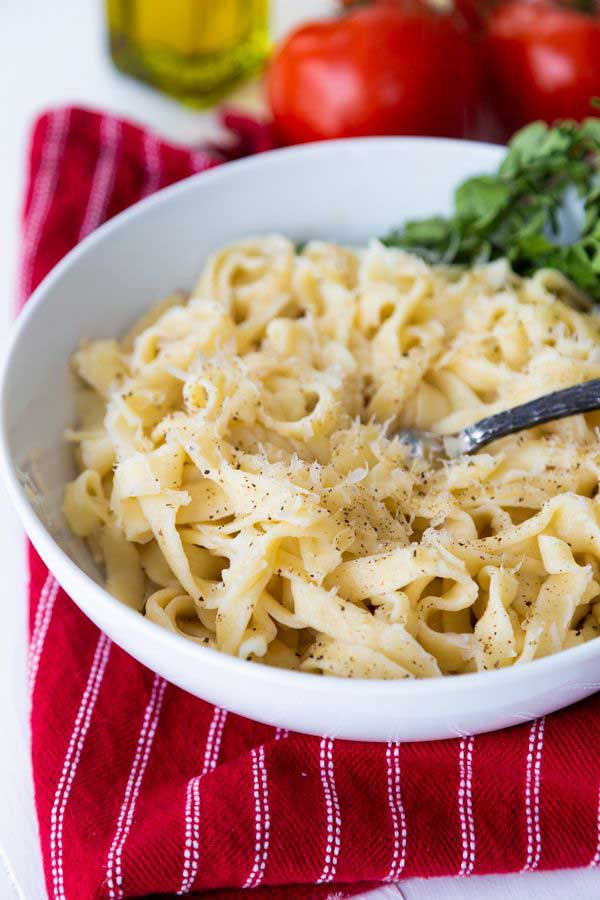 Homemade Pasta at Veganosity – You can make homemade pasta with 3 simple ingredients. It's easy and delicious!
Sweet 3-ingredient recipe ideas (breakfast, snacks, cookies desserts, etc)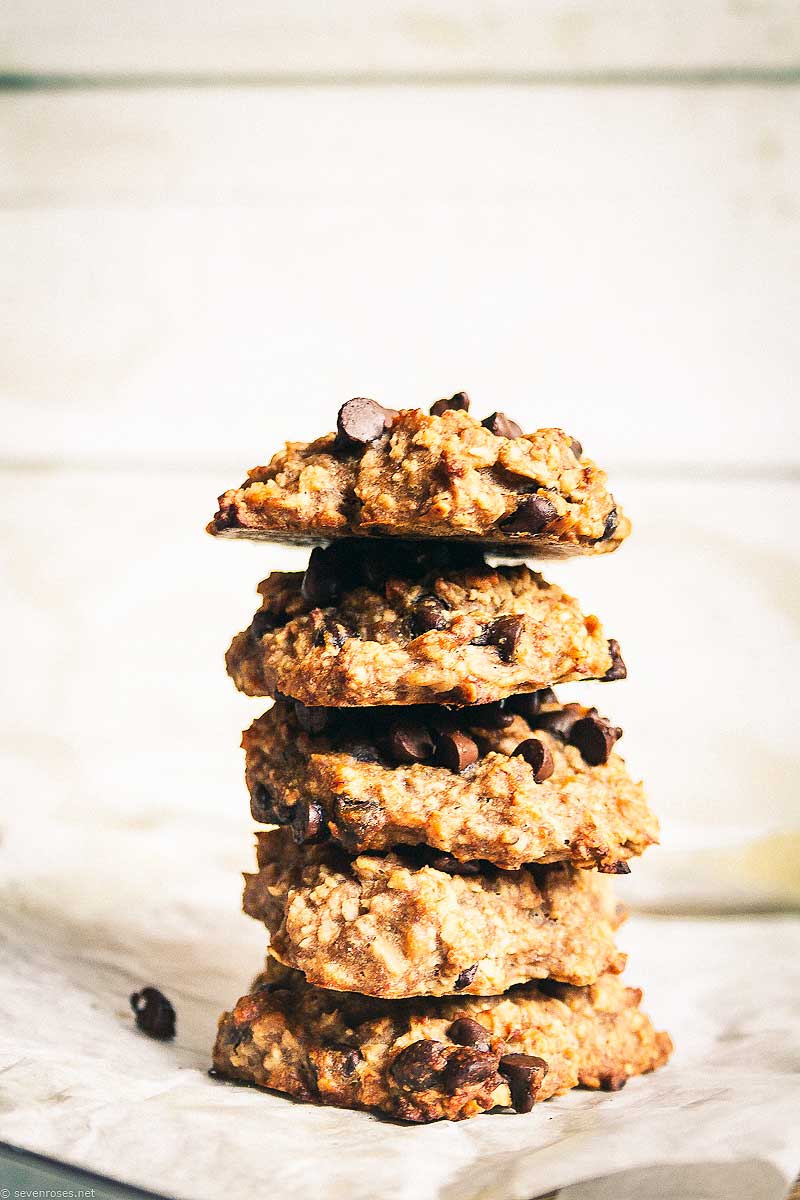 3-ingredient healthy cookies by SevenRoses, from yours, truly – Craving something sweet and you have no flour? No problem! Try these healthy flourless 3-ingredient cookies with oats, peanut butter and bananas.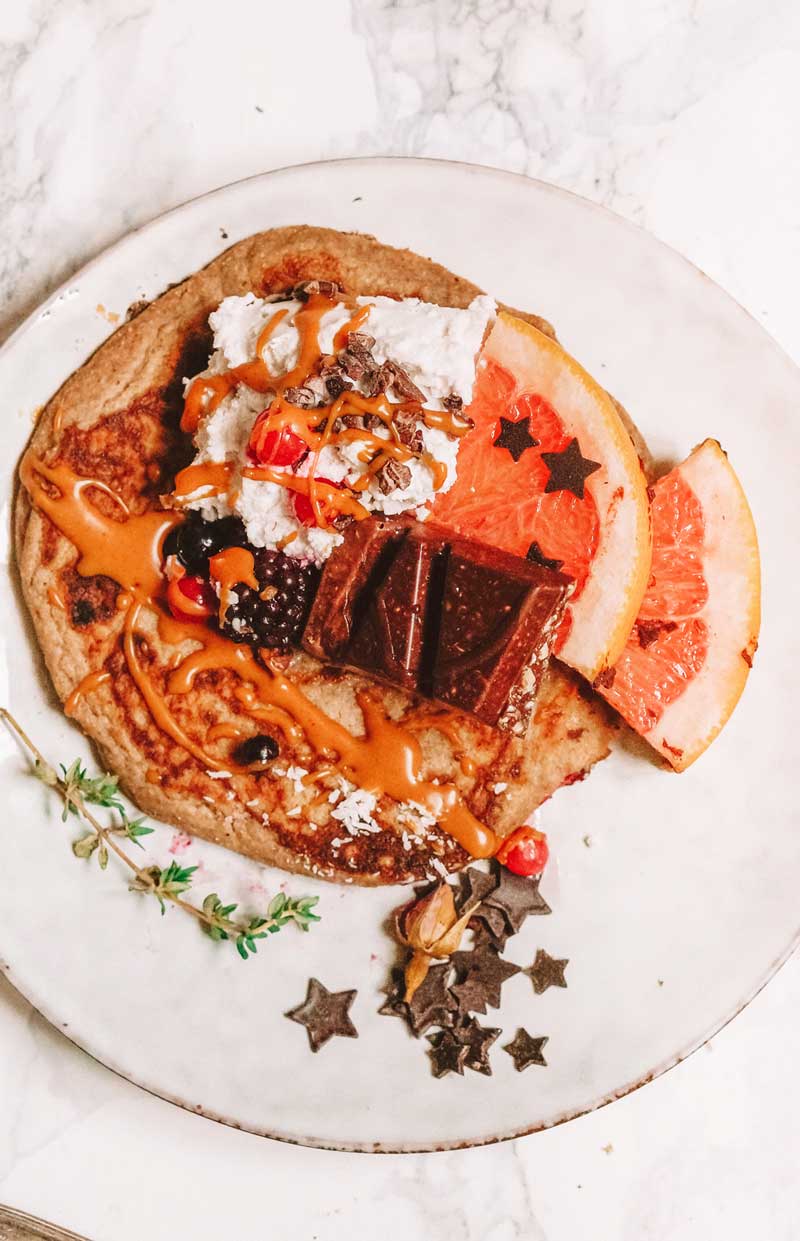 2-Ingredient Vegan Pancakes at When Sweet Becomes Healthy – These 2-ingredient vegan pancakes are so easy I cannot even call it a recipe really. It's more a matter of throwing 2 things into your blender and frying the batter as you would for your usual pancake. If you call it a recipe or not, it is definitely proof that a wholesome nourishing pancake does not need any eggs, milk, sugar or wheat.
3-ingredient Pineapple and Granola verrine at SevenRoses, from yours, truly – A simple, last minute dessert sweet treat for your New Year's party or when you need a recipe to celebrate in style: these individual 3-ingredient Pineapple and Granola verrine are so quick and festive!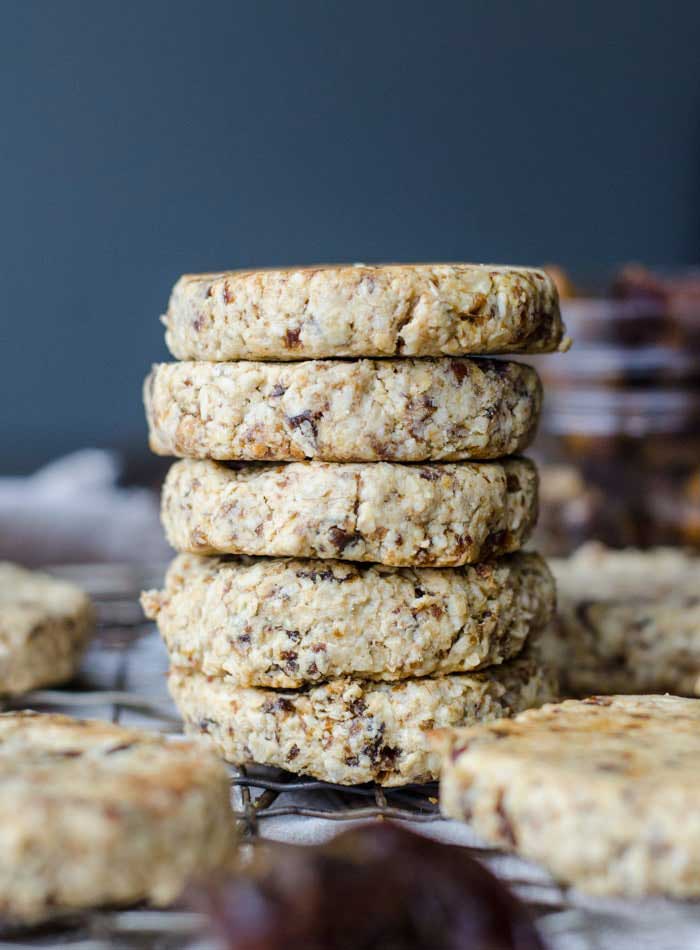 Vegan Tahini Date Cookies at Running on Real Food – These 3-ingredient, vegan tahini date cookies are perfectly sweet with hints of caramel, thanks to the natural sweetness from the dates. Best of all you only need 3 ingredients to make them. Get yourself some oats, dates and tahini and make these cookies asap!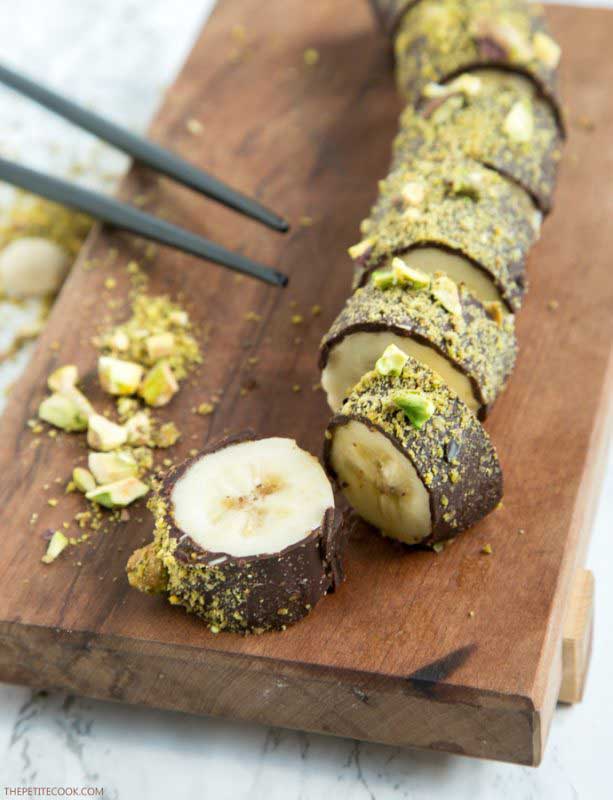 Chocolate Banana Sushi at The Petite Cook –  All you need is just 3 ingredients and 15 min to make this Chocolate Banana Sushi – This easy dessert is naturally gluten-free, vegan and kids love it!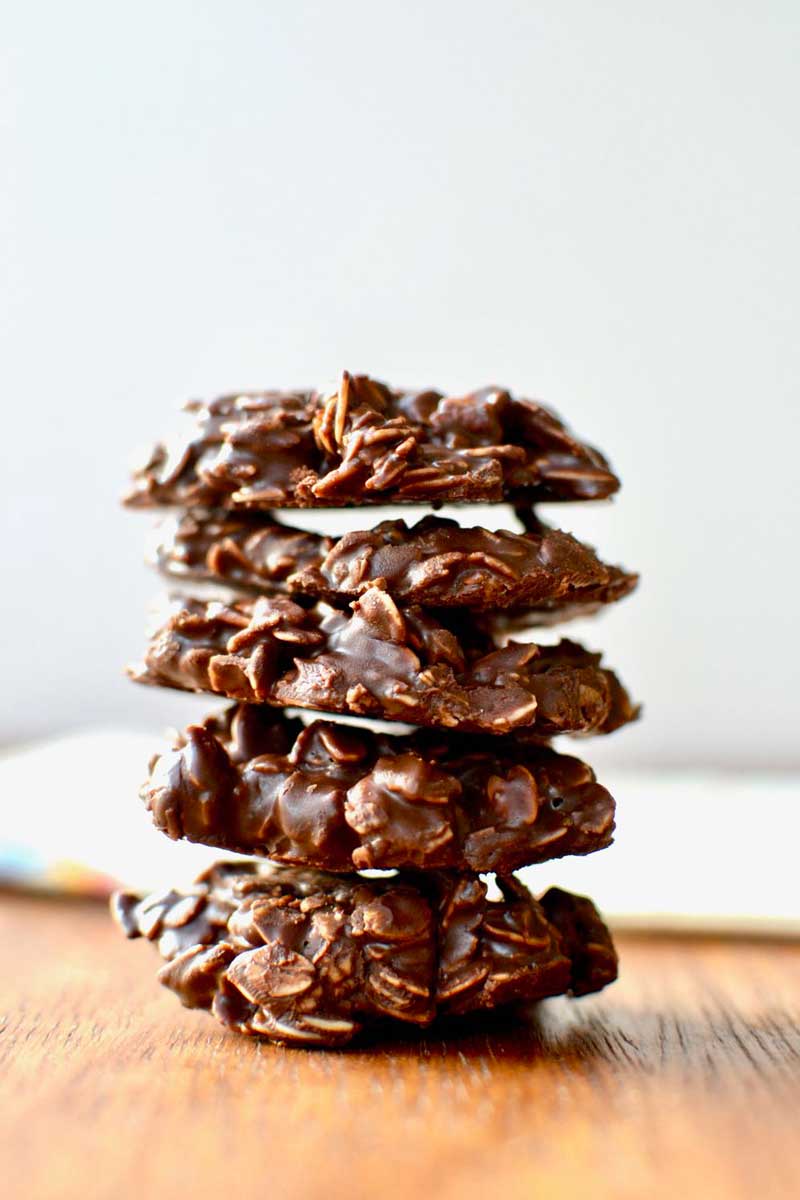 Vegan No Bake Chocolate Cookies at Vegan on Board – With just oats, tahini and dark chocolate you can make these taste no bake chocolate cookies.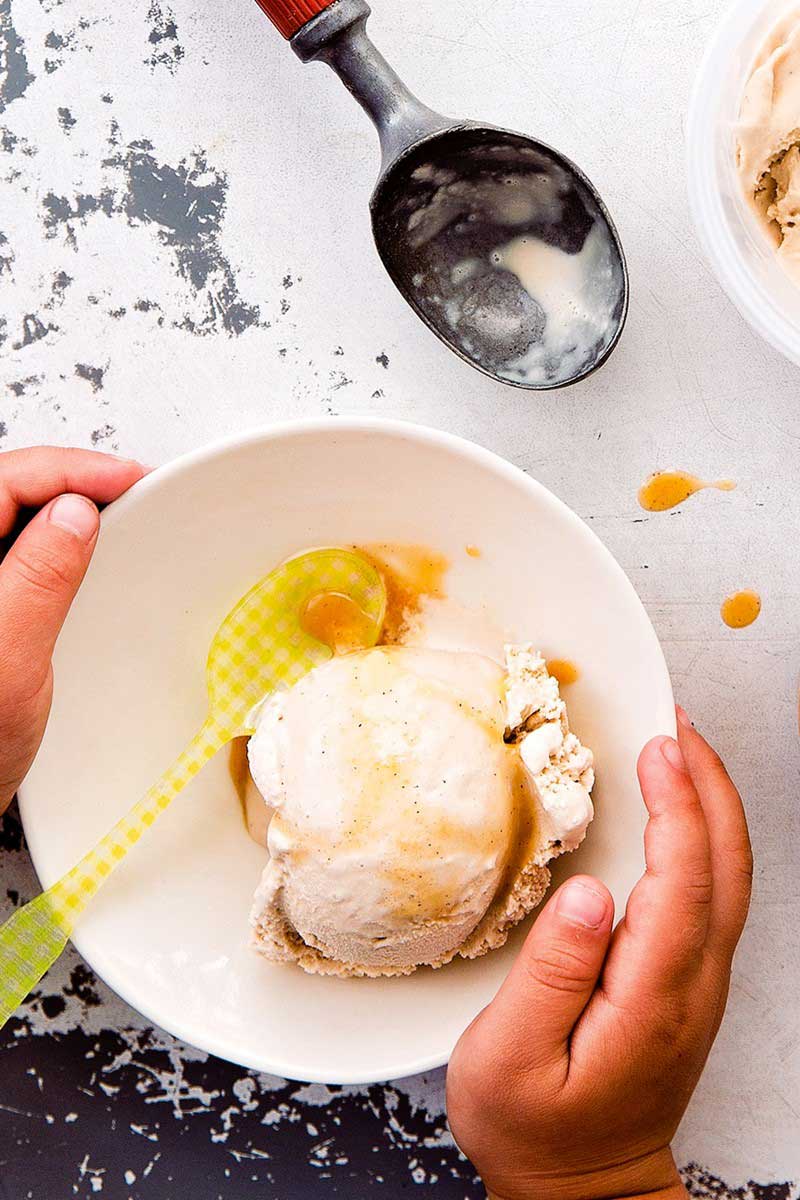 Dairy-Free Salted Caramel Ice Cream at Go Dairy Free – It's hard to believe this caramel ice cream has just 3 simple ingredients, and one of them is sea salt!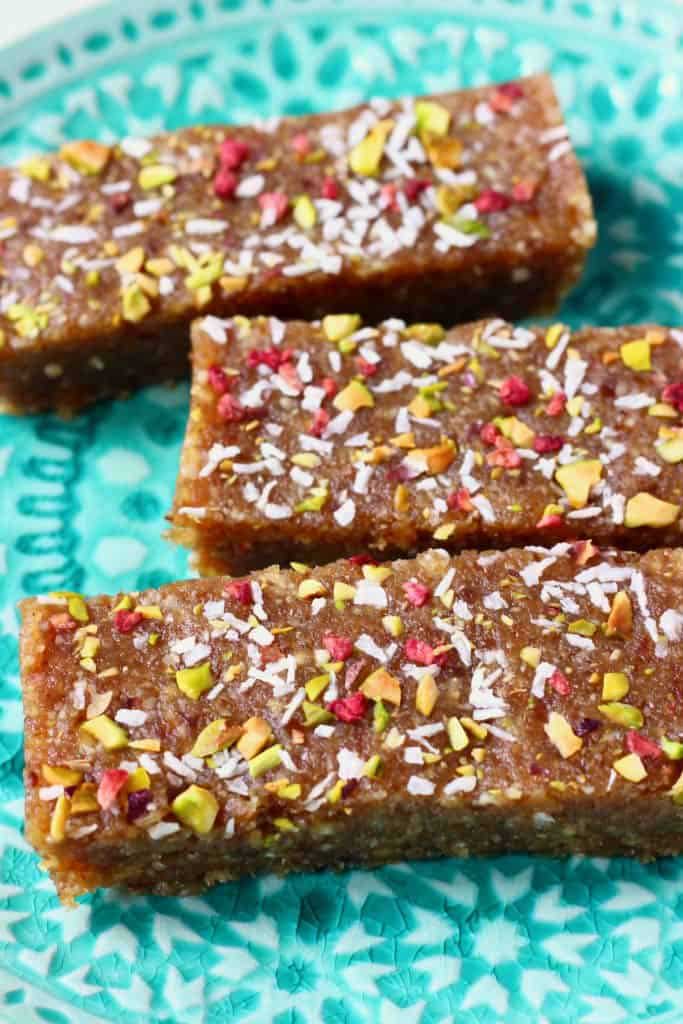 Energy Bars at Rhian's Recipes – These Energy Bars are perfectly sweet, fudgy and seriously satisfying! They require just 3 ingredients and are easily customisable! Vegan, gluten-free and refined sugar free.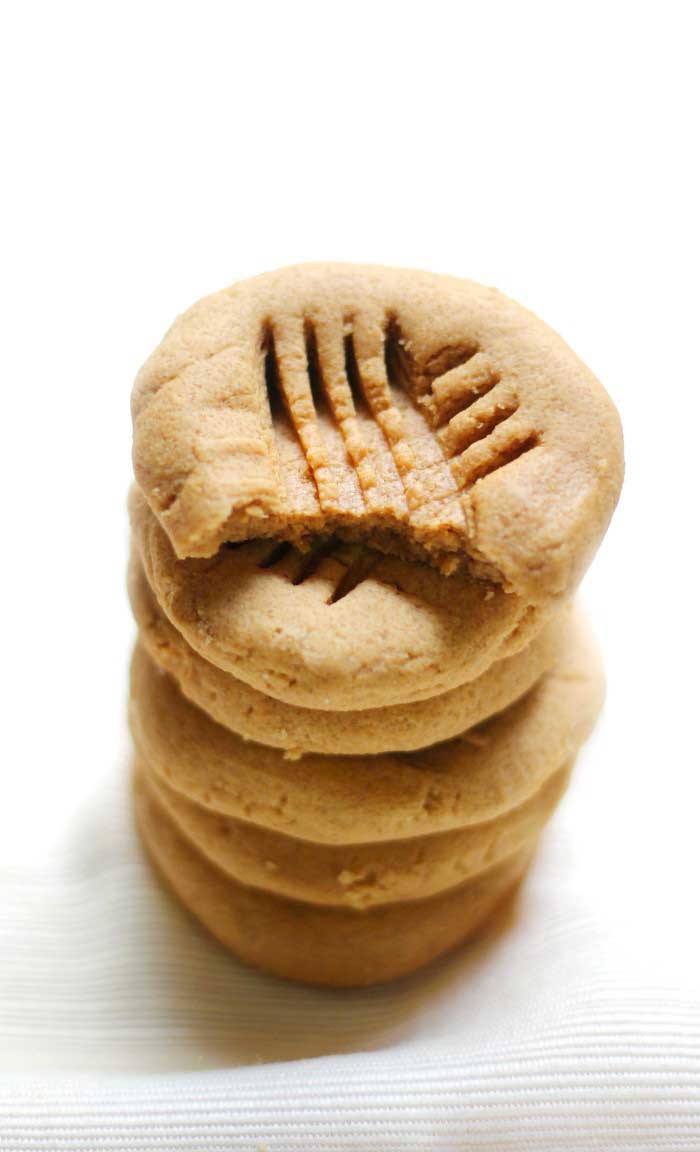 3-ingredient old-fashioned peanut butter cookies at Strength and Sunshine –  The classic American cookie now with a gluten-free, vegan, grain-free, & sugar-free recipe! These healthy 3-Ingredient Old-Fashioned Peanut Butter Cookies are so quick & easy to make and taste just like grandma's!
3 Ingredient Peanut Butter Fudge at Baked by Chloe – This 3 ingredient peanut butter fudge is sweet, indulgent and creamy, and it literally melts in your mouth! It's dairy-free, gluten-free and can be made WITHOUT condensed milk of any kind.

And it's a wrap! I bet by now you're feeling inspired to make some of these 3-ingredient recipes, and you'll never look at your half empty friedge/pantry in the same way. Because now you know that you can make amazing food even with just a handful of ingredients.
A big thank you to all the wonderful bloggers that submitted their amazing recipes.
I hope you all enjoyed this post, and if you did, don't forget to pin it and spread the love ♥
I wish you a love-filled day and stay safe xoxo