Disclosure: This post may contain affiliate links. As an Amazon Associate I earn from qualifying purchases. Thank you for your support!
This Vegetable Divan, the Vegan version of the traditional comfort-food dish, is a delicious, hearty meal baked to perfection and perfect to serve at your holiday table,  to bring to a potluck or for a cozy Sunday meal.
This easy dinner recipe is sure to become a family favorite! It uses the same fresh vegetables as the original but leaves out the heavy dairy and oils. Round this meal out by serving it over a bowl of quinoa or brown rice.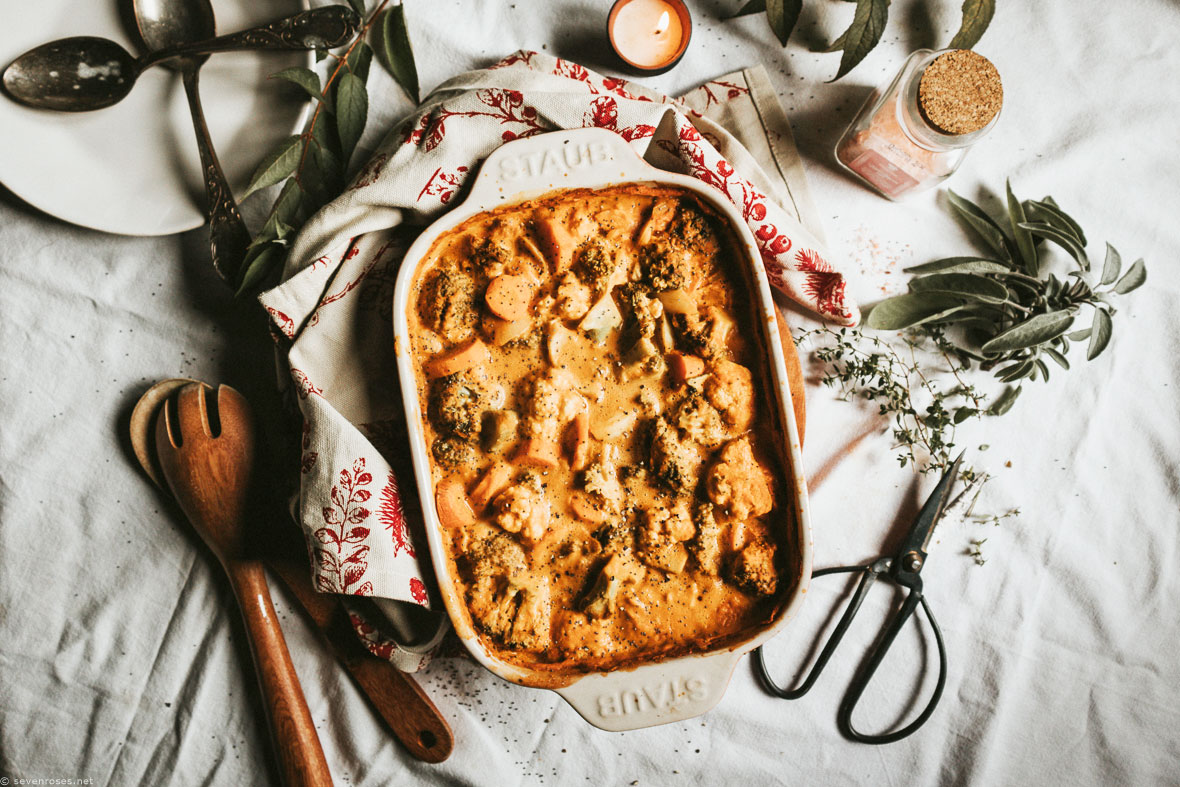 Hello my beautiful friends!
Today I'm excited to present you a delicious recipe from Diane Smith's new cookbook, The Everything Plant Based Meal Prep Cookbook, that gets released on November 17th.
If you don't know Diane already, she's the wonderful recipe developer and creator of the blog Plantbasedcooking.com where she shares delicious and healthy WFPB Vegan recipes to help you regain your health through nutrition.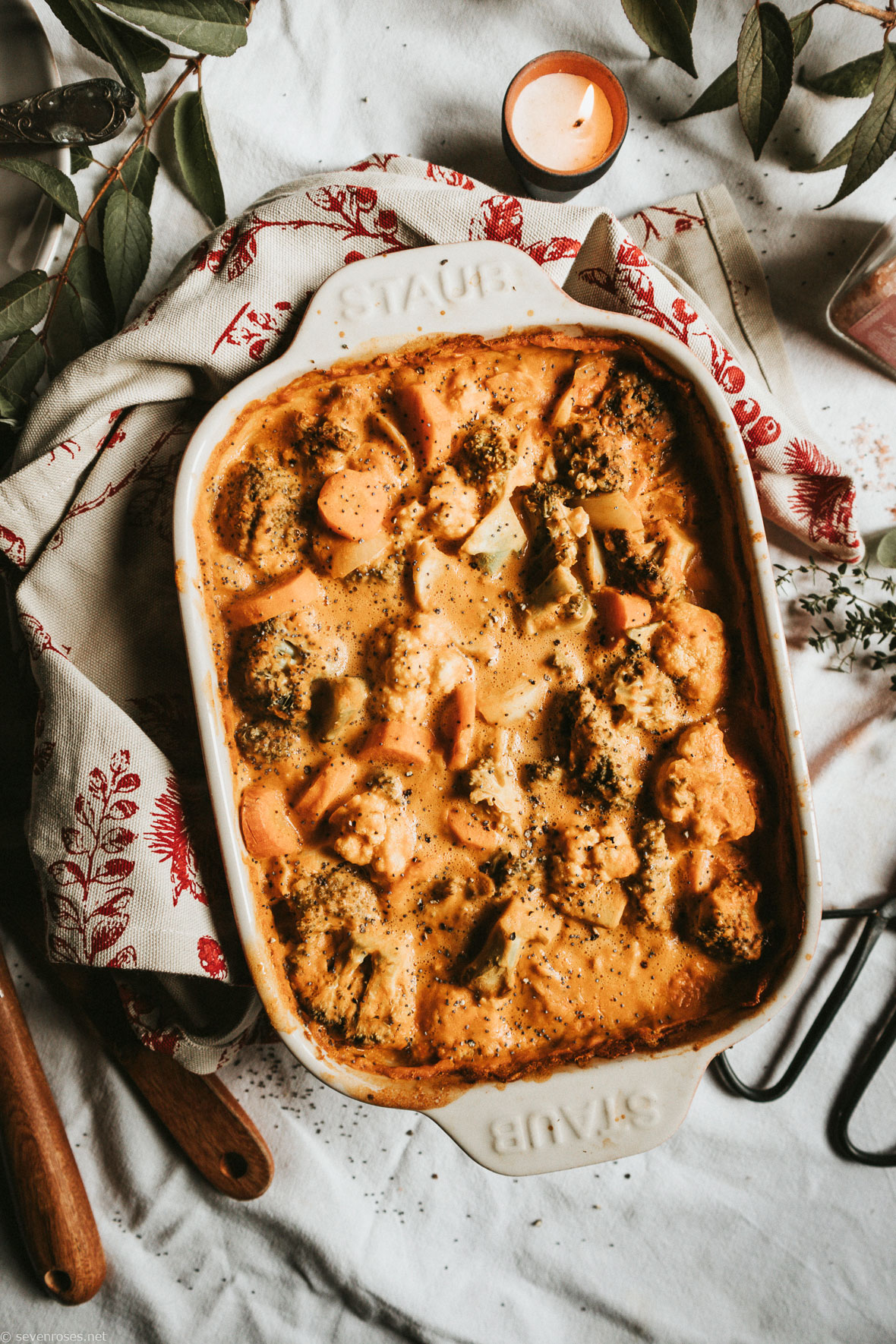 Diane turned to a whole food, plant-based lifestyle for health reasons, and the changes to her diet reversed severe health conditions, and her blog and books are testament to the benefits of eating a plant-based diet.
Since then she has been sharing her plant food recipes that are as satisfying as everyone's unhealthy family favorites, but that instead are good-for-you, healthy AND delicious.
⇻⇻ Read: Why Vegan?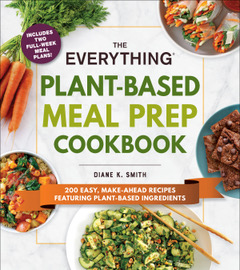 You might already know that we've recently turned to WFPB here as  well, so her wholesome cookbook couldn't have come at a better time. It's filled from cover to cover with healthy, inspiring and delicious recipes together with simple ways to create your menus, prep your food and plan your meals.
Diane's Everything Plant Based Meal Prep Cookbook contains 200 easy, make ahead recipes featuring only plant-based ingredients including colorful vegetables, juicy fruits, and plant-based proteins to keep you full. The book  is divided in 10 main sections (that offer anything from tips to switch to a Vegan, plant-based diet to recipes for every moment of your day) and a few useful additional sections with menu plans, conversion tables, etc.
1: HOW TO EAT AND MEAL PREP A PLANT-BASED DIET
2: BREAKFAST
3: APPETIZERS
4: SALADS
5: SOUPS AND STEWS
6: LUNCH
7: MAIN DISHES
8: SIDE DISHES
9: SAUCES AND CONDIMENTS
10: DESSERTS
2-WEEK PLANT-BASED MEAL PLAN
STANDARD US/METRIC MEASUREMENT CONVERSIONS
and today's stunning Vegetable Divan comes from the Main Dishes' chapter :)
In this book you'll find recipes that cover every meal of the day and every type of cuisine, from your favorite comforting stews, to fresh and exciting new takes on breakfast and desserts—all deliciously plant-based and easy to make. I've had this book for a couple of weeks now, and these are just a few of my favorite recipes from The Everything Plant-based Meal Prep Cookbook:
❥Cinnamon-Apple Crepes
❥Tropical Spinach Smoothie
❥Caramelized Onion Dip
❥Tempeh Asian Lettuce Wraps
❥Thai Cucumber Salad
❥Panzanella Salad
❥"Cheesy" Broccoli Soup with Kale
❥Tofu Eggless Salad Sandwich
❥Falafel-Tahini Buddha Bowl
❥Black Bean Meatloaf
❥African Vegetable Stew
❥Sweet Potato–Zucchini Gratin
❥Oil-Free Potato Salad
❥Chocolate Chip Cookie Dough Hummus
❥Almond Chickpea Bars
…but the list could go on and on.
I'm pretty sure once you get your copy of this cookbook, you'll want to make each and every recipe out of it because they all are really delicious and, what's even better, they all fall under the "good for you" category .
I also LOVED how at the end of the book there's a detailed 2-Week Plant-Based Meal Plan where the recipes you read that far are compiled in daily, nutritious menus. You'll always know what to cook next, what to meal prep and what to shop for.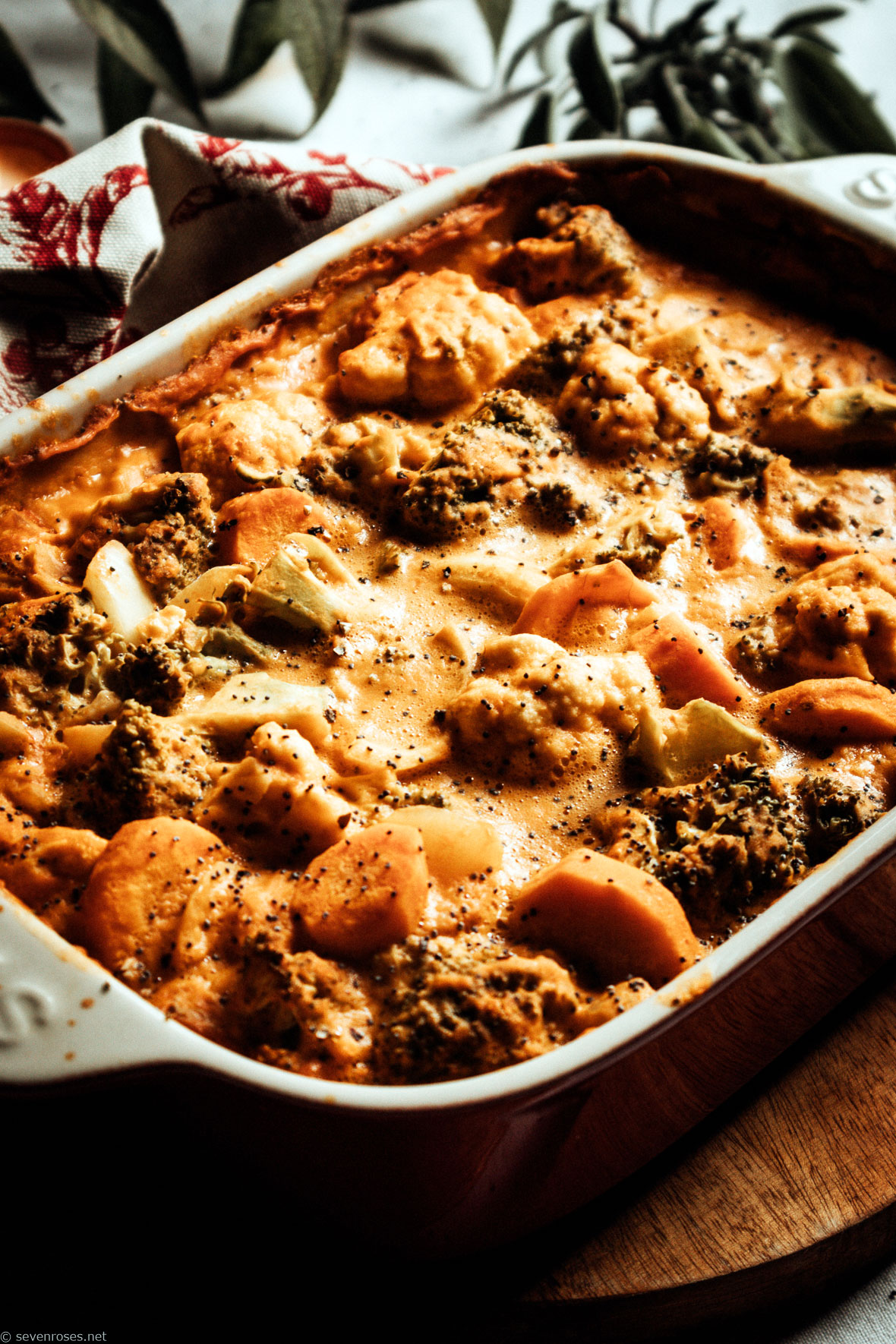 Diane's cookbook will be perfect for new Vegans who are looking for ways to include more WFPB healthy meals in their diet; flexitarians and Vegan-curious who want some extra-yummy recipes for those meatless days; anybody who's fan of meal prepping but also "seasoned" Vegans like me, who rejoice in preparing healthy, comfort food for their loved ones.
To introduce you to her style of healthy yet delicious, hearty, home-cooked dishes that all your family will love, today I'll be sharing with you an easy casserole dish that has now become our favorite: the Vegetable Divan – the ultimate comfort food (but made healthy).
It also comes with its own low-fat heavenly Starch Solution compliant "cheesy" sauce made with cannellini beans…
This will be perfect for your holiday table, to take to a potluck or for your Sunday lunch gatherings. You have to give this recipe a try: it's SO good!
Did you know… the dish called Divan, a casserole usually served with broccoli and some type of thick, bubbly hot sauce, was named after the place of its invention, the Divan Parisien Restaurant in the New York City Chatham Hotel where it was served as the signature dish in the early twentieth century. Its creator was a chef named Lagasi.  (source)
Even to the Divan Parisien's frequenters, the meaning of "Divan" was unclear. Some said it was French for "meeting place," others claimed it was Turkish and referred to the furniture of the sultan's palace. Still others took it to mean, as "divan" means to us, the row of couches that ran along the walls of the palm-punctuated dining room.  (source)
Nowadays the quick version of this dish – made with pretty unhealthy and questionable pre-cooked ingredients, store-bought mayonnaise and canned Soup – remains one of the most classic American casserole dishes today. Some versions are even topped with potato chips!
But if you could enjoy the comfort of this casserole dish with added healthy benefits, why wouldn't you?
♥

RELATED RECIPES

I don't know about you, but I'm always looking for easy, healthy, comforting meals to feed our household. These recipes are some of our favorite dinners:
Vegan Holiday roast – WFPB, no-oil, cheap, succulent and festive!
Hearty Vegan stew – easy & delicious cold weather comfort food for the Starch Solution
Soul-satisfying, easy Vegan chili made with ingredients you already have in your pantry
Instant pot Creamy Potato Coconut Stew: oil-free, gluten-free plant-powered dinner
Soul-satisfying, easy Vegan chili made with ingredients you already have in your pantry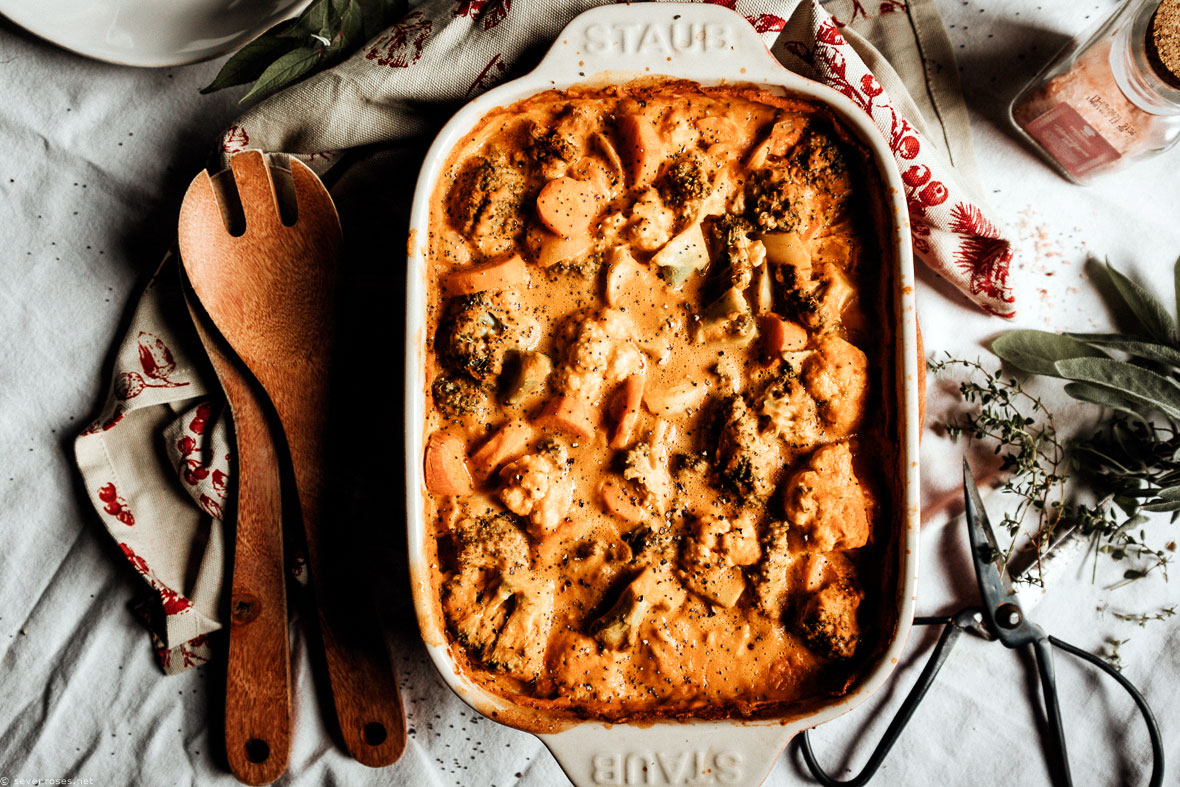 Whether you have fond memories of the Divan from childhood or are looking for a healthier version to add to your dinner rotation, you'll love this quick and delicious Vegan casserole recipe. It's so rich that you'll also love to serve it at your holiday table.
Let's make this Vegetable Divan!
This recipe is from The Everyday Plant-Based Meal Prep Cookbook by Diane K. Smith. Reprinted with permission from Adams Media. Copyright © 2020 by Simon & Schuster, Inc.
Vegetable Divan | Vegan, dairy-free, oil-free, gluten-free, WFPB

Author: Diane K. Smith. This version of the traditional comfort-food dish is a delicious, hearty meal. It uses the same fresh vegetables as the original but leaves out the heavy dairy and oils. Round this meal out by serving it over a bowl of quinoa or brown rice.

Ingredients

Vegetables

1

broccoli

medium, trimmed and cut into bite-sized florets

1⁄2

cauliflower

medium, cut into bite-sized florets

4

carrots

medium, peeled and sliced into 3⁄4" coins

1

yellow onion

large, peeled and chopped

Divan "Cheese" Sauce

1

can

cannellini beans

(15-ounce) low-sodium, drained and rinsed

1⁄2

cup

roasted red peppers

drained, packed in water

1⁄3

cup

nutritional yeast

4

tbsp

fresh lemon juice

2

tbsp

tahini

1

tsp

yellow mustard

1⁄2

tsp

salt

(optional)

1⁄2

tsp

garlic powder

1⁄2

tsp

onion powder

1 1⁄2

cups

vegetable broth

divided (you can use Diane's recipe from the same cookbook)

Instructions

Preheat oven to 350°F. Spray bottom of a 9" × 12" baking pan with nonstick cooking spray.

Add a steamer basket to a large pot over medium-high heat and fill with about 1" water, making sure the water isn't touching the bottom of the basket. Add broccoli, cauliflower, carrots, and onions. Cover and let vegetables steam until crisp-tender, about 7–10 minutes. Remove from heat and transfer to prepared baking pan.

To make "cheese" sauce, in a blender, combine beans, red peppers, yeast, lemon juice, tahini, mustard, salt, garlic powder, onion powder, and 1⁄2 cup broth.

Blend until very smooth, adding a few tablespoons more broth to thin as needed.

Scrape cheese sauce from blender into a large saucepan over medium heat. Add remaining broth.

Mix carefully with a whisk until sauce is smooth and liquid is incorporated together with cheese sauce. Heat through, about 5–7 minutes.

Pour sauce over vegetables and move them around a little to coat. Cover baking pan with foil and bake for 30 minutes, or until heated through.

Refrigerate leftovers (if there are any!) in an airtight container for up to 5 days, or freeze (after cooling) in a freezer-safe container for up to 3 months. Thaw in the refrigerator for 24 hours before reheating in a 350°F oven for 30 minutes.

Notes

Per Serving:
Calories 164
Fat 4g
Sodium 399mg
Carbohydrates 26g
Fiber 9g
Sugar 6g
Protein 10g

And if you pre-order before Nov.17th (still a few days) through this link, you can get a  a free e-book with several oil-free salad dressings: https://www.plantbasedcooking.com/everything-plant-based-meal-prep-cookbook/
Did you enjoy this Vegetable Divan recipe? I suggest you pin it for later because you'll want to make it ASAP. Also remember to visit Diane's website at Plantbasedcooking.com
Thank you Diane for letting me review your book, I truly loved it ♥
Styling:
❥ Staub Ceramics Rectangular Covered Baking Dish
❥ Artisan Herb Garden Pruning Shears
❥ Wood Acacia Servers
❥ Silverware: Vintage
Disclaimer: I got a free copy of the book to be reviewed, but all opinions are my own. Some of the above links may be affiliate links.