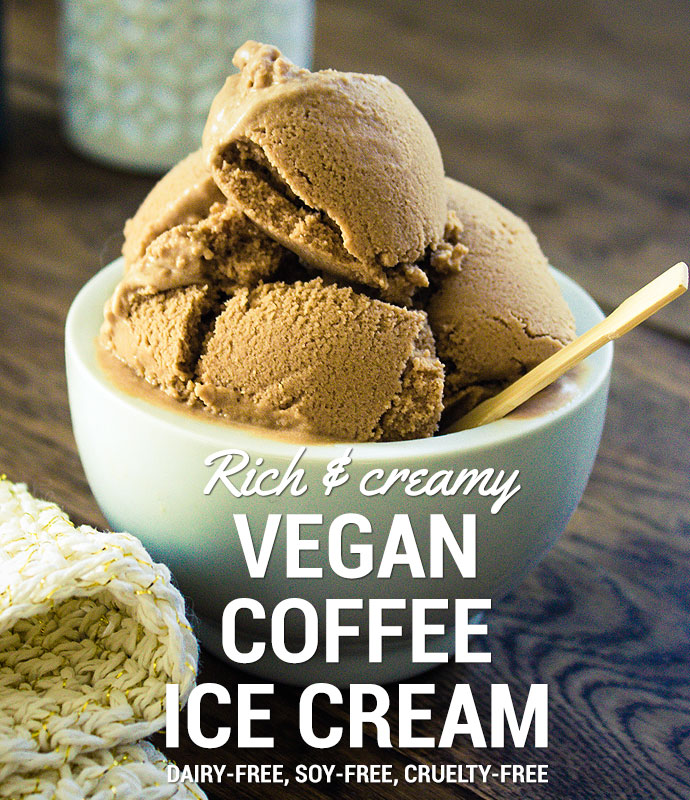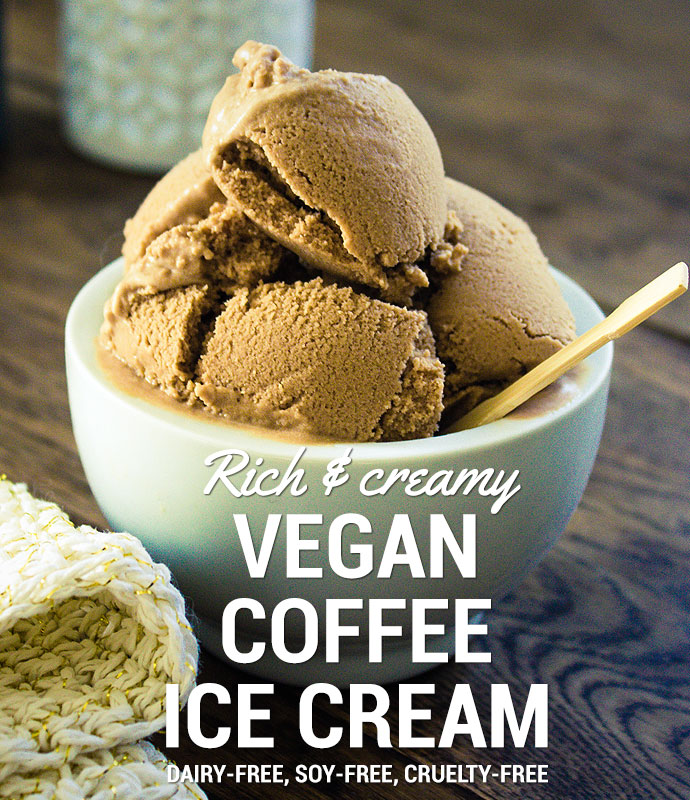 One thing that you'll find out once you go Vegan, is that you will want to experiment with food much more than before, most people agree on this. Your taste buds get "detoxed", you become curious in the kitchen and you'll try ingredients you've never tried before. In this sense, a Vegan diet is much more varied than a "standard" one. I could give you hundreds of examples, but I've never thought I'd make my own version of a Vegan cream cheese (super easy, too, stay tuned for the recipe soon) or my own Vegan ice cream at home. And yet here I am, happily churning away some rich and creamy Vegan coffee ice cream to my husband's and my heart's content :D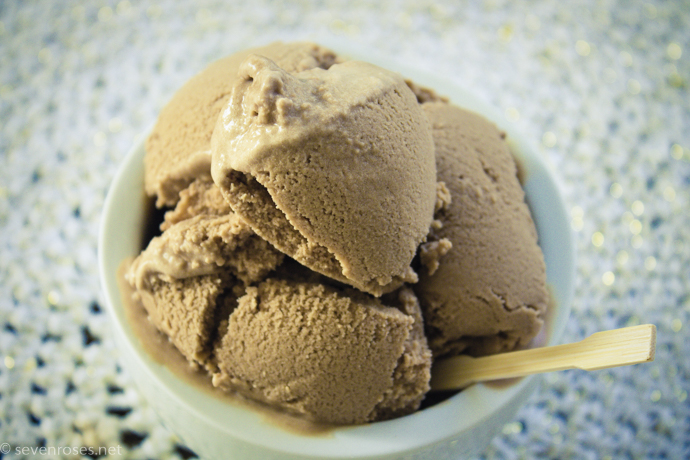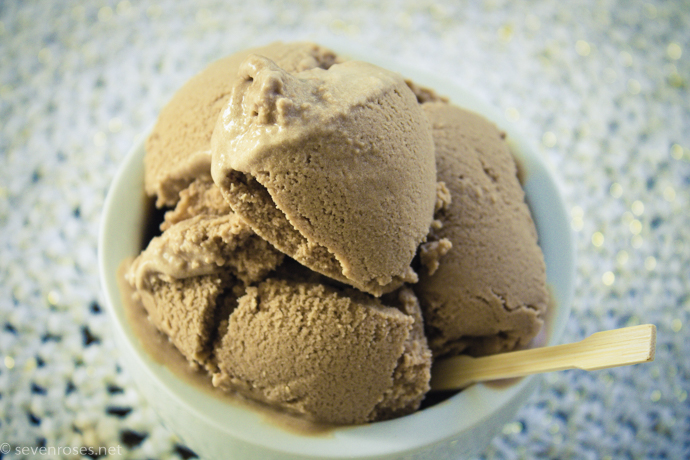 Fortunately making your own ice cream is easy (just a little time consuming) and satisfying, too, so here's one of our favorite recipes so far: super creamy and rich Vegan coffee ice cream.  It has the richness and flavor of an old-time favorite of mine, that all Italian kids and adults alike know very well: the "Coppa del Nonno", a very un-glamourous looking ice cream that dates back to 1955, with a very unique coffee flavor.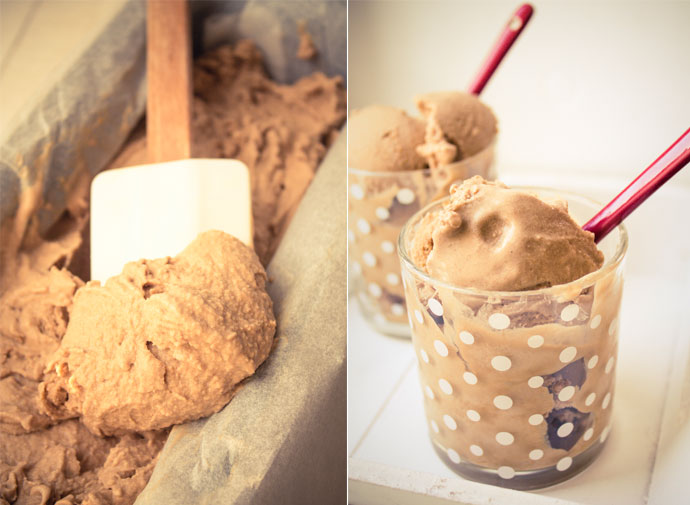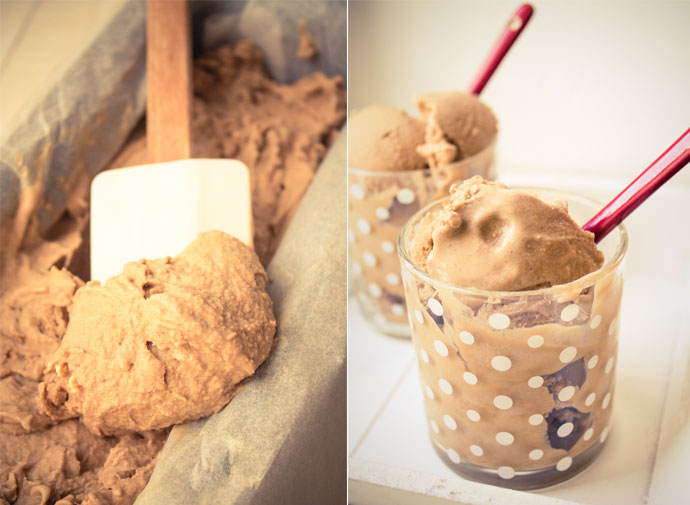 Don't like coffee? Switch the powdered coffee with cacao powder for a chocolatey version ;-) And you might prefer to eat it as it is, with its creamy, smooth texture, but of course you can go crazy with it and add nuts, fresh fruits, brownie or cookie crumbles… or add a little more vanilla extract and maybe some chocolate chips! The possibilities are endless.
We've also enjoyed it as an ice cream sandwich, simply spreading some within 2 "petit brun" or any other Vegan-friendly biscuit and then letting it set in tin-foil in the freezer: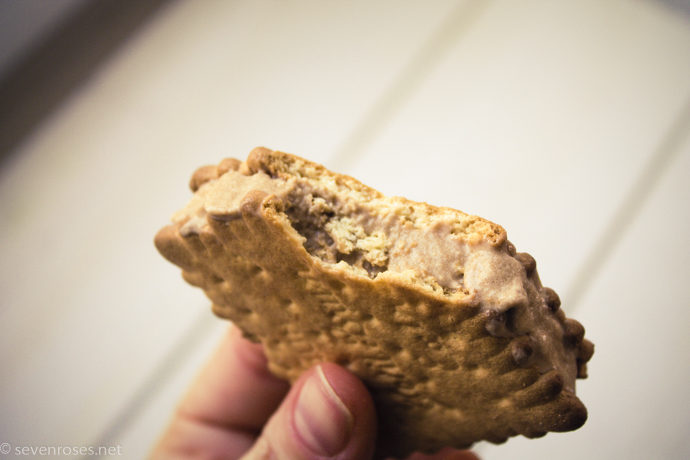 But enough talking, let's get to the recipe now!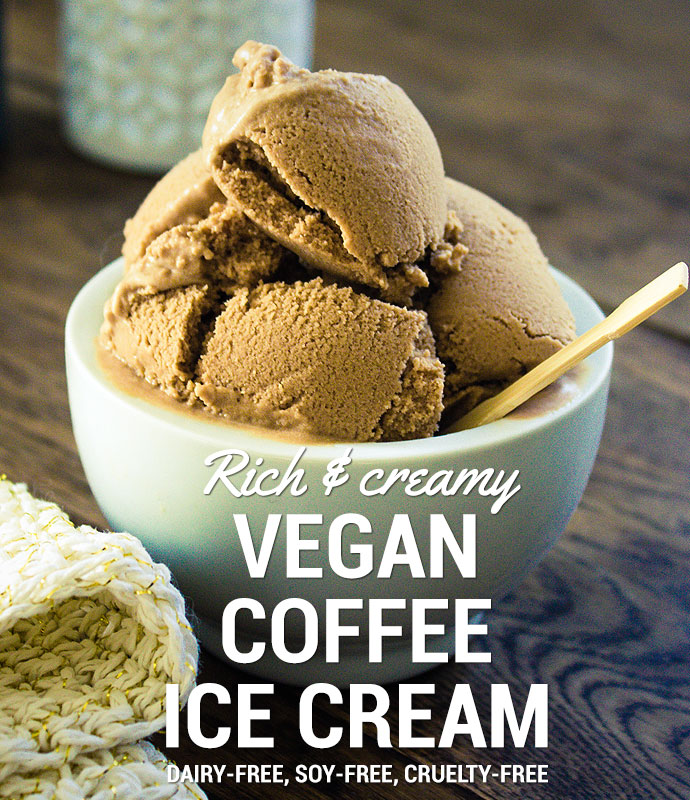 Vegan coffee ice cream
This creamy and rich Vegan coffee ice cream is a perfect treat by itself, but it can also be used for shakes and other types of desserts for coffee lovers like me. The recipe can also be altered omitting the coffee altogether to create other flavors.
Ingredients
2

cans

coconut cream

or sub with full fat coconut milk

2/3

cup

instant coffee powder

or sub with cacao powder

4

tbsp

maple syrup

or sub with agave

2

tbsp

vanilla extract
Instructions
As a general rule, I keep the Freezer Bowl of the ice cream machine in the freezer, and a couple of cans of coconut cream/milk in the back of the fridge. In this way, whenever I want to make ice cream I can start right away. Otherwise, refrigerate overnight.

Pour the solid part of your coconut cream cans in a blender (reserve the liquid part for a smoothie or a veggie curry) together with all the other ingredients. Process on low for 1 minute, just enough to mix everything together.

Take the freezer bowl outside, start the ice cream machine and gently pour all the mixture in. Let the machine do its magic for around 40 minutes (time may vary according to your machine).

When the time is up, you'll have a soft-serve type of dessert that can be enjoyed right away. If you want a firm consistency instead, transfer the mixture in a lined container, cover and refrigerate for at least 1 hour.

There you go! You'll never run out of ice cream again :)
Notes
for vanilla version: omit the coffee, double the vanilla extract.
for chocolate chip version: omit the coffee, add 2/3 of a cup of dairy-free chocolate chips.
for cacao version: omit the coffee (or half it) and add 2/3 of a cup of cacao powder.
for peanut butter swirls: start the ice cream machine and half-way through, add a couple of tbsp of peanut butter.

If you (want to) give this Rich and creamy Vegan coffee ice cream a try, please let me know in the comments' section below!
You can also find me on social media. Be sure to tag @francesca_sevenroses on Instagram or @sevenrosesblog on Twitter and Facebook, and use #sevenroses so I'm sure to see it. I love when you guys share with me!
Also, make sure to pin this and share the love ♥