50 shades of pink Vegan recipes to celebrate Valentine's Day: sweet & savoury, healthy or decadent… Homemade food & edible gifts are the best way to say I love you ♥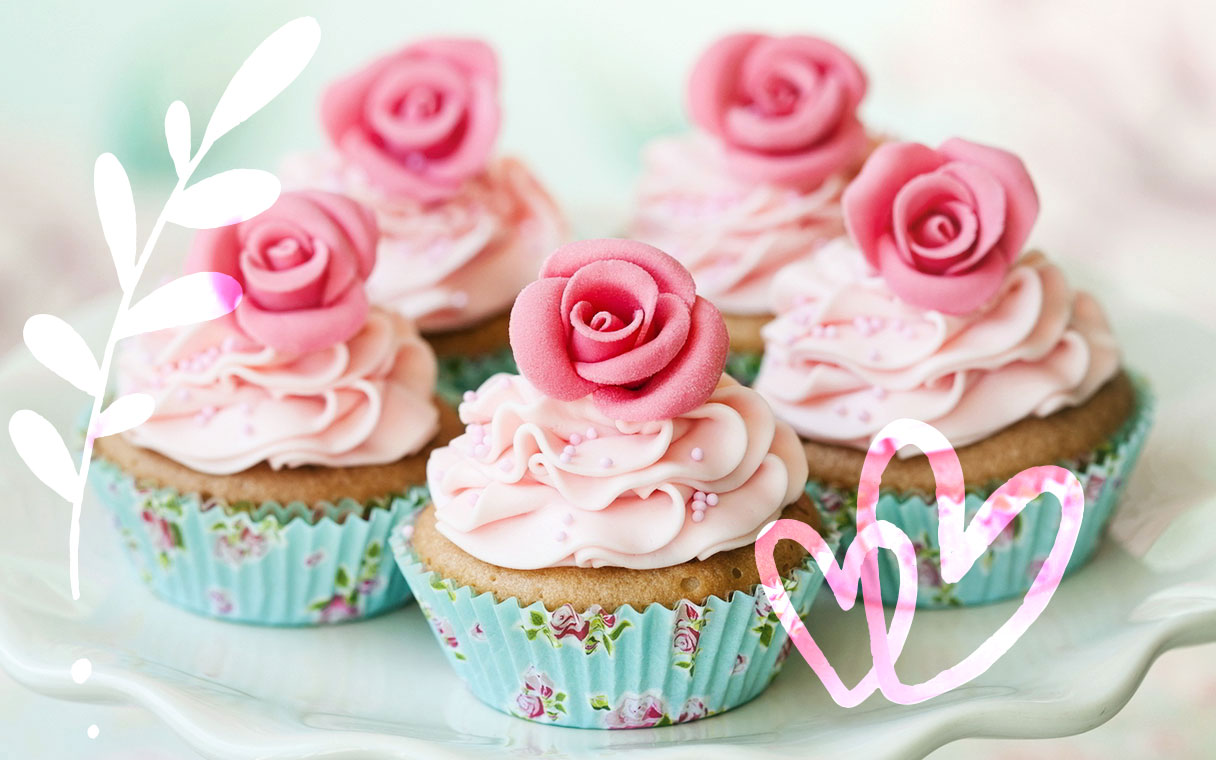 Hello my beautiful friends! The most romantic day of the year is coming up and I wanted to share with you some amazing pink Vegan recipes to celebrate Valentine's Day that will help you make the most out of it, whether you're in a romantic relationship or not :)
Indeed, I love all these recipe ideas not only for Valentine's Day, but since they are all pink you can also make them for Mother's Day, a Wedding Shower, a themed birthday party, a Baby Shower or for Pink October… or just because! If you want to make something sweet and turn any ordinary day into a celebration.
So, with the help of some talented FindingVegan fellow bloggers, I've gathered the most delicious, most romantic, most incredibly Vegan pink recipes to celebrate Valentine's Day. Most of these recipes can easily be turned into gifts for your friends and family, so that no one will feel left out ♥
And whether you opt for the healthy smoothies or for the most decadent chocolate treats, I won't judge you. You're welcome to indulge in whatever makes you happy!
Copyright of the images used belong to their owners and are linked with each recipe: I invite you to visit their sites, leave a comment and give these recipes a try. Be sure to scroll all the way to the end so you don't miss any of these great recipes. And don't forget to pin your favorites as you go!
Without further ado, let's jump right into the pink Vegan recipes, shall we? But don't forget to let me know in the comment section below what special treat you will be preparing for Valentine's Day this year :)
Pink Vegan recipes to celebrate Valentine's Day: Savory Dishes & Snacks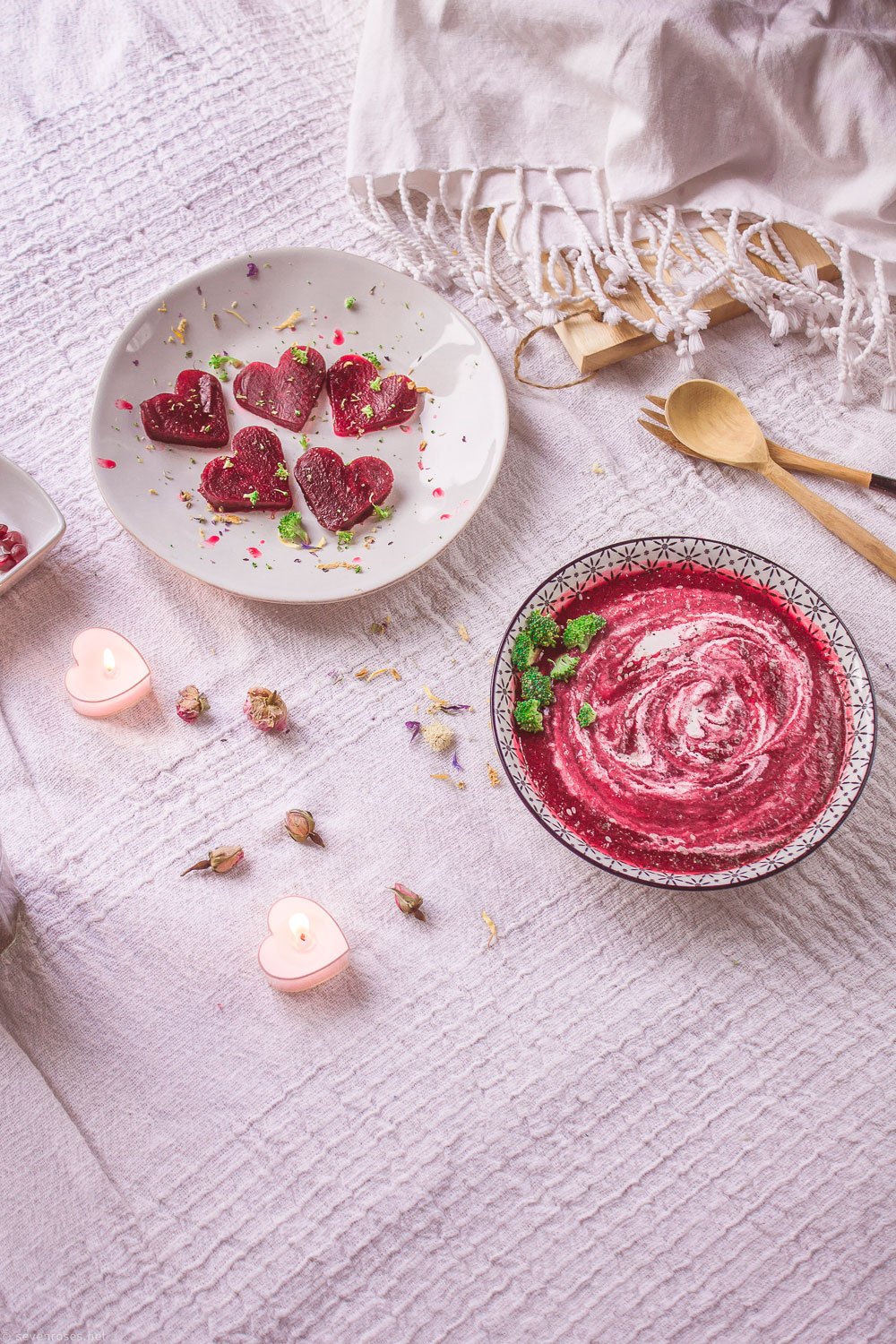 Pink Beet Creamy Soup and heart-shaped beet salad ♥ by yours, truly :) – don't let the cute pink color fool you: this soup is not only beautiful and perfect for Valentine's Day; it is also a real power house when it comes to nutrition with loads of vitamin C, fibers, and essential minerals.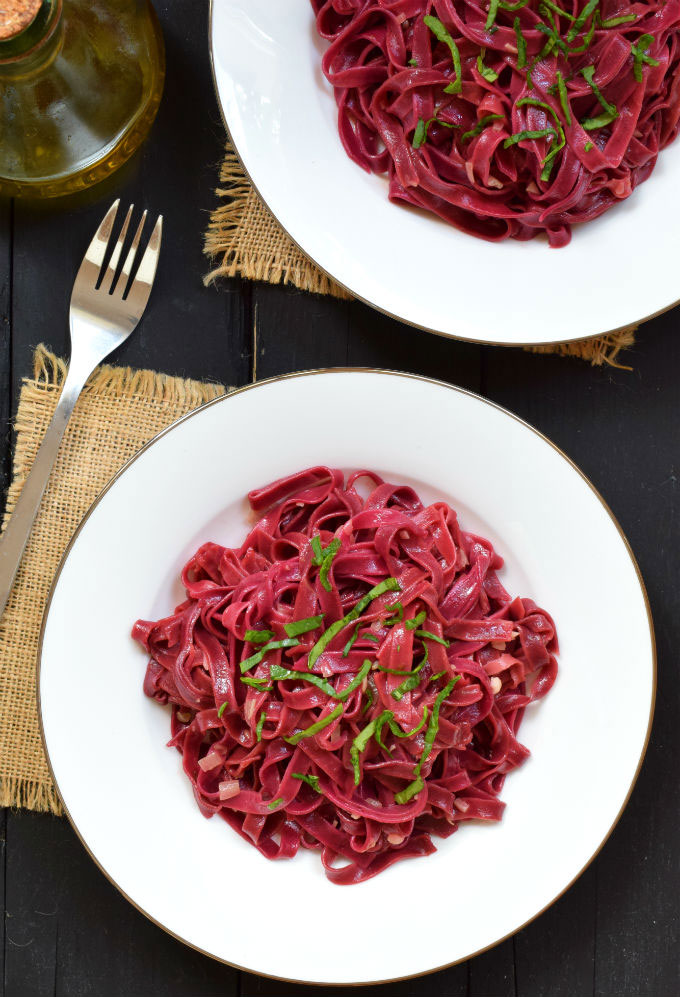 Fresh Beet Pasta by Melissa at Cilantro and Citronella – why would any modern day city dweller bother to knead, roll and cut their own fresh pasta when you can buy it, cook it and have it on the table in less than 30 minutes? Because making it yourself affords you limitless creativity, and this fresh beet pasta is a prime example.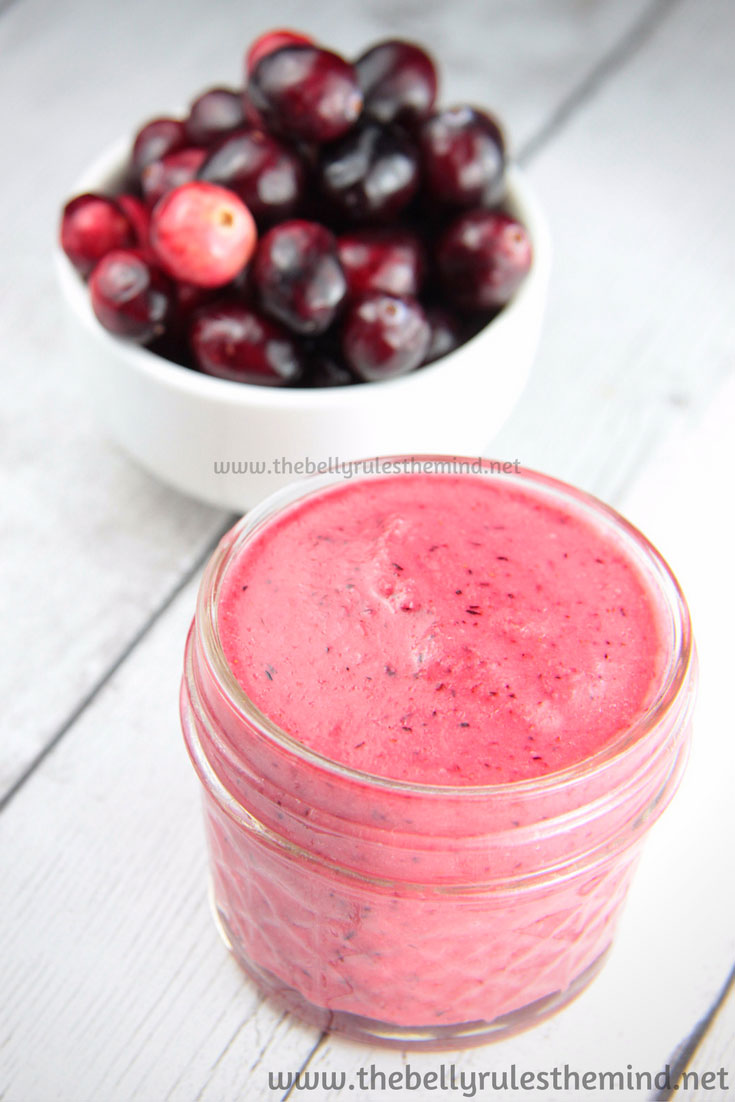 Cranberry Ginger Vinaigrette by Anvita at The Belly Rules the Mind – ready in only 5 minutes with just 5 easily available ingredients, & is also vegan. Enjoy all the sweet, tart and pungent flavors in this one dressing.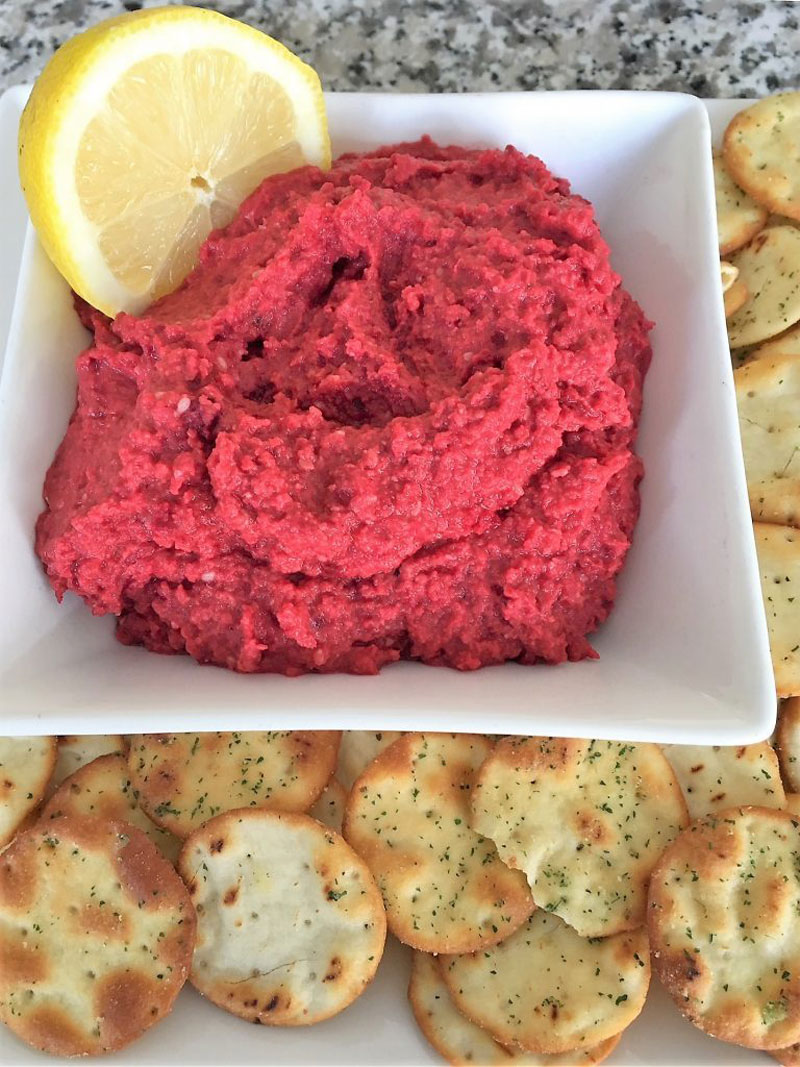 Beautiful Beet Hummus by Rosa at This Healthy Kitchen – not only is this beet hummus beautiful in colour and texture, but the flavour cannot be beet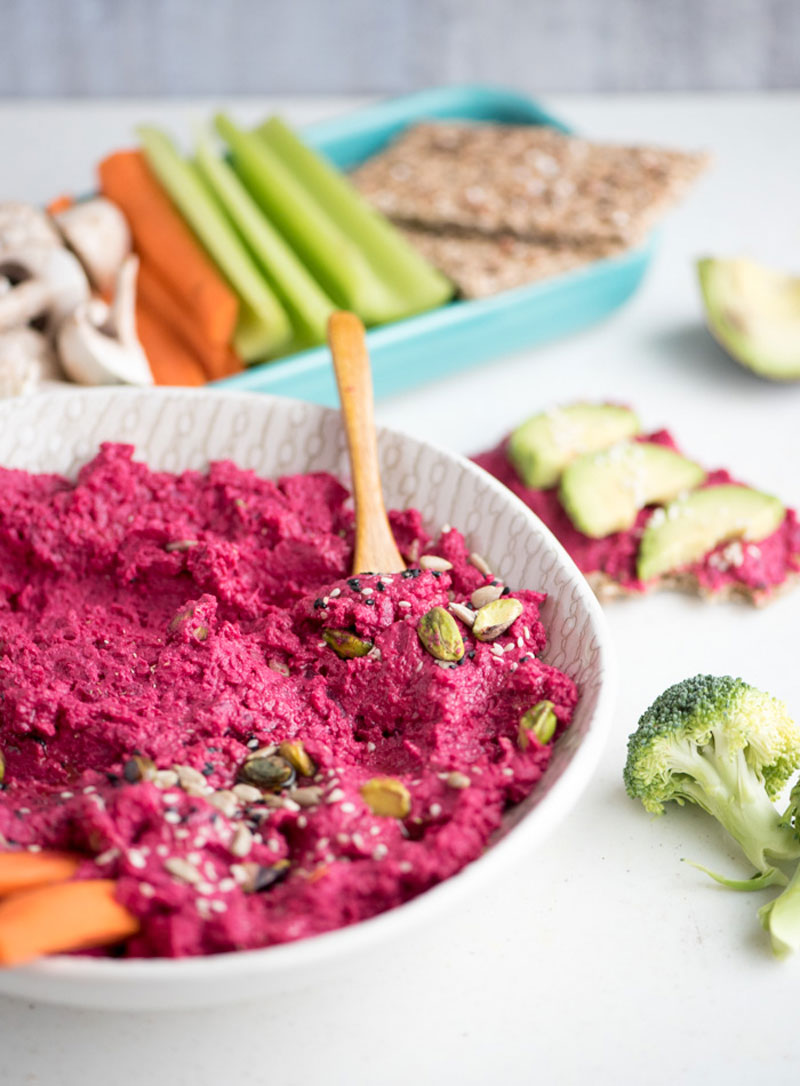 Beet Hummus by Deryn at Running on Real Food – this oil-free healthy beet hummus is amazing in sandwiches and wraps, spread on crackers topped with avocado and a bright and beautiful dip for raw veggies

Pink Vegan recipes to celebrate Valentine's Day: Cakes & Pies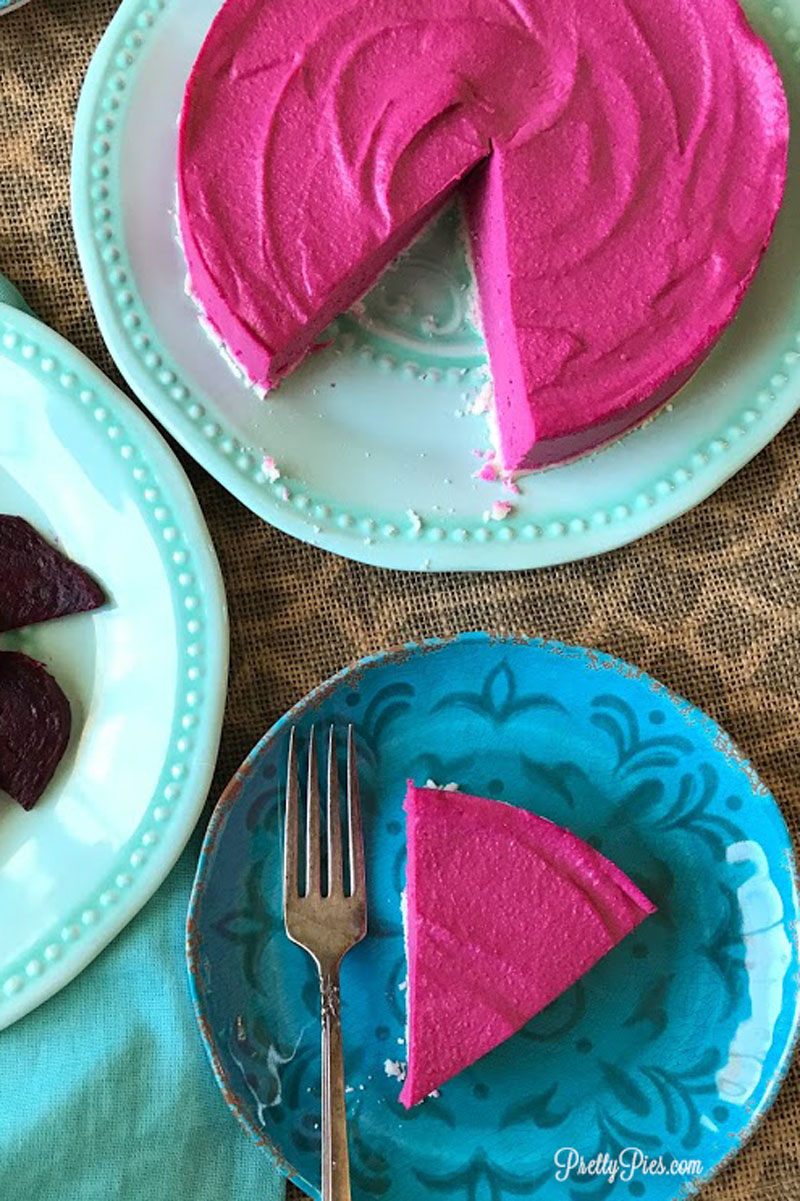 Hot Pink Pie by Emily at Pretty Pies – Gorgeous color without artificial coloring! Smooth vanilla cream pie that's unbelievably PINK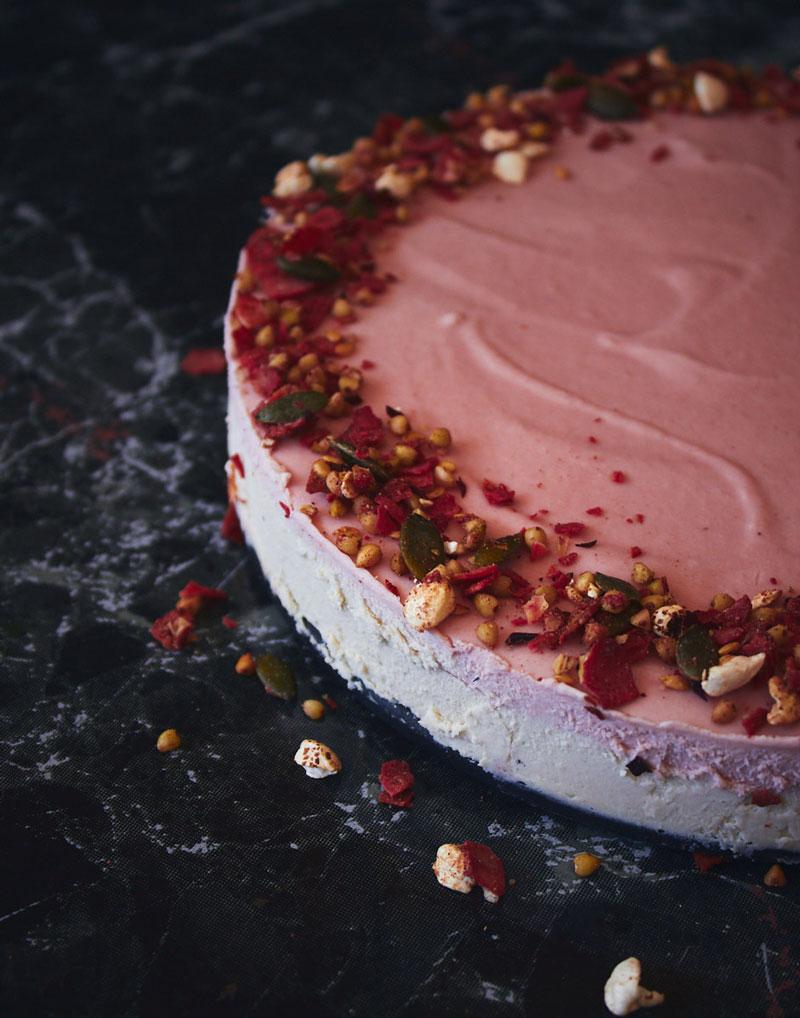 Raw White Chocolate and Rose Cake by Katie at Delightful Vegans – have your cake and eat it too with this deliciously healthy and creamy Raw White Chocolate and Rose Cake – with hints of rose and white chocolate undertones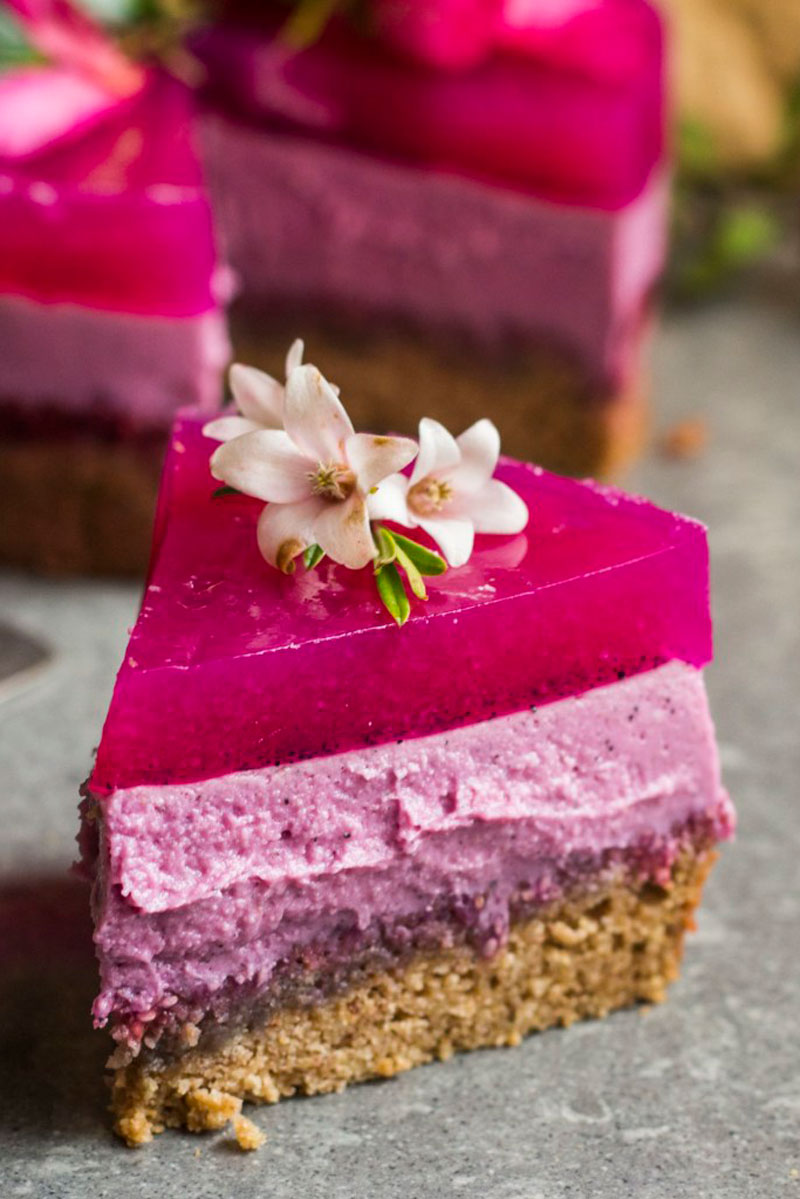 Pink Dragon Fruit Layer Cake by Anthea at Rainbow Nourishments – even though the cake might look difficult to make, I promise it isn't. It just takes some patience to wait for each layer to cook/set. But the wait is well worth it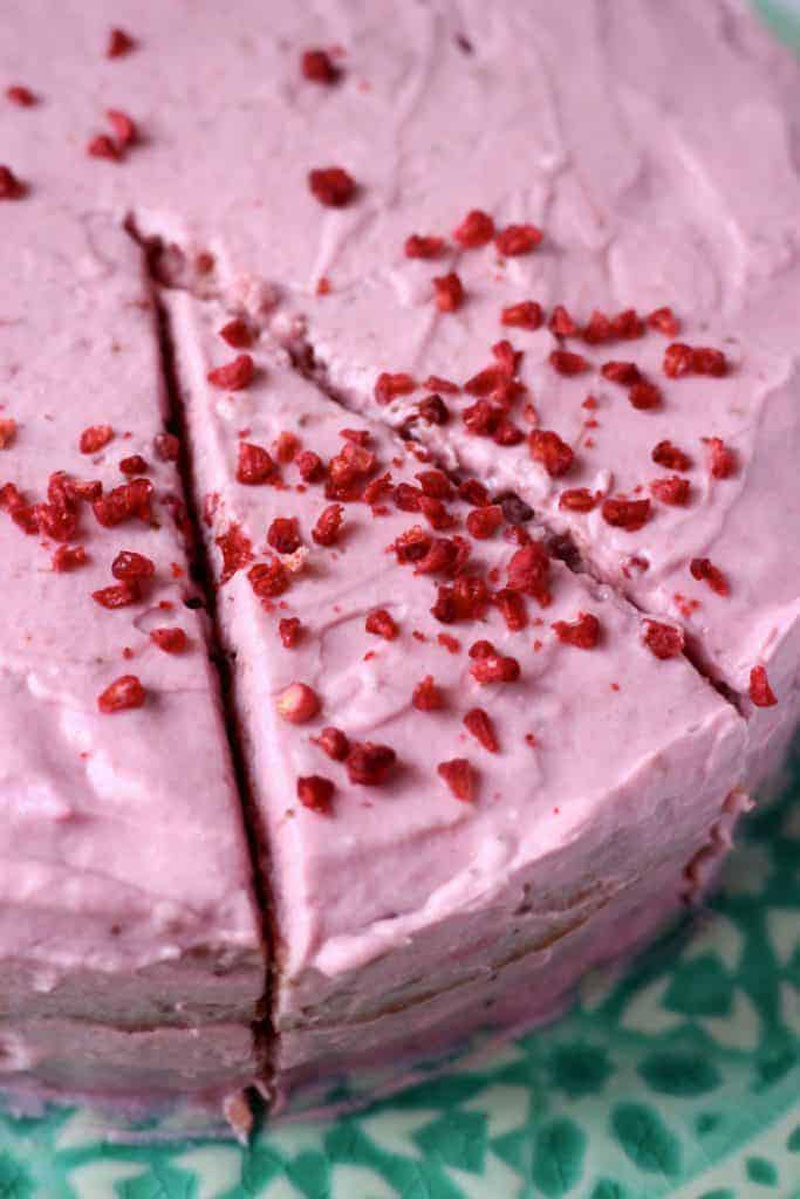 Gluten-Free Vegan Strawberry Cake by Rhian at Rhian's recipes – this Gluten-Free Vegan Strawberry Cake is fresh and fruity, full of strawberry flavour and naturally coloured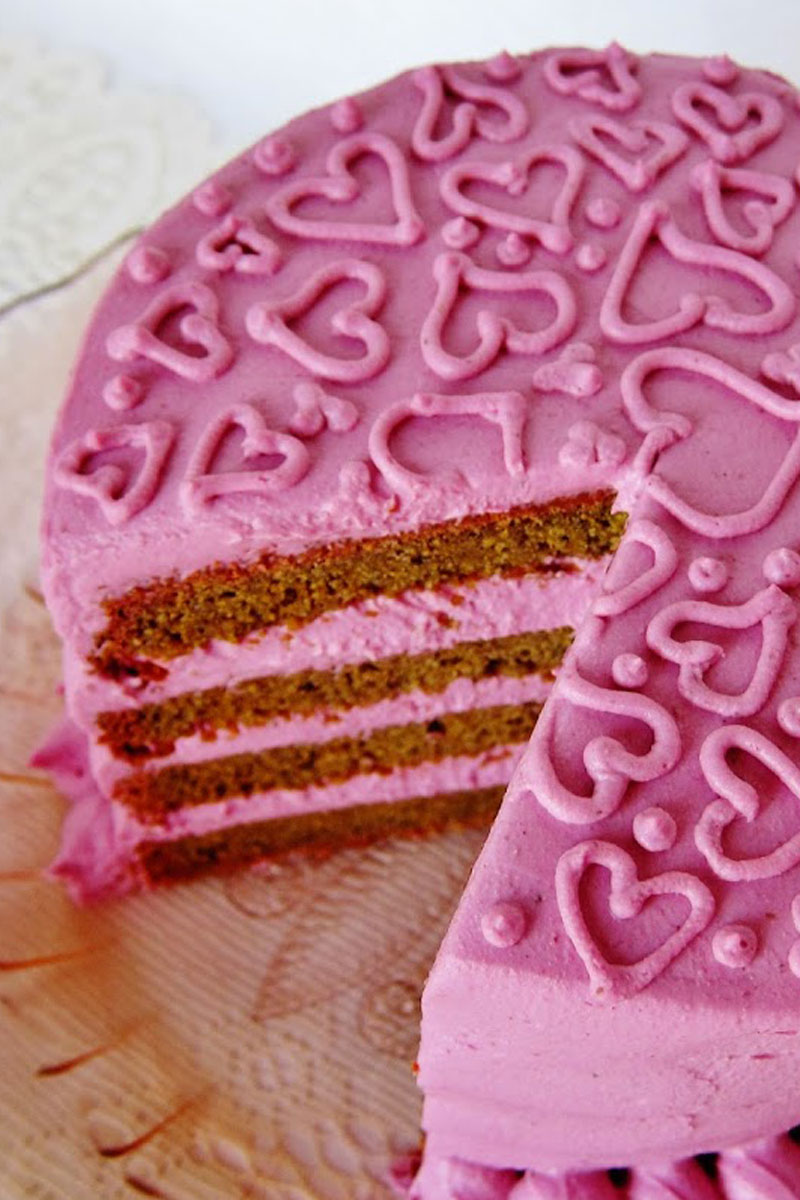 Vegan Strawberry Almond Layer Cake by Amy at Fragrant Vanilla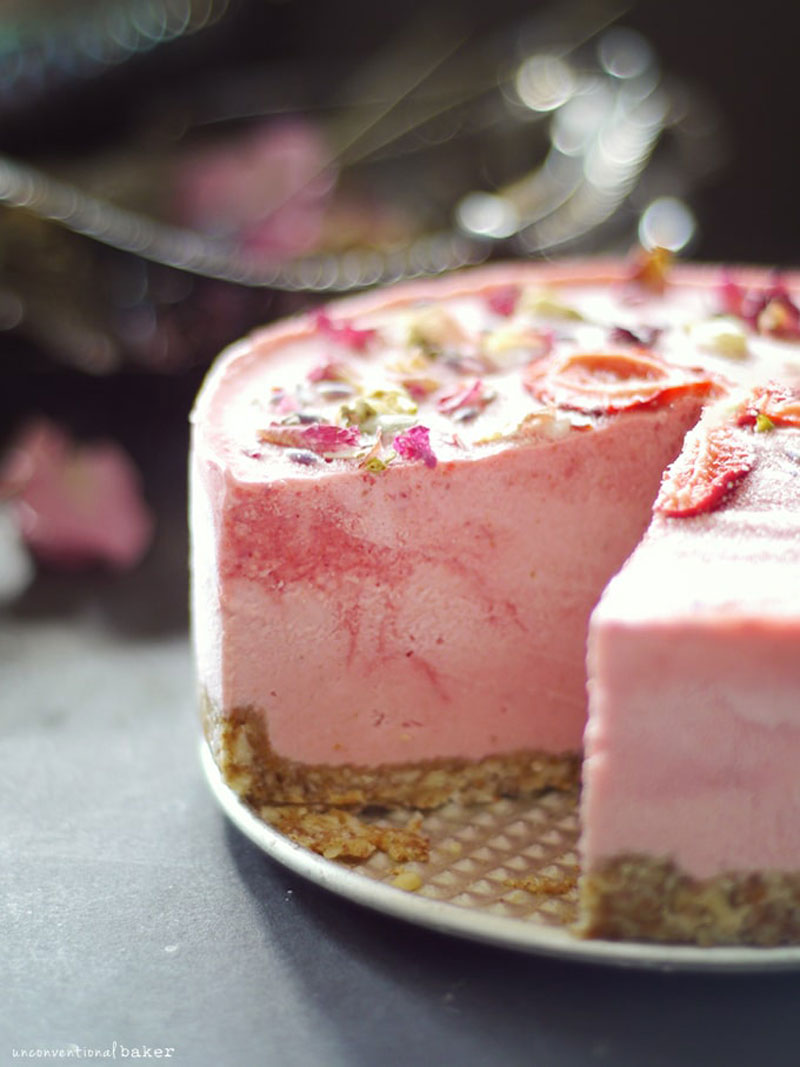 Strawberry lime macadamia cheesecake by Audrey at Unconventional baker – A raw vegan strawberry cheesecake with tangy lime accent to underscore the richness of the macadamia base filling. Sure to be a crowd pleaser. Gluten-free.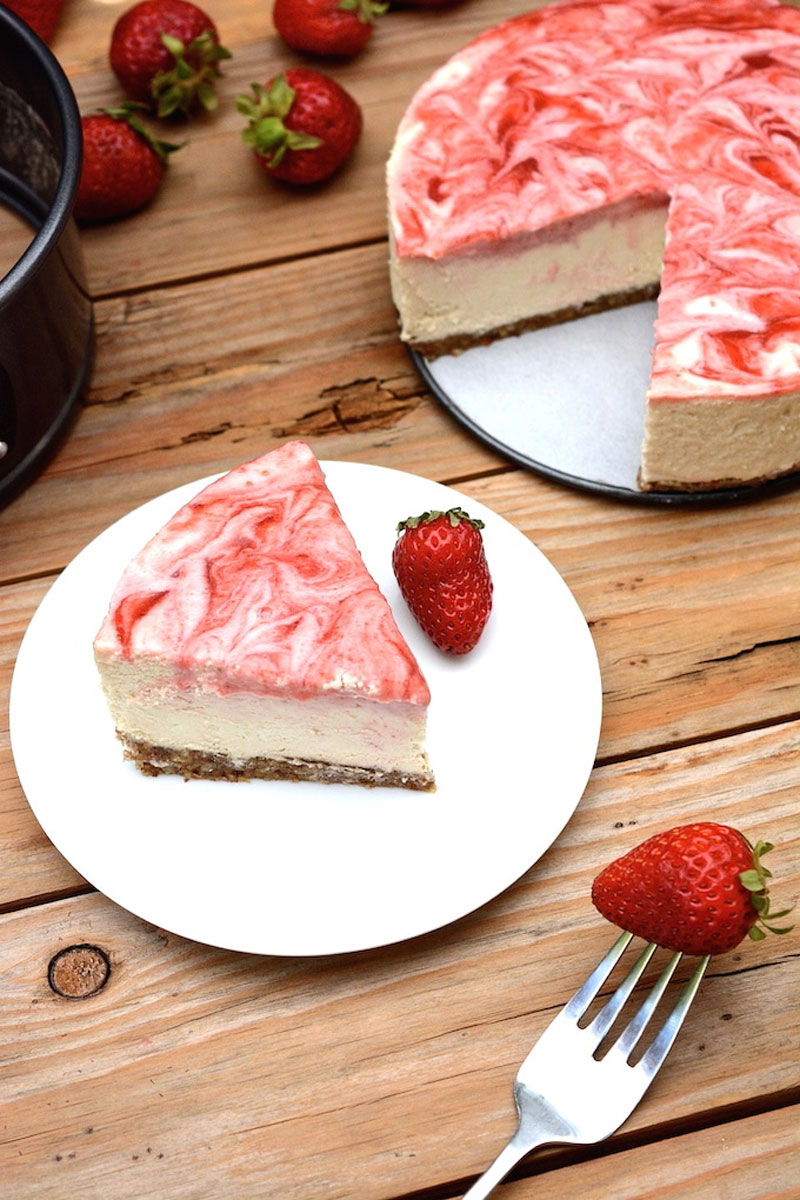 No-Bake Strawberry Swirl Cheesecake by Marlena at Where You Get Your Protein – this healthier, rich & creamy dessert is easy to whip-up, only takes 10 ingredients and includes a fresh strawberry swirl top with extra for drizzling
Pink Vegan recipes to celebrate Valentine's Day: Desserts & Sweet Treats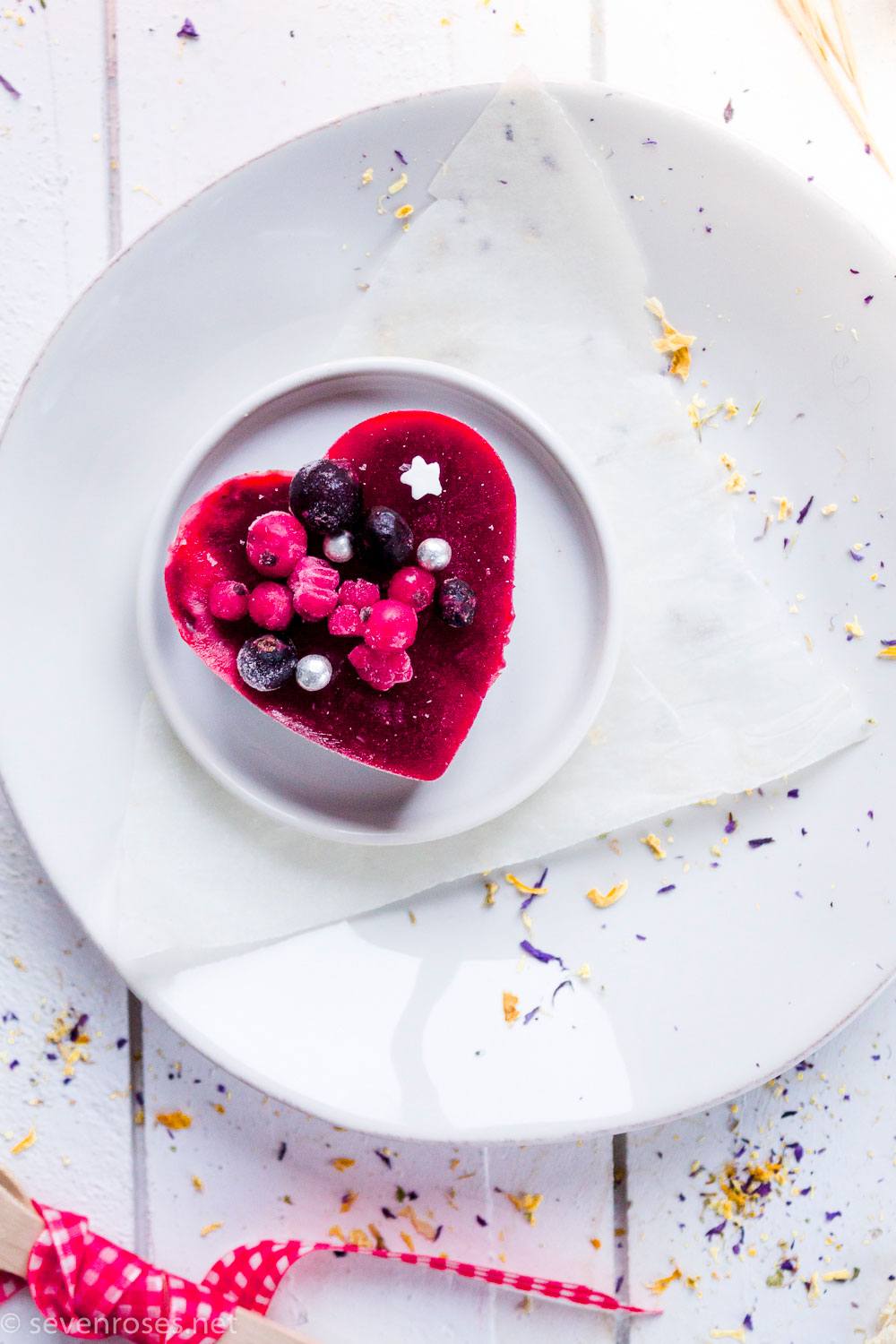 Triple-layer cheesecake hearts ♥ by yours, truly :) – delicious, gluten-free, dairy-free desserts perfect for Valentine's Day! Make them for your other half or just go ahead and make one for yourself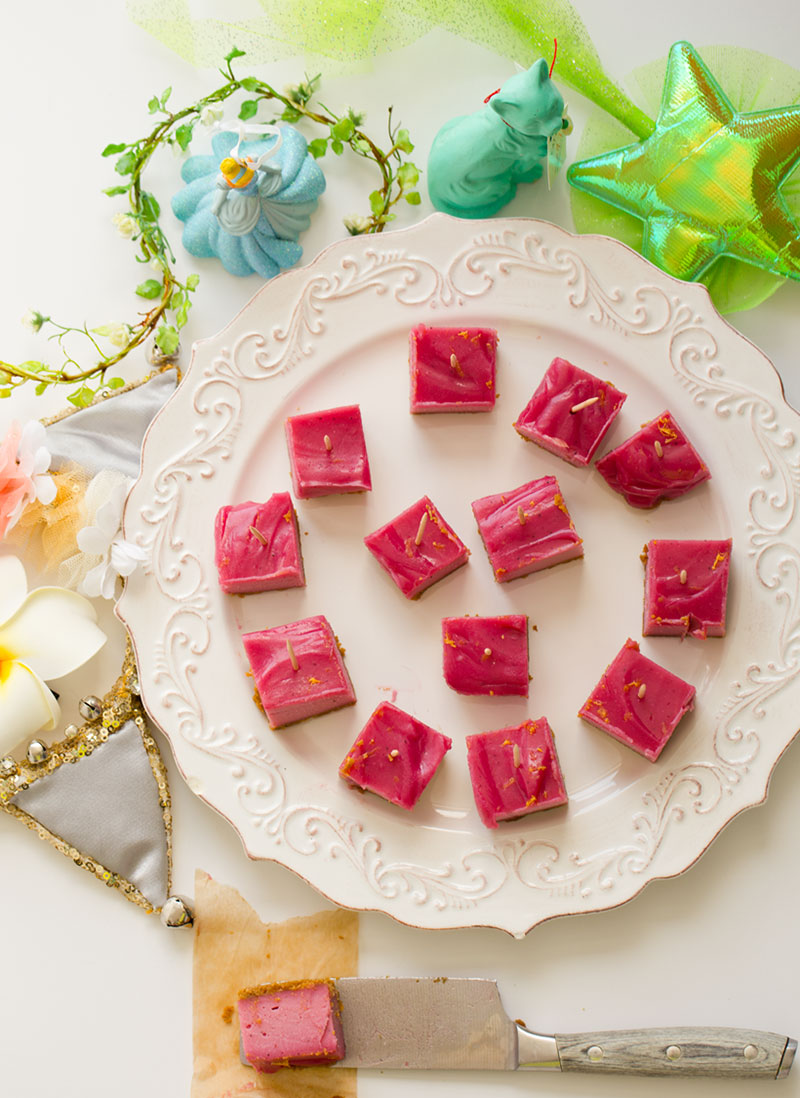 Pink Flamingo Vegan Cheesecake Bars by Kathy at Healthy Happy Life – no-bake, gluten-free Pink Flamingo Vegan Cheesecake Bars, made from creamy cashews, rich coconut oil, hot pink pitaya, zesty-sweet grapefruit and enchanting vanilla. Fuel your imagination with each flamingo pink bite.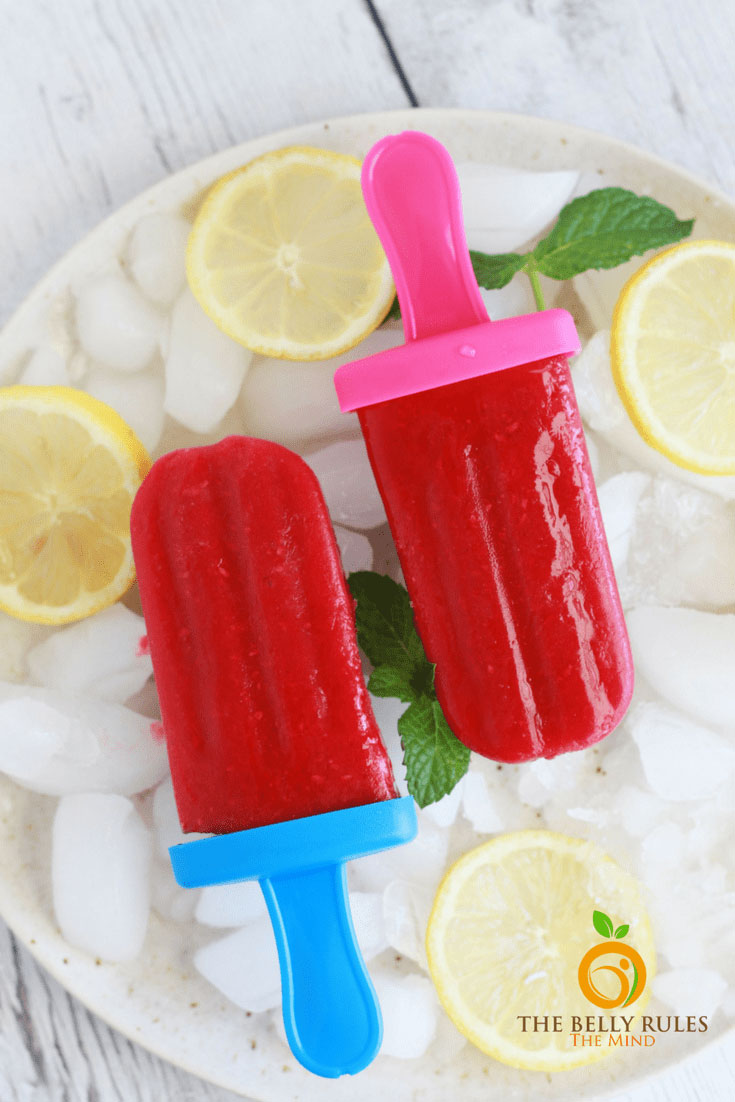 Sweet and sour Raspberry Lemonade Popsicles by Anvita at The Belly Rules the Mind – made with fresh raspberries and homemade lemonade, a cool treat for a hot sunny day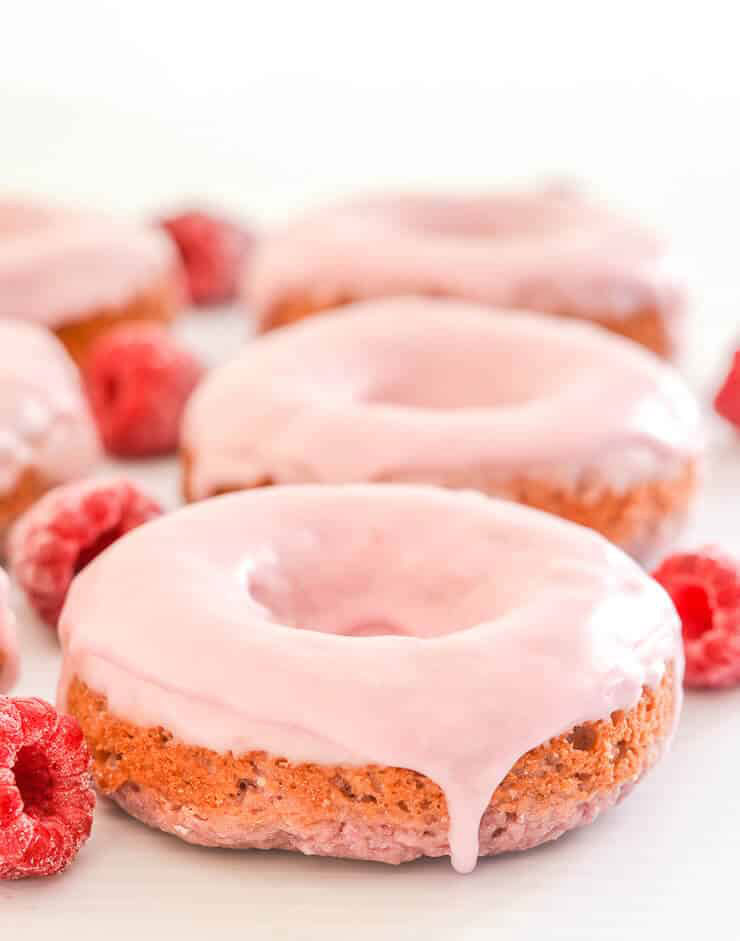 Vegan Raspberry Donuts by Mel at A Virtual Vegan – soft & fluffy completely oil-free, with a smooth, pretty in pink glaze. All infused with sweet raspberry flavour & so delicious.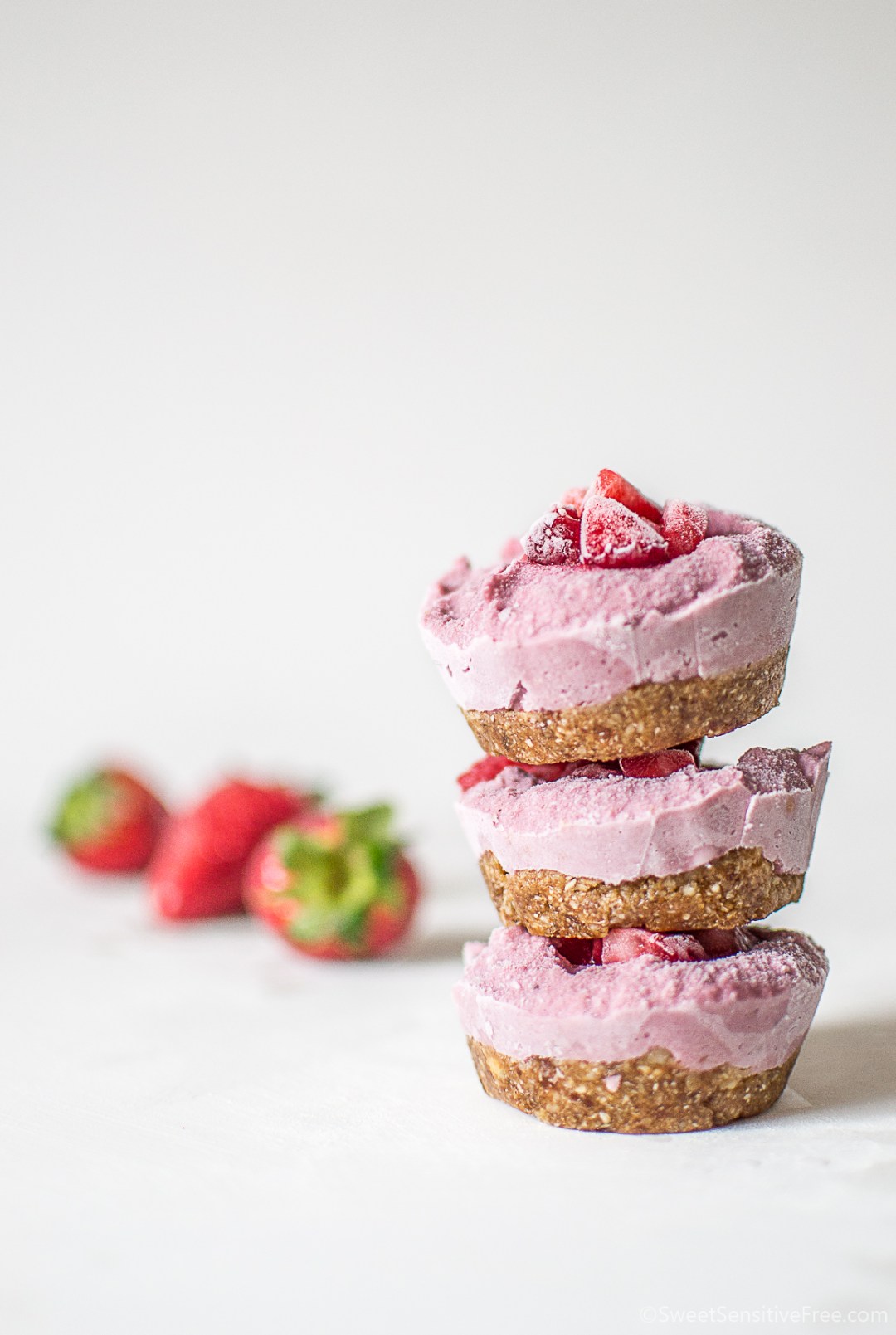 Vegan Strawberry Mini "Cheesecakes" by Sonia at Sweet Sensitive Free – easy and quick recipe to make delicious Vegan Strawberry Mini Cheesecakes, also gluten free, refined sugar free and raw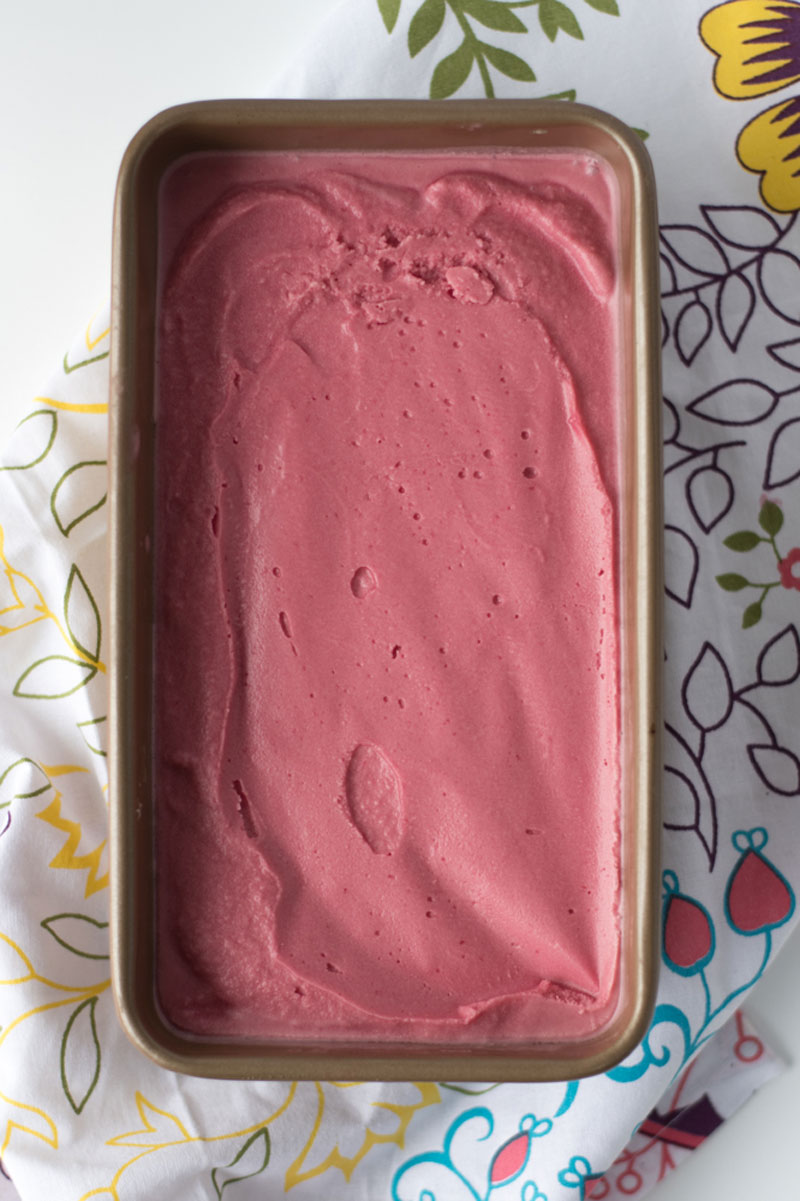 Blood Orange Sherbet by Jeni at Thyme and love – creamy, slightly sweet and tart and dairy-free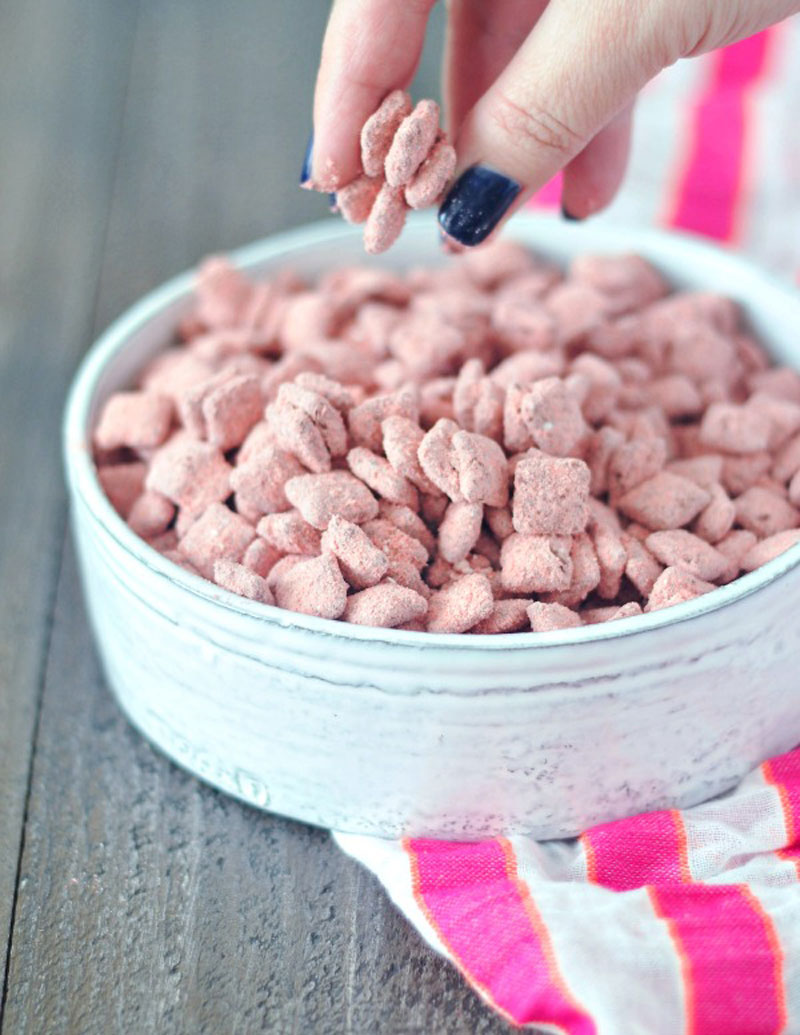 Powder Pink Strawberry Puppy Chow by Kristina at Spa Bettie – Valentine's, Easter, Springtime and Summer – this colorful sweet fruity treat is for any time of year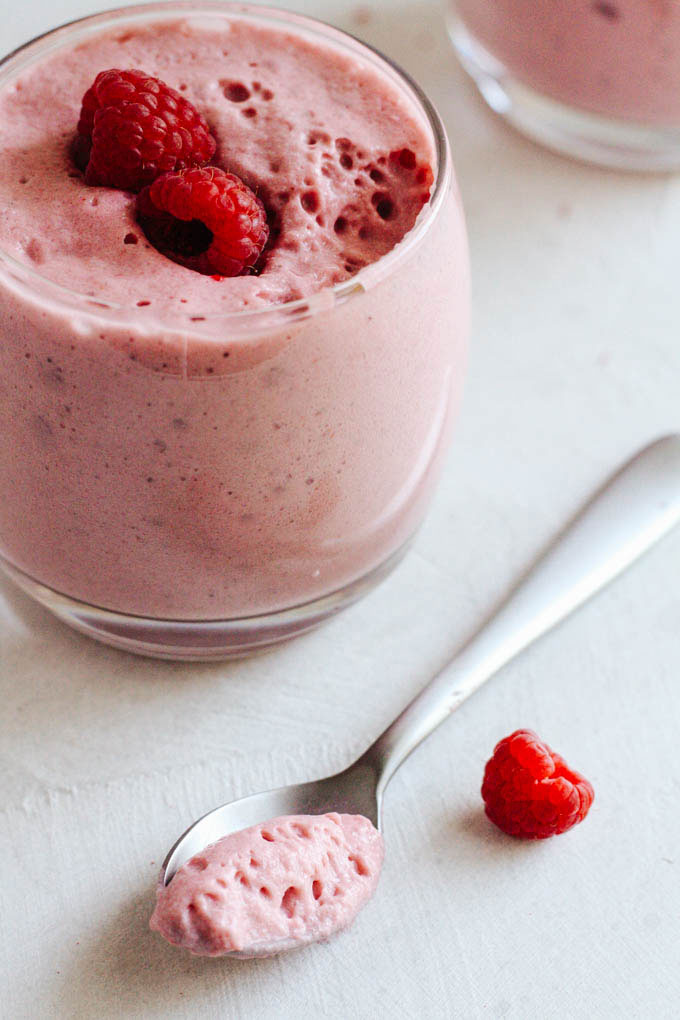 Vegan Raspberry Mousse by Lauren at Planted Purpose – deliciously light and airy. It's the perfect blend of sweet and tart that makes for a fancy, yet simple, dessert!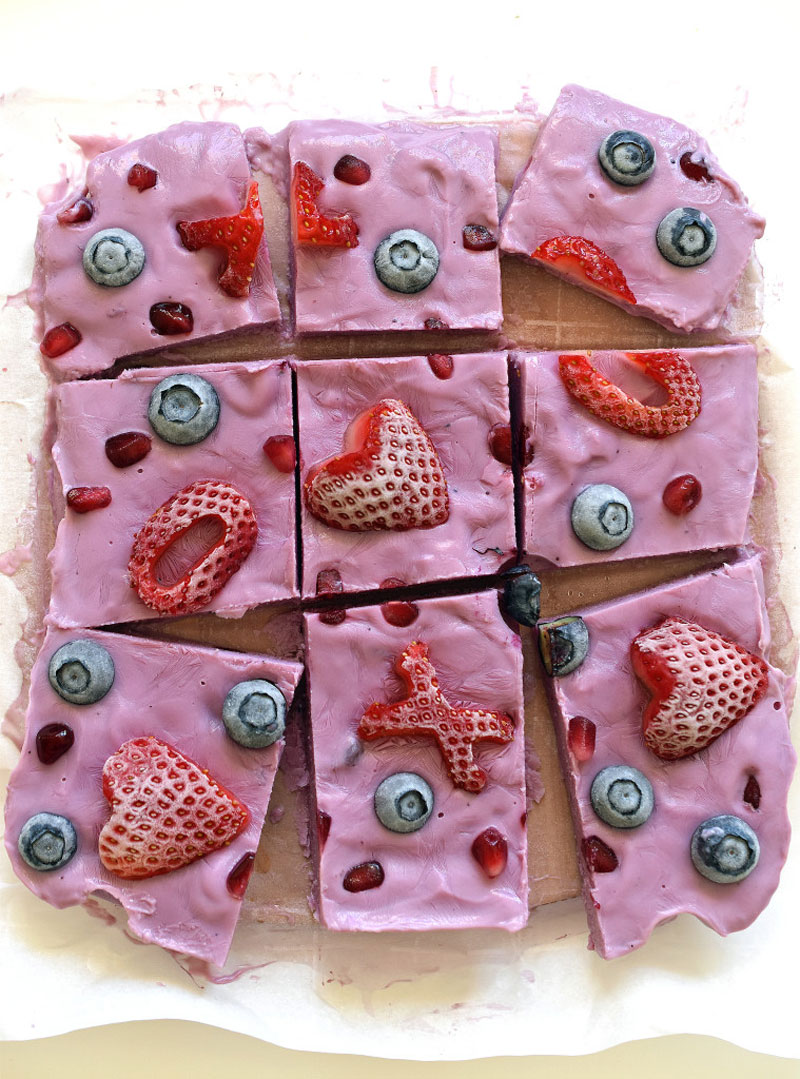 Valentine's Yogurt Bark by Cara at Fork and Beans – a healthier option to spread the message "I love you"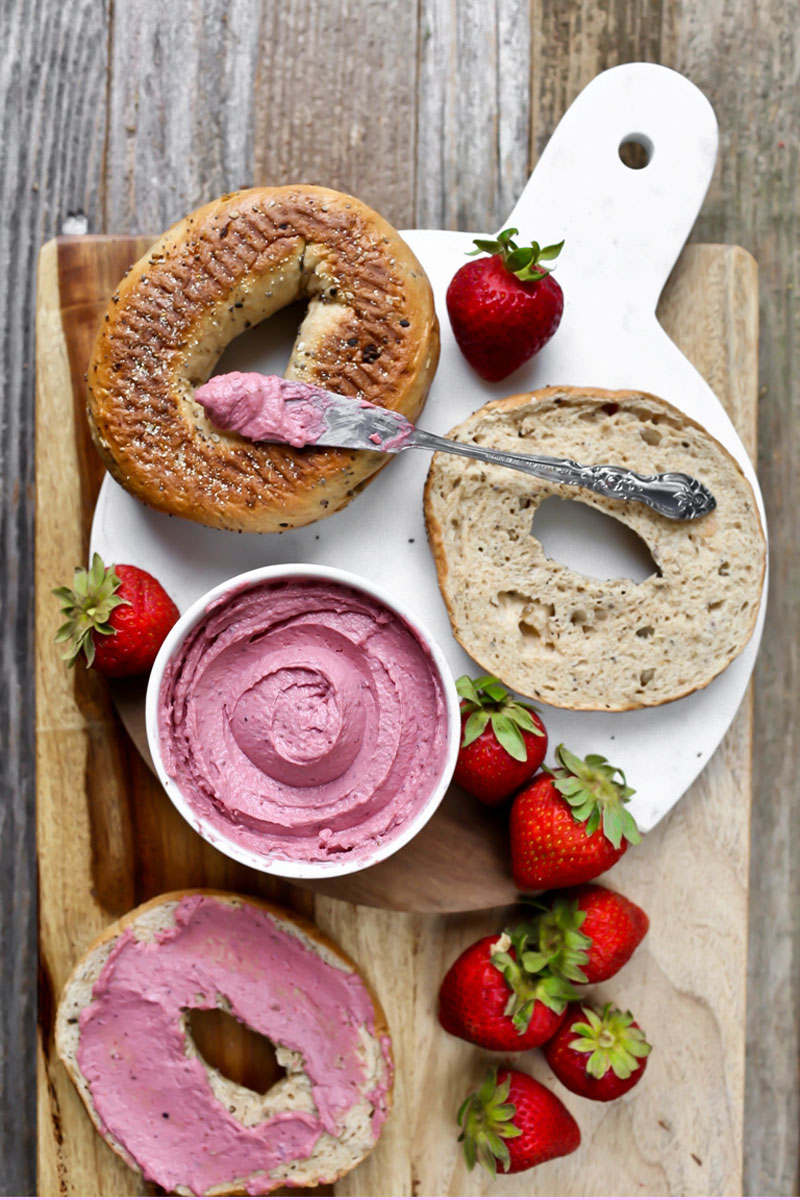 Vegan Strawberry Cream Cheese by Brandi at The Vegan 8 – made from freeze-dried strawberries, cashew butter, yogurt and lemon juice, this 5-ingredient recipe takes 10 minutes to make and is incredibly rich in flavor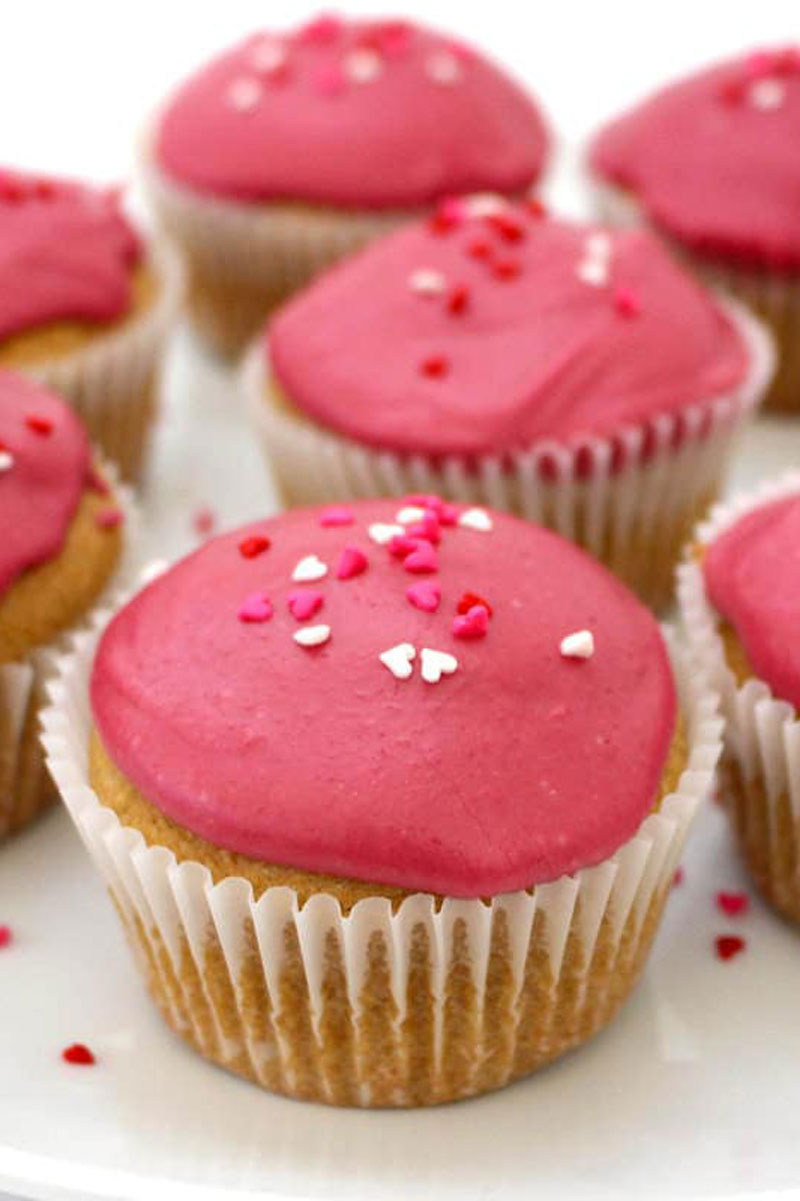 Vegan Vanilla Cupcakes by Annie at Vegannie – sugar-free, fat-free, oil-free with a gluten-free option. Also super low-calorie – only 95 calories each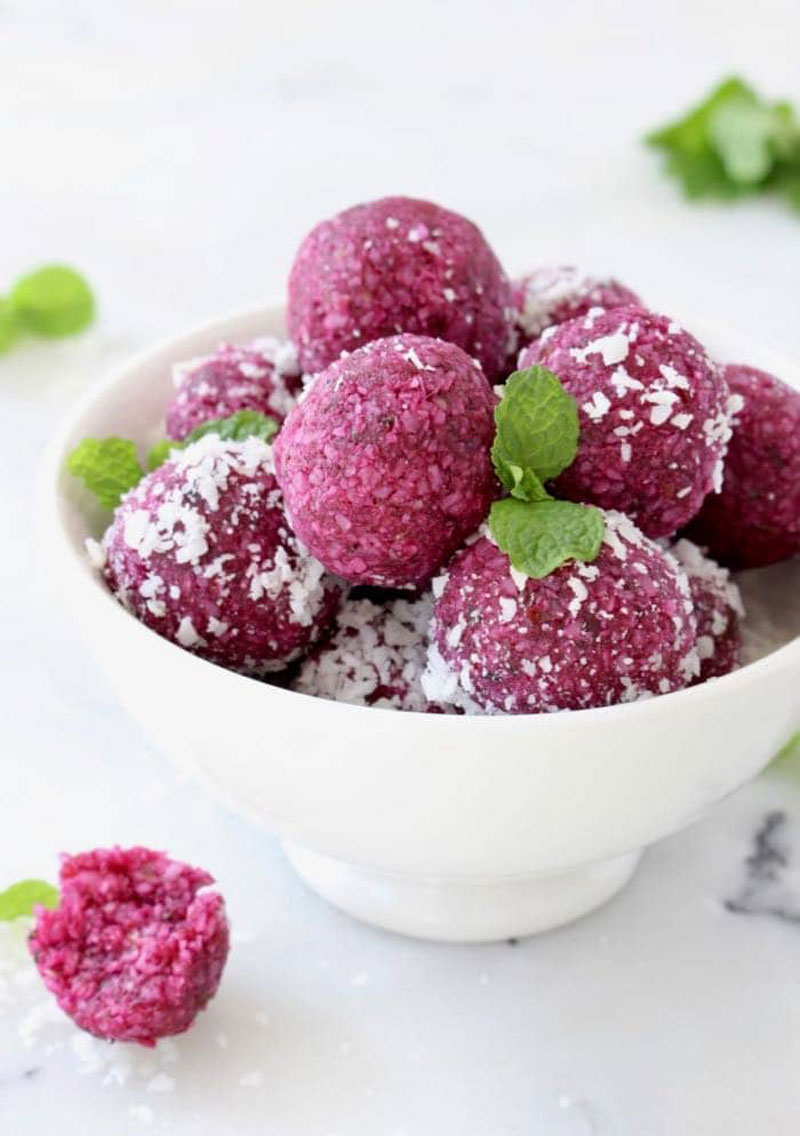 Vegan Coconut Date Balls Recipe by Florentina at the Veggie Society – easy, healthy no bake coconut balls that are plant-based, vegan and good for you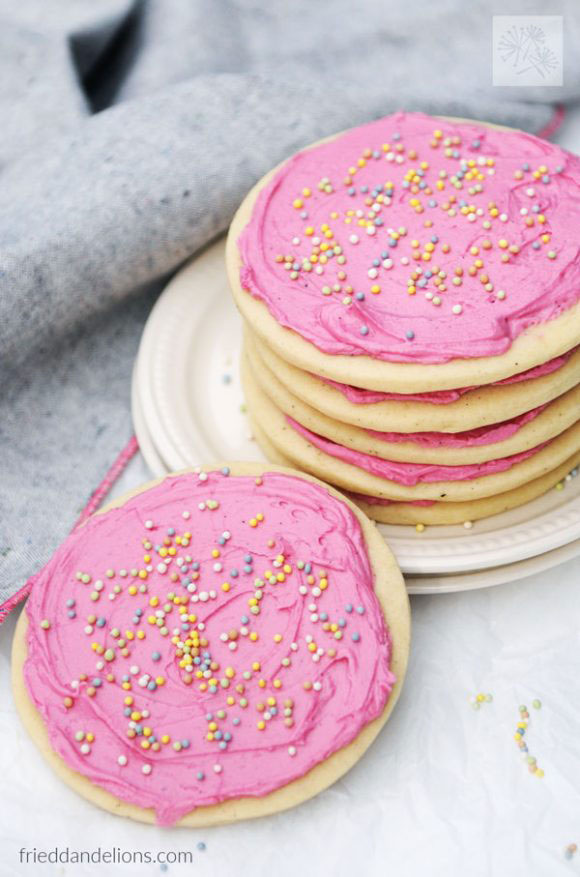 Classic vegan Sugar Cookies by Sarah at Fried Dandelions– make these with your kiddos, or share with your friends. They are sure to be a hit!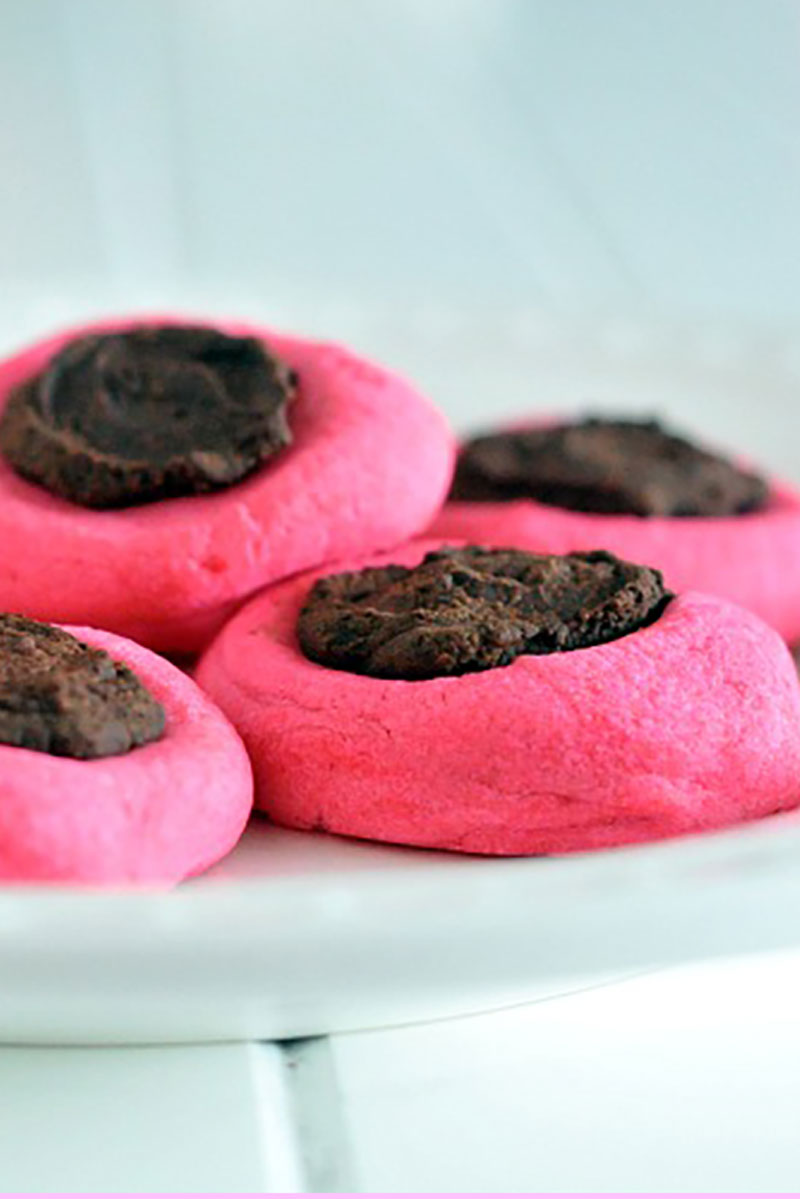 Pink Thumbprints with Whiskey Ganache by Kristina at SpaBettie – a naturally bright pink butter cookie topped with a rich whiskey ganache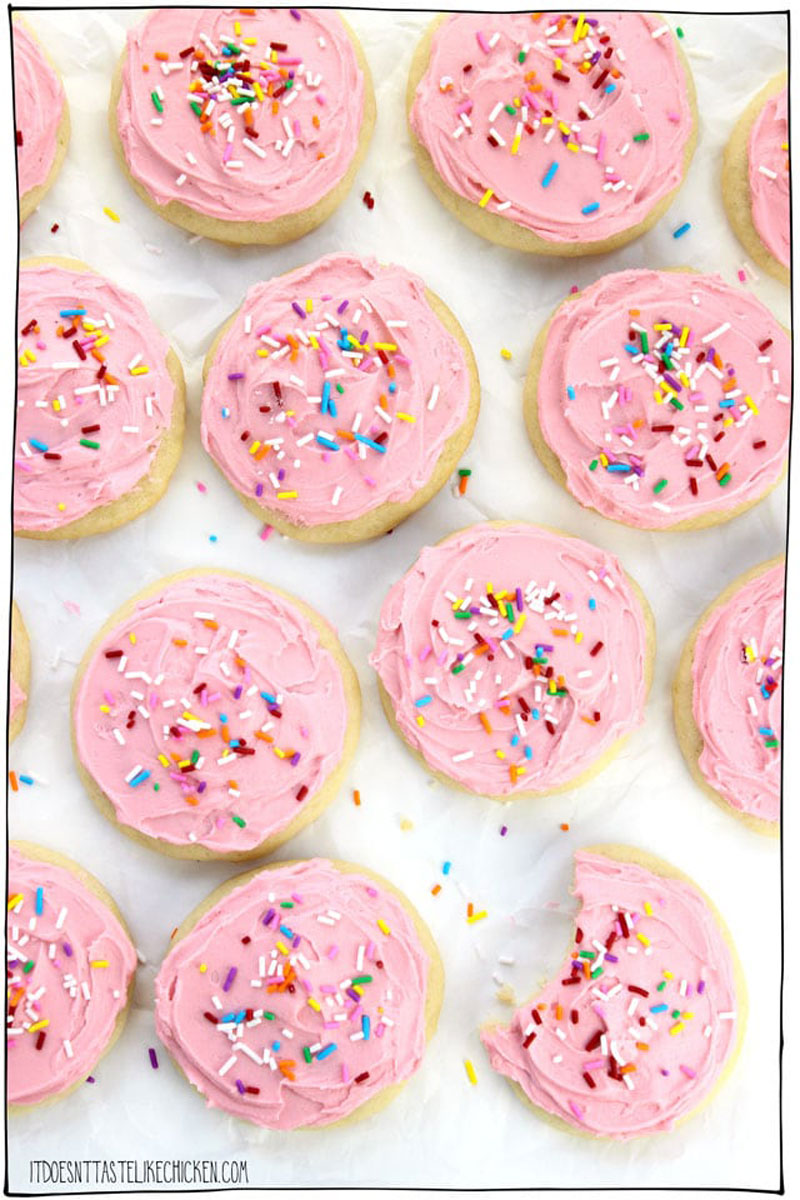 Vegan Soft Frosted Sugar Cookies by Sam at It Doesn't Taste Like Chicken – pillowy soft, cakey, frosted cookies- they are almost like the top of a cupcake that got smushed into a cookie complete with frosting and sprinkles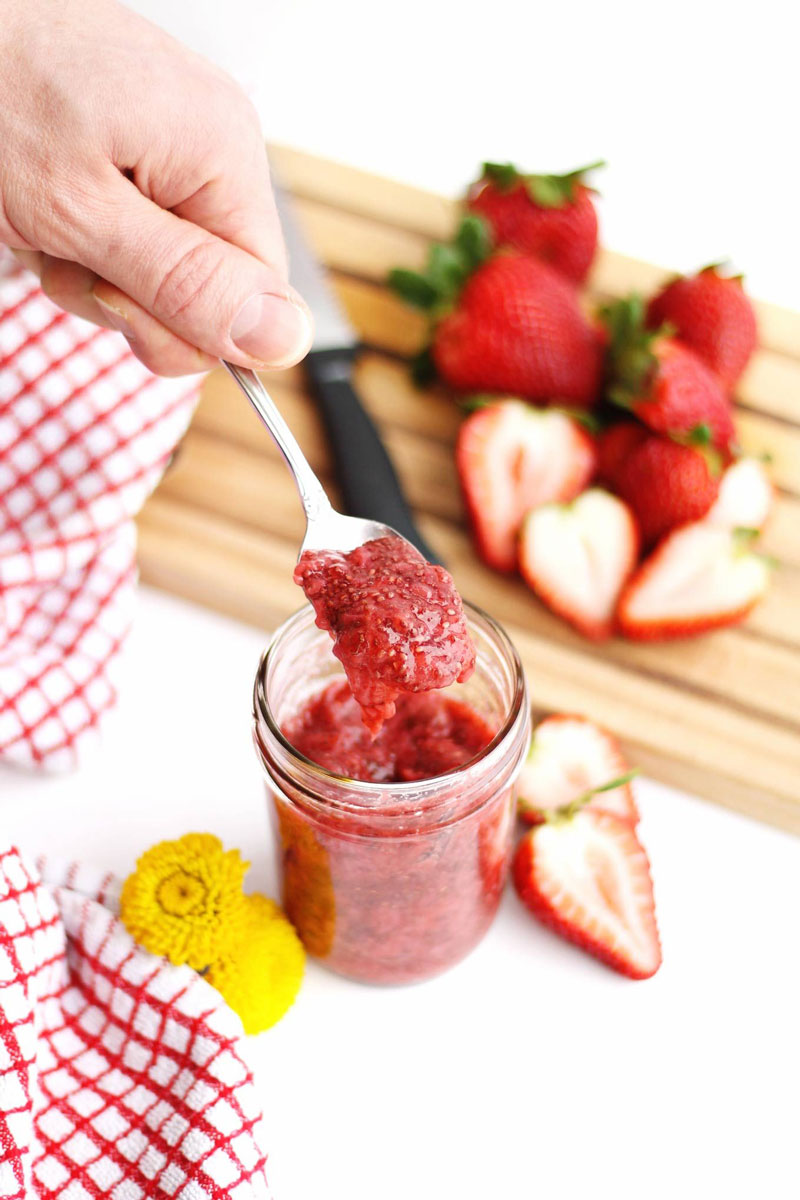 Small batch strawberry chia jam by Trish at Rhubarbarians – Only 3 ingredients and 10 minutes of prep for this small batch strawberry chia jam! A refined sugar-free, tasty recipe from The Veginner's Cookbook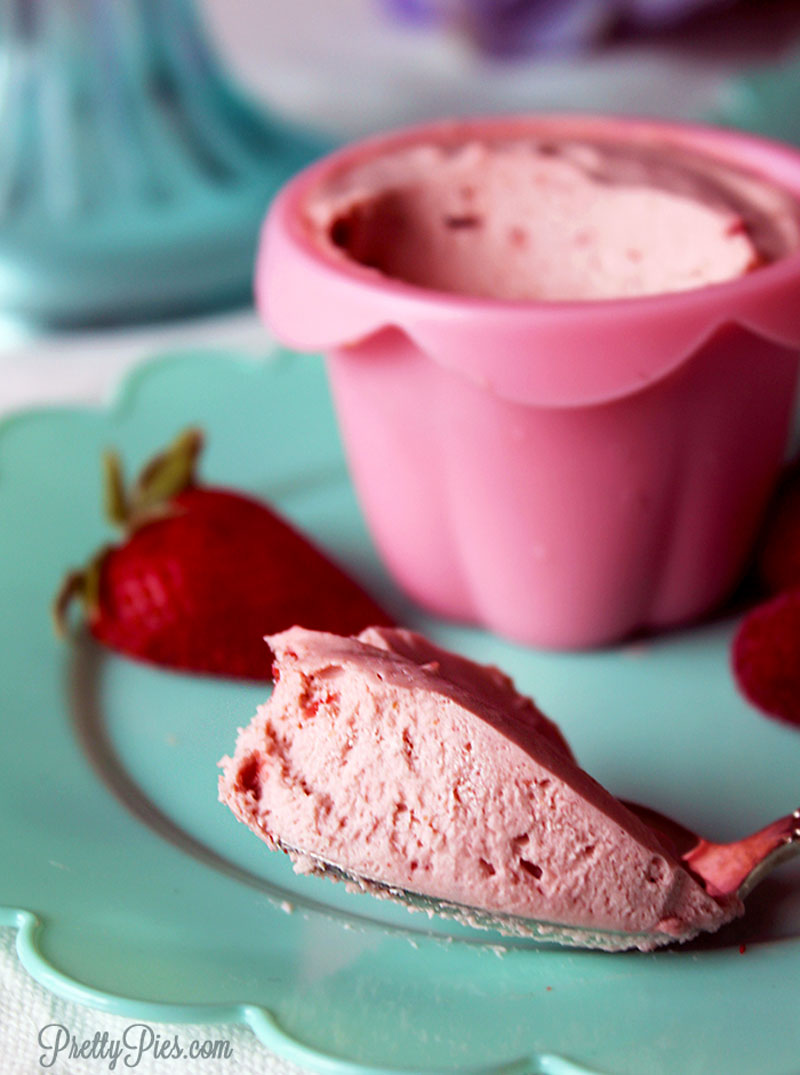 Easy Strawberry Mousse Emily at Pretty Pies – bursting with strawberry flavor. You won't believe how simple it is to make!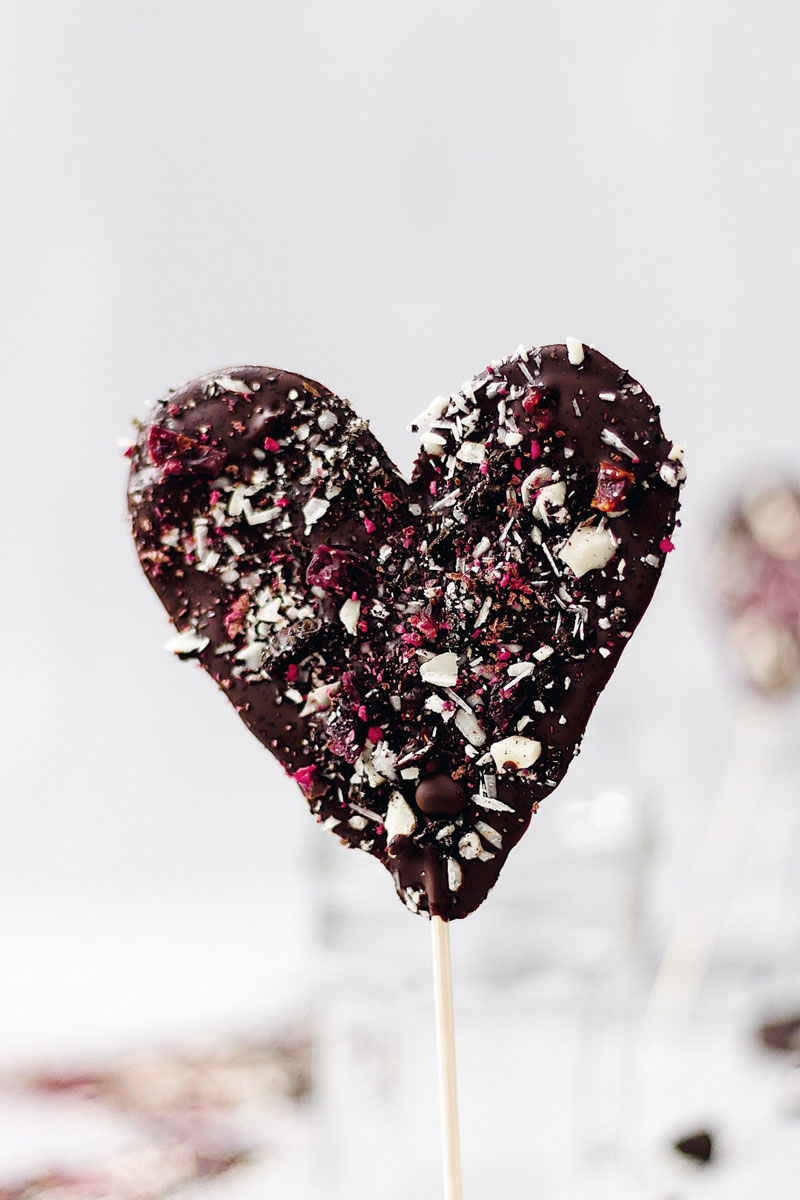 Special mention: Chocolate Heart Lollipops by Tamsin at Cupful of Kale – ok these are not "pink" but they are just too adorable & cute not be included in this round-up :)
Pink Vegan recipes to celebrate Valentine's Day: Healthy Smoothies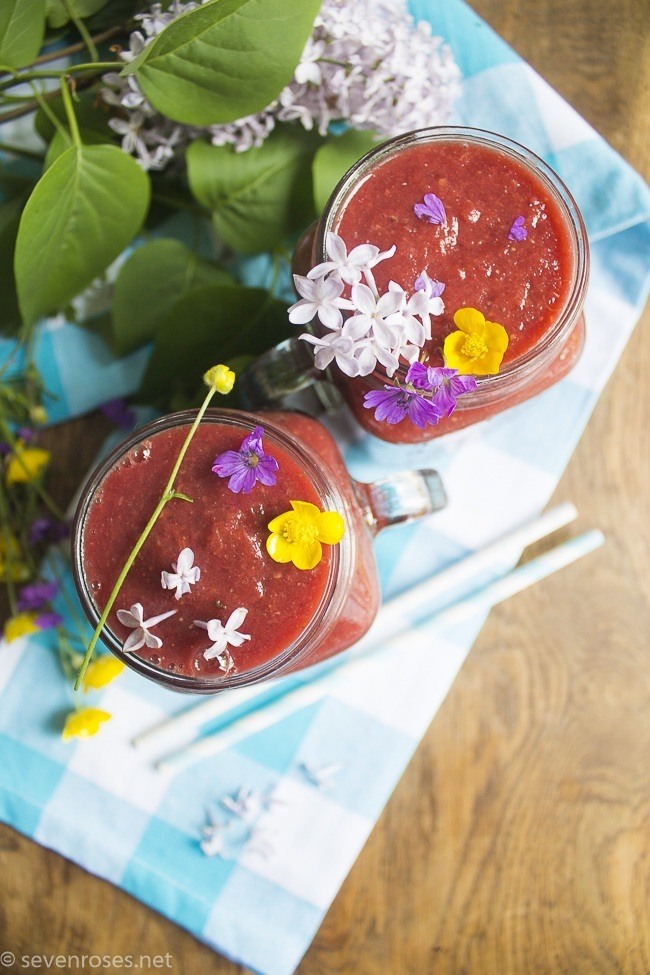 Ruby red antioxidant smoothie by yours truly :) – in this antioxidant smoothie you'll find plenty of healthy plant-based proteins, fibers and vitamins to replenish your body of super foods.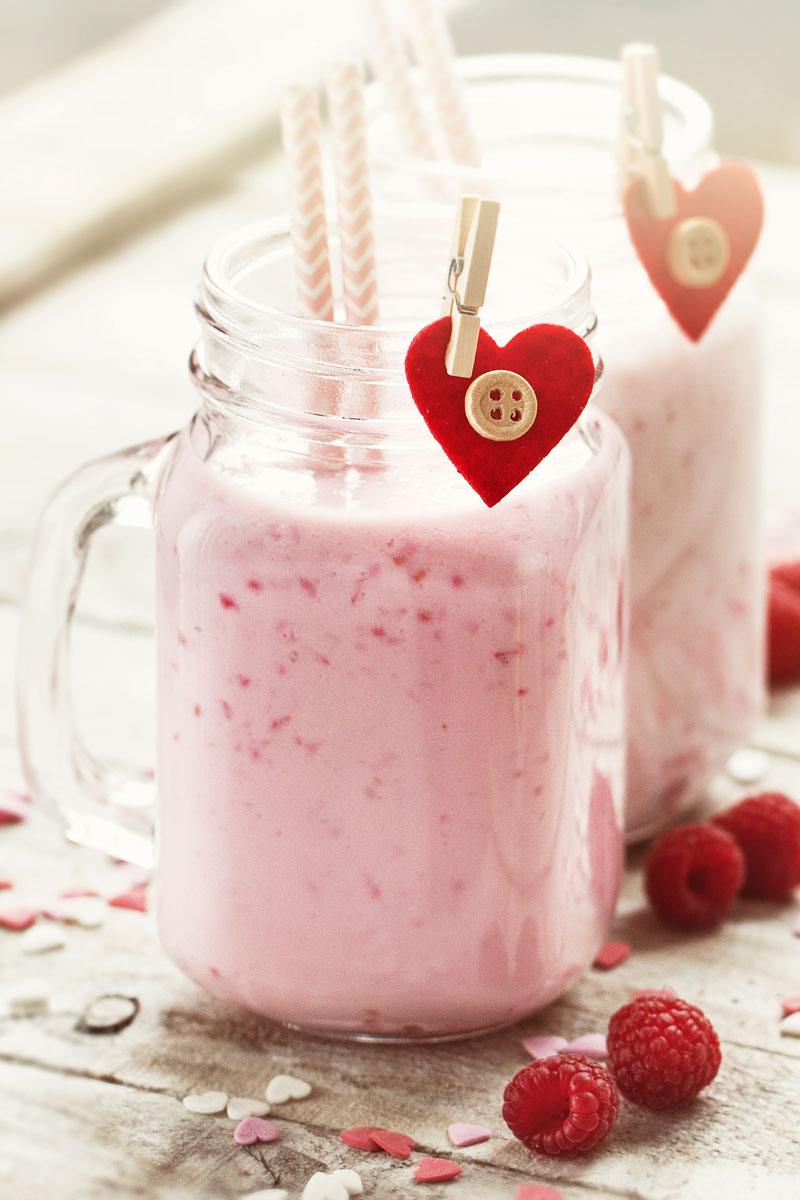 Welcome Spring Smoothie by yours, truly – this easy-to-make, vitamin-packed, pink-colored smoothie is the perfect way to fill up your stomach and eat plenty of fruits all at the same time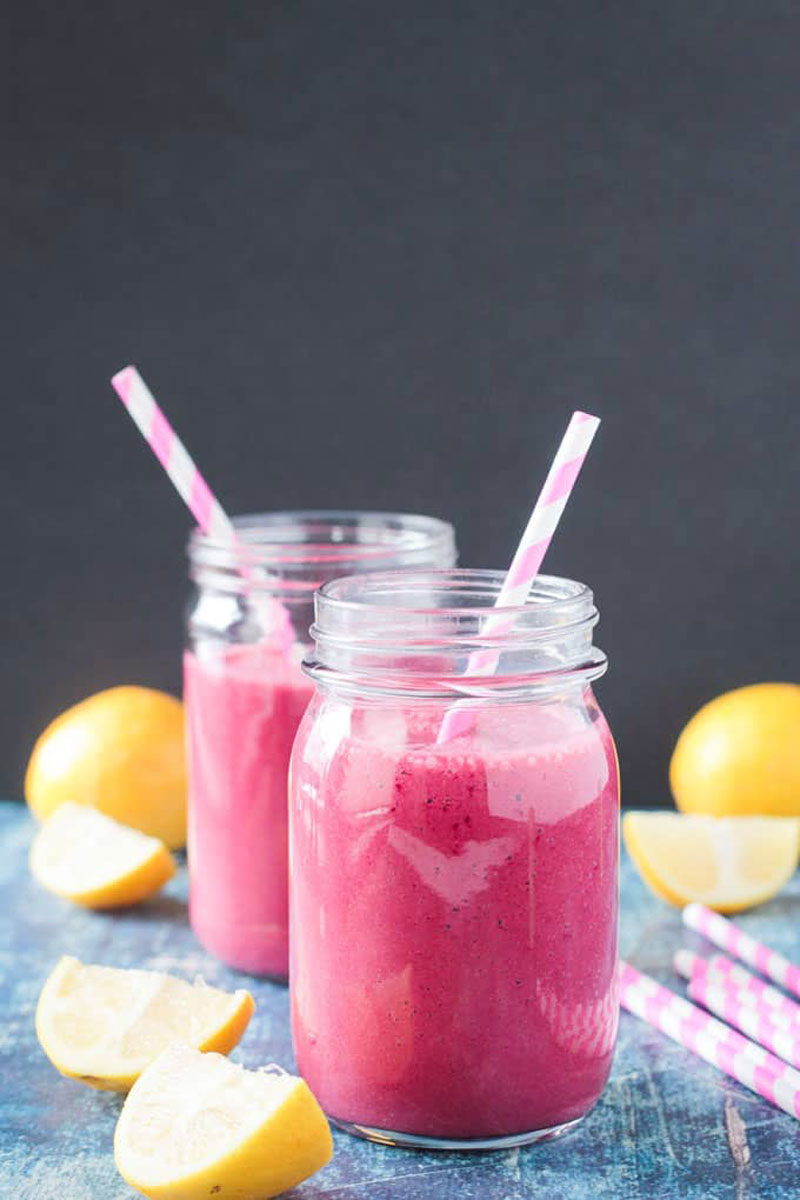 Strawberry Beet Smoothie by Jenn at Veggie Inspired – this gorgeous dairy free smoothie is a little sweet, a little earthy, a little spicy, and a little tangy.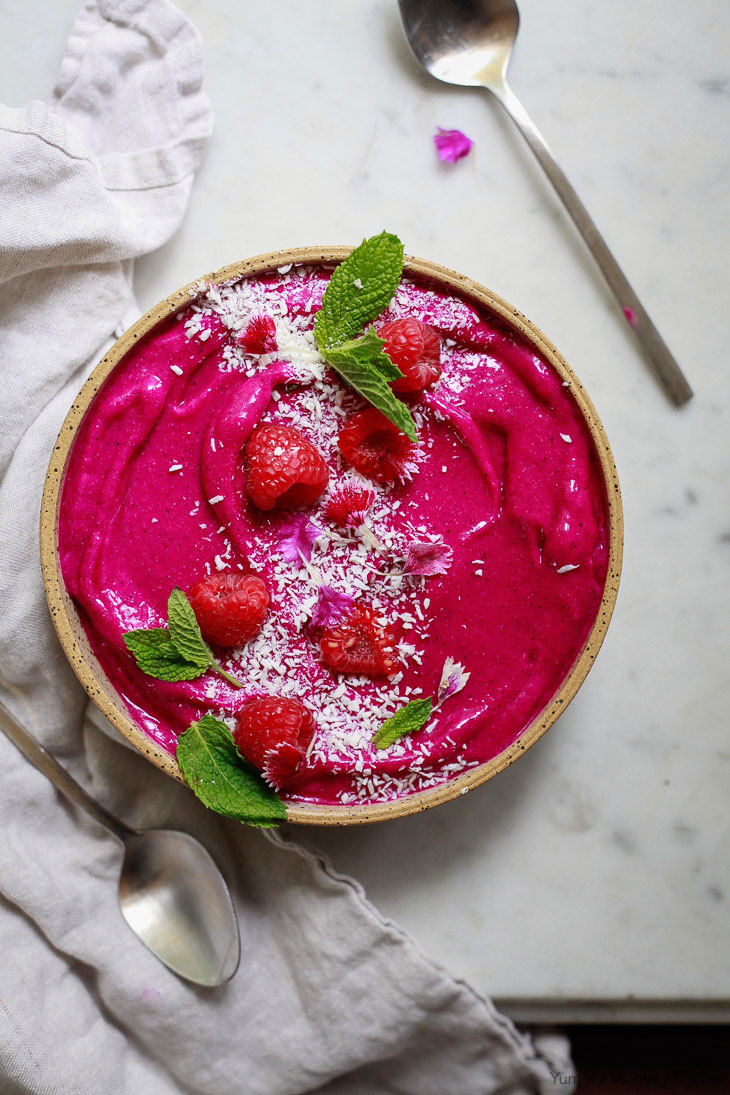 Dragon fruit/pitaya smoothie by Marina at Yummy Mummy Kitchen – made with coconut milk, banana, and mango. This refreshing smoothie is packed with antioxidants. Dragon fruit smoothies are perfect in a glass or bowl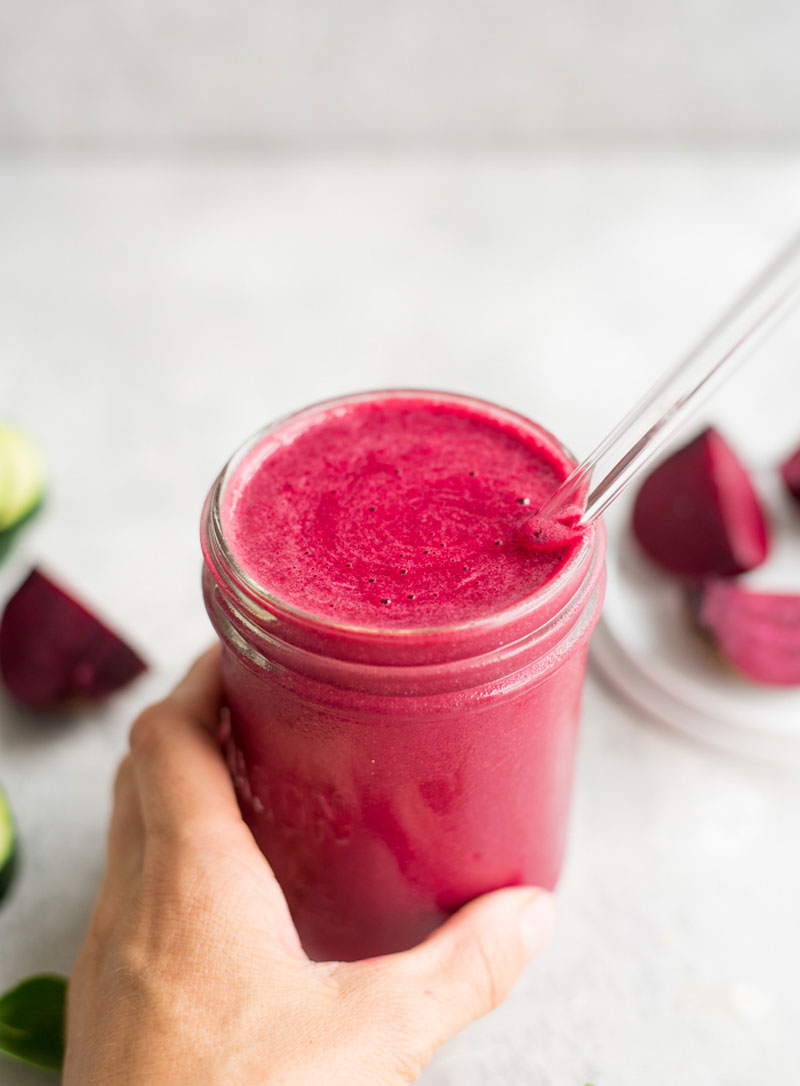 Beet orange smoothie by Deryn at Running on Real Food – try it as is or reduce the liquid to make a healthy smoothie bowl dessert topped with blueberries and granola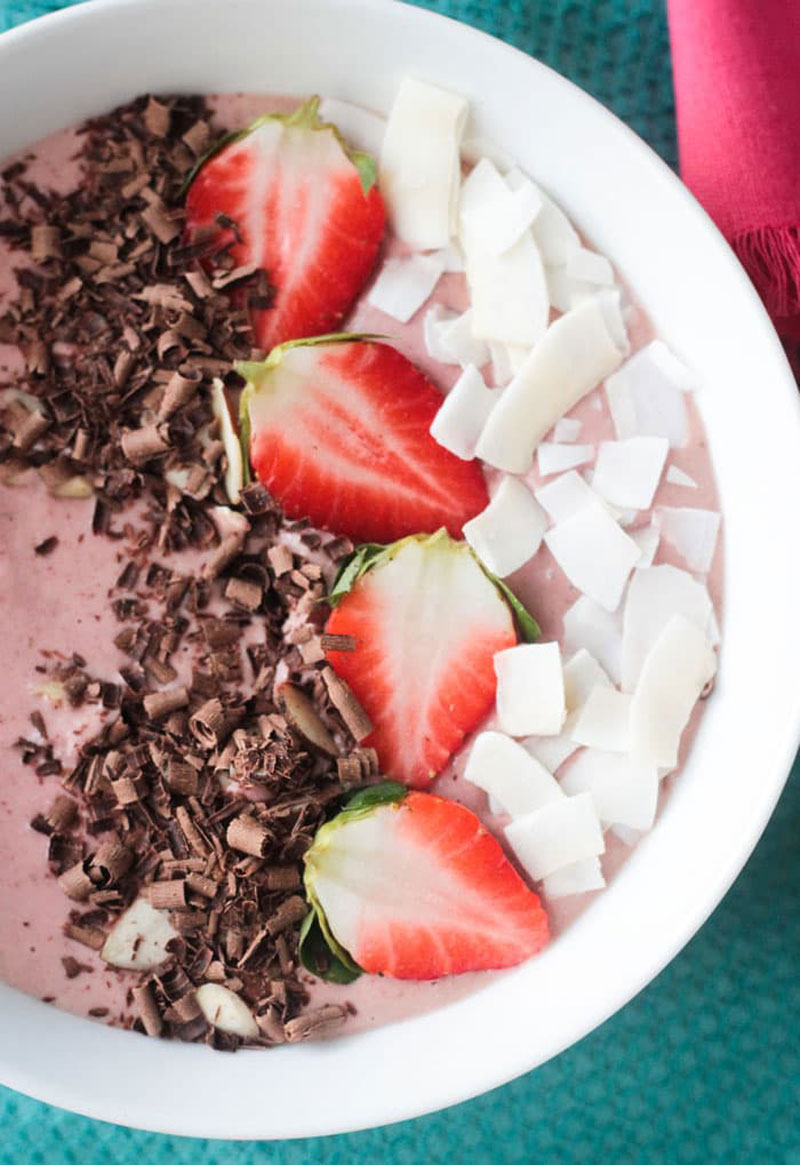 Chocolate Covered Strawberry Smoothie Bowl by Jenn at Veggie Inspired – this quick and easy smoothie bowl will have you thinking you're eating dessert for breakfast….but it's actually healthy
Pink Vegan recipes to celebrate Valentine's Day: Drinks & Grown-up Drinks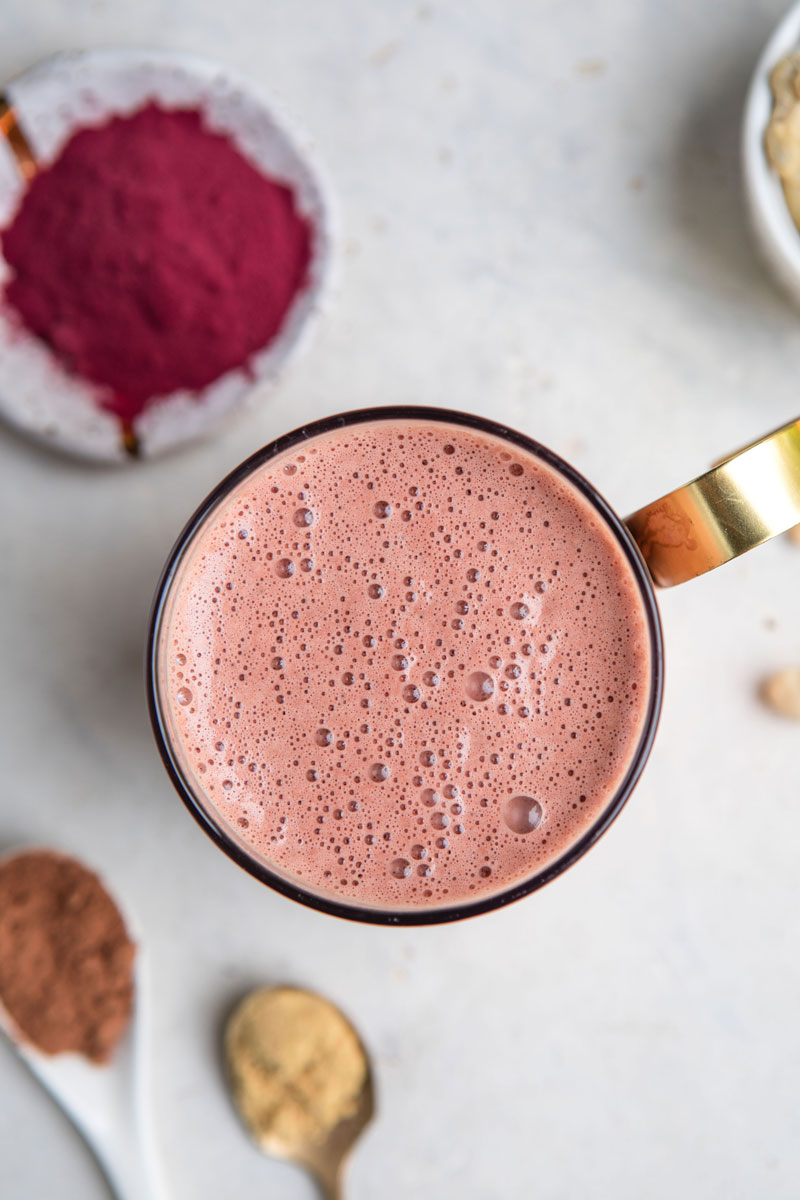 Beet Latte recipe by Caitlin at From My Bowl – skip the coffee shop and make your own cozy and creamy Beet Latte at home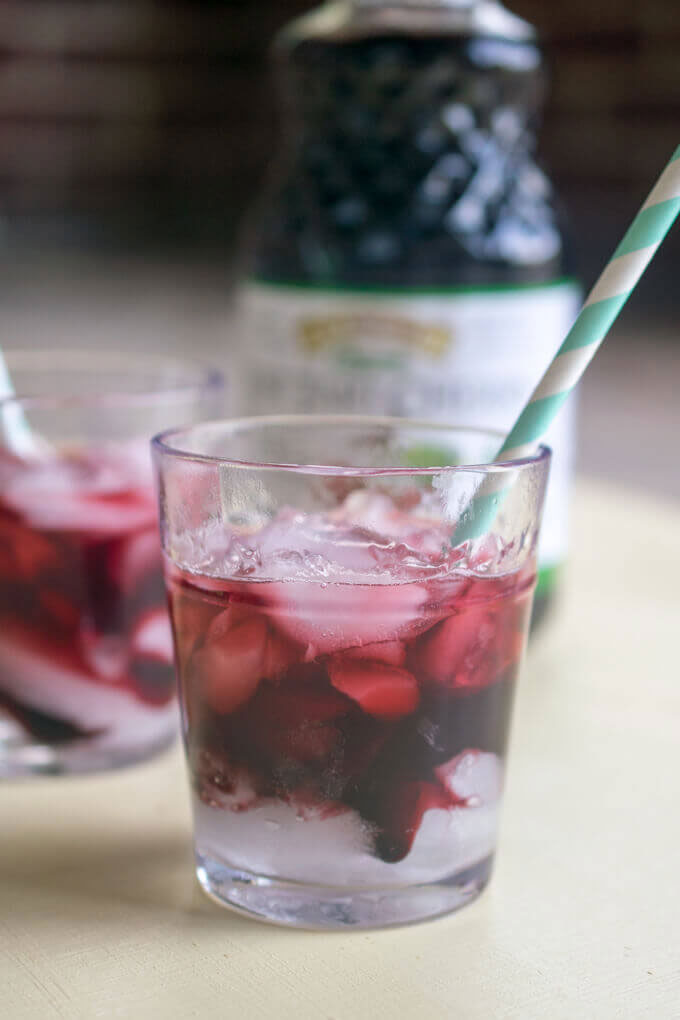 Tart Cherry Ginger Cooler by Shannon at Yup, it's Vegan! – a refreshing summer drink that adds a little bit of flair to ginger ale with fresh ginger infused tart cherry reduction.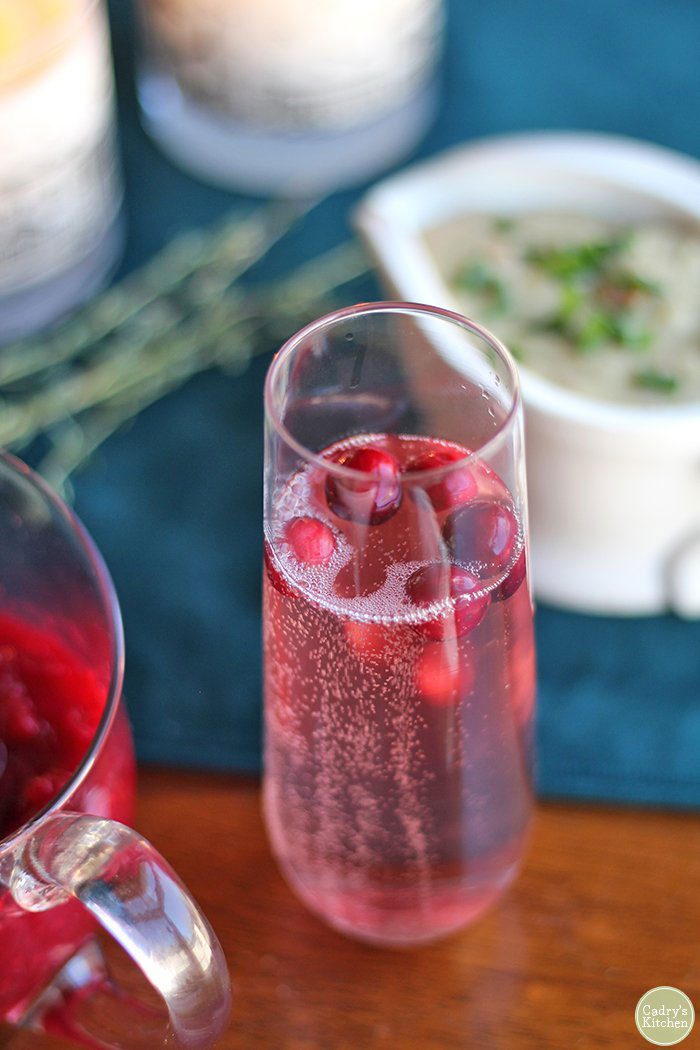 Cranberry mimosa by Cadry at Cadry's Kitchen – you can make this cocktail without alcohol using sparkling water, club soda, or tonic water instead of sparkling wine.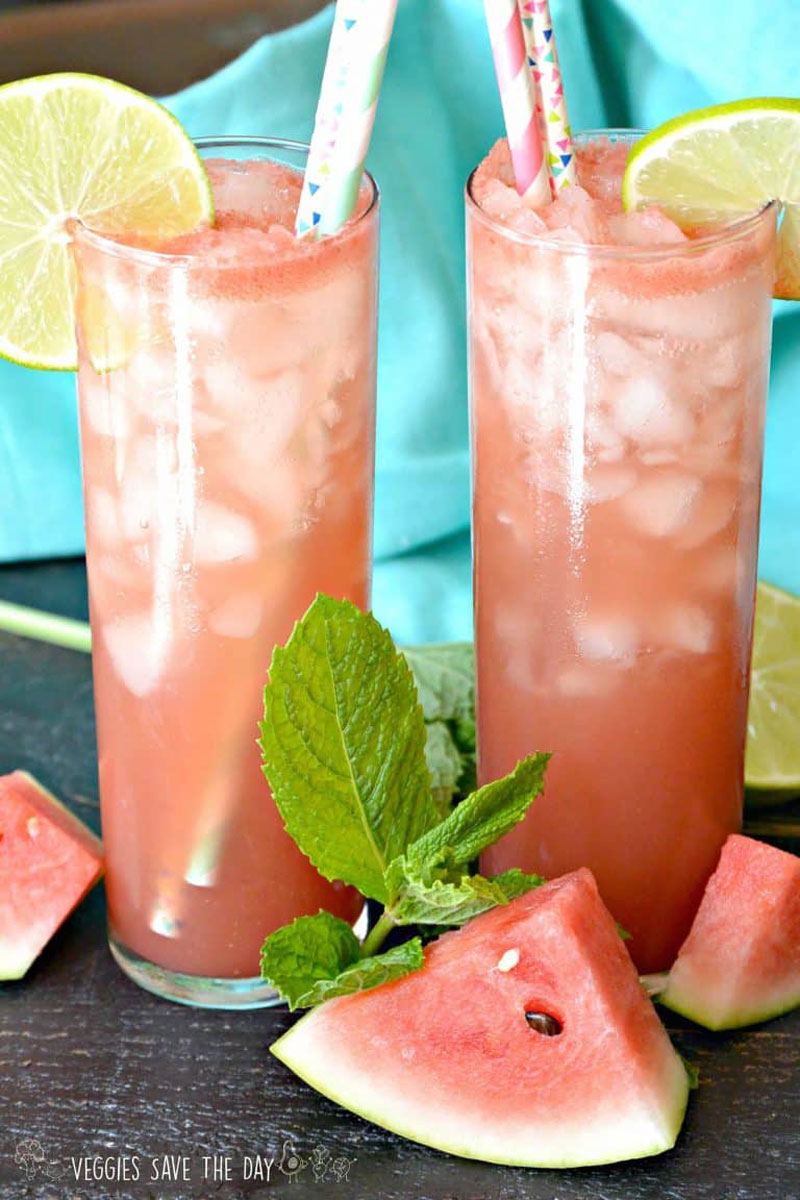 Sparkling Watermelon Agua Fresca by Amy at Veggies Save the Day – All you need are 4 ingredients plus ice and a blender to make delicious sugar-free Sparkling Watermelon Agua Fresca

So these were the "50 shades of pink Vegan recipes for Valentine's Day". By now you should have plenty of inspiration to prepare foods that simply say "I love you" to the people you care for.
I hope you enjoyed this post, and if you did don't forget to pin it and spread the love ♥
I wish you a love-filled day xoxo