Chocolate lovers beware, these festive raw vegan chocolate hazelnut truffles aka "Vegano Rocher" are totally addictive and oh! so delicious. Make some for yourself or for a loved one ♥ (perfect for Christmas, Valentine's or to make any day a special day)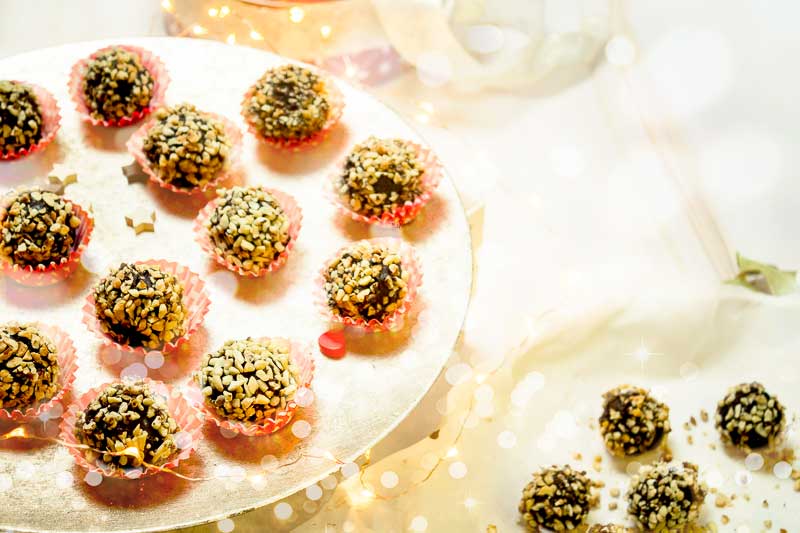 If "Vegano Rocher" reminds you of a famous brand of Italian chocolates,  it's because this is my healthier, Vegan version of those golden-foiled little chocolatey things I used to love so many years ago.  I thought the holidays would be the perfect time to share this recipe with you. You can either make some and serve them to your holiday guests, or perhaps gift them to someone you really, really like ♥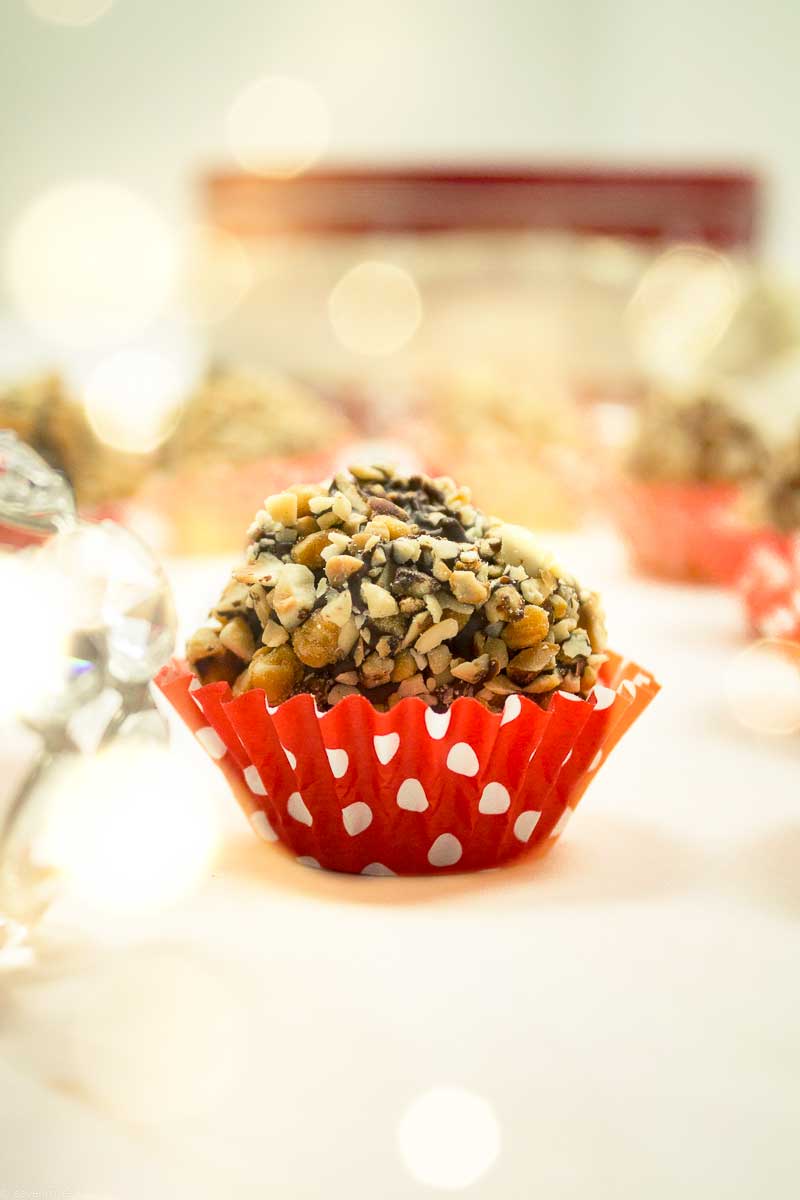 What's more, these are not only festive, delicious and easy to make, they are also free from added sugar and dairy, but instead rich in vitamins and nutrients that will nourish your hair and skin, enhance your mood and energize you to be in full force this holiday season.
Why are these Vegano Rocher so good for you?
❥ Raw Cacao is a superfood containing a variety of unique phytonutrients, including high amounts of sulfur, magnesium and phenylethylamine. Cacao is known to stimulate the brain to release particular neurotransmitters, like euphoria, that can trigger positive emotions and enhance our mood.
❥ Hazelnuts are a great source of fiber and contain a large amount of monounsaturated fatty acids, which help to reduce LDL cholesterol (the "bad" kind) and increase HDL cholesterol (the "good" kind). They are also a great source of vitamin E, which helps to fight aging and disease by reducing inflammation.
❥ Dates, packed full of vitamins, minerals and fiber, are high in calcium and in phosphorus, and have been proven to decrease cholesterol and boost bone health.
❥ Dark Chocolate is, you guessed it, once again rich in antioxidants including vitamins, minerals and phytochemicals. Flavonols help lower blood pressure and improve blood flow to the heart as well as the brain.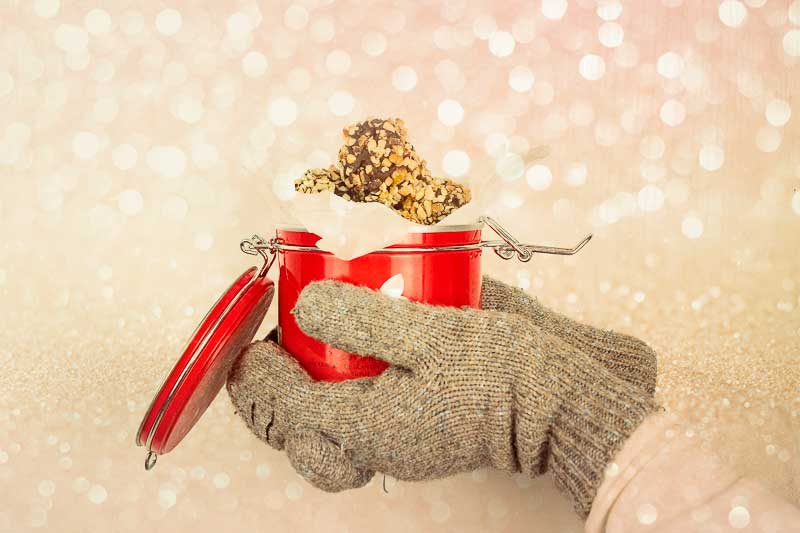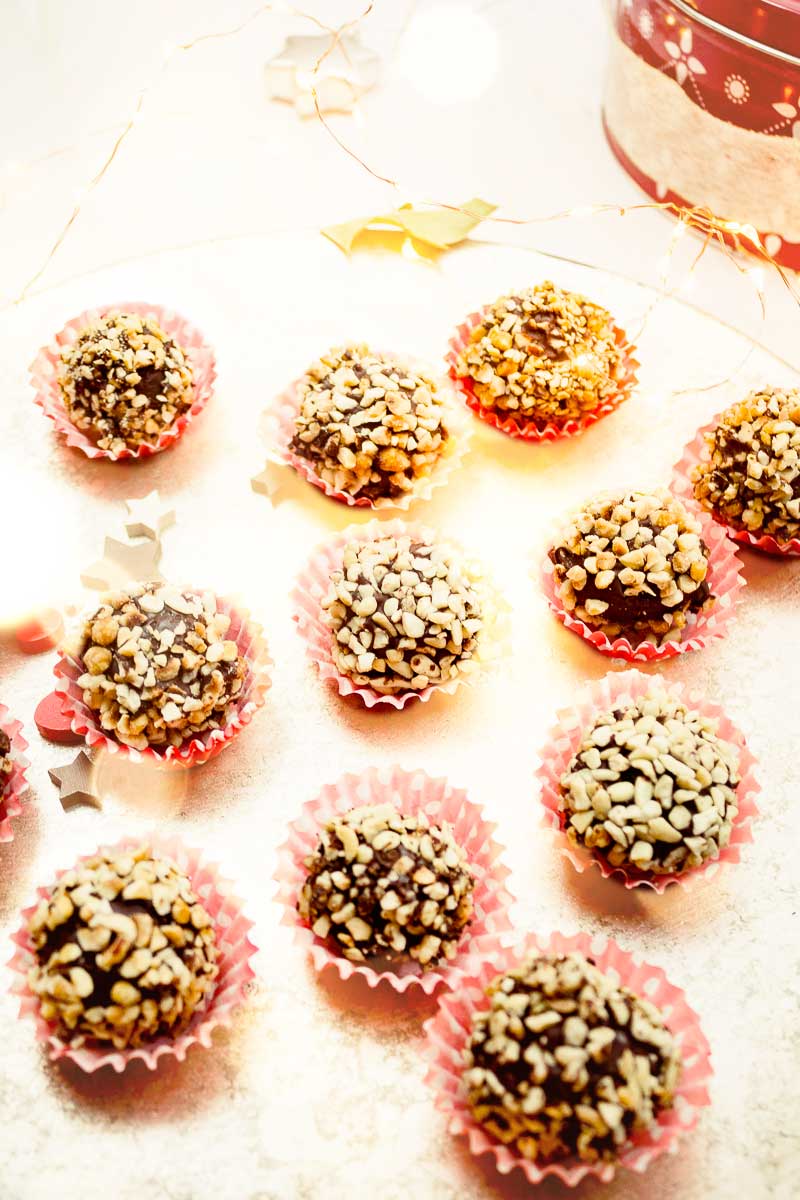 So, if you didn't have a chocolate overdose yet with my Vegan Chocolate Salami, go ahead and read how to make these Vegano Rocher: raw vegan chocolate hazelnut truffles.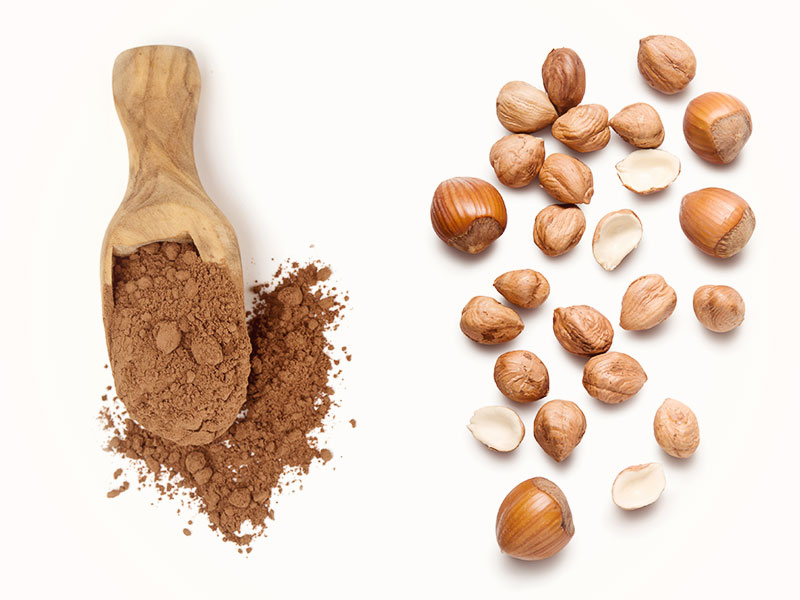 The base or core is a simple raw Vegan brownie, which includes a few ingredients that are both delicious and healthy. The only unusual ingredient is chopped caramelized hazelnuts from Trader Joe's that I found at Aldi. These are totally optional, but they certainly do enhance the "rocher" / praline flavor that I remember from long ago.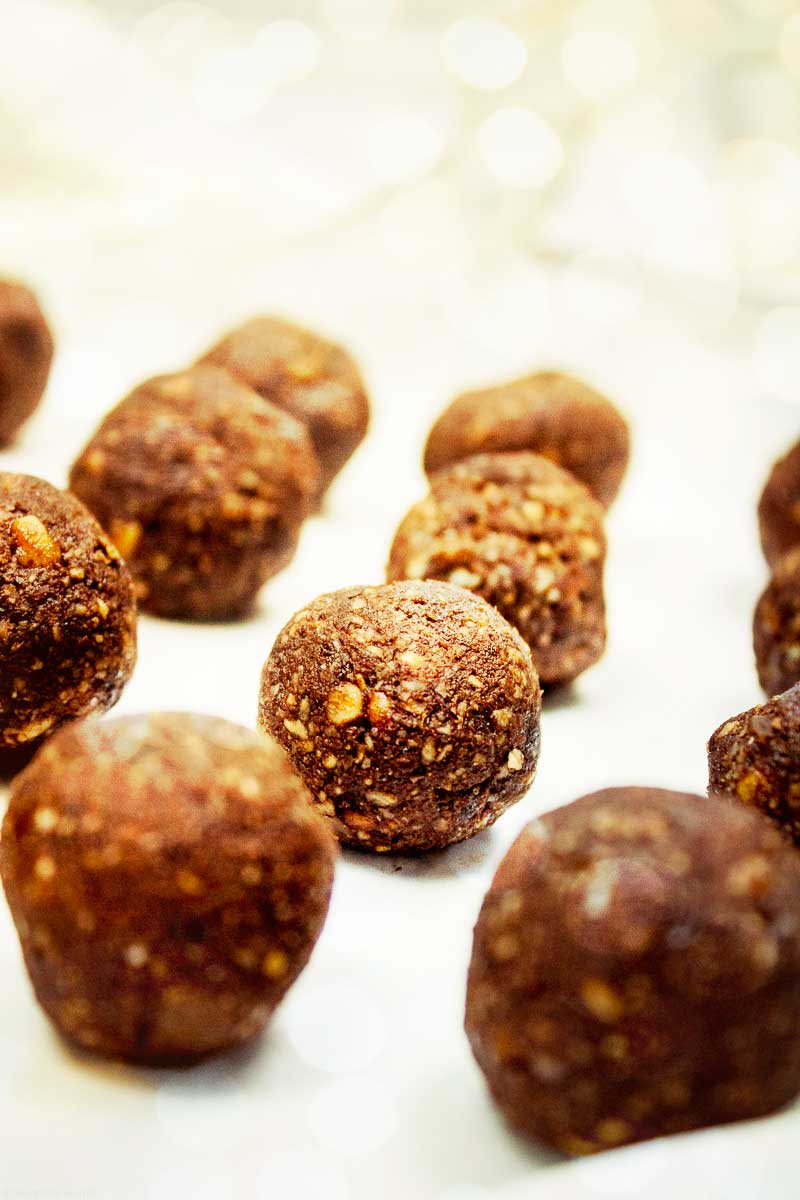 You could stop here, simply dust them with cacao and these would already be amazing Vegan chocolate truffles… but for something really special, the recipes goes on…
When the raw brownie batter has been formed into tiny truffles and refrigerated for a while, we then coat them in a thin layer of dark chocolate and sprinkle some finely chopped hazelnut. The chocolate will make a hard shell to which the hazelnut crumbs will stick to.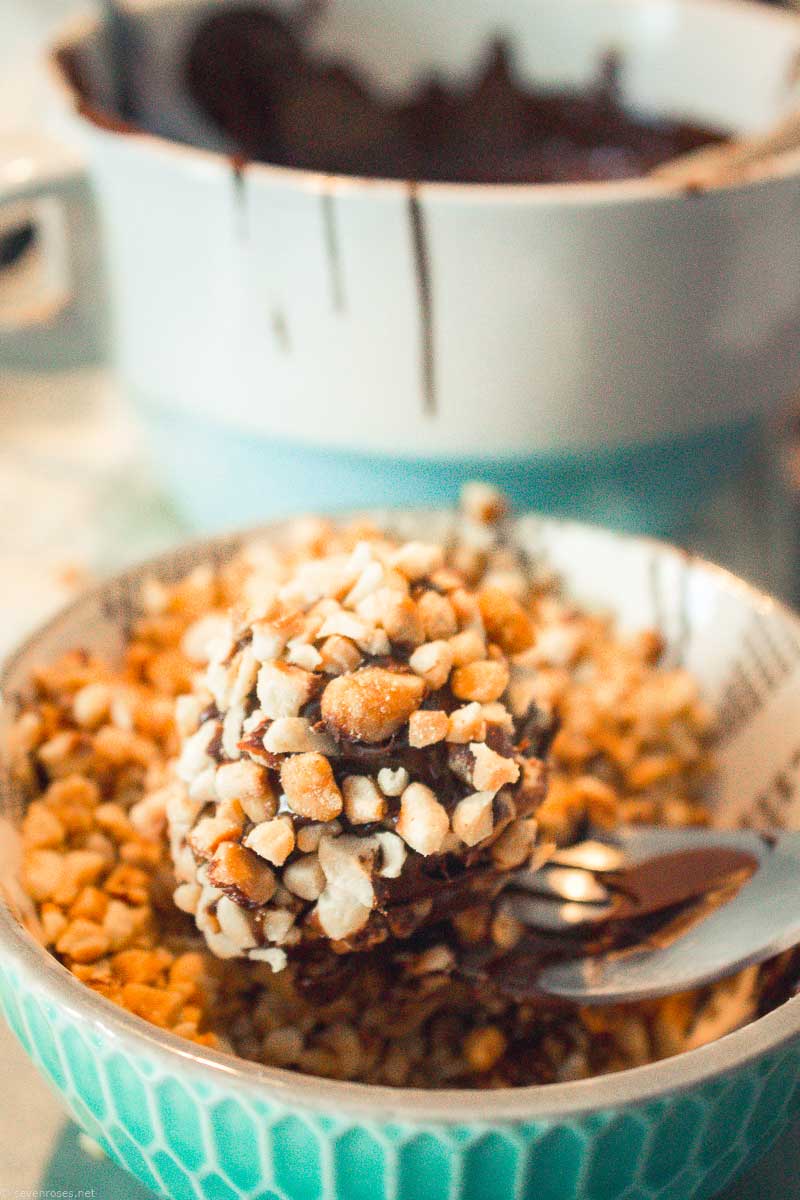 I will not lie and tell you this is not a messy process. It is, a bit. But it's SO worth it! Biting into one of these Vegano Rocher is the most decadent culinary experience I've had in a loooong while…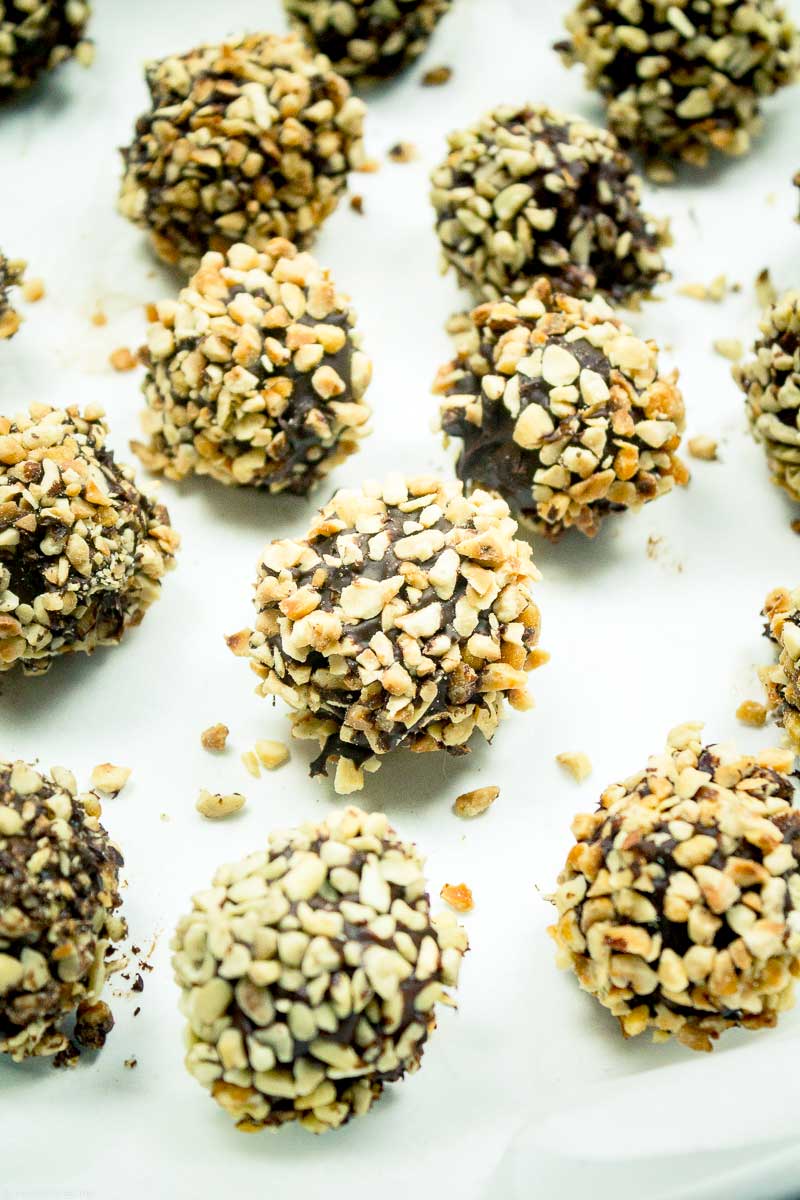 To gift them, you can either place each truffle in a mini-muffin liners (I have these red polka dot ones . but I have my eyes on these Christmas ones for the next batch!)  or you can wrap them individually in golden candy wrappers like these. Then place them in a box of your choice.
I'm really excited for you to try these!  Let me know what you think :) and whether you had some left to offer, or you had them all before your guests arrived :-P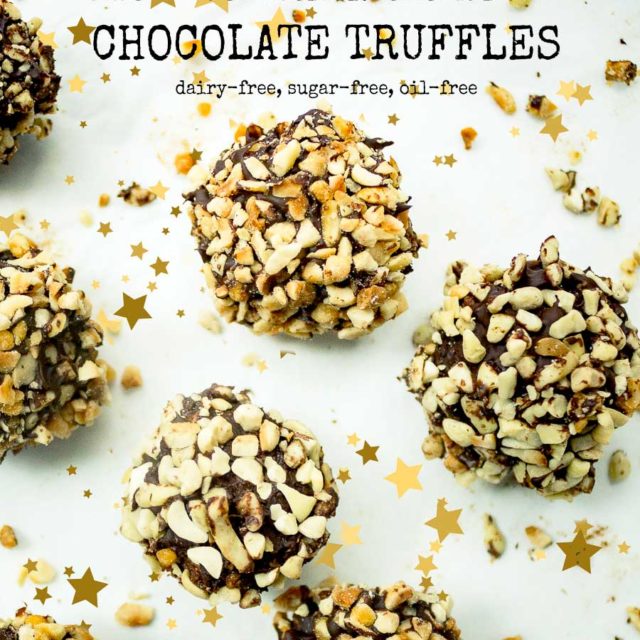 Vegano Rocher: raw vegan hazelnut chocolate truffles
These festive raw vegan chocolate hazelnut truffles aka "Vegano Rocher" are totally addictive and oh! so delicious. Make some for yourself or for a loved one ♥ (perfect for Christmas, Valentine's or to make any day a really special day). Dairy-free, added-sugar-free, oil-free.
Ingredients
For the raw Vegan truffles
1

cup

hazelnut flour

or hazelnuts

1/2

cup

dates

pitted and soaked in warm water

3

tbsp

raw cacao powder

or cocoa powder

1

tsp

vanilla extract

1

pinch

sea salt

3

tbsp

chopped caramelized hazelnuts

optional, but they will enhance the "rocher" taste

20

hazelnuts
For the chocolate and hazelnut coating
1/2

cup

dark chocolate chips

1/2

cup

hazelnuts

chopped in small pieces
Instructions
If you don't have hazelnut flour, place 1 cup of roughly chopped hazelnuts in a food processor and pulse until you obtain a fine flour. Don't process too much or you'll be left with hazelnut butter... delicious but not what we need this time ;-)

Now add the pitted & soaked dates, the cacao powder, the vanilla extract, the pinch of salt and caramelized chopped hazelnuts (if using) to the food processor, and mix until the dough becomes sticky.

With the help of a spoon, take a little amount of the dough in your hand (wetting your hand every now and then makes this easier), flatten it, place a whole hazelnut at the center, closing down by pressing firmly, roll it in your hands and form as many truffles as your dough allows (around 20).

Place the truffles on a tray covered with parchment paper and place in the refrigerator for at least 30 minutes to firm up.

In the meantime, melt your dark chocolate chips in a bain-marie or in the microwave and prepare a dish with the chopped hazelnuts.

Remove the cold and solidified truffles from the refrigerator. With the help of a fork or a long wooden bbq stick, dip the truffles one at a time in the melted chocolate and cover them entirely with chocolate. Drain the excess chocolate and place them on a tray covered with parchment paper,

Before the chocolate layer hardens, sprinkle some chopped hazelnuts to make sure they stick to the truffles. Now place them in the refrigerator one last time, until the chocolate has hardened, it will take about 20 more minutes.

Place them in paper cups, or if you prefer you can wrap them with food-grade gold foil and keep them in the fridge. They will also make a deliciously unexpected gift ♥
I really hope you're going to try these Vegano Rocher: they are A-mazing!
If you give them a try, please let me know in the comments' section below.
And don't forget to pin this recipe to spread the love ♥
I wish you a love-filled day xoxo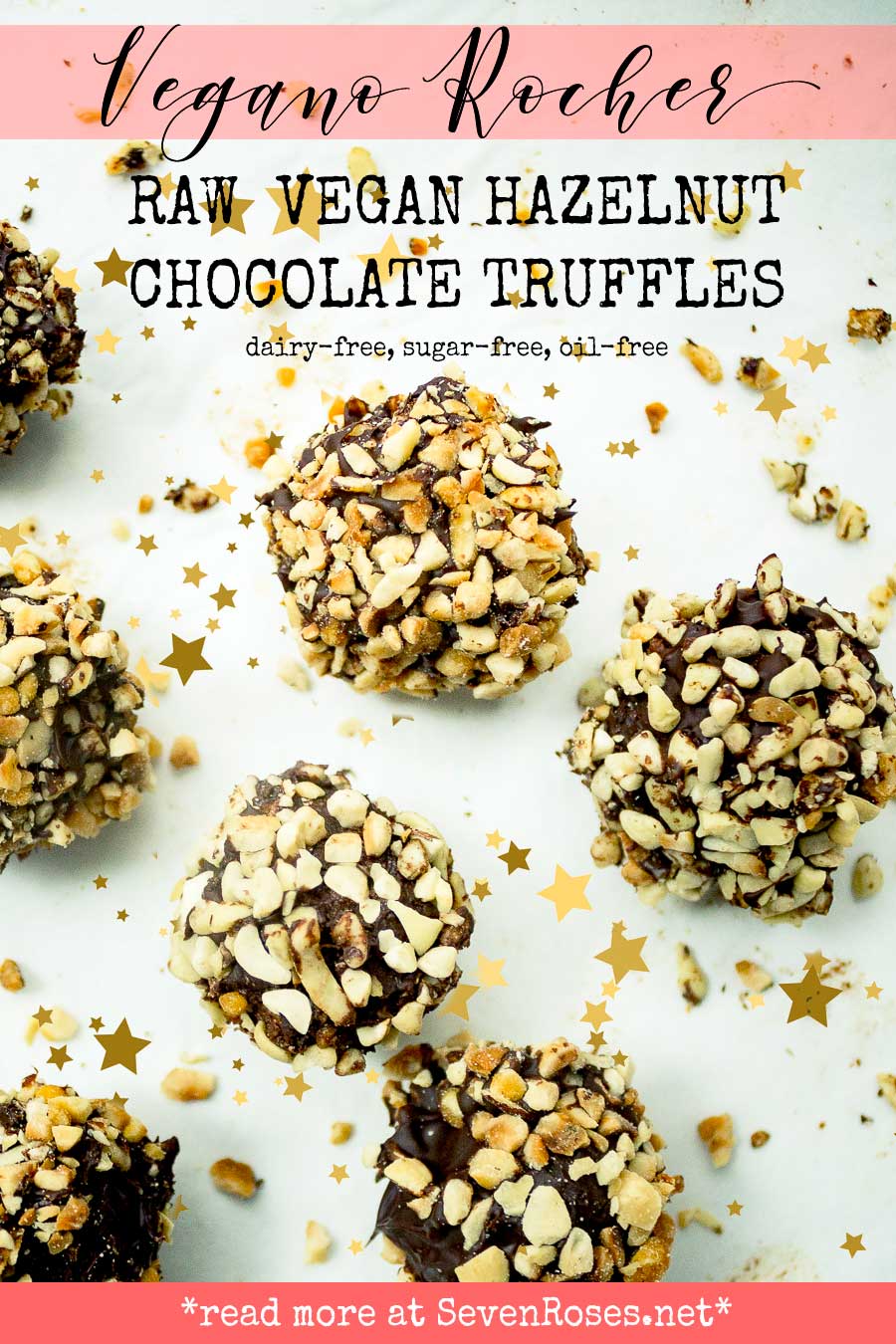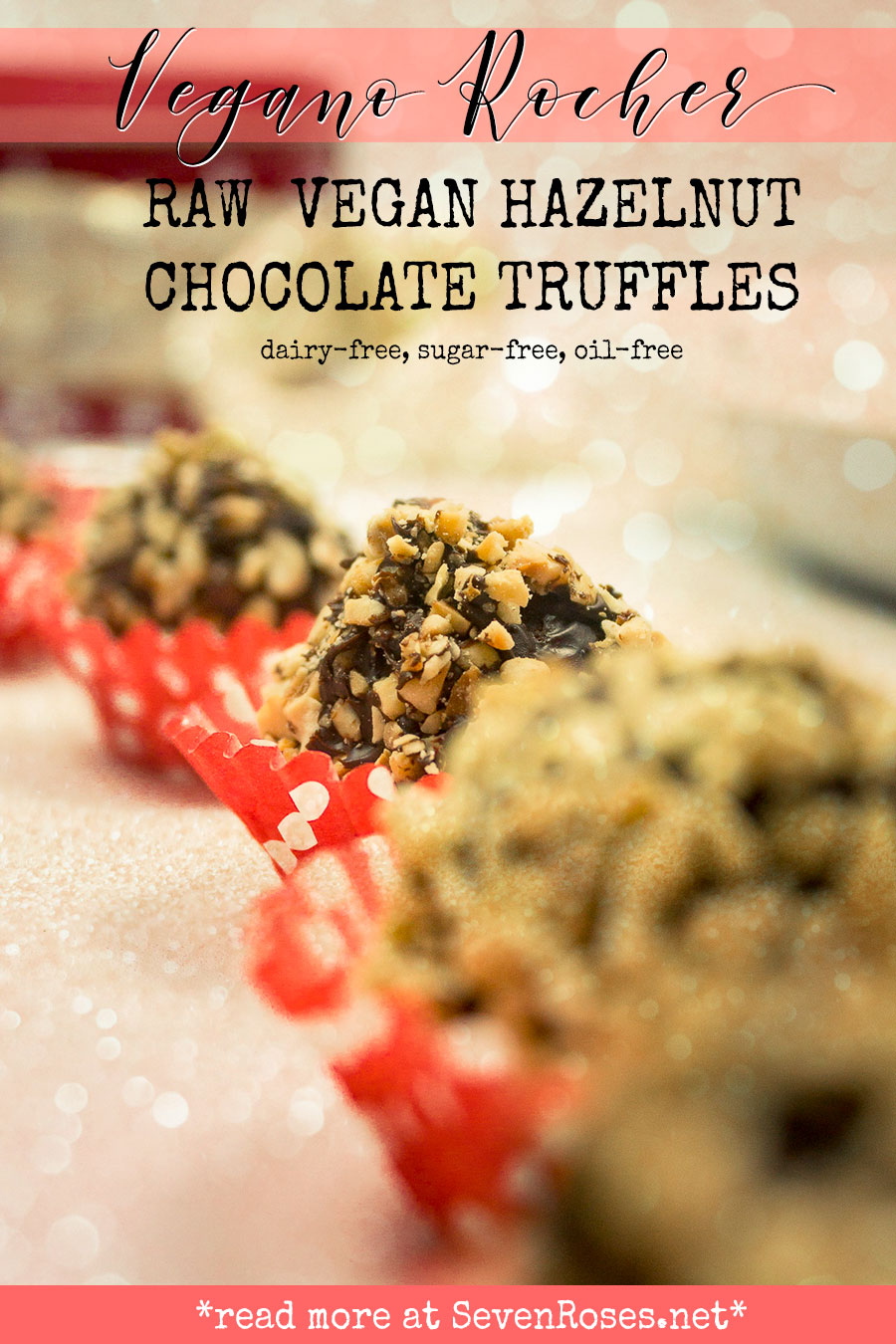 ---